Print This Post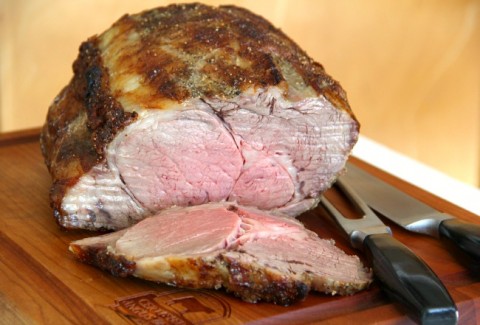 The turkeys may have owned Thanksgiving, with all their gobbling and stuffability and affinity for cranberry sauce.
But beef owns the whole month of December, and especially Christmas. Beef is a celebration meat. It's delicious, it's comforting to eat, it has simply amazing taste, and it just feels special when you see it on your plate. Beef brings the party with it.
That's what you're looking for in a holiday meal, when daughters return from their first semester at college, when sons leave their teenage friends and surfboards to devote time to the family, when nephews drive in from downtown hipster lofts and grad school, when aunts and cousins fly in just to see you, when good friends crowd the dining room table because it's been waaaay too long.
You want to pull out all the stops for a meal to remember. You want to give your guests the time of their life, and make them anxious for their invitation to next year's event. You want aroma, mouthfeel, eyes-closed chewing pleasure, and satisfied bellies.
You want a Certified Angus Beef® Brand Prime Rib roast – the highest quality beef on the market — rubbed with Santa Maria spice mix.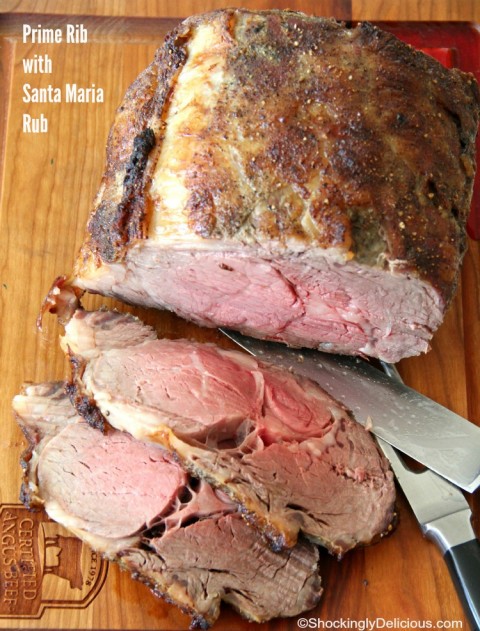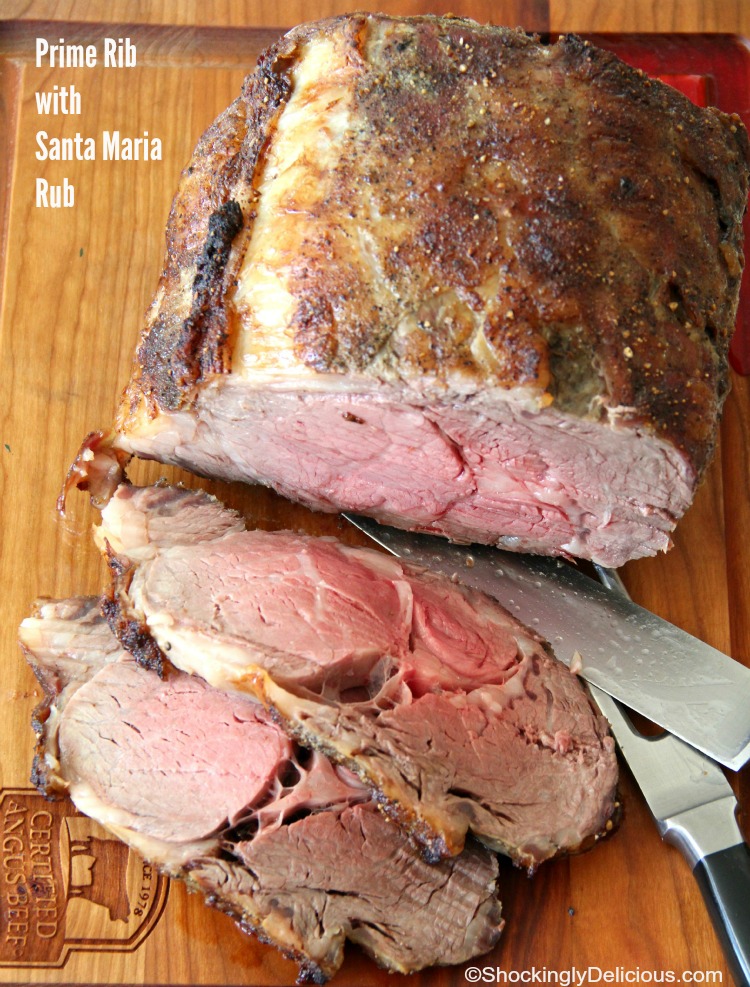 I'm going to help you get just what you want, thanks to a new free app for your phone that banishes all the potential uncertainty and nervousness of making a roast. Many of us don't roast beef often enough (if ever!) and so we think we don't know how to do it. We wonder…
What if we ruin the roast?
You simply can't ruin the roast with the Roast Perfect app. It guides you through what cut to buy, how many it will feed, general principles of roasting, and the timing and temperature for your particular size and cut of roast. Seriously friends, this is easy. There are even recipes on the app for the roasts and side dishes, should you need inspiration.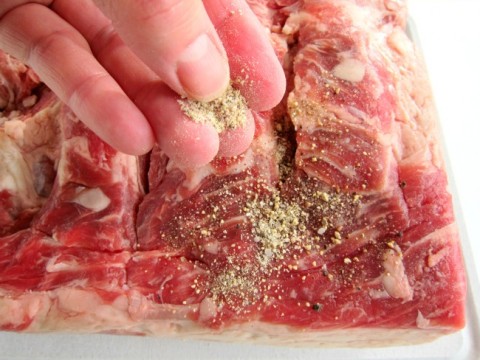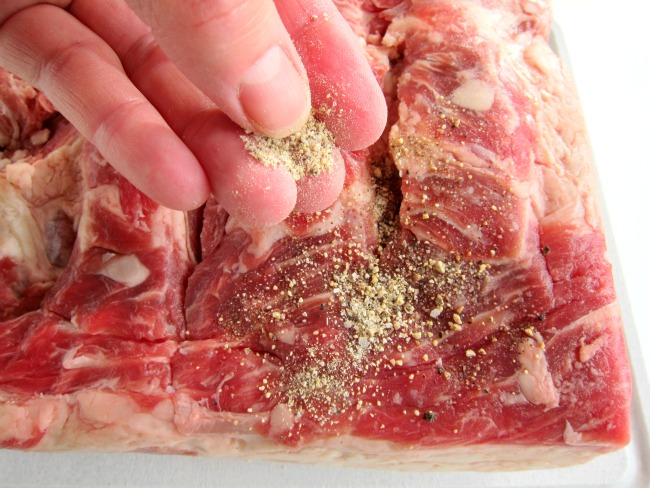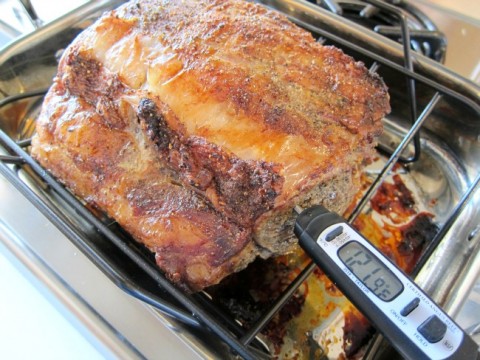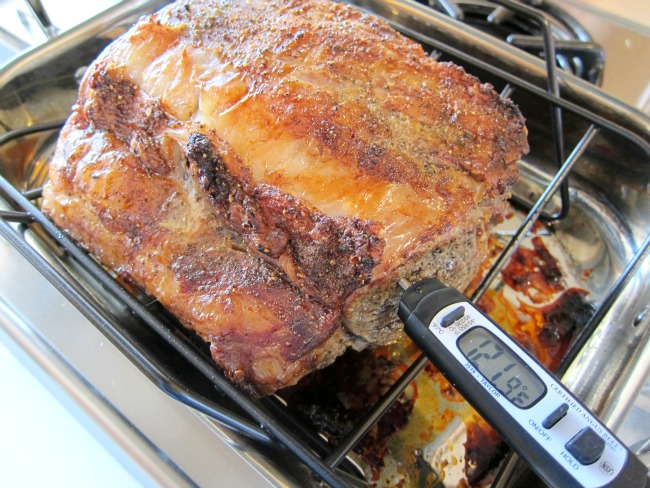 But today, I want you to appreciate the classic simplicity of a prime rib. Let's revel in the interior marbling of the meat that provides so much flavor and keeps the meat moist. Let's marvel at the perfect pink of rare-medium rare, and let's sing praises to its tenderness. This is a perfect roast, so let's make it Roast Perfect! (See what I did there?)
Happy all-December-long holidays to you, and for those who celebrate, Merriest Christmas ever.
Prime Rib with Santa Maria Rub
A simple yet classic rub often used for California tri-tip perfectly seasons a boneless prime rib roast, for an elegant feast.
Ingredients
1 (6-pound) boneless Certified Angus Beef® Brand Prime Rib Roast

Santa Maria Rub

1/4 cup (1.5 ounces) coarse kosher salt
1/4 cup (1.5 ounces) cracked black pepper
2 tablespoons (.75 ounces) granulated honey (or granulated raw sugar)
1 1/2 teaspoons (1/8 ounce) granulated garlic
1 1/2 teaspoons (1/8 ounce) onion powder
Directions
Heat oven to 450F degrees. Pat roast dry with paper towel. Place a rack in a roasting pan.
In a bowl or measuring cup, add all rub ingredients and stir to combine. Using your hands, sprinkle and rub several tablespoons of the mixture all over the roast, including both top and bottom, cut ends and sides.
Place roast on rack and fire up the Roast Perfect app on your phone. Follow directions for optimum roasting, being sure to set your kitchen timer so you can hear when you need to turn the oven down.
For example, the app told me my 6-pound boneless prime rib needed to roast at 450F degrees for 15 minutes, then I should turn the oven down to 325F degrees and roast for 90 more minutes. At that point I took the roast out of the oven and inserted a meat thermometer to check the temp. I wanted a rare roast, so my target temperature was to be 125F degrees, and I needed to remove the roast when it reached 115F-120F degrees. I tented it with foil and let it rest for 15-20 minutes, at which point the internal temperature gained 5 additional degrees.
Once rested, the roast is ready to slice and serve!
Roast serves 8-10. Rub makes about 1/2 cup (3 ounces) mixture.
Notes
https://www.shockinglydelicious.com/prime-rib-with-santa-maria-rub/
Copyright Dorothy Reinhold | ShockinglyDelicious.com. All rights reserved.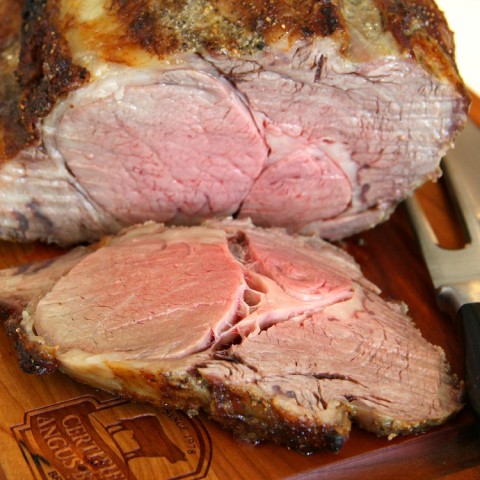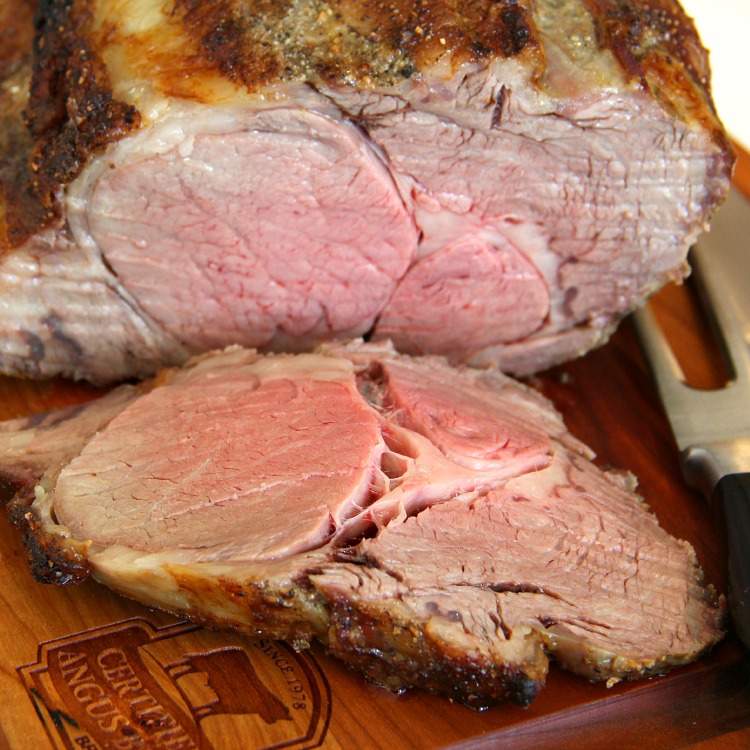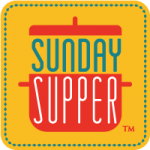 This week our Sunday Supper tastemakers are celebrating roast beef, and showing you lots of different ways to prepare it, sponsored by Certified Angus Beef® brand. For more beefy goodness and tons of inspiring ideas, see our 20 delicious recipes below, and follow our Certified Angus Beef® brand Roast Perfect Pinterest Board. I enjoy being at the top of the food chain, don't you?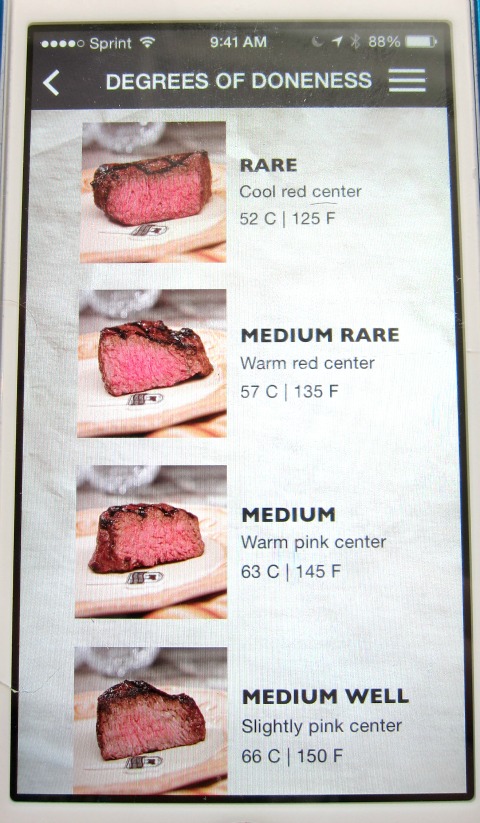 Now's the time to get the Roast Perfect app on your phone, browse around to find beef cuts for roasting, and make friends with your butcher. If you don't see Certified Angus Beef in your regular grocery store, you can consult their store locator to find the nearest place it is sold. I usually get mine from Gelson's Market, where the butcher is extremely savvy about what I need for my celebration. I like a butcher with an opinion!
Let's fire up the oven and click open the Roast Perfect app, because the holiday meal will be here before you know it!
This week's Sunday Supper recipes:
Holiday Roasts
Join us around the family table for #SundaySupper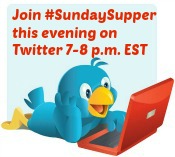 Twitter how-to

: Follow the #SundaySupper hashtag throughout the day on Twitter to see our recipes. To join the conversation anytime, simply use the #SundaySupper hashtag to share your favorite tips and recipes.
Pinterest: Check out our #SundaySupper Pinterest board for more recipes and photos.

Join

: To join the Sunday Supper Movement, sign up by clicking here → Sunday Supper Movement.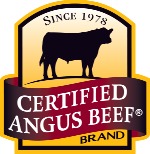 Disclosure: This post is sponsored by Certified Angus Beef® brand in conjunction with a social media campaign through Sunday Supper LLC. All opinions are my own. Join me in following Certified Angus Beef® brand on social media: Website | Twitter | Facebook | Pinterest | Instagram | YouTube | Periscope.