Print This Post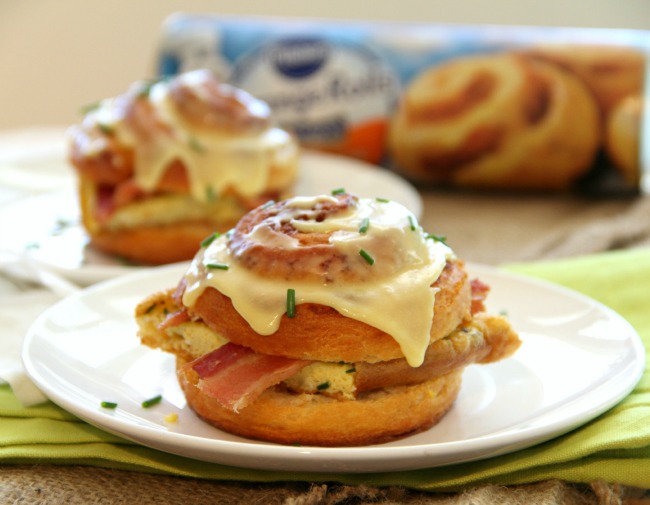 Ever since I was a child, I've loved Pillsbury™ orange rolls. As soon as I was trusted to turn on the oven, I was allowed to make them myself. And let me tell you, the one who bakes them gets first dibs on the roll with most icing!
It is those fond memories I recall when I pop open a can of Pillsbury sweet rolls for breakfast for my kids. There's just something about the smell emanating from the oven while they bake that is irresistible, and sweet rolls make any breakfast more special. They're practically a required element of a holiday breakfast.
My son has taken to writing "Pillsbury Cinnamon Rolls" and "Pillsbury Crescent Rolls" on the shopping list when he knows I'm heading to my nearby Vons. He will unroll the crescents, stuff them with chocolate chips, and bake them off. He may or may not offer any to his sister or his parents. Like mother, like son.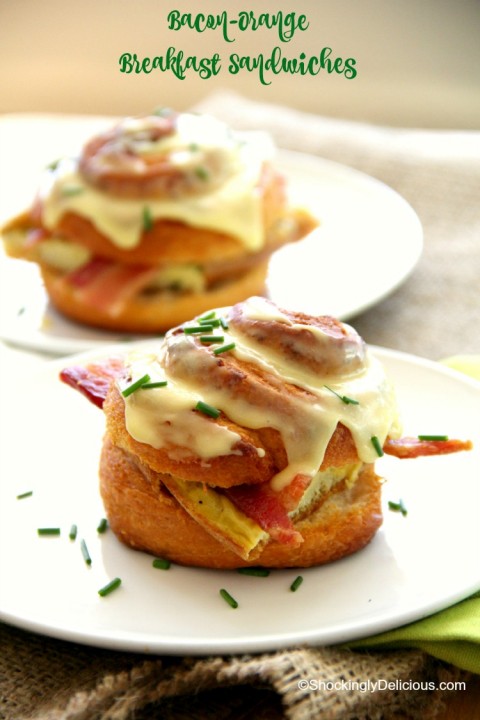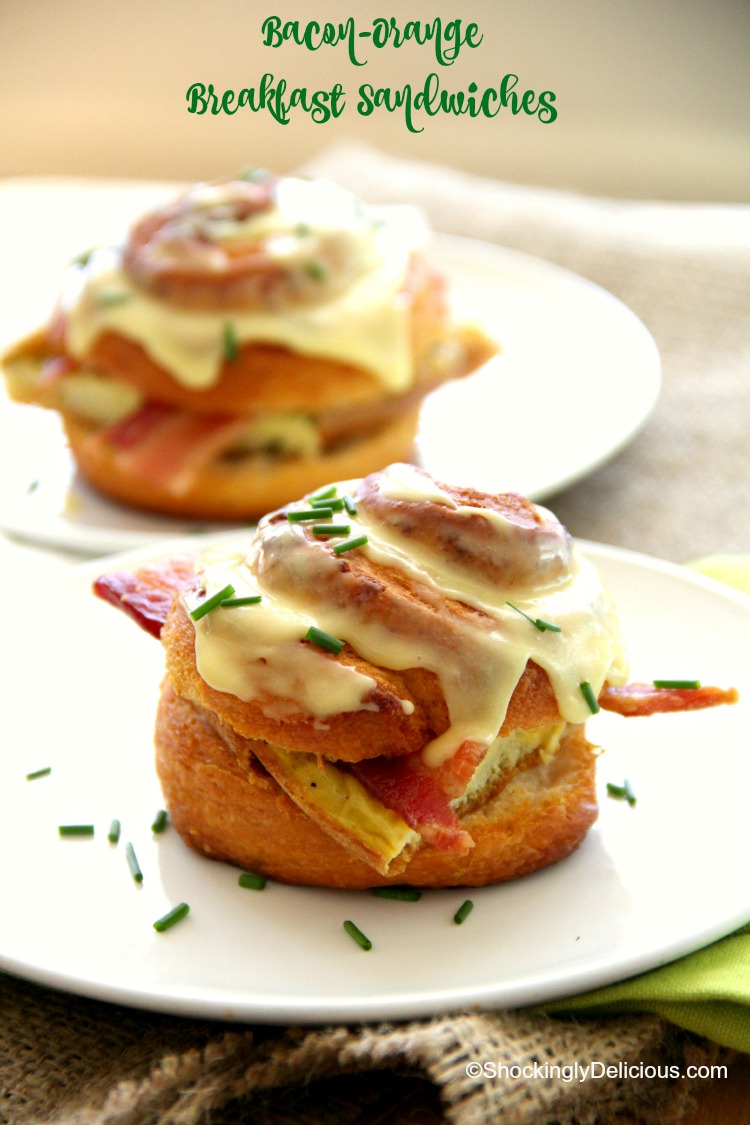 So I unleashed by culinary creativity the other day with my beloved Orange Rolls. It was an a-ha moment after I heard a news story that McDonalds was finally going to offer its breakfast sandwiches all day long, after many years of consumers asking for it.
Well, if we all like our breakfast sandwiches that much — and clearly we do — just wait until you taste these delicious babies! Chock full of eggs and bacon, a bit of chive to enliven things, and encased in an orange roll topped with sweet frosting, these are the stuff of dreams.
I'm curious about YOUR concoctions for breakfast sandwiches using rolls or buns. Do you do anything special to jazz things up? Unleash your creative flair! Take a gander at these Bacon, Egg and Cheese Biscuit Sandwiches, for example.
Try mine, and then let's share.
Bacon-Orange Breakfast Sandwiches
The seductive flavor of sweet orange permeates these breakfast sandwiches. Bacon and egg stuffs the middle.
Ingredients
1 (13.9-ounce) tube Pillsbury™ Orange Rolls with Orange Icing
8 slices bacon, cooked
4 eggs
2 teaspoons water
2 teaspoons finely minced fresh chives, plus more for garnish
Salt and pepper
Directions
Heat oven to 400F degrees. Unwrap package and place rolls on a baking sheet (not in a round cake pan as package directs). Bake rolls 15 minutes, then remove from oven to a rack.
While rolls are baking, cook bacon in a skillet, to your liking. Remove bacon from skillet onto paper towels to drain, and discard nearly all the bacon fat, leaving just a bit in the pan for the eggs.
Crack eggs in a bowl and add water; whip using a fork, and then add eggs to hot bacon-fatty skillet. Turn heat down to medium-low. Sprinkle with a pinch of salt and a few grinds of pepper, and sprinkle with 2 teaspoons snipped chives. Allow eggs to cook, undisturbed, until they are no longer runny. You may put a lid on the skillet to speed the cooking process if you like.
When rolls are out of the oven, have cooled for a couple of minutes so you can handle them, and eggs are done, you are ready to assemble sandwiches. For each sandwich, split a roll in half, add a strip of bacon (cut it in half horizontally so it fits better), 1/8 of the eggs (cut in squares or slices so it fits well, and put the top roll lid on.
Open the icing tub and spread 1/8 of the icing atop each stuffed sandwich. An offset spatula or icing spatula works well for this. Sprinkle each roll top with a few snipped chives, for pretty.
Makes 8 sandwiches.
Notes
Recipe source: Dorothy Reinhold | Shockingly Delicious
https://www.shockinglydelicious.com/bacon-orange-breakfast-sandwiches/
Copyright Dorothy Reinhold | ShockinglyDelicious.com. All rights reserved.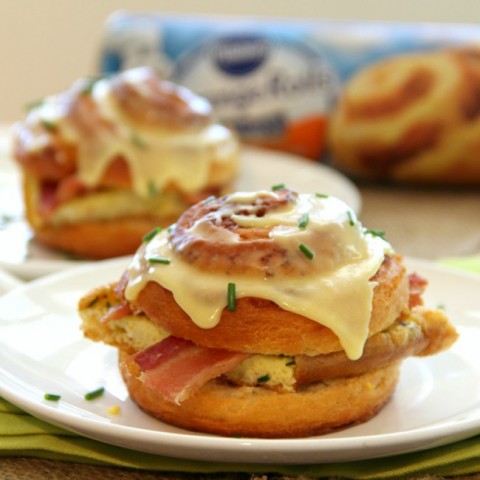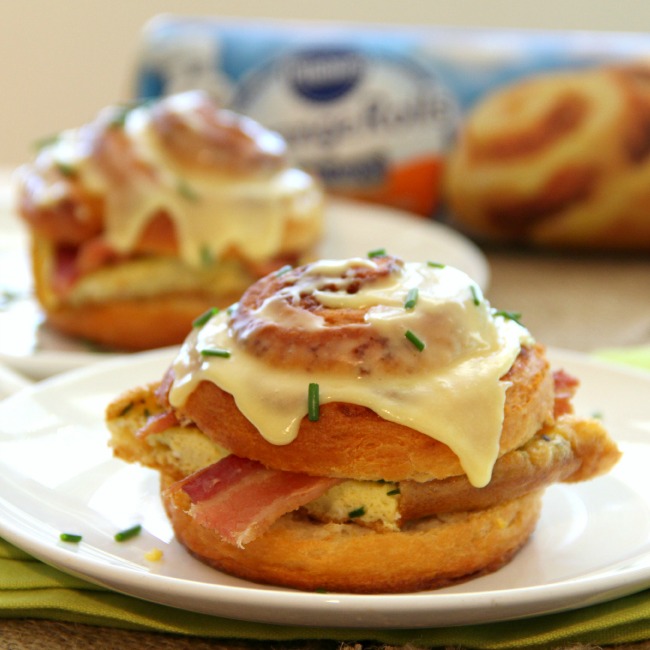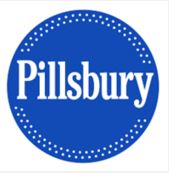 This is a sponsored conversation written by me on behalf of Vons. The opinions and text are all mine.