Print This Post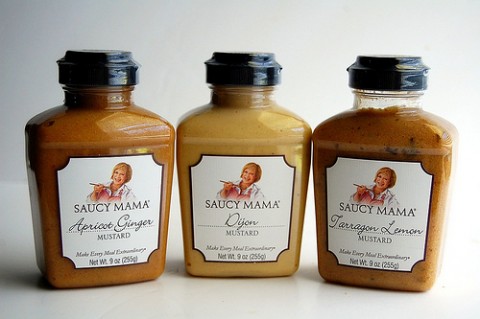 1. Fancy mustards from Saucy Mama: I've long loved Dijon and other mustards for their ability to take everything up a notch in flavor without contributing fat. I'm now addicted to the charming Saucy Mama line of flavored mustards, and I eat them on everything. Tarragon-Lemon Mustard goes on my salmon filet, Apricot Ginger Mustard enlivens my grilled chicken thigh, Smoky Garlic Mustard gets spread on my cheese panini before it hits the grill pan, and I stand over the sink eating my hard-cooked egg with squirts of Champagne Honey Mustard on each bite. Can you picture it? This stuff is wildly good, and I highly recommend it for anything and everything food. Squirt some in your vinaigrette, use it as a spread on your baked potato, dollop a bit into a wild rice or grain salad as part of the dressing…stop me or I could go on all day.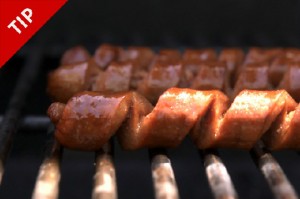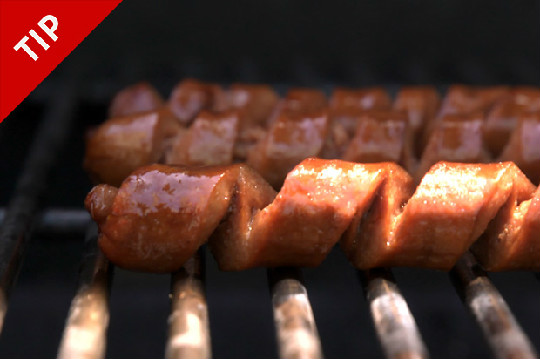 2. Spiral-cut hot dogs: Pure genius. There's an easy little trick to cutting a spiral-cut hot dog, and then you have a fun dog that captures all the toppings and won't curl while cooking. This is our go-to way to deal with dogs now. And as long as we're eating a hot dog, let's go all out and marinate it after we spiral cut it! Casey over at Good. Food. Stories. swears by this ketchupy, mustardy, soy saucy hot dog marinade that has people at her BBQs all worked up. (Photo credit: Chow.com)
3. Use your dishwasher: Did you know you can wash many other things in the dishwasher (baseball hats, shower heads, toothbrushes)? Check this list out!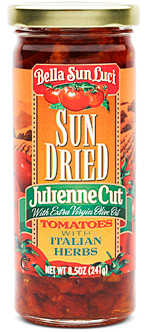 4. Bella Sun Luci Sun Dried Tomatoes: Sun dried tomatoes are the workhorse of the kitchen, with an ability to add a concentrated tomatoey flavor to many otherwise mundane meals. I've been throwing these in everything ever since I got them from Mooney Farms a month ago. I used the Julienne Cut Sun Dried Tomatoes with Italian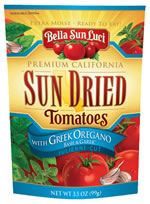 Herbs in Extra Virgin Olive Oil as an add-in to my ground beef. It made the best burger I've had in a long while (recipe coming soon). I threw a handful of their Sun Dried Tomatoes with Greek Oregano, Basil and Garlic into a simple cucumber-fresh tomato-Kalamata olive salad. Opa! And then I slathered my baked potato with Bruschetta Sun Dried Tomato with Italian Basil and Extra Virgin Olive Oil. Mmmm…mangia! Their Tomato Pesto was wonderful stirred into freshly cooked pasta, loosened with a little of the cooking water. Look for them at your grocery store.
5. More tomato talk: It turns out, the green "shoulder" on a tomato, up near the stem end, is desirable, and contributes a lot of flavor. We've bred it out over the decades, but now we're trying to get it back, by cross-breeding. This great NPR story explains it.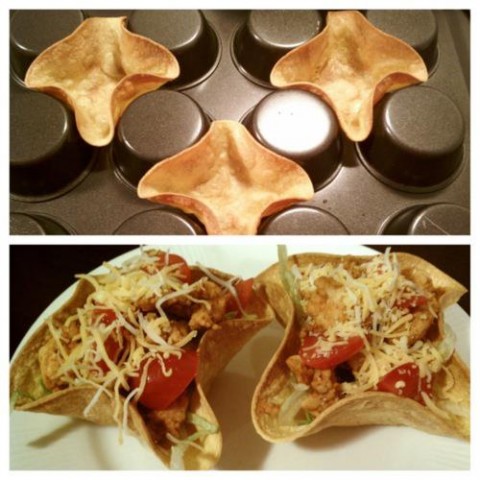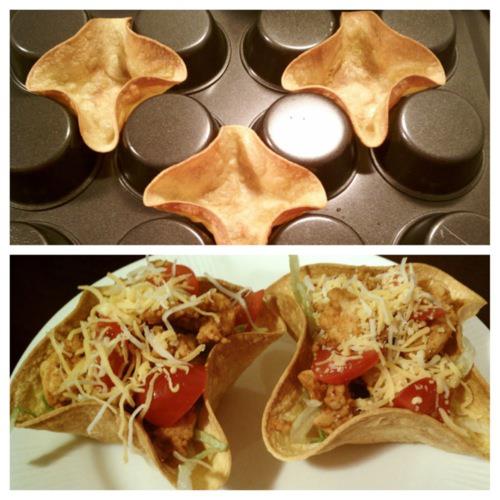 6. Taco bowls: From The Garden Pantry comes this brilliant hack! "If you ever wanted taco bowls, turn your muffin pan upside down, spray with cooking oil and bake tortillas for 10 minutes at 375F (or 180C). Perfect." This is a fun page to follow on Facebook.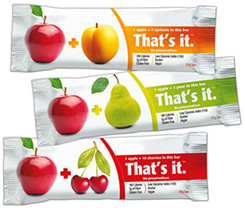 7. That's It. fruit bars: With only two ingredients (fruit and…uh…fruit) in a bar, these are a healthy energy snack for kids and adults on the go. That's It. (yes, with a period in the name) come in three flavors — apple-pear, apple-apricot and apple-cherry, for about $1.89 per bar. I liked them all, with the slightly sweeter apple-pear being my favorite. The bar is like a moist, thick, easy-chew version of a fruit leather. There are two servings of fruit in each bar, so it's like having a little fruit basket available in your purse or backpack. They have 100 calories per bar, and 3g of fiber, and the list of things they DON'T have is even more impressive: preservatives, added sugar, fat, nuts, fillers, artificial colors or flavors. They also fit if you're following a gluten-free, low glycemic index, vegan or Kosher diet. And that fruit? It's GMO-free, of course. This is a winner snack. There's a store locator on the website, or you can order by mail.
8. Macaroni and Cheese with Kale: My foodie pal Erika Kerekes of In Erika's Kitchen made a gorgeous Mac `n Cheese with Kale using my latest love, dino kale. It's on the menu, and it's gonna be good!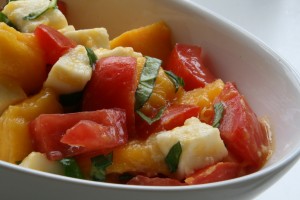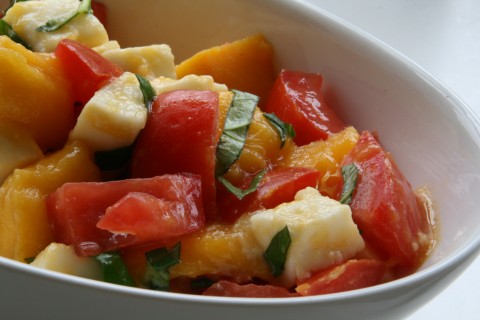 9. Mango Caprese Salad: A year ago I fell in love with this simple salad that uses the season's best mangos and tomatoes. A little basil, a whiff of truffle salt, and you are good to go!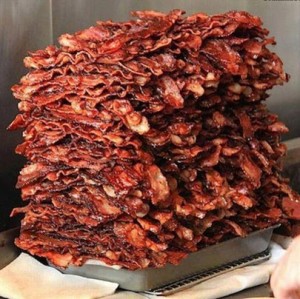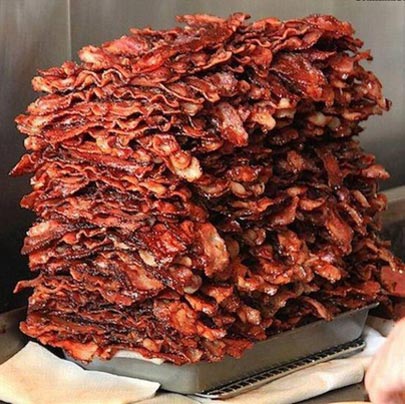 10. My bacon fix: Is this enough bacon for you? Great shot featured over at FriendsEAT, an online social community for foodies. Just look. Don't touch.
11. Champagne grapes: So small, so cute! Hundred of these little sweeties are attached to each vine, making them a charming plate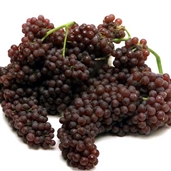 garnish, snack or dessert. How to eat? You pick up a bunch, tilt your head back and suck them off the stem with your mouth. What fun! No, they're not used to make champagne; these are the variety of grape dried to make Zante currants. Maybe they were named because they go well with a glass of champagne? Or the millions of tiny grapes on the stem remind us of millions of tiny bubbles? Whatever the provenance of the moniker, these are worth seeking out while they are in season right now through early September. They're in the vicinity of $4.99 a pound (depending on the retailer) and you'll find them in clamshells (grown in California) in the produce section, supplied by the fruit and vegetable experts from Melissa's Produce.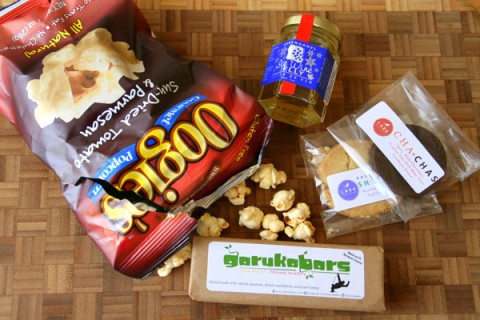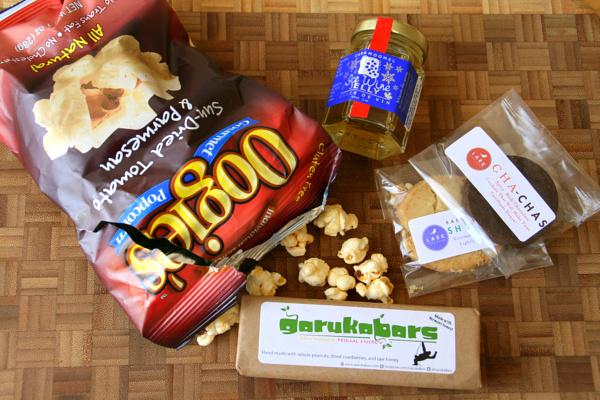 12. Petit Amuse: This is a great gift idea for a foodie or adventurous spirit, or simply a treat for yourself. Each month you get a curated sample box from Petit Amuse with 3-4 samples of high-quality, small-batch, hard-to-find artisan treats. The retail value is said to be about $20, so at the $10-a-month price (free shipping), it's a loss-leader, but company founders are hoping you might like some of the treats enough that you will want to buy more. That's how they would make money. Petit amuse is a French term, sort of like amuse bouche (which means mouth amuser, a bite offered by a chef to amuse and delight the palate of diners). My sample box included Ice Wine Jelly (beguiling on a cracker with brie), a Garukabar energy bar made with raw honey, peanuts and dried cranberries (really good!), a Cha-Chas chocolate cookie, a Salted Rosemary Shortbread and Oogie's Gourmet Sun Dried Tomato & Parmesan Popcorn (open the bag only if you are prepared to inhale the whole thing). The box amused, delighted and was delicious, down to the last bite of each item. A big success! (Hint: if anyone needs to give me a gift, this is a good idea!)
Samples of products and fruit mentioned in this post were provided by Saucy Mama, Mooney Farms, That's It., Melissa's Produce and PetitAmuse.com.