Recipe: Persimmon Ice Cream
Summary: Persimmon Ice Cream is a lovely orange color and a beguiling, sweet, sophisticated flavor perfumed with vanilla — a gorgeous holiday dessert.
Ingredients
1 ¼ cup persimmon puree (from 3 Hachiya persimmons) * (see note about ripeness below)
½ teaspoon Heilala Vanilla Paste (or use vanilla extract)
3 tablespoons honey
¼ cup organic milk
¼ cup organic heavy cream
Pinch of salt
Instructions
To get the persimmon puree, peel 3 Hachiya persimmons and scoop the goopy flesh into a small food processor. Whirl for 10-15 seconds until it make puree. Three persimmons will yield about 1 ¼ cups puree. If you have a little more or a little less, that's fine.
Stir all ingredients together in a bowl, and pour into an ice cream maker. Process according to manufacturer's instructions. My ice cream took about 20-25 minutes to freeze. Pack into a pint container and store in the freezer.
Makes 1 pint (or perhaps slightly more, if your ice cream maker adds more air to it).
Hachiya persimmons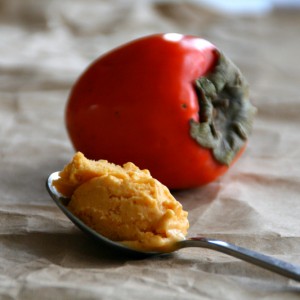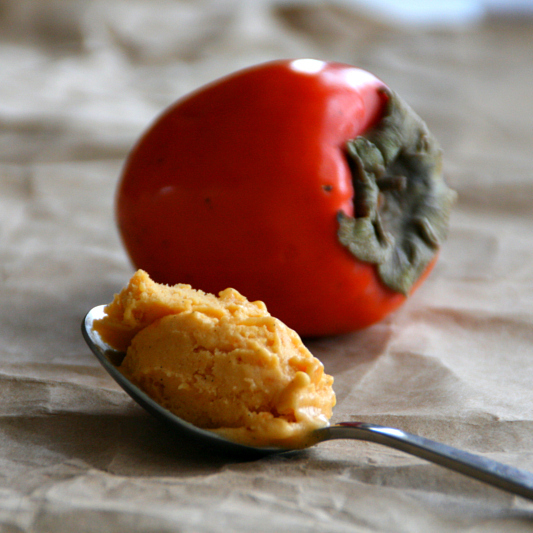 [1]We must wait patiently for prized Hachiya persimmons to ripen – the flesh will be gelatinous and jelly-like when truly ripe. Unripe and firm, it is so astringent it will cause pain when you eat it! People who try to eat a firm Hachiya invariably say they hate persimmons. Read more about it in my prior article [2]. If it is nearly, oh-so-close-but-not-there-yet ripe, you may also freeze the persimmon, then thaw, and that should do the trick.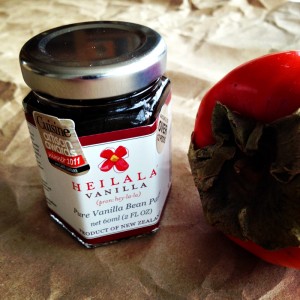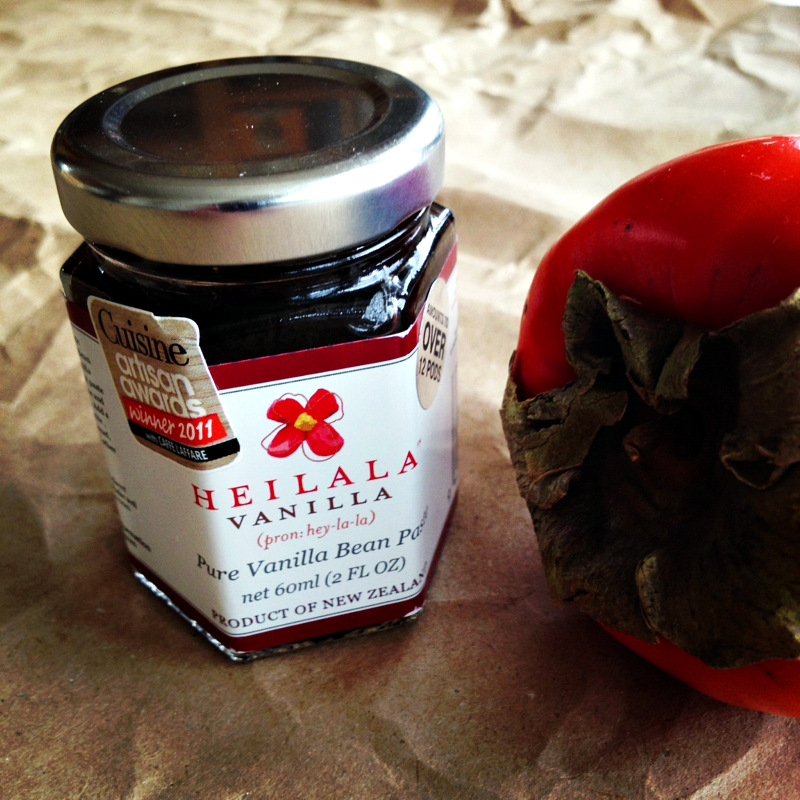 [4]The king of the world of vanilla, Heilala Vanilla Paste [5], from New Zealand, is a super premium, wonderful flavor made by combining vanilla seeds and vanilla extract to get the best of both worlds. It is slightly thickened by a natural seaweed thickener, to yield nothing short of vanilla magic. Heilala Vanilla paste has recently won – deservedly! — several highly coveted foodie awards, and the company is one to watch.
Preparation time: 5 minutes
Freezing time: 25 minutes
Number of servings (yield): 4-6
Culinary tradition: USA (Nouveau)
My rating 5 stars:  ★★★★★ 
Melissa's Produce sent the persimmons for recipe testing. Heilala Vanilla sent a trial sample.