Print This Post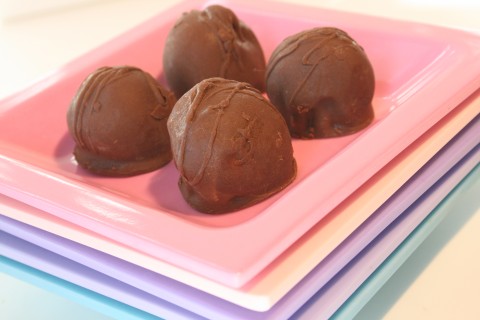 I want to be Corinne Le's Valentine. Yeah, I know, I already have three Valentines – my darling husband of 27 years and our two children – but if I were Corinne's Valentine, I just know I would be getting some of her homemade cookie dough truffles.
And that would be sweeeeet.
Corinne, who is the instructional aide in my son's 3rd grade class, is quite the baker. She puts on an annual Christmas dessert party in early December that is the talk of the town, and is a delicious sugar fest not equaled anywhere but perhaps Hershey, PA. Every surface in her Pepperdine University home is covered with plates of cookies, bars, cakes, candies…and oh, oh, oh…the truffles.
Of all the 70-some sweet treats she makes, these are her favorite.
I managed to score a few of them when she sent them home in my son's backpack so I could photograph them to accompany the recipe here. I unearthed the container from his backpack, looked at the 6 banged-up truffles, put my hands on my hips, and said, "Niiiiiick! How many truffles did you eat on the bus ride home?" Four, he thought. No, maybe five. Well, perhaps six. His excuse? "You didn't tell me NOT to eat them!"
I'm just smart enough to know I will never win an illogical argument with a 9-year-old, so I didn't try too hard. And it turns out, they're his favorite, too.
Corinne has her own Valentines – husband Hung, and four sons. But maybe if I beg a little, I, too, can be wrapped in her sugary hug for just a moment.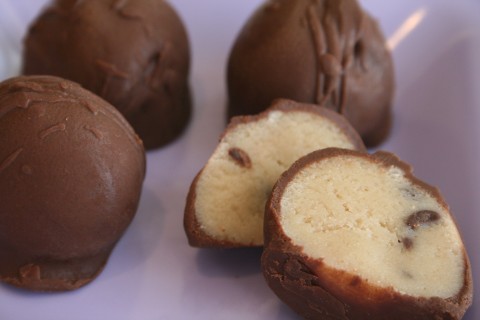 Happy Valentine's Day!
Recipe: Cookie Dough Truffles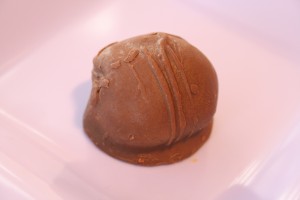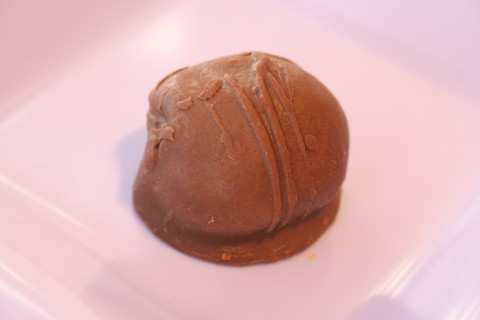 Source: Corinne Le
Prep: 1 hour + chilling
1/2 cup butter, softened
3/4 cup packed brown sugar
2 cups all-purpose flour
1 (14-ounce) can sweetened condensed milk
1 teaspoon vanilla extract
1/2 cup miniature semisweet chocolate chips
1/2 cup chopped walnuts (optional)
Candy coating/semisweet chocolate chips
Cream the butter and brown sugar until light and fluffy. Add the flour, milk and vanilla; mix well.  Stir in the chocolate chips and walnuts.
Shape into 60 1-inch balls; place on waxed paper-lined baking sheets.  Loosely cover and refrigerate for 1-2 hours or until firm.
In a bowl, melt candy coating, stirring often until smooth. Using a spoon and fork, dip balls in coating and place on prepared baking sheets. The technique is to use one spoon to scoop the dough out of the chocolate and one fork to transfer the dough to the waxed paper-lined sheets. It can take a little while for this to feel right, so practice makes perfect. Refrigerate until firm, at least 15 minutes, or pop into the freezer for a few minutes just to harden the chocolate. If desired, re-melt remaining coating and drizzle over candies for a textured effect.
Store in the refrigerator.
Makes 5 dozen (60).
Hints from Corinne
On one occasion, Corinne experienced dough that was too soft to roll. She recommends pre-measuring the flour before adding it to the mix so there is no confusion as to how much was already added. If, after adding flour, you roll a ball of dough and it still seems extremely sticky, then add 2-4 tablespoons flour until it seems less sticky and easy enough to roll into a ball.
She often uses chocolate chips with a little shortening added instead of the candy coating. She finds it cheaper to use chocolate chips, and usually doesn't have candy coating on hand. If the melted chips are too thick, then add a tiny bit of shortening or even a tiny splash of vegetable oil.
Another sweet thing for your sweeties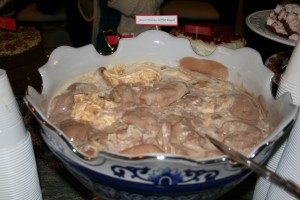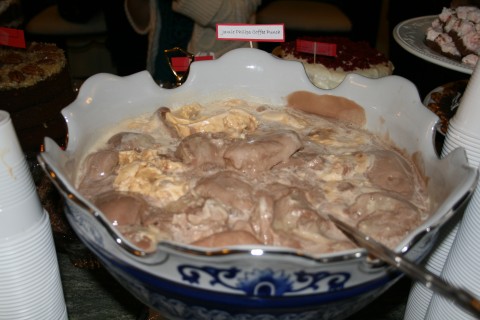 Corinne Le also makes a killer Coffee Ice Cream Punch that is the star of her holiday dessert party. It would make a wonderful addition to a Valentine's Day party or special dinner.