Print This Post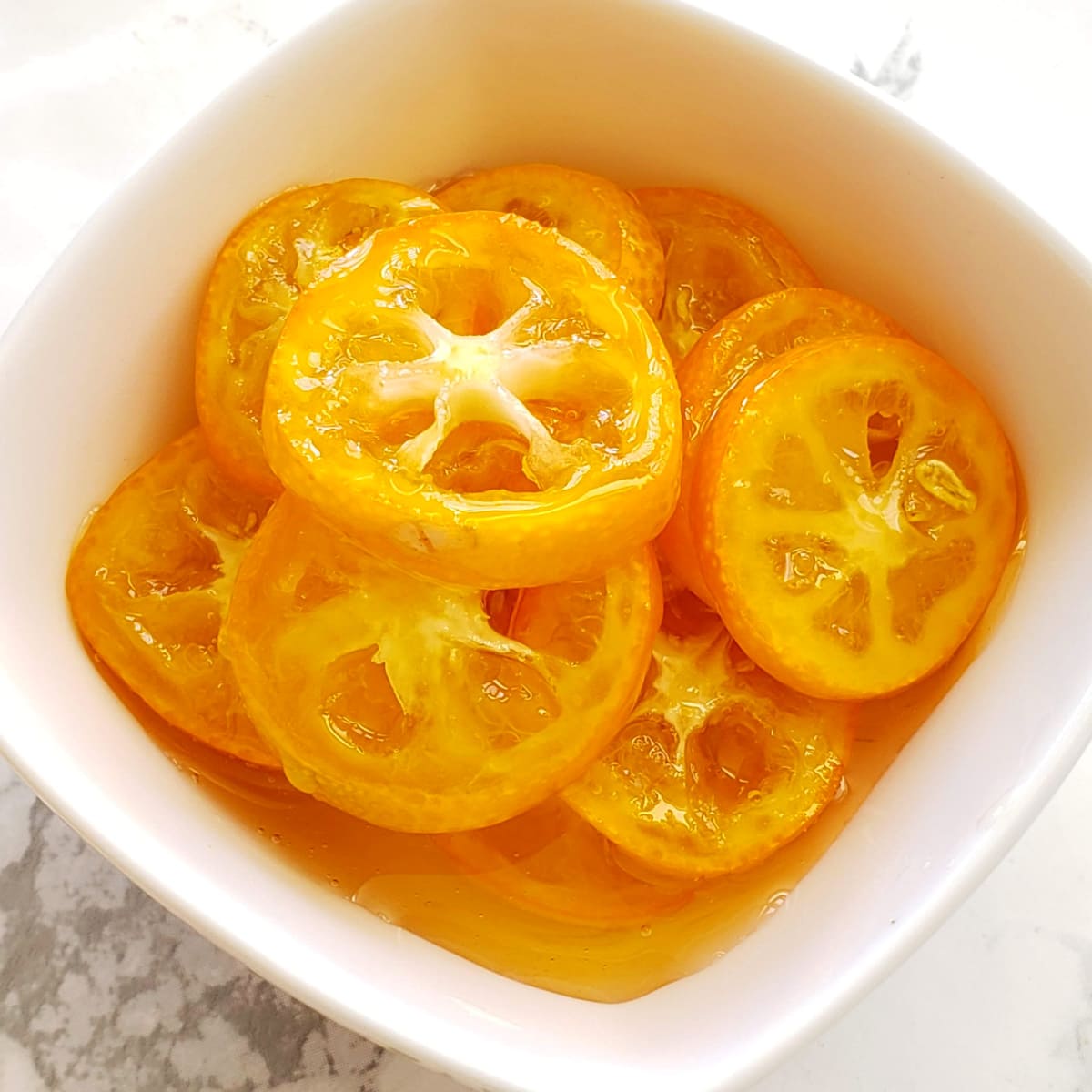 No-Cook Candied Kumquats are the tangy-sweet fruit treat you didn't know you needed. Thinly sliced kumquats soaked in honey to candy them — that's all it takes!

Once you make today's recipe for No-Cook Candied Kumquats, you'll keep them on hand all the time. Whenever a dish needs some oomph, I chop a few and fling them on. You will wonder where these have been all your life.
How to use No-Cook Candied Kumquats
I made a jar, we ate them within a day, just digging in with a spoon, and I immediately made another jar. When you open the refrigerator and see them, you'll be flooded with ideas for how to use them.
–straight out of the jar standing in front of the refrigerator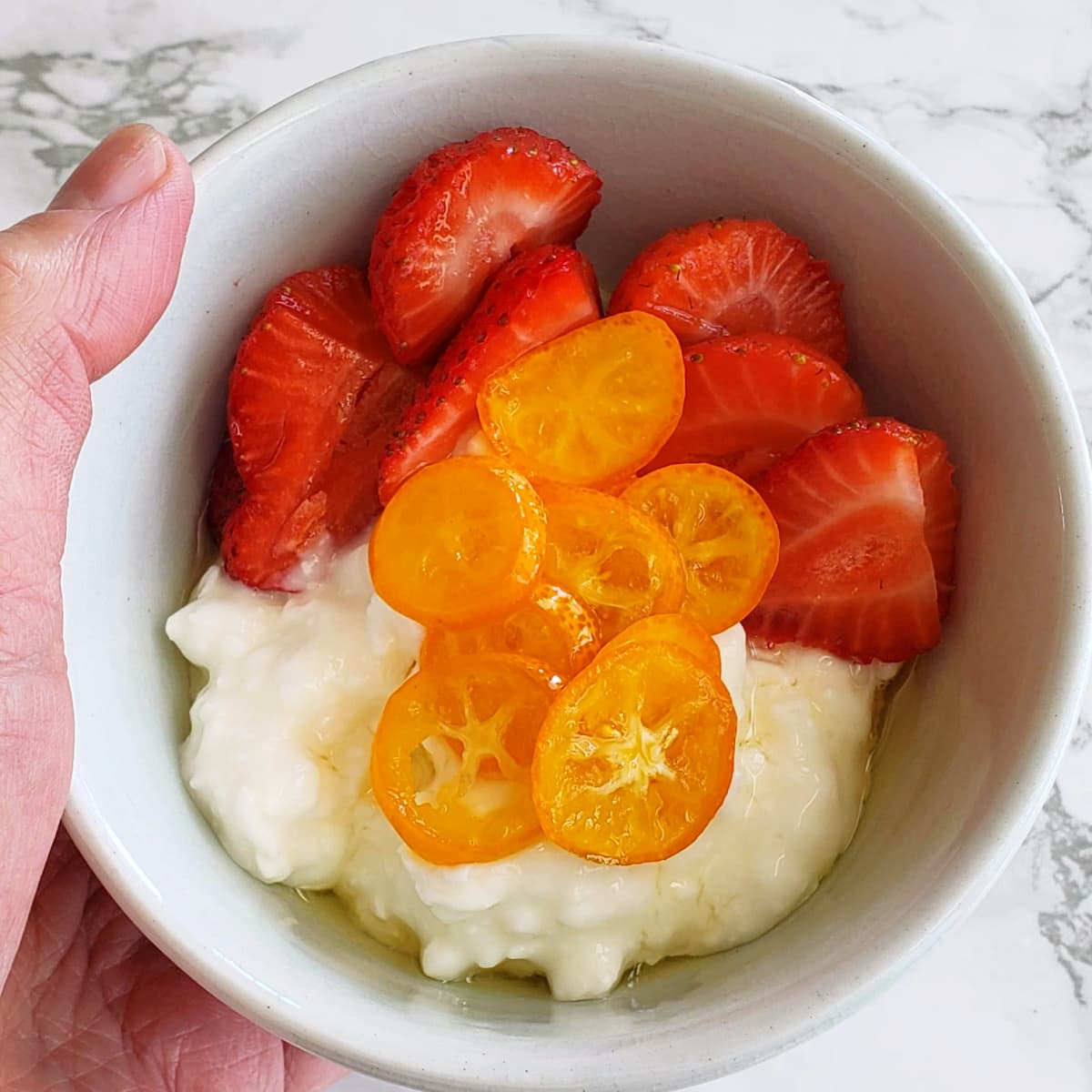 –on top of yogurt or cottage cheese for breakfast (above)
–use some liquid in cocktails or mocktails
–use some liquid and a few chopped kumquats in salad dressing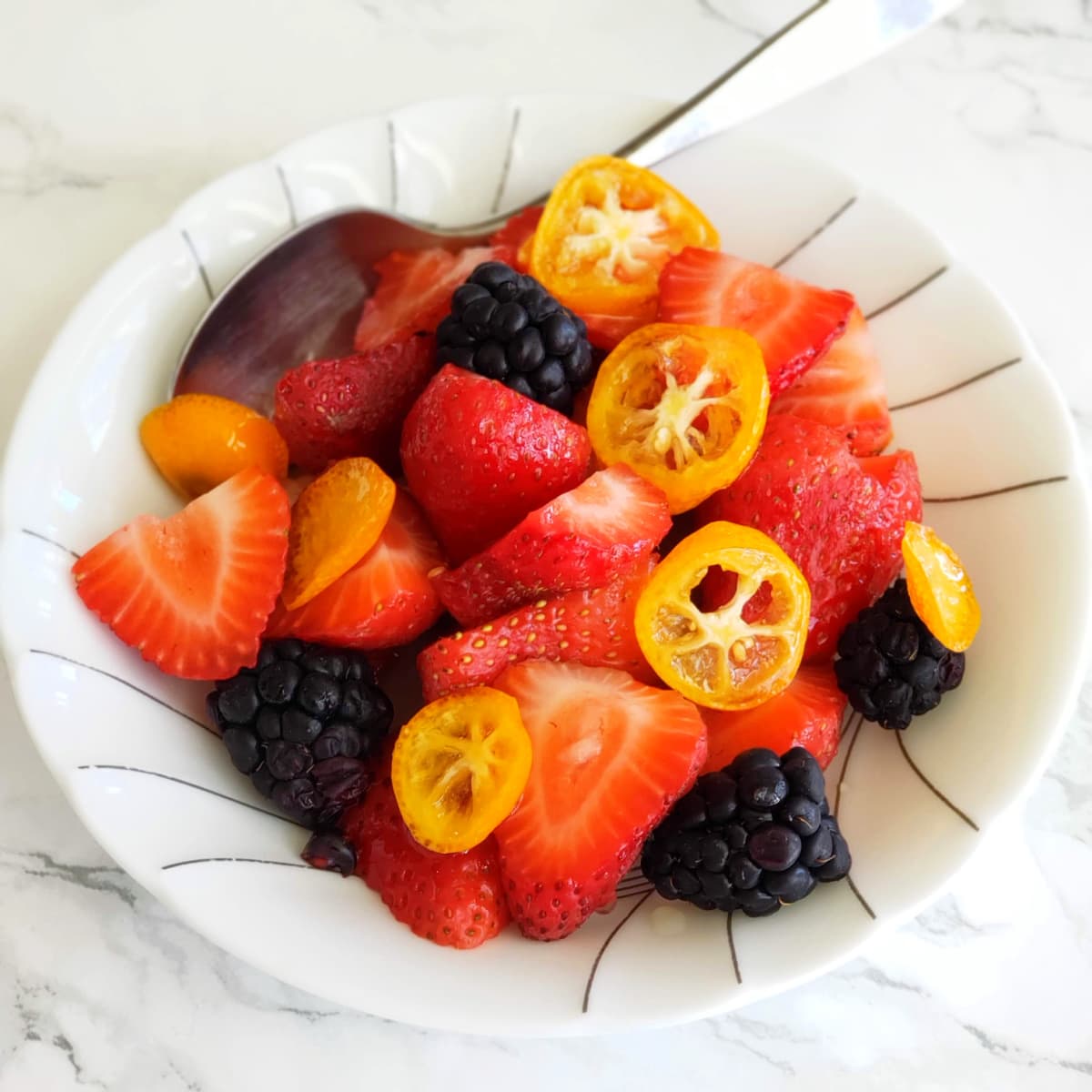 –on top of ice cream or frozen yogurt, or a bowl of berries as I have done above
–chopped and stirred into muffin batter or quick bread batter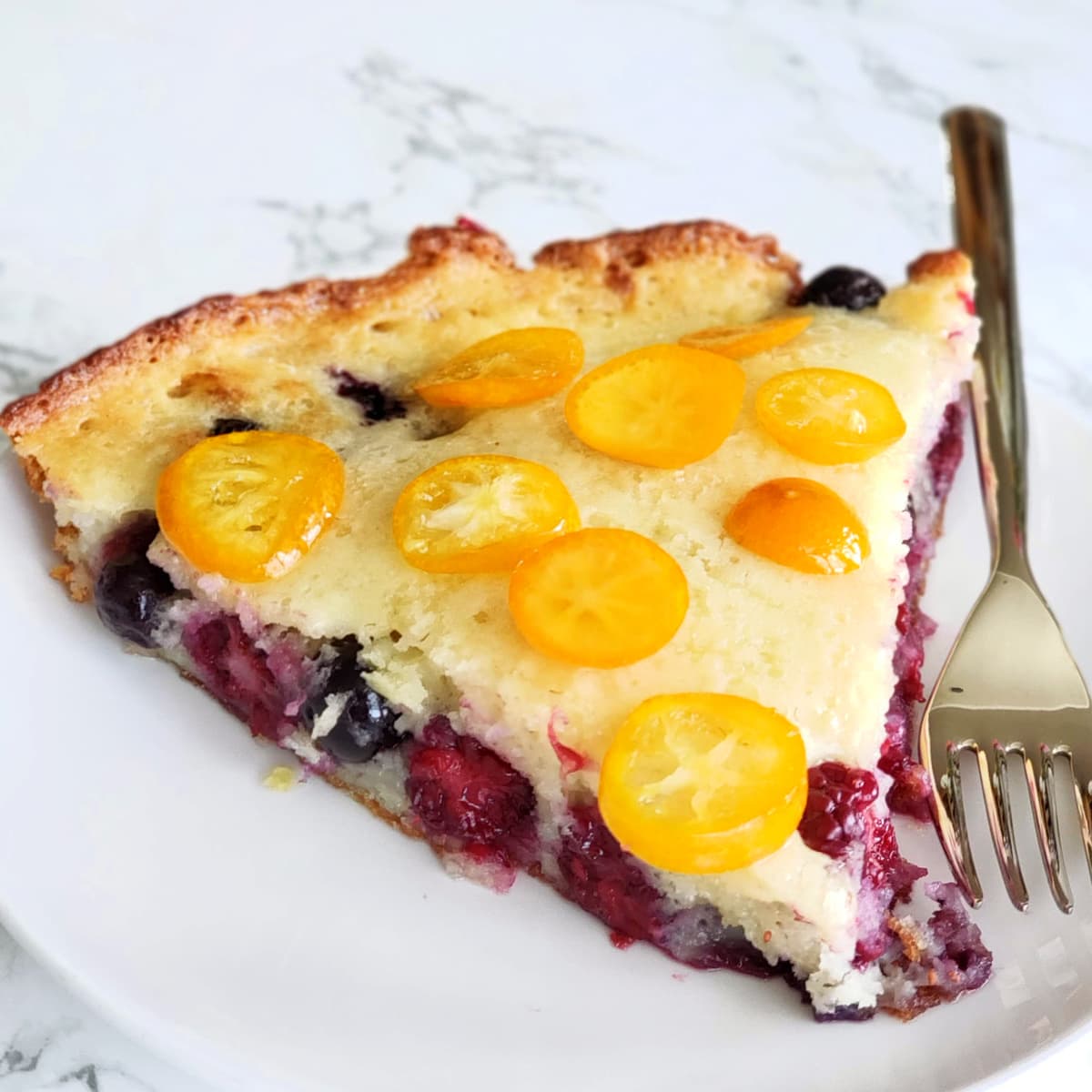 –on top of pancakes (here they are on a wedge of berry oven pancake)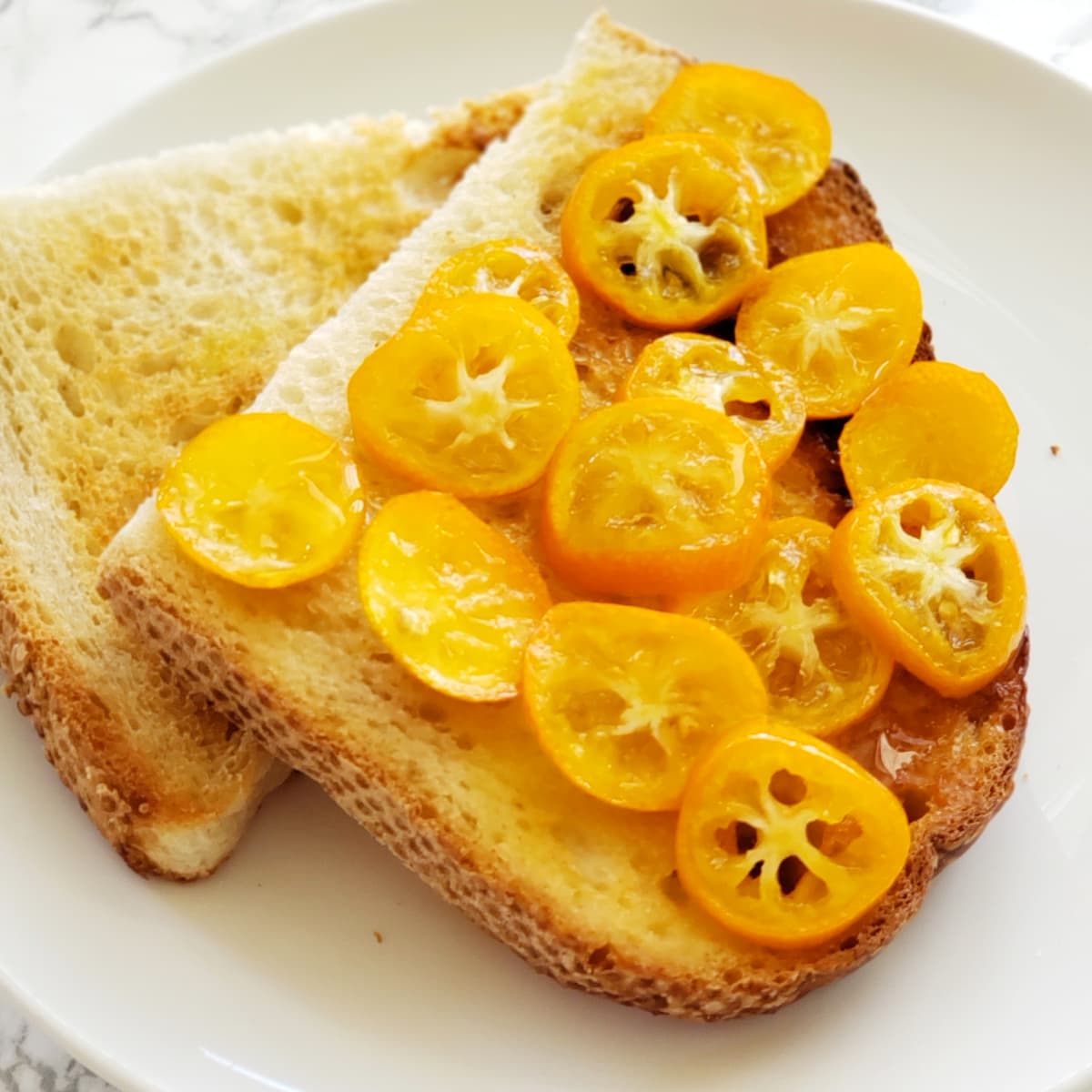 –on toast to stand in for marmalade (yes, it works!). Put some Candied Kumquat slices on your toast, and drizzle a little of the syrup over it.
–to decorate a cake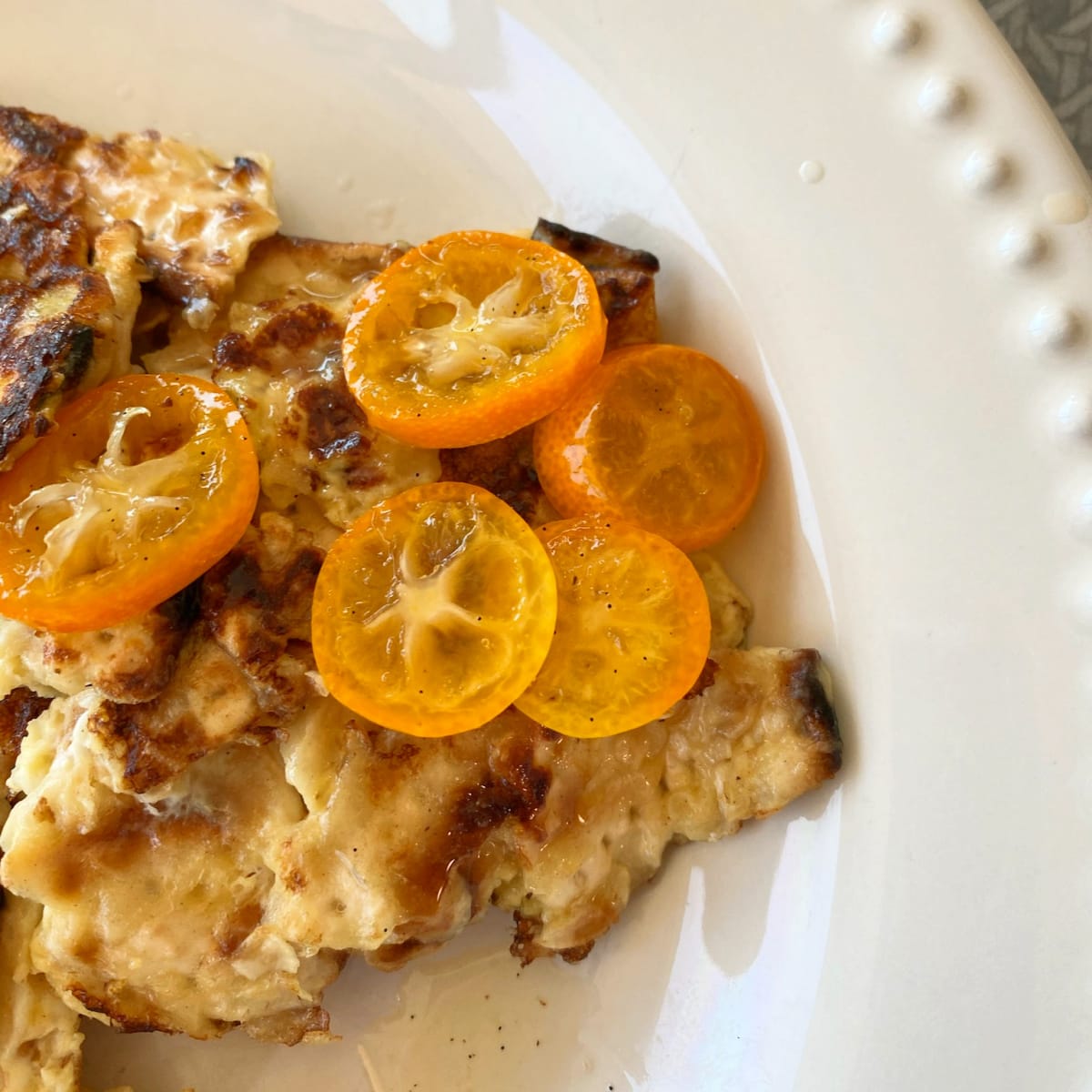 –on Matzoh Brie, during Passover
You'll think of a million other things once you taste them, I promise. And since we aren't canning them, you can make one jar at a time. Or maybe make 2 jars and give one to the neighbor. Good food gifts make good neighbors. You heard it here first.
How to make No-Cook Candied Kumquats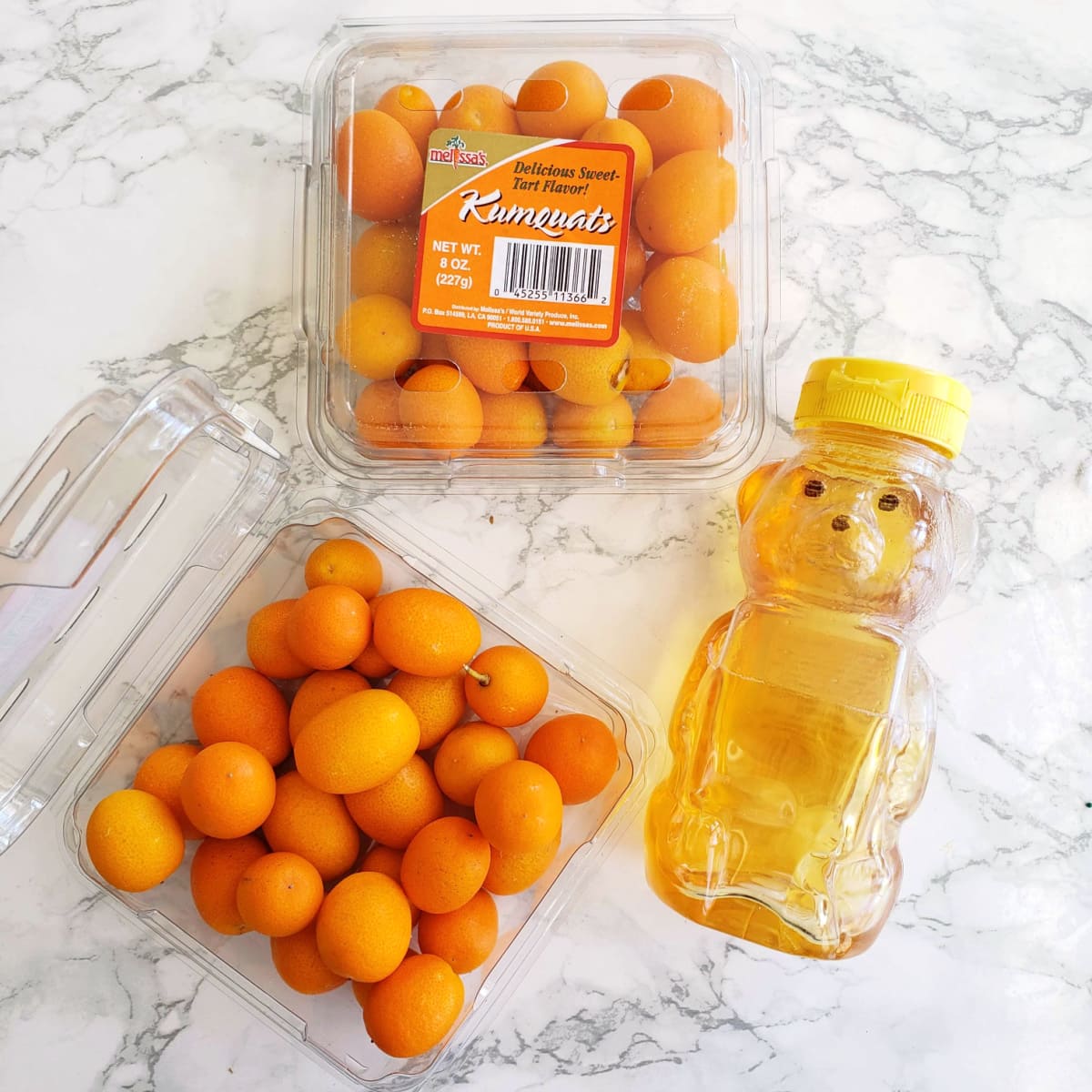 Assemble your 2 ingredients — fresh kumquats and runny honey.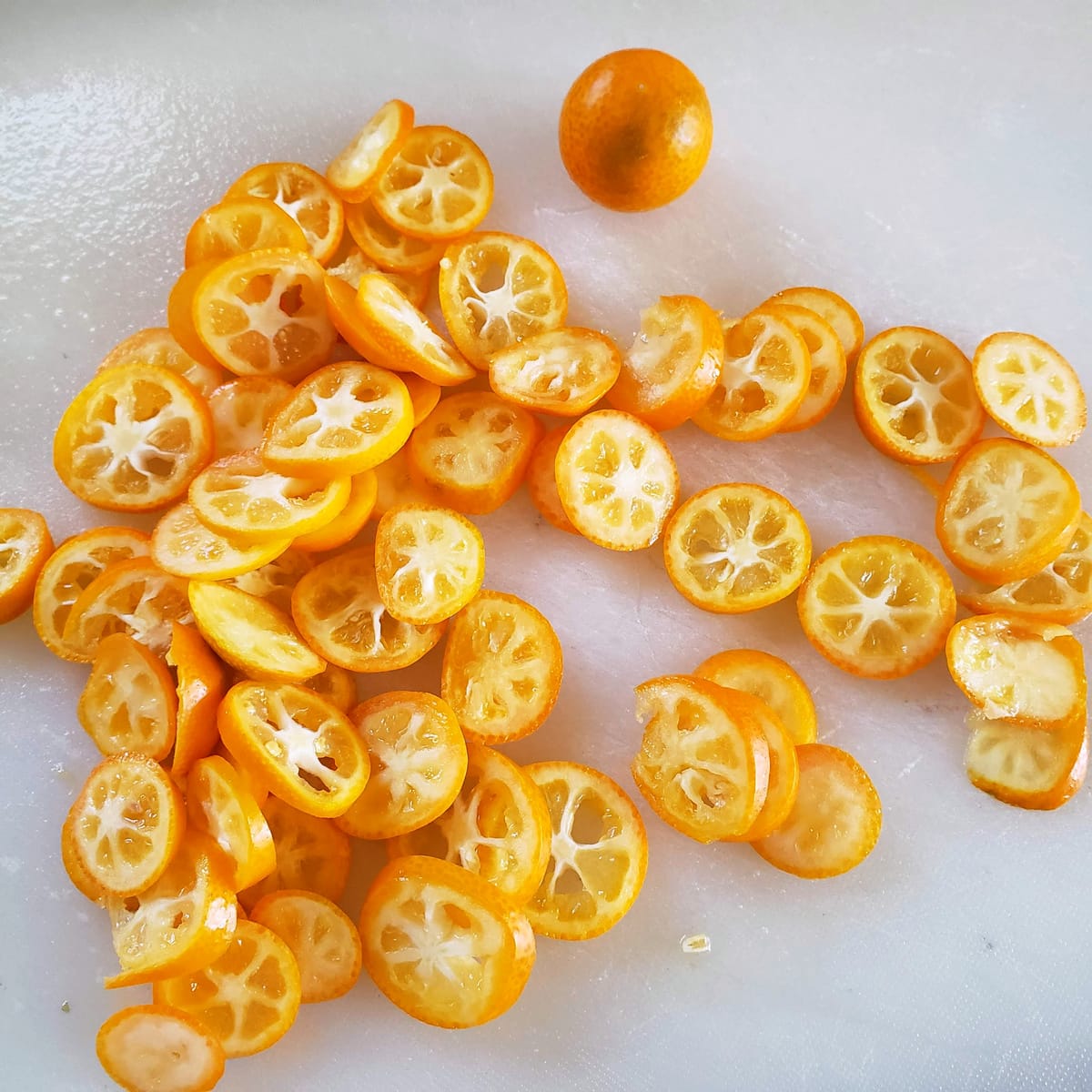 Slice the kumquats very thinly, and flick away any seeds if you see them. I use my favorite 40-year-old cheapie serrated supermarket knife, or a small paring knife. The knife isn't crucial; just slice those kumquats thinly.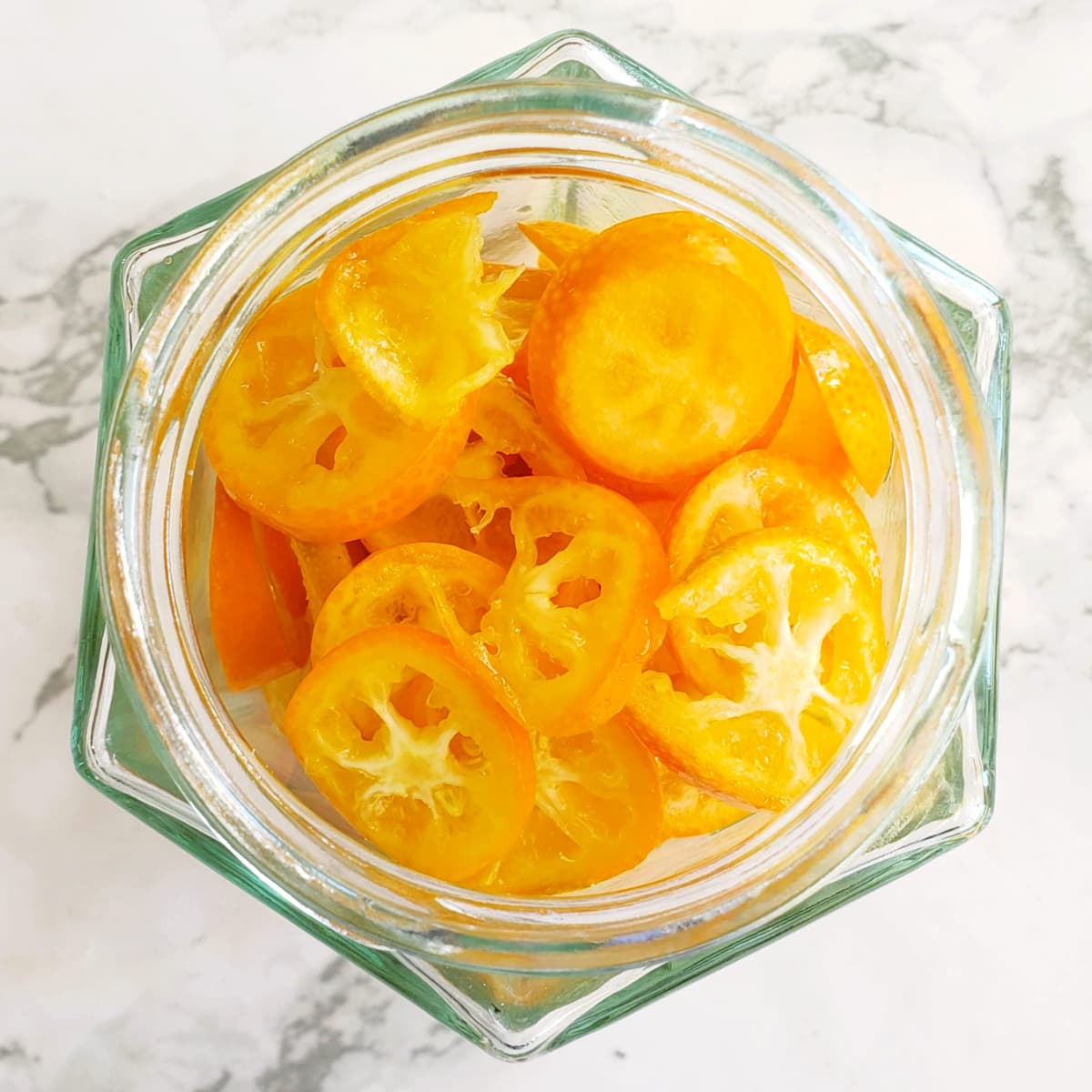 Put the kumquat slices in a jar. Don't pack them in tightly, just put them in there.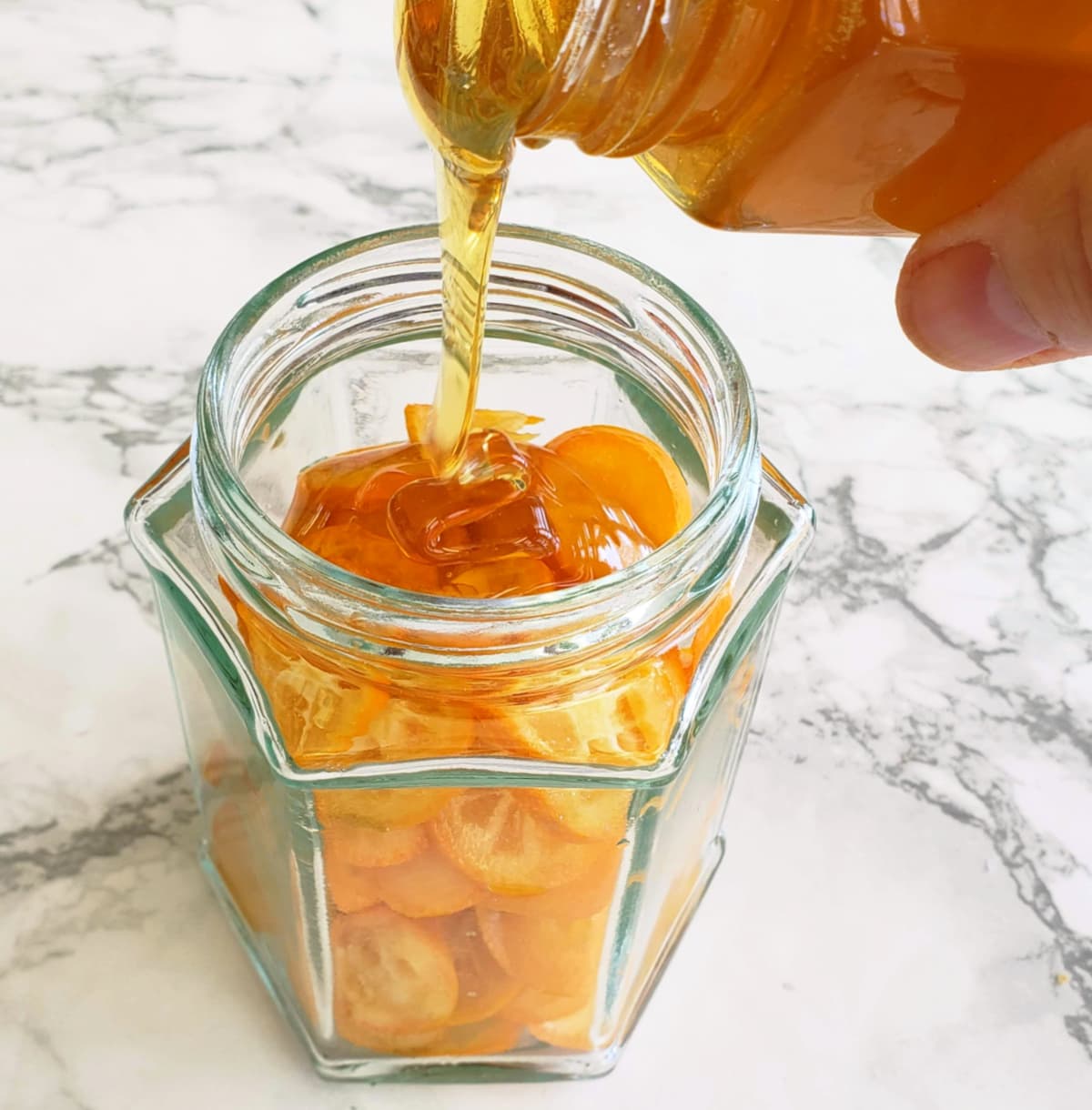 Pour in honey to cover the kumquat slices.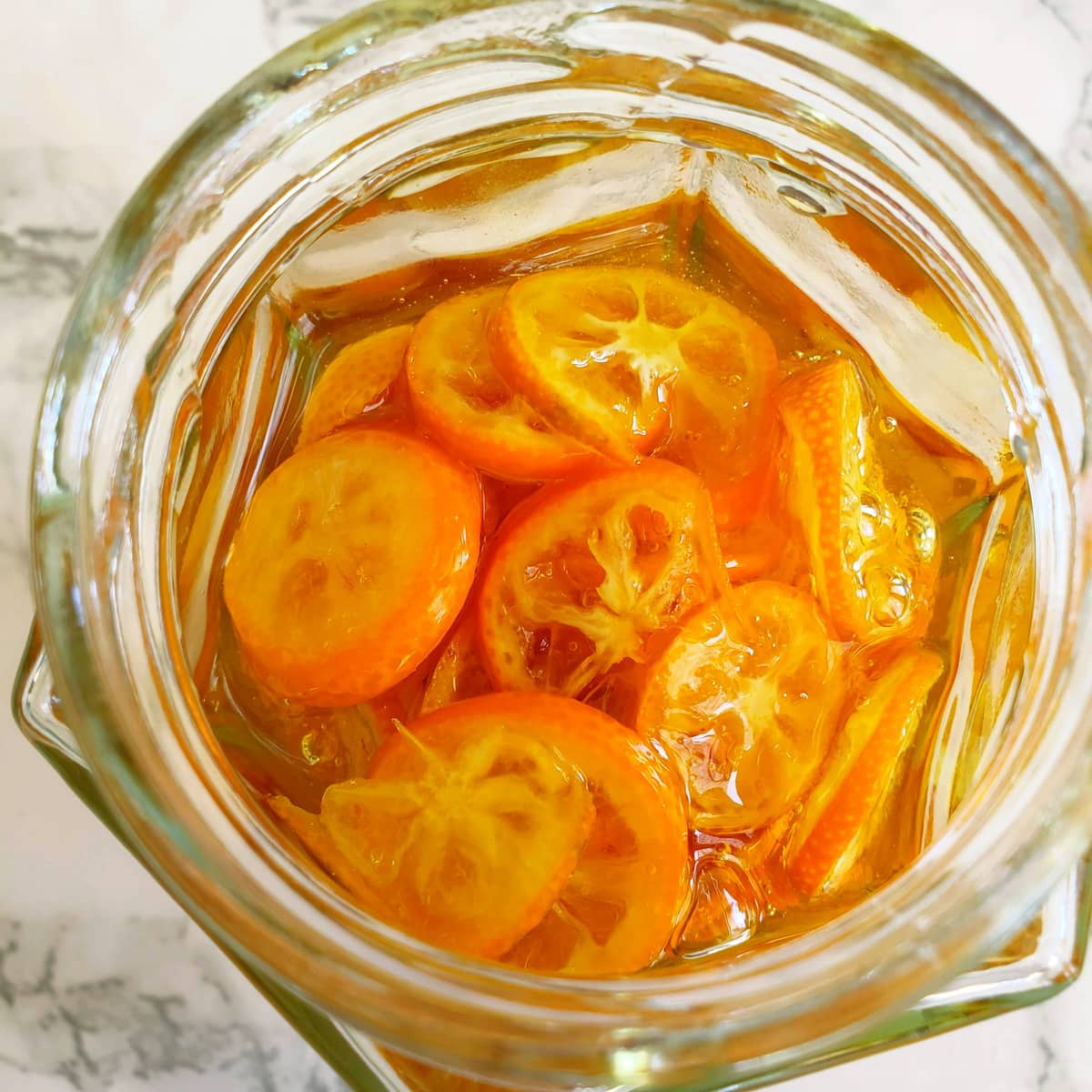 So far so good! It looks great!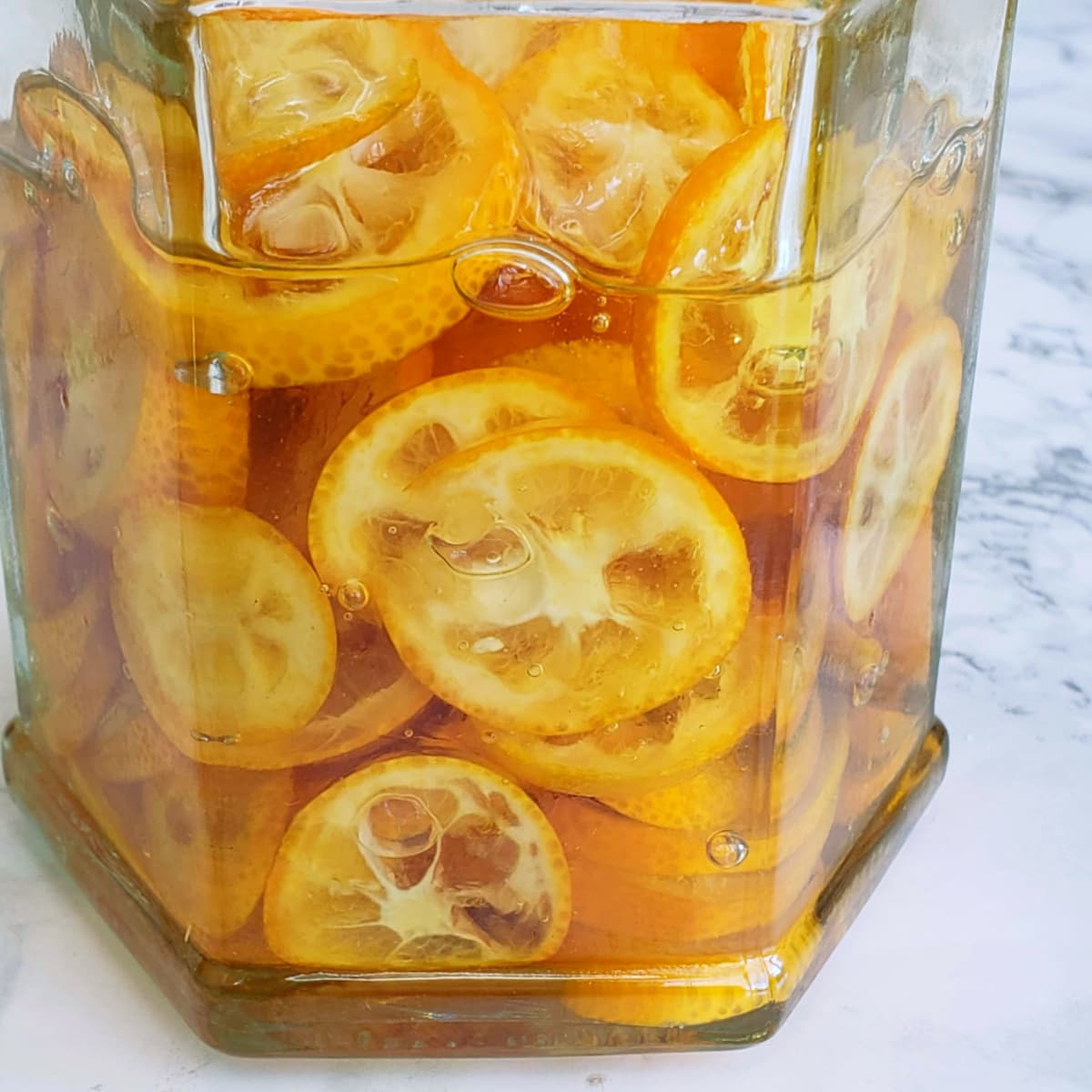 Within an hour, when you shake the jar a little bit, the contents will begin to slosh. This means the kumquats are releasing their juice and the sugar is penetrating the fruit.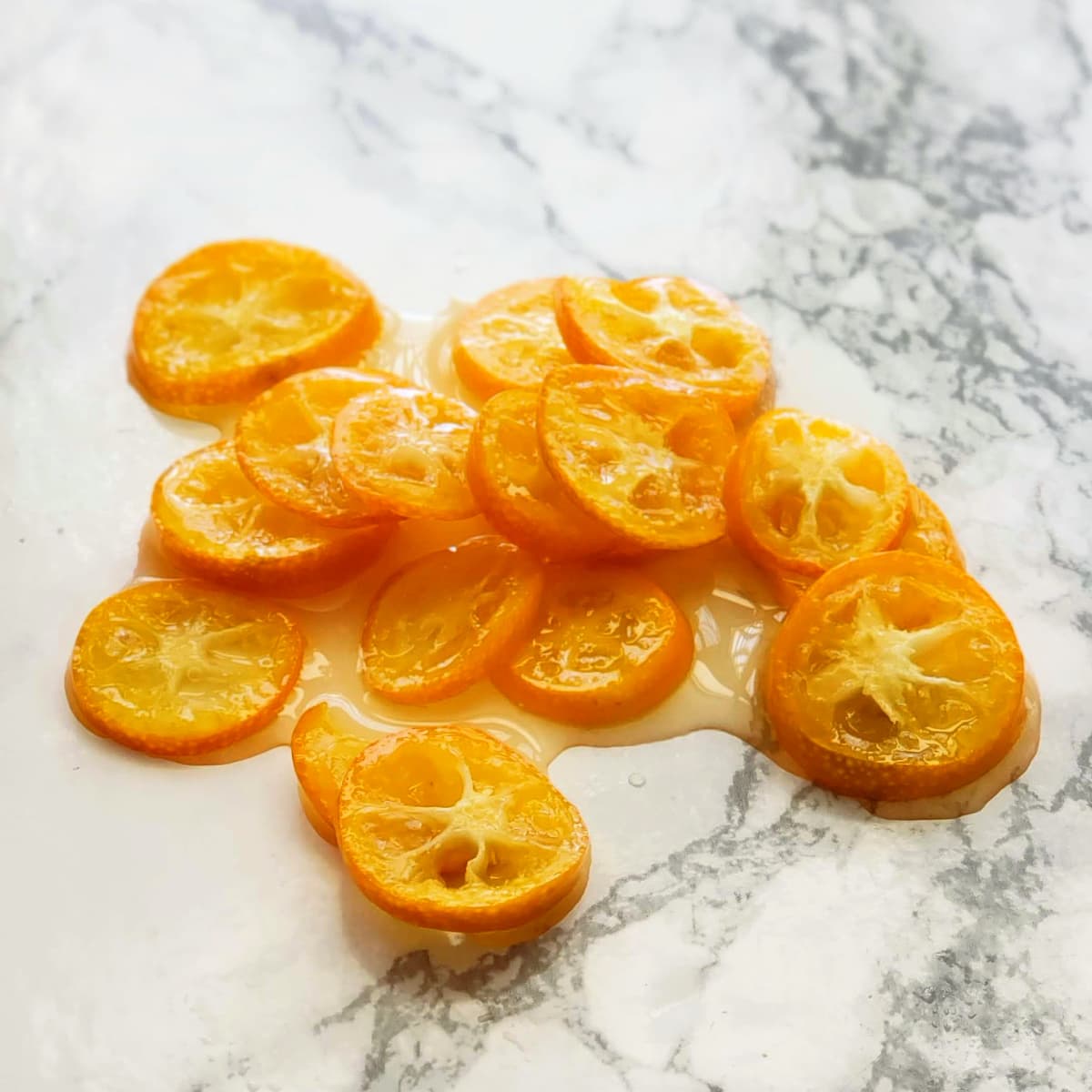 It really is a bit miraculous how this happens, but the next day, you'll have fully candied kumquats, to use in whatever way you can dream up! (Is anyone triggered and anxious about these kumquats spilled on the counter? Don't worry, I cleaned it up right after the picture.)
No-Cook Candied Kumquats are the tangy-sweet fruit treat you didn't know you needed. Thinly sliced kumquats soaked in honey to candy them -- that's all it takes! Use them on cottage cheese, yogurt, ice cream, berries, cakes, in muffins or pancakes...whatever you can dream up!
Ingredients
8 ounces fresh kumquats (or whatever amount you'd like to make; this will start you off)
1 jar runny honey (not solid or crystallized)
Directions
Make sure you have a scrupulously clean jar with a lid. You are not canning this recipe, but you still want an absolutely clean jar.
Thinly slice kumquats crosswise, flicking away the seeds if there are any. Place kumquats in clean jar.
Pour honey into jar until it just covers kumquats. Set jar on counter for an hour or 2. After that time, you can shake the jar a bit and you'll see the honey has gotten more sloshy, which means the kumquats released their juice and the honey penetrated the fruit.
Store the jar in the refrigerator. Kumquats will continue to candy until they have absorbed all the honey they can.
Use the liquid in cocktails or mocktails or to sweeten your tea, or brush onto cake layers to keep them moist. Use the fruit in desserts, strewn over bowls of berries, chopped and mixed into muffins, etc.
Makes 1 jar. Make more jars if you'd like to share a jar with the neighbors (highly recommended).
Notes
Recipe source: Dorothy Reinhold | Shockingly Delicious
https://www.shockinglydelicious.com/no-cook-candied-kumquats/
Copyright Dorothy Reinhold | ShockinglyDelicious.com. All rights reserved.
Pin the image below for No-Cook Candied Kumquats to your Pinterest board to save this recipe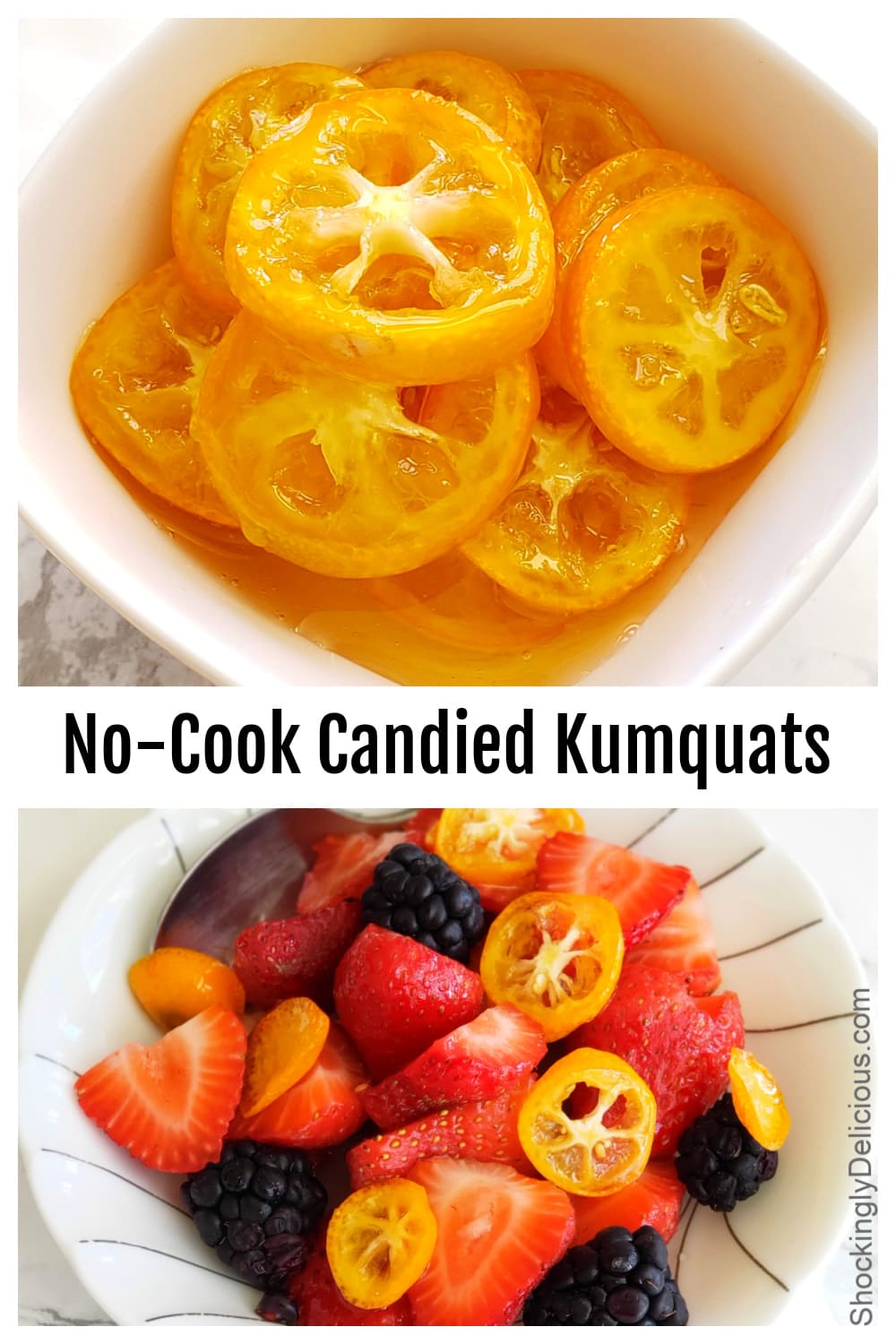 Want to see other recipes for spring sweets?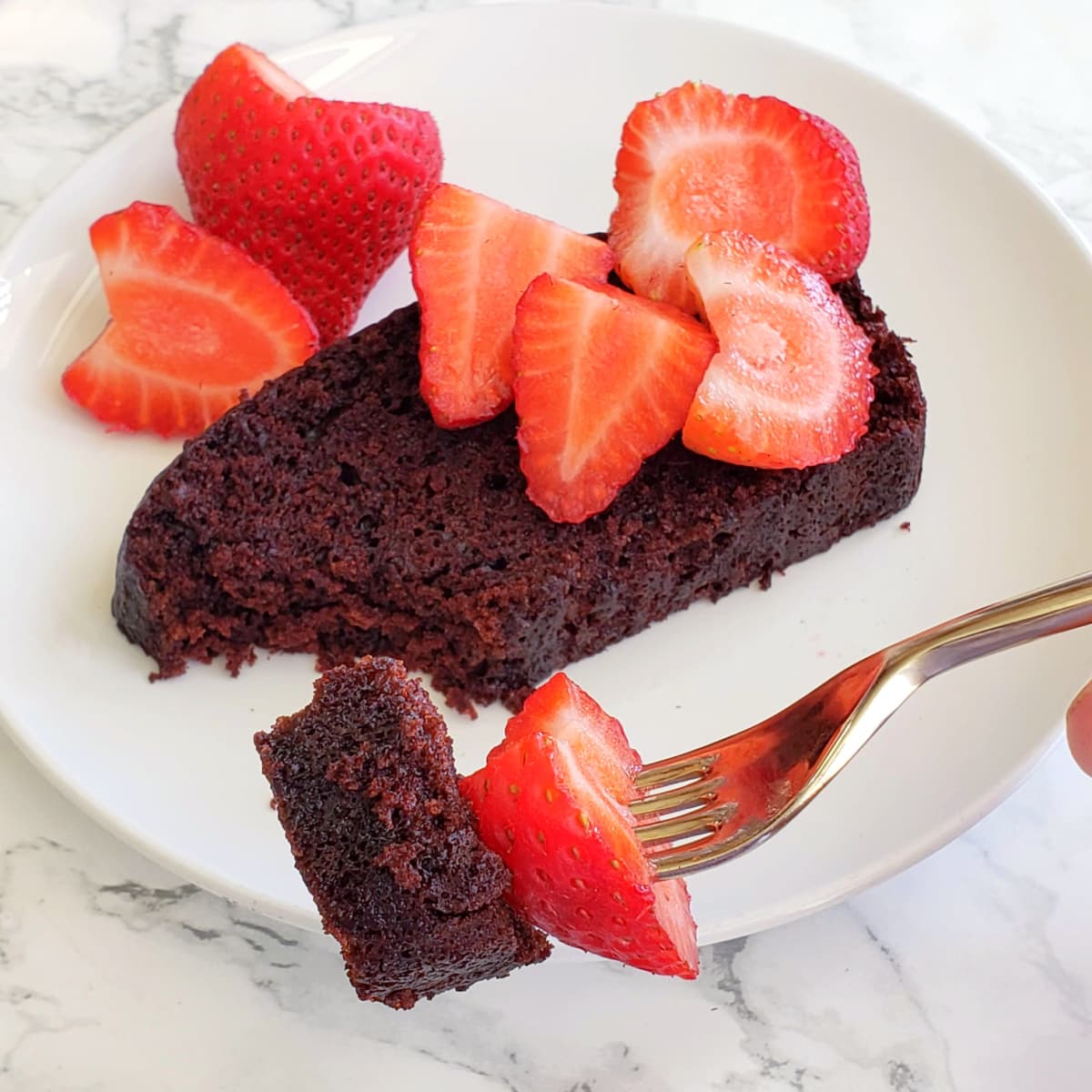 Vegan Chocolate Loaf Cake (Small Batch)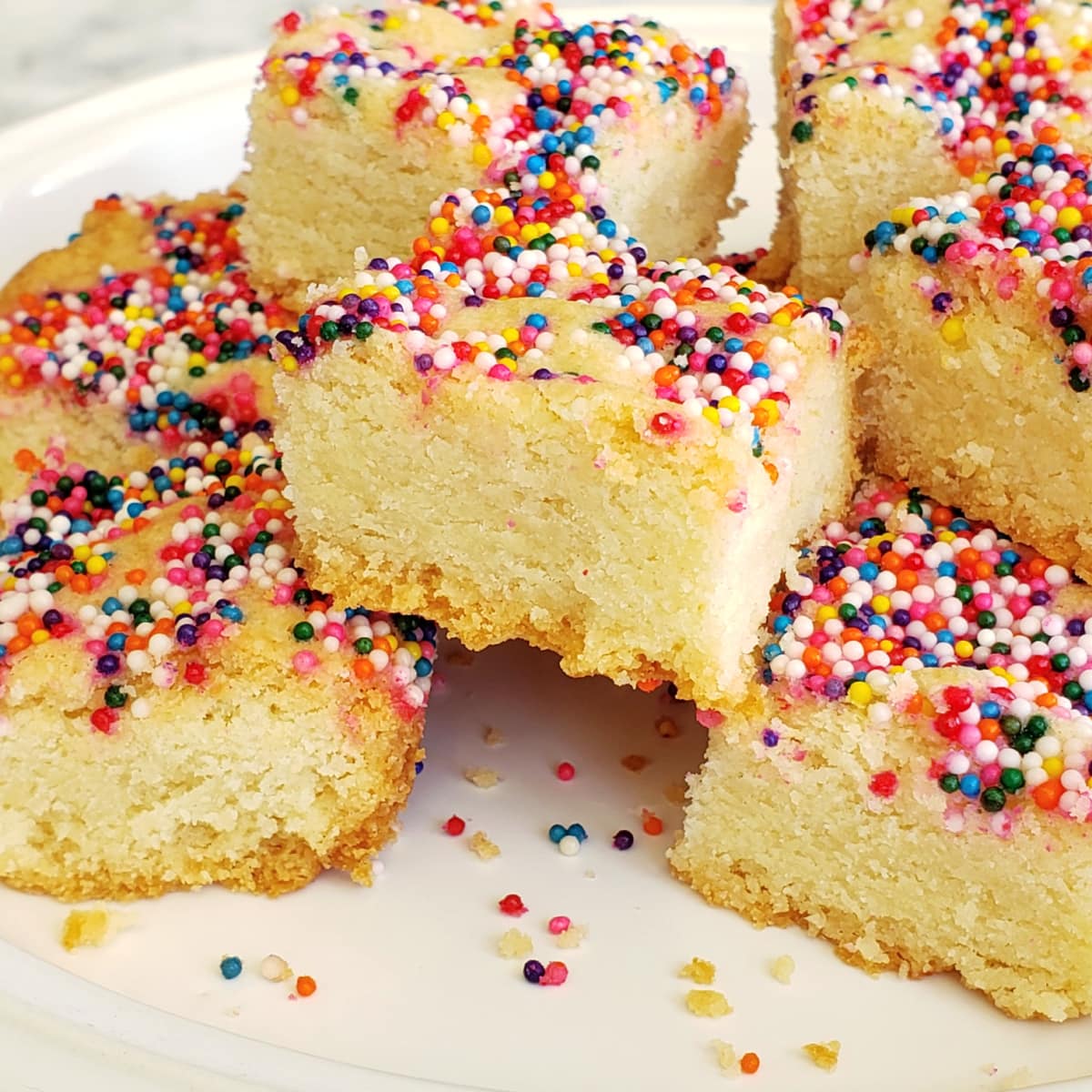 Lemon Shortbread with Sprinkles (Small Batch)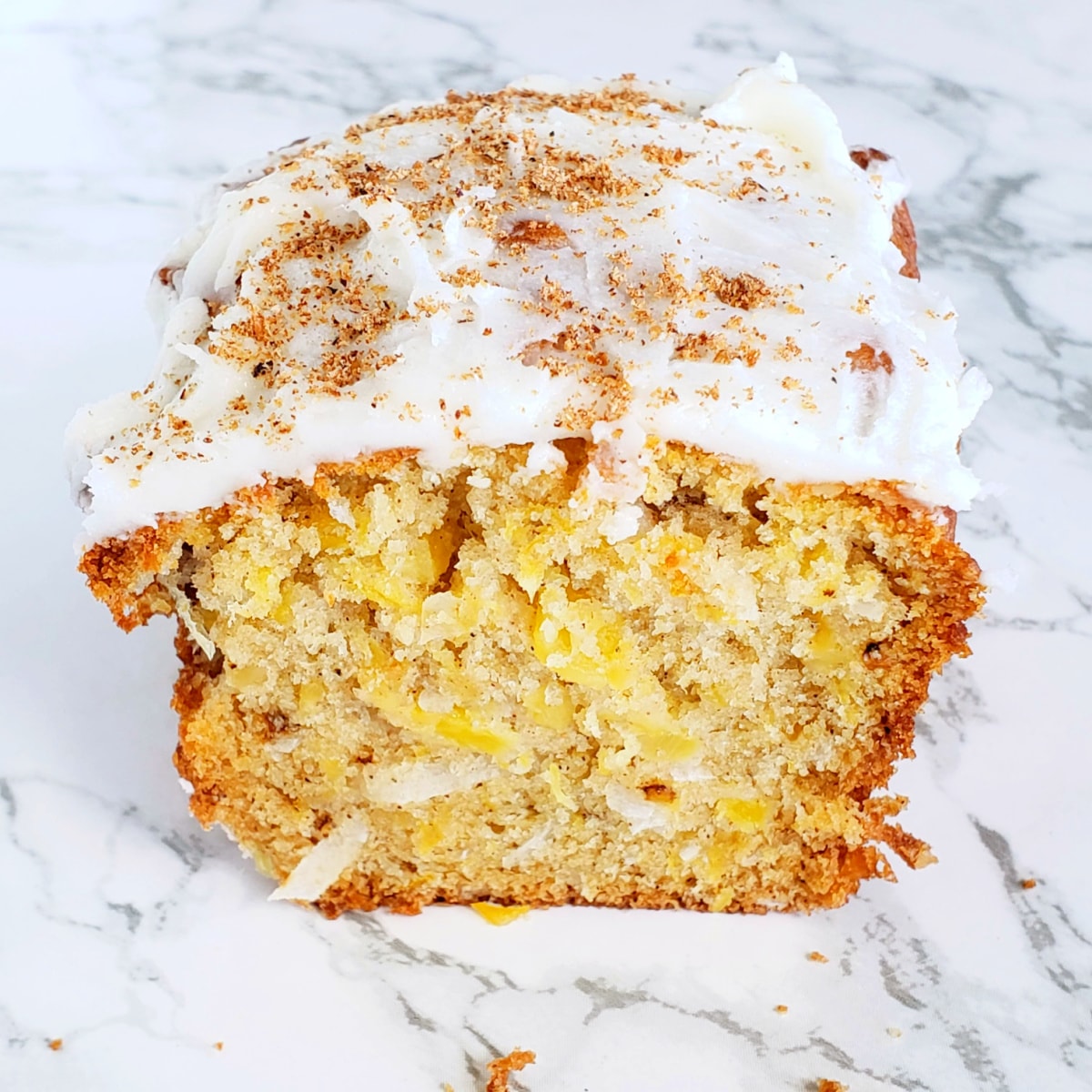 Pineapple Coconut Quick Bread
Thanks for visiting…are you hungry for more? Follow Shockingly Delicious on…
FACEBOOK | PINTEREST | INSTAGRAM | TWITTER
…for all the latest recipes, ideas and updates!
This post may contain affiliate/referral links. It is a way for this site to earn advertising fees (at no cost to you) by advertising or linking to certain products and/or services that I approve and prefer. Thank you for using my affiliate link to shop, so I can continue to bring you shockingly delicious recipes!