Print This Post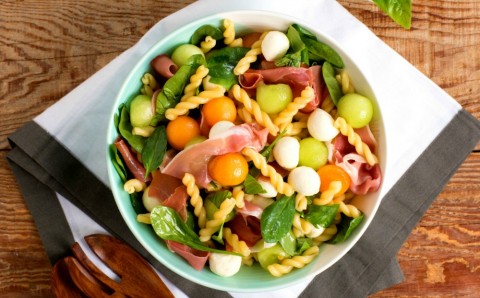 When you think of pasta, don't you automatically think of a big, comforting, carby bowl o' goodness? And doesn't it scare you if you're watching your diet, because you really, truly, don't have the willpower to just eat two strands of pasta and call it a meal.
But pasta dishes don't have to be caloric. Witness this California-style Melon and Prosciutto Pasta Salad, a fresh take on a springy pasta salad, featuring two kinds of melon classically paired with prosciutto and a couple of tiny mozzarella balls thrown in for protein. Leafy spinach and basil jump into the bowl for added nutrition and flavor. The pasta is not the star attraction in this dish, but it is more like the support pillar.
At under 250 calories, this would be an amazing lunch (no afternoon nap needed!), or bring it to a gathering (wedding or bridal shower? Easter brunch?) and rake in the compliments.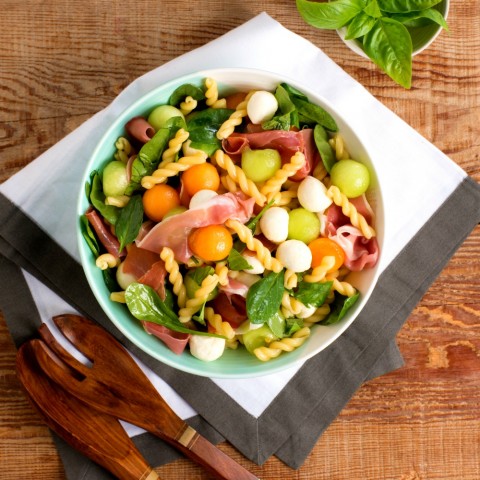 And since March is National Nutrition Month, we're right in keeping with a check on calories, enough protein to satisfy, and a low-fat approach.
Lunch is served, and my fork is so happy!
Melon and Prosciutto Pasta Salad
Melon and Prosciutto Pasta Salad: Prosciutto-wrapped melon is a classic Italian appetizer. When these simple flavors are tossed with pasta and spinach, they make a delicious, low-calorie quick and portable lunch or side dish.
Ingredients
4 ounces gemelli-shaped pasta
3 tablespoons olive oil
2 tablespoons white wine vinegar
1 teaspoon honey
1/4 teaspoon salt
1/4 teaspoon ground pepper
1/2 small honeydew melon (12 ounces)
1/2 small cantaloupe (12 ounces)
12 cocktail bocconcini (tiny mozzarella balls, about 3 ounces)
3 slices/1.5 ounces torn prosciutto
4 cups/4 ounces baby spinach
1/4 cup torn fresh basil leaves
Directions
Cook gemelli according to package directions. Drain and let cool completely.
Meanwhile, whisk together olive oil, vinegar, honey, salt and pepper; toss with pasta.
Using melon baller, scoop out 12 small balls each melon and cantaloupe; add melon balls, bocconcini and prosciutto to pasta. Toss well to combine. Stir in spinach and basil.
Notes
Substitutions: For a simple variation, substitute crumbled feta cheese for bocconcini and mint for basil.
Nutrition: 6 servings (Per 1/6th recipe) Calories 236, Fat 11 g, Saturated Fat 3 g, Cholesterol 16 mg, Sodium 310 mg, Carbohydrate 26 g, Fiber 2 g, Sugars 11 g, Protein 9 g
Recipe and photo source: National Pasta Association
https://www.shockinglydelicious.com/melon-and-prosciutto-pasta-salad/
Copyright Dorothy Reinhold | ShockinglyDelicious.com. All rights reserved.

If you like this recipe and want to save it, pin the image below to your Pinterest board!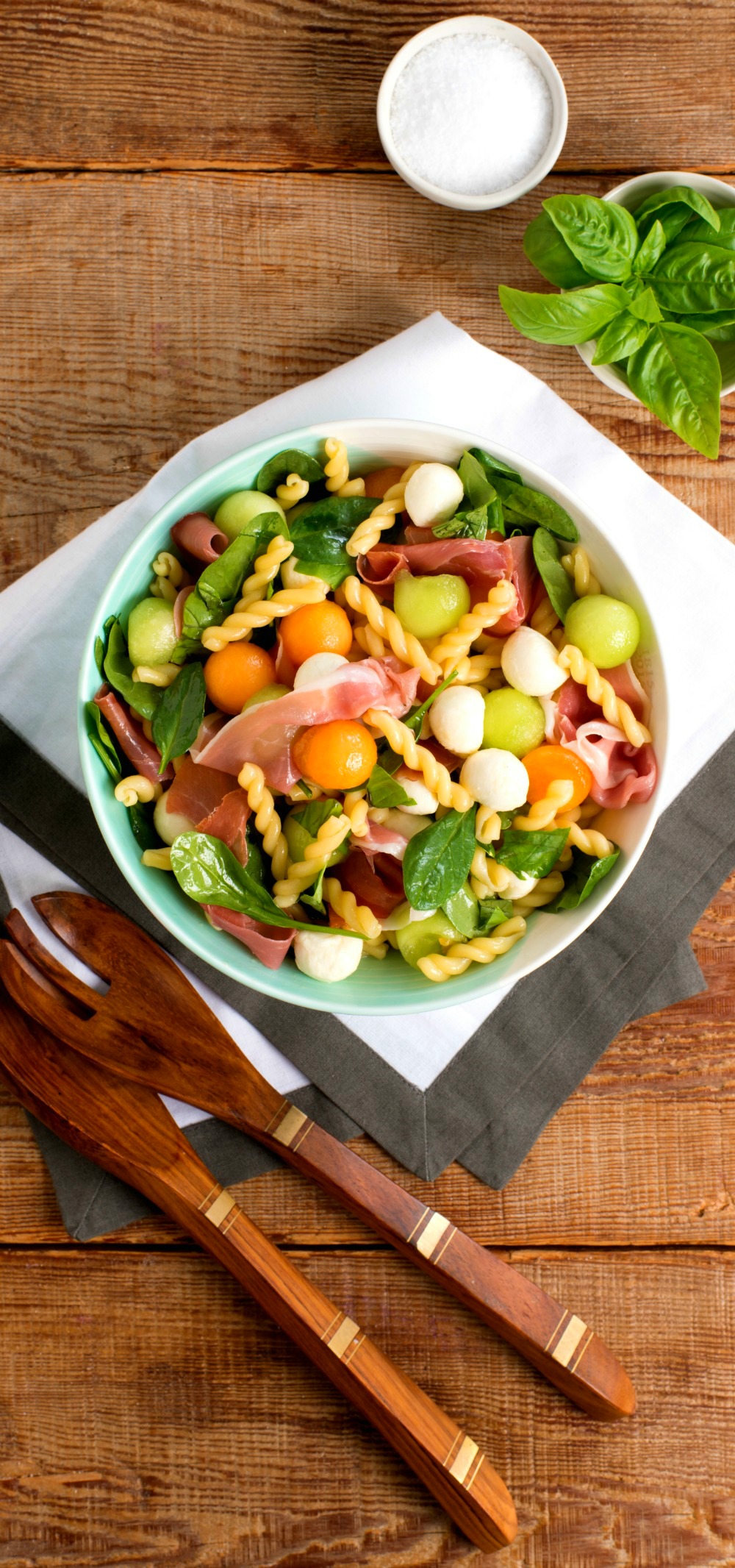 This recipe is linked to Meal Plan Monday.
Save
Save
Save
Save
Save
Save
Save