Print This Post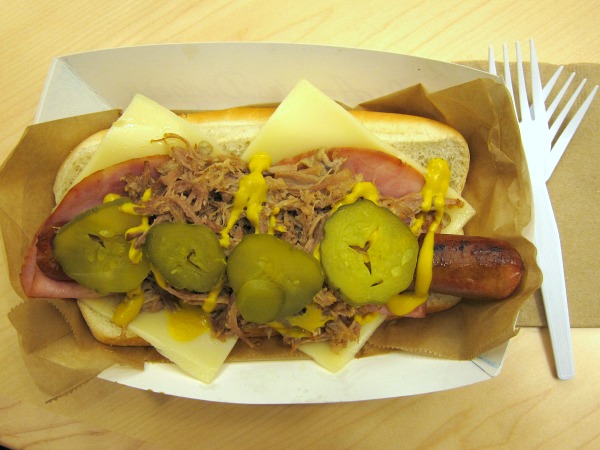 Baseball fans, meet your new Dodger dog.
It's called a Cuban Dog, and it's a ¼-pound beef dog, getting cozy with smoked ham, pulled pork (braised for 6 hours with orange juice, Habanero, pineapple juice and other lovelies), melted Swiss cheese and dill pickles.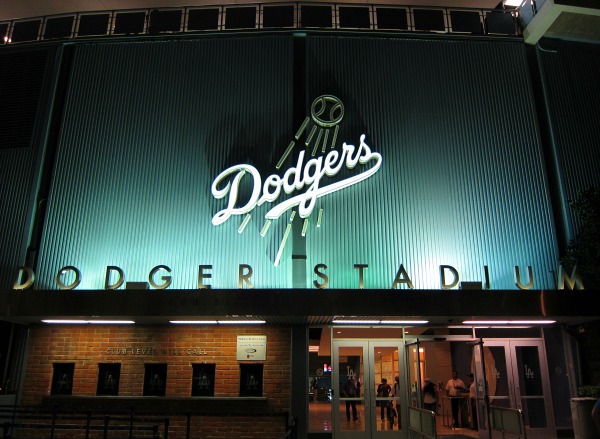 Ah…now THAT'S destination dining!
We fell in love with it, although truthfully, it is a special-occasion dog, topped with local ingredients reflecting the visiting team's hometown flavors. The visiting team the night we were there was the Florida Marlins, so Cuban Dog it was. However, and this is just a suggestion, Dodgers, but don't you have a star player named Yasiel Puig, and isn't he Cuban? Let's call it the Puig Dog, and have it there 100% of the time! Case closed.
And don't worry, fans, your traditional Dodger Dog is still unchanged.  😀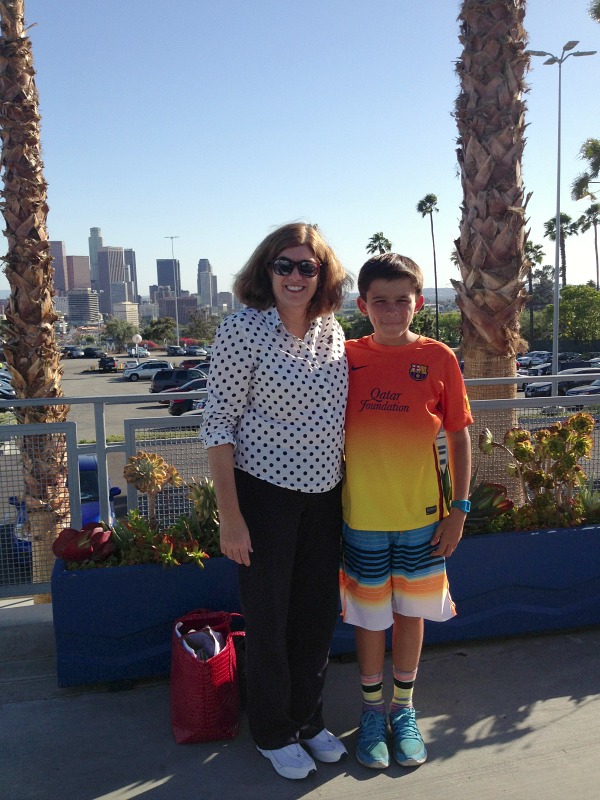 My son and I were invited to Dodger Stadium to try the food at two new restaurants on the new plaza behind the stadium. Guess what? There's a lot of new vittles to embrace at the park, including: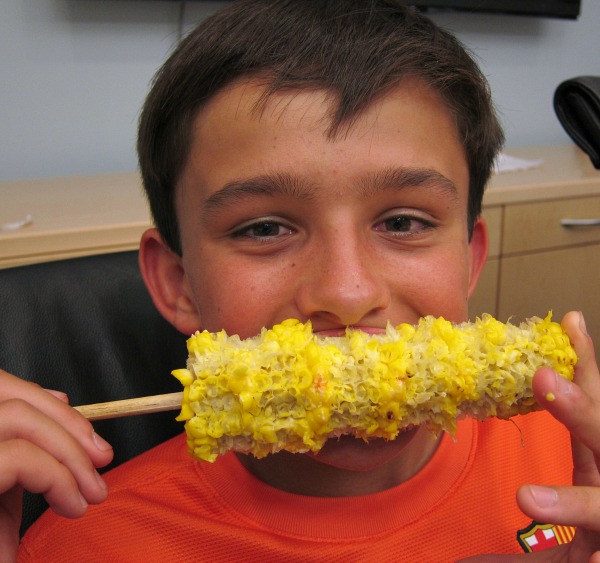 Elote – Mexican street corn slathered in mayo, lime juice, BBQ spice and Parmesan. The man cub really liked it!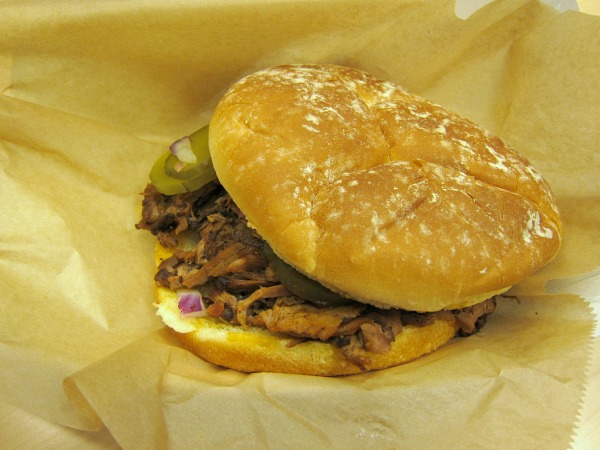 Brisket sandwich! This was my favorite, and I couldn't put it down, despite so many other things to taste. Brisket smoked for 17 hours in hickory and cherry wood, married to a Bermuda onion, dill pickles and a vinegary BBQ sauce in a potato bun. It literally melted in your mouth. Can I have it for my birthday dinner?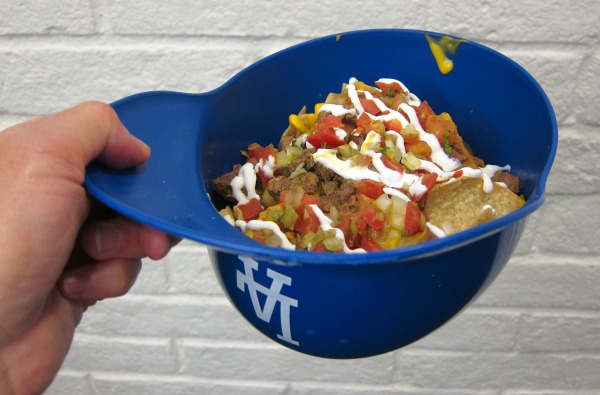 Loaded nachos! Called a Major League Nachos Helmet, this is a souvenir 64-ounce helmet filled with crispy chips, nacho cheese, smashed pinto beans, carne asada, sour cream and pico de gallo.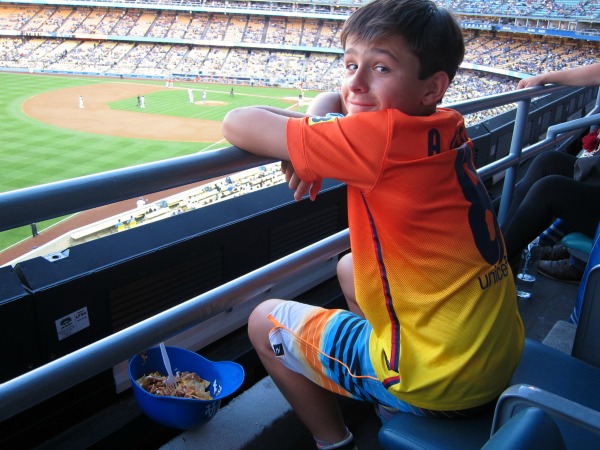 Every time we thought we were full, we still made room for more of these nachos. Bring me a fork!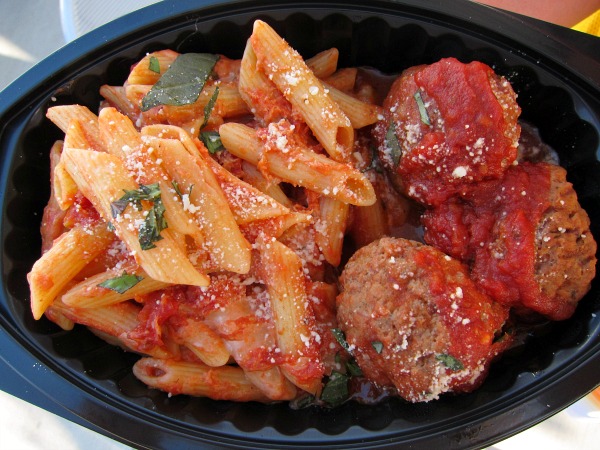 Penne with Meatballs. The artisan pasta is made with semolina flour, the cheese is real Parmigiano-Reggiano, and there's fresh basil strewn across the super-reduced sauce. This is an eyes-closed, delicious, restaurant-quality dinner from the new Tommy Lasorda's Trattoria.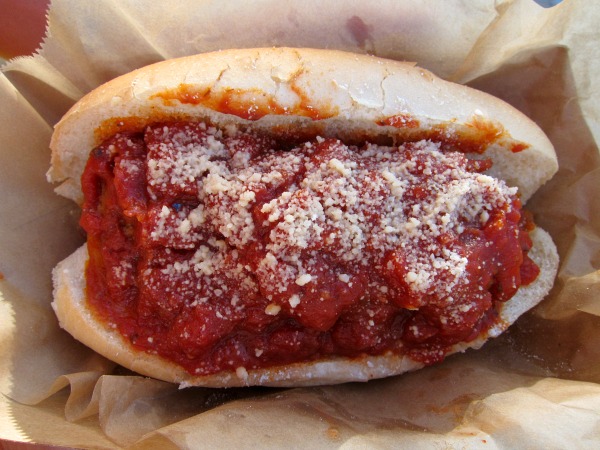 Meatball Sandwich. Tommy Lasorda insists his mother made the best meatballs, but these meatball sandwiches come thisclose, with three lighter-than-air meatballs  nestled inside a soft-inside, crunchy-outside roll, with sliced provolone, reduced marinara and Parmigiano-Reggiano on top. It's Tommy-approved!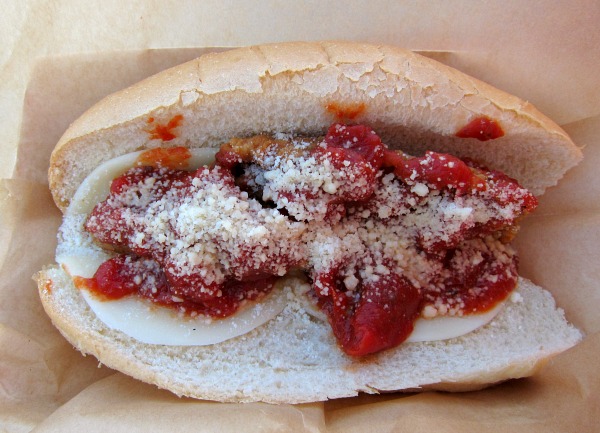 Chicken Parmesan Sandwich. Same deal as the meatball 'wich, except the chicken is breaded with panko and deep fried, then bedded atop provolone and slathered in that great reduced marinara. Are we sensing a theme here? Their Italian specialties from Tommy Lasorda's Trattoria are really, really good!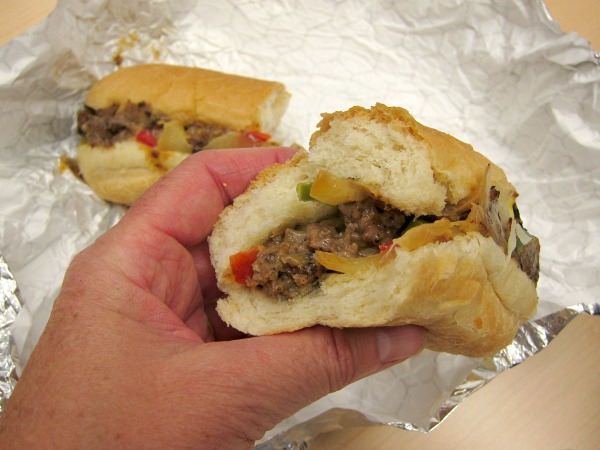 Philly Cheese Steak. A great classic version!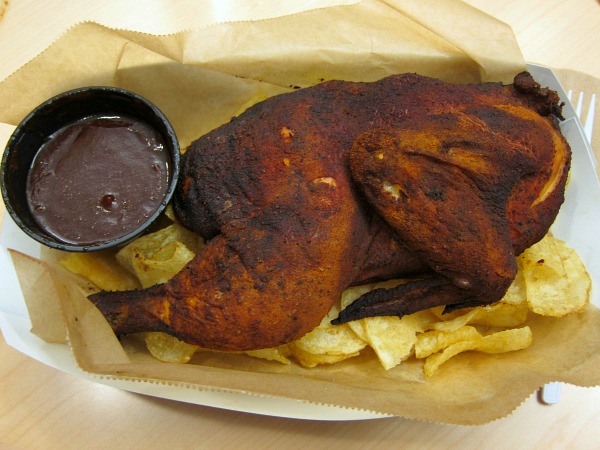 Jidori Chicken. Free-range, organic, carefully raised Jidori chicken is an occasional chef's special, offered with an apple cider vinegar BBQ sauce. If it's on the menu, get it! Next up for chef's specials might be BBQ ribs. I am drooling just thinking about how many hours they might slow-cook those.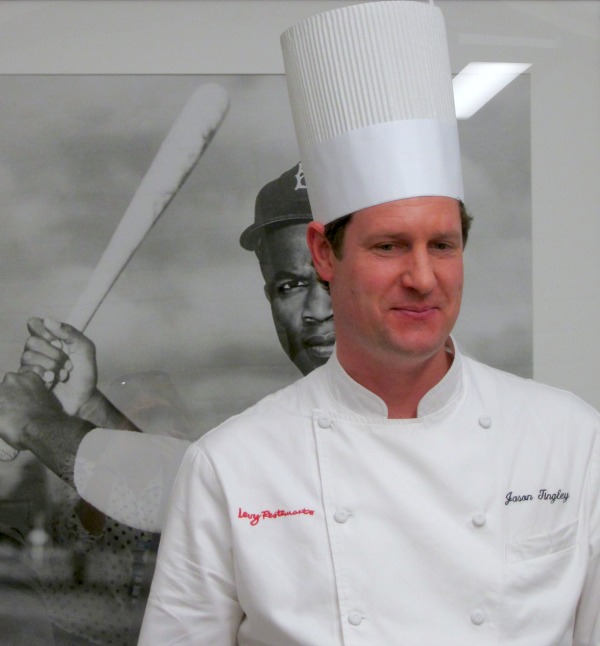 Dodger stadium executive chef Jason Tingley has a lot to be proud of with his new menu and food offerings. He's worked hard to source special ingredients, to highlight California flavors and to hit a home run with his ballpark food. Tingley, formerly of L'Orangerie, Patina and the Water Grill, is with Levy Restaurants, the Chicago-based company behind all the food and beverage operations at the stadium.
The new Think Blue Bar-B-Que restaurant, and Tommy Lasorda's Trattoria, should definitely lure foodies to the ball park.    
"The day of just the Dodger Dog and peanuts is gone. This is more than concession-style food," he says. He's not kidding.
His Artisan Pizza (Tommy Lasorda's Trattoria) proves his point. The dough is proofed for 6 hours, it's hand stretched, and slathered with a super reduced sauce and exactly 14 slices of pepperoni. His recipes carefully account for holding and reheating time, no small feat when you're catering to a sellout crowd that tops 56,000. That's a lot of artisan pizza, meatball and pulled pork sandwiches. 
"I want people to come here for the food," he says with conviction.    
Oh they will, they will!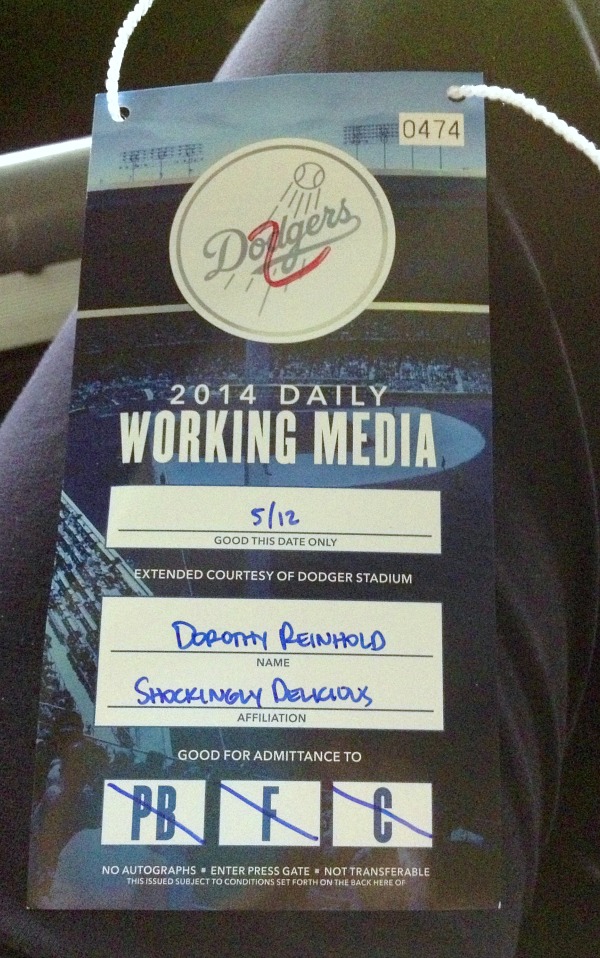 And you should!
(The Dodgers won, 6-5, over the Marlins that night, with Puig hitting a three-run home run in the fourth inning. He deserves a dog named after him, no?)
Dodger Stadium
1000 Elysian Park Ave, Los Angeles
Disclosure: The Dodgers invited me and my son to a game to sample the food.