Print This Post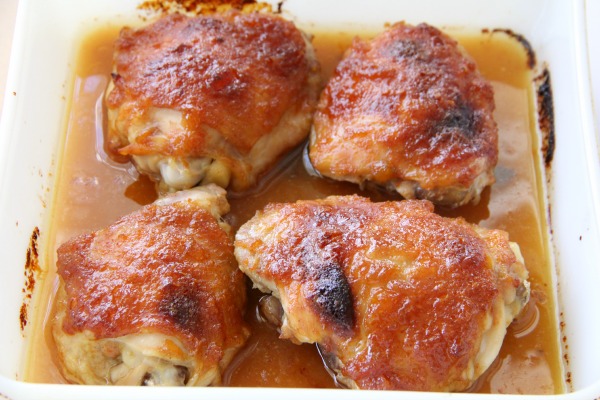 In my continual search for new chicken recipes, I stumbled across one that rang all my chimes – sweet, hot, meaty and satisfying. Oh and easy. It rang the easy chime.
It makes use of jam or preserves, and a few other refrigerator and pantry staples to amp up the flavor. To make it super easy, I've used Gourmet Garden herbs in a tube. Have you seen them yet? They're a lifesaver when you don't have time to prep fresh herbs and aromatics or you can't find them in your market.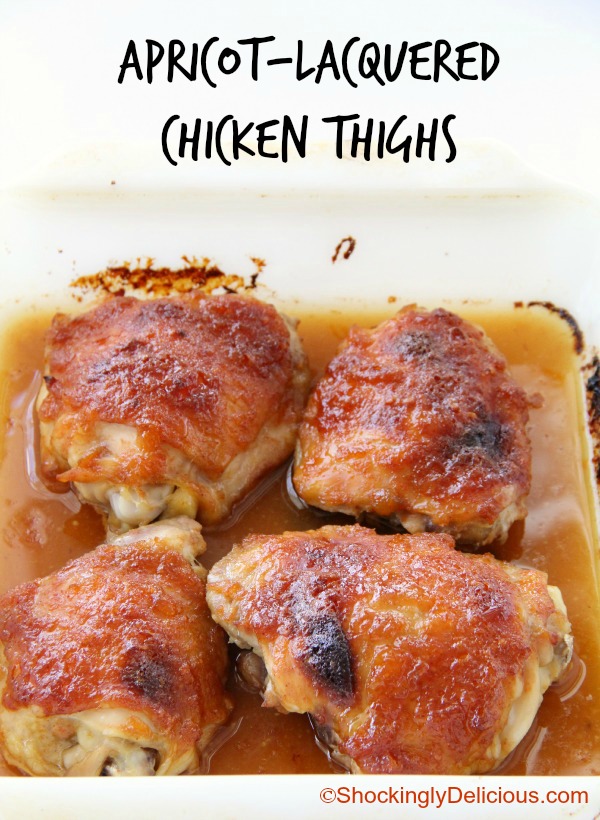 Chicken again? Why yes, we're looking forward to this dish…again!

Recipe: Apricot-Lacquered Chicken Thighs
Summary: Sweet, spicy, meaty and satisfying, this easy Apricot-Lacquered Chicken dinner is on repeat rotation at my house.
Ingredients
1 3/4 pound bone-in, skin-on chicken thighs (this is 4 meaty thighs)
1 1/2 teaspoons Gourmet Garden Garlic Paste (or 3 garlic cloves, finely minced)
1 1/2 teaspoons Gourmet Garden Ginger Paste (or a 1 1/2-inch piece of ginger, peeled and finely minced)
1/4 cup apricot preserves
2 teaspoons soy sauce
1/4 teaspoon chile powder (I used Melissa's Produce Mild Hatch Chile Powder)
1/2 teaspoon hot sauce (I used A&B American Style Small Batch Pepper Sauce; or use Sriracha or Tabasco or whatever you prefer)
Instructions
Heat oven to 350F degrees. Lightly mist an 8-inch square baking dish with nonstick spray and set aside.
Snip any large globs of fat off chicken and discard (I leave the skin on because I like it!), and place chicken in prepared dish.
To a small bowl, add garlic, ginger, apricot preserves, soy sauce, chile powder and hot sauce, and stir well to combine.
Spoon most of sauce over chicken, spreading to cover with the back of the spoon. Reserve a little bit of sauce (maybe ~ 4 teaspoons) for serving time.
Bake for 50 minutes. Remove pan from oven and allow chicken to cool for about 5 minutes.
Serve, spooning remaining sauce over top if you like. Accompany with a green salad, another vegetable like carrots or broccoli, and rice or potatoes if you like.
Serves 4.
Secret Recipe Club
Here is a list of what I have made for the Secret Recipe Club since I joined the group. Check it out!
Preparation time: 10 minutes
Cooking time: 50 minutes
Diet tags: High protein
Number of servings (yield): 4
Culinary tradition: USA (General)
My rating 5 stars:  ★★★★★ 
I found this recipe while deep-diving into the food blog Hapatite for this month's Secret Recipe Club. The blog is run by Nicole, a twentysomething living in the DC metro area who descends from a family that is ethnically Chinese, Cherokee, German, and American, but culturally Hawai'ian. So hapa means "half" in Hawai'ian — slang for people of mixed racial heritage who are partially Asian or Pacific Islanders. She put together "hapa" + "appetite" = Hapatite.
She tempted with her Baked Onion Rings, and I almost succumbed to her Rhubarb Ginger Crumble Bars. Just the word crumble makes me swoon. 
But it had to be chicken, and the idea of this dish appealed to me. I changed it from wings to thighs (more meat so it can be dinner for my surfers), tweaked around with the amounts in the glaze, and I didn't want to tend it under the broiler so I roasted the chicken for more hands-off time. It did not disappoint! In fact, I made it twice this month already! Thanks, Nicole, for a delicious dinner and a fun month exploring your blog.  
Meanwhile, browse the photo array below to see what else the Secret Recipe Club cooked up this month!