Print This Post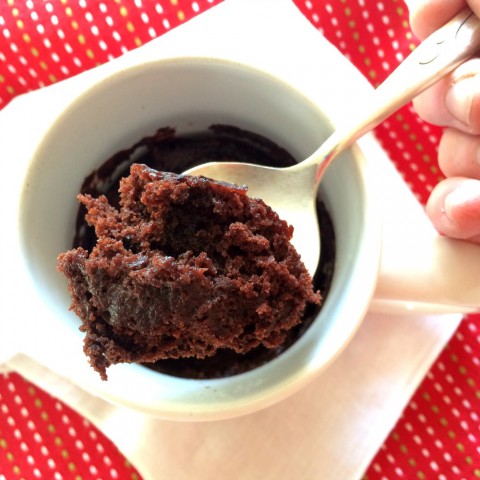 This is microwaved brownie in a mug with red wine! Say what? Yes, you can have your own brownie in about 2 minutes, and it has your favorite red wine IN IT!
Don't worry, it's just a little…just enough to give it a sophisticated depth of flavor.
The fact that it is ready in 2 minutes…well, that is maybe a little bit scary. It might be a chocolate problem, if you know what I mean.
Make this for your sweetie for Valentine's Day, because we all know V-Day isn't a thing without some red wine and chocolate. Chocolate and red wine go together like…a kiss and a hug. Might as well get them in the same recipe! And pour a little glass of the same red wine to sip while you eat your brownie. They go well together.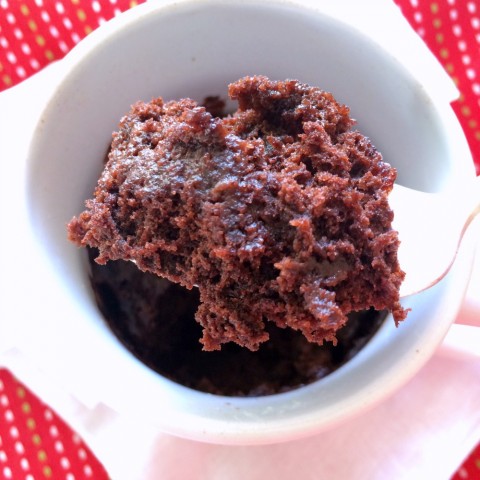 I had a bottle of affordable Beaujolais Nouveau already opened, so I used that, but you can use any red wine you like with this recipe.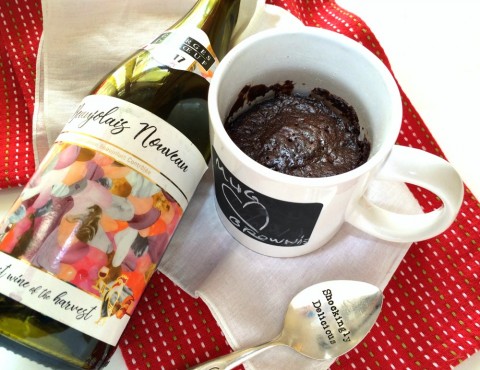 It's big enough to share with your valentine, or double it and make two, to be a little naughty.
Let's make it, shall we?
Mug Brownie with Red Wine
Brownie in a Mug has a splash of red wine for a sophisticated depth of flavor. It's ready in 2 minutes!
Ingredients
1 tablespoon butter
4 tablespoons flour
2 tablespoons brown sugar
1 tablespoon granulated sugar
2 tablespoons dark cocoa powder
1/4 teaspoon baking powder
Pinch salt
1 1/2 tablespoons red wine
1 1/2 tablespoons milk
1/4 teaspoon vanilla extract
2 tablespoons chocolate chips
Garnishes (optional): vanilla ice cream or whipped cream
Directions
Add butter to a mug. Microwave on high for 30-40 seconds, until melted; remove mug from microwave. Add all the ingredients to the mug, and stir to combine. Microwave on high for 70 seconds, and then remove mug from oven.
Eat as is, or top with a scoop of vanilla ice cream or whipped cream, if you like
Serves 1-2, depending on appetites.
Note: If you decide to double this recipe, bake one in the microwave oven first, and then bake the second one afterwards, for best results.
(This recipe was tested in a 1200-watt microwave oven.)
Notes
Recipe source: Dorothy Reinhold | Shockingly Delicious
https://www.shockinglydelicious.com/mug-brownie-with-red-wine/
Copyright Dorothy Reinhold | ShockinglyDelicious.com. All rights reserved.
If you want to save this recipe, pin the image below to your Pinterest board.

Thanks for visiting…are you hungry for more? Follow Shockingly Delicious on…
FACEBOOK | PINTEREST | INSTAGRAM | TWITTER
…for all the latest recipes, ideas and updates!
This post may contain affiliate/referral links. It is a way for this site to earn advertising fees (at no cost to you) by advertising or linking to certain products and/or services.