Print This Post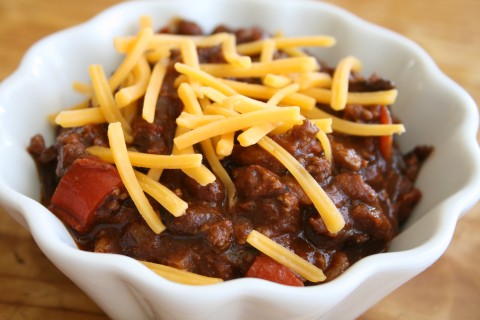 My mother, a gifted home cook, has moved into a home for senior citizens where someone else cooks for her. This is unusual, because for 50 years, she has cooked for herself.
While this chef, Julio, has made many delicious meals, the food can sometimes tend to be on the plain and somewhat bland side (probably because of the nature of cooking for seniors), at least to her. She commonly uses a lot of herbs and spices in her own cooking, and longs for more kick and bigger flavors. I think he must be afraid of offending her palate.
So the other day she fished out her own recipe for chili, hoping to give him an idea of the kinds of flavors and seasonings she was craving. Chili for seniors shouldn't be bland! She had made it one day when friends were coming over, and was smart enough to jot down what she grabbed from the pantry as she tossed things into the pot.
In went a few kinds of dried ground chiles, in went some allspice, which gives Cincinnati-style chili its distinctive flavor, in went some cocoa powder, common in Mexican moles, some vinegar for tang, some cumin and coriander for a warm spicy feeling.
This is the best kind of chili – use what you have on hand, build layers of flavor, and let it soar.
I just made it for dinner last night, and it is a winning combination! This is a big, bad bowl o' red, with some complex flavors. It has spice, but is not so hot it will blow the top off your head, if you know what I mean.  My son loved it so much he begged for it again, so I have it on the stove right now, bubbling away. Twice in two days!
The other major benefit of a pot o' chili is you can eat off it for several days. It's a great make-ahead and reheat option, for busy weeks.
Julio, take note! Some seniors are spicy senoritas!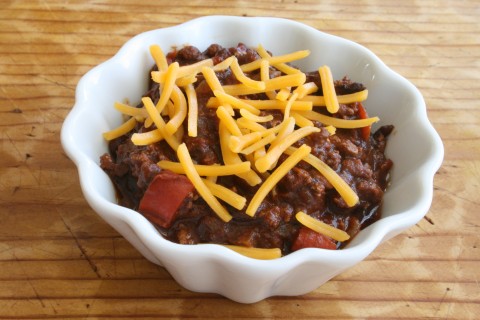 Recipe: Mom's Spicy Chili for Seniors
1 pound ground meat (I used ground turkey; use beef or whatever you have. Or try a wildcard like ground bison!)
1 red pepper, chopped finely
1 onion, chopped finely
2  tablespoons chili powder (I used 1 tablespoon regular chili powder and 1 tablespoon ancho chili powder)
1 tablespoon vinegar
1/4 teaspoon ground coriander (I used 1 teaspoon)
3/4 teaspoon ground cumin (I used 1 teaspoon)
1/4 teaspoon ground allspice (I didn't have this, so I vamped with a pinch of cloves, a pinch of cinnamon and a few grinds of nutmeg)
1/4 teaspoon jalapeno powder (optional, or use a fresh jalapeno chili, finely chopped)
1/4 teaspoon salt (I used 1/2-1 teaspoon salt; salt this to your taste!)
Few grinds pepper
Dash cayenne (optional, depending on how much heat you like)
1 (15-ounce) can Mexican diced tomatoes (I used plain diced tomatoes in their own juice)
1 (8-ounce) can tomato sauce (or Mexican tomato sauce if you can take the heat)
1/2 cup water
1 tablespoon cocoa powder, optional (Yes, I used this!)
1 (15-ounce) can black beans
1/4 cup caramelized onions (totally optional, this is the wildcard I added because I had some left over)
Garnishes: sour cream, fresh cilantro, and/or shredded cheese (I used Kerrygold Red Leicester cheese)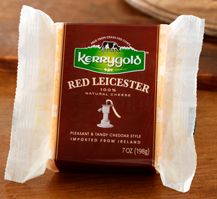 In a large skillet or pot with a lid, brown the meat; sauté onions and pepper, and then add rest of ingredients through cocoa powder. Simmer on lowest heat, covered, at least 30 minutes. Stir in black beans and caramelized onions, if using, and continue simmering another 30-45 minutes.
Serve in bowls, garnished with a dollop of sour cream, finely chopped fresh cilantro, and shredded cheese.
Serves 4.
Other meat options
I have made this with ground turkey, and it is great!
I have made this with ground beef and it is also great!
For my third batch of this (third in 2 weeks!), I used ground pork, sopping up the released grease with a paper towel from the skillet before adding onions, and subbed mushrooms for the red pepper. Nom nom!
My pal Kathie made it with ground bison and she said they licked their bowls clean.

Bottom line

: use whatever ground meat suits you.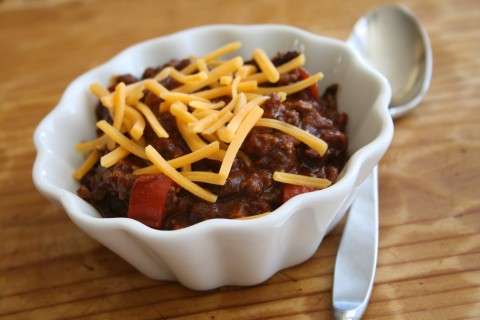 Disclosure: Kerrygold sent the cheese for use in a recipe.