Print This Post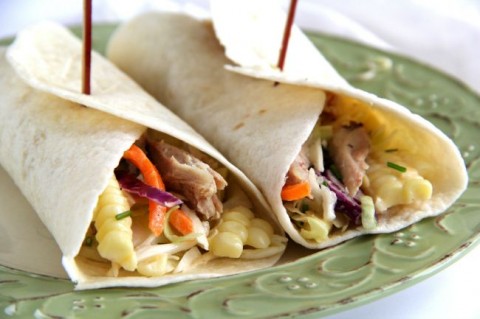 Summer is officially over, but I'm squeaking in a few final summery recipes before we turn ourselves over to pumpkin, turkey legs and candy canes.
This easy meal is a main-and-side combo, with the grilled chicken and the side of coleslaw sleeping together in a tortilla. Pretty cozy!
It can be lunch, it can be dinner, or it can be a mere snack if you are my 13-year-old son. He can eat it and then ask innocently, "What's for dinner."
"You just ate our dinner," I will answer, and in return, I get a guilty smile. I am going to have to start labeling things "Hands OFF. This means YOU." I might even add a final "I MEAN IT."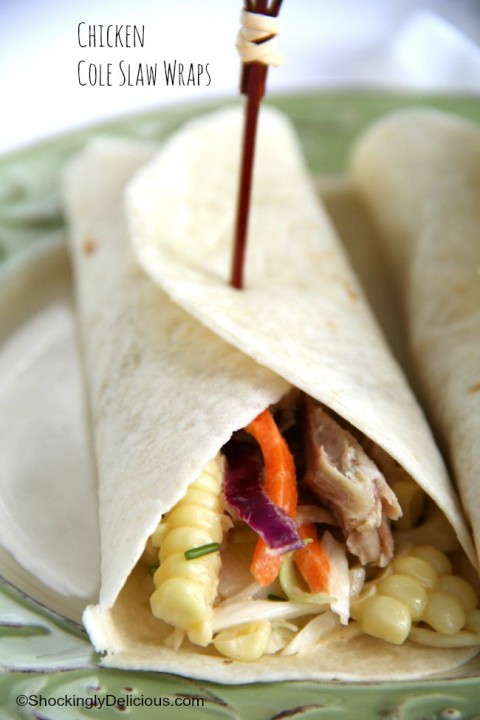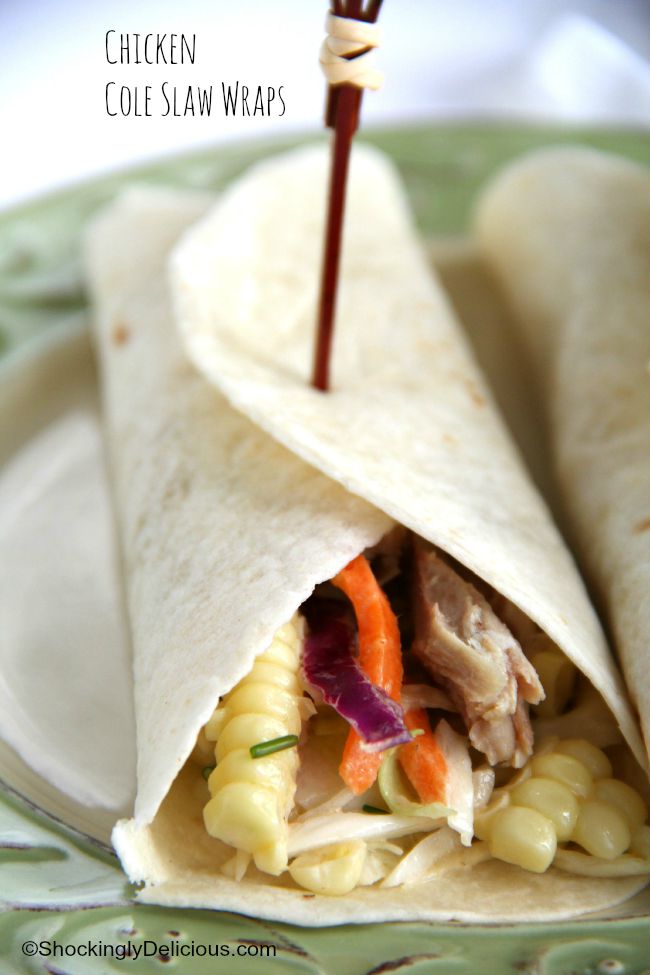 A chicken wrap with zesty coleslaw inside makes a dandy lunch or dinner. Use rotisserie chicken and bagged cabbage slaw mix to speed it along.
Ingredients
Cole Slaw

1 cup cabbage slaw mix
Kernels from 1 ear sweet corn
1 tablespoon mayonnaise (I used Hampton's Creek Chipotle Just Mayo)
2 teaspoons extra-virgin olive oil
1 teaspoon rice vinegar
1 tablespoon chopped fresh chives or green onion
Couple of grinds of black pepper
.

For Wrap Assembly

4 taco-sized tortillas (I used Chi-Chi's Taco Style Flour Tortillas
1 cup cooked and shredded chicken (I used rotisserie chicken)
Quick Mexican Pickled Onions and Carrots (optional)
Directions
In a bowl, mix together the cole slaw ingredients until cabbage is well coated.

Assemble wraps:

Lay tortillas on a flat surface. Add cole slaw, some chicken, and a couple of Pickled Onions and Carrots. Roll up and secure with a toothpick.
Serves 2 (2 wraps per person)
Notes
https://www.shockinglydelicious.com/chicken-cole-slaw-wraps/
Copyright Dorothy Reinhold | ShockinglyDelicious.com. All rights reserved.
I ran across this recipe from Shirley, who writes the food blog Enriching Your Kid. She's a clinical psychologist who now takes care of her kids, and has a plethora of Indian recipes on her blog. I dare you not to get wanderlust while you peruse them.
I was tempted by her Spinach Burger (spinach and spuds…what's not to like?), her Tofu Jalfrezi with lots of vegetables would make a good Meatless Monday option, and her Chicken Coconut Curry looks like a winner winner chicken dinner to me.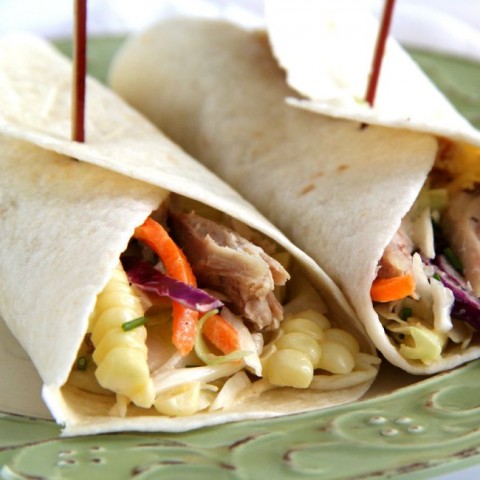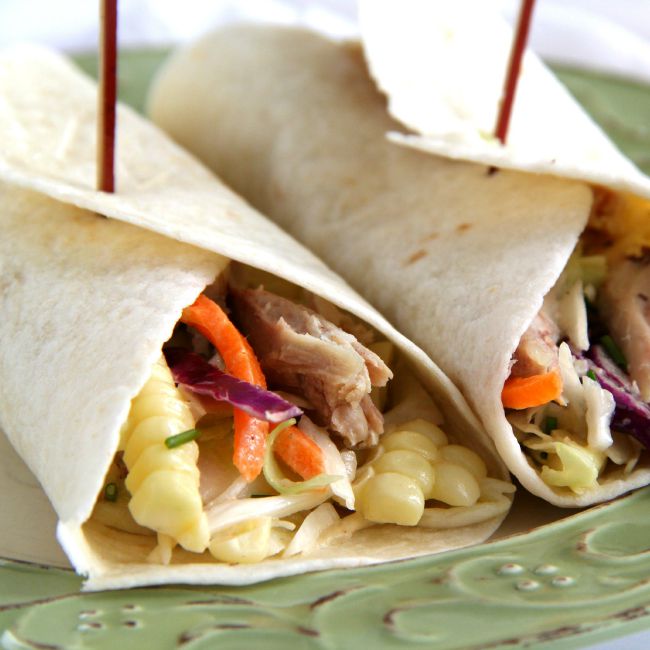 In the end, though, I succumbed to her Chicken Coleslaw Wrap idea. She packs it for a school lunch, "a combination of raw food and cooked chicken to provide enough nutrition and energy for the busy bodies," she says. I repurposed it for dinner, and took a few shortcuts (buy the cole slaw mix, buy rotisserie chicken, etc.), because dinner on work and school nights is a time-is-of-the-essence type of thing, right?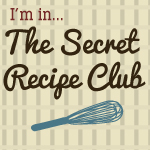 I was assigned her blog as part of Secret Recipe Club, a sort of secret-Santa project for food bloggers. We are to quietly explore and cook for a month from this secret blog, and today is our reveal day of the recipe we have chosen to present.
Thanks, Shirley, for a delicious month of reading and cooking.
Meanwhile, browse the photo array below to see what else the Secret Recipe Club cooked up this month.
Disclosure: Hormel sent the pulled pork for recipe development, and compensated me for my time.