Print This Post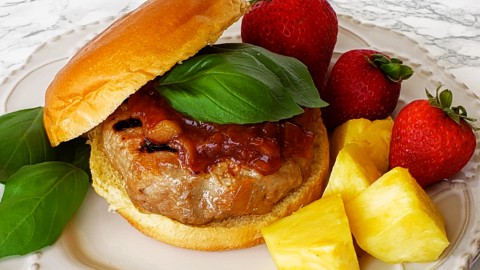 This is a sponsored post written by me on behalf of Farmer John California Natural Fresh Pork. All opinions are 100% mine.
ISLAND PORK BURGERS: Smoky, sweet grilled pork burgers with pineapple, ginger, garlic and basil will put you instantly in vacation vibe. You don't need a plane ticket for this taste of the islands! 
Here in Southern California, we grill all year around, so we can get jaded by our good grilling fortune weather-wise. But even so, I'm pretty excited about summer grilling season. It's a chance to relax, take an easy approach to dinner and eat out on the patio. Summer is so sweet.
Even if you don't live on the West coast, we're also deep into grilling season where you live, right? So let's fire up the grill and keep the summer heat out of the kitchen. I don't have air conditioning, so I look for every chance I can get to either cook outside, or minimize heat production in my kitchen during the sweaty summer.
And while we're at it, let's push the envelope a bit by trying something other than beef or turkey burgers. Of course they're good, but we're craving new flavors and ideas.
So we'll do our taste buds a flavor (see what I did there?) and use ground pork. We're lucky to have Farmer John based right here in California – the West Coast original since 1931, and available at local grocery stores including Vons and Ralphs. They make 100% fresh pork with no artificial ingredients, in a variety of versatile cuts, including boneless loins, chops, ribs, tenderloins, etc. that can be grilled, roasted, sauteed and slow cooked.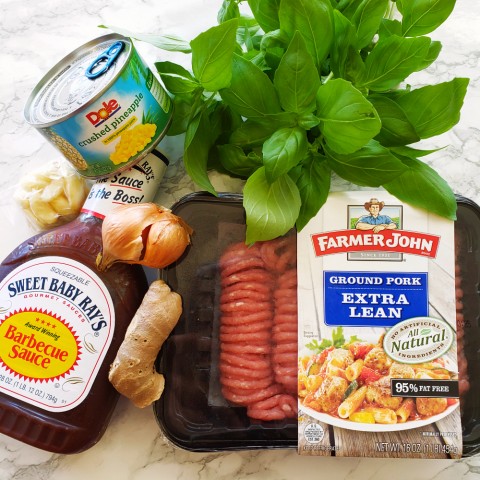 Today's grilling recipe uses their ground pork, and since it's summer, I've set my internal compass on vacation mode, island-style. I mentally riffed on what flavors went with the islands, and I came up with pineapple and ginger, of course.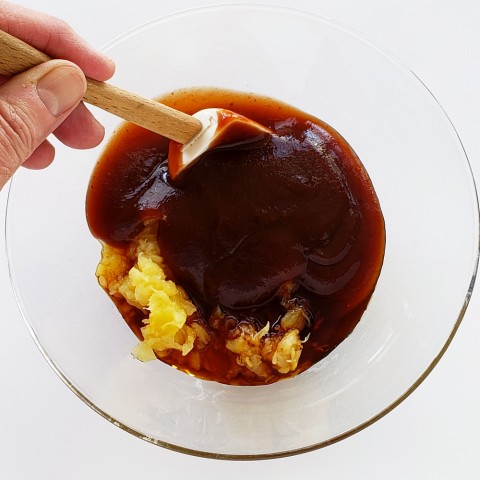 We'll start by making an amped up barbecue sauce…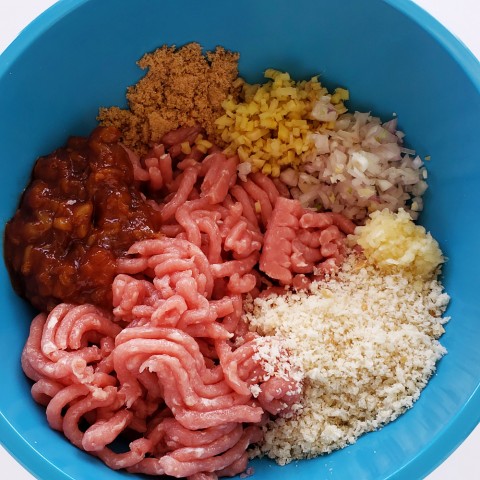 …and we'll mix some of that sauce into the burger mixture to keep it moist and flavorful. Of course we've added a few other aromatics to the burger mix as well.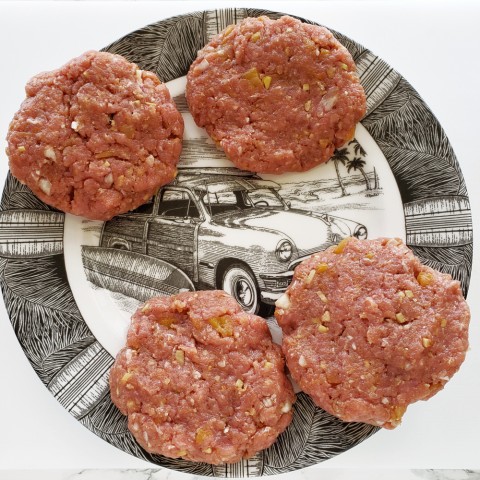 A quick shape into patties (do you like my surfer plate?)…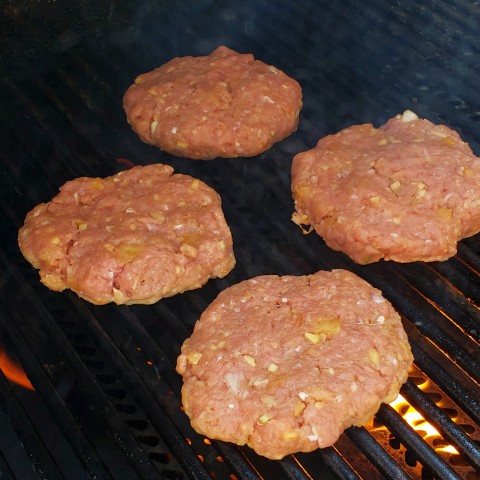 …popped onto the grill…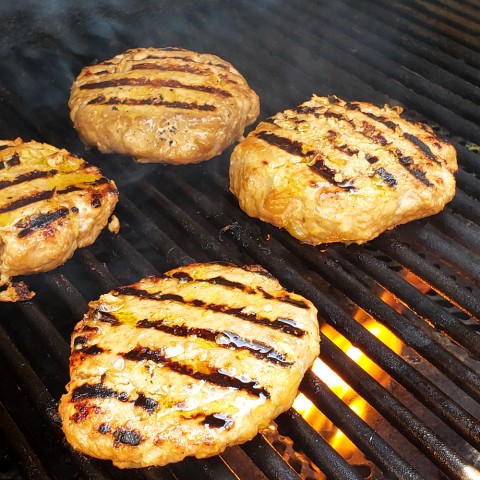 …grilled to perfection…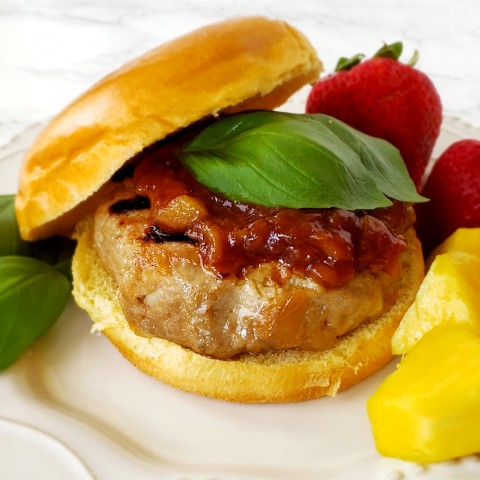 …and rested inside a burger bun, followed by the rest of that pineapple sauce and a blanket of fresh basil leaves. The herbaceous basil is a nice counterpoint to the smoky, sweet burger. Who needs lettuce, anyway, when you have basil?
Round out the plate with some fresh fruit – anything you have, from more pineapple to mango, strawberries, even some avocado — whatever summer fruit suits your fancy.
Let's make Island Pork Burgers!
ISLAND PORK BURGERS: Smoky, sweet grilled pork burgers with pineapple, ginger, garlic and basil will put you instantly in vacation vibe. You don't need a plane ticket for this taste of the islands!
Ingredients
Sauce

1 (8-ounce) can crushed pineapple in juice, well drained
1/3 cup bottled barbecue sauce
1 tablespoon soy sauce or Tamari (lower sodium preferred)
.

Burgers

16 ounces Farmer John Ground Pork
4 tablespoons fresh bread crumbs
2 tablespoons finely minced shallot (or can use onion)
2 tablespoons finely minced fresh ginger
4 garlic cloves, finely minced or pressed
1 tablespoon brown sugar
1/8 teaspoon ground cayenne pepper (optional)
.
4 brioche burger buns, split (or you could even use English muffins, toasted)
20 large fresh basil leaves
Additional fresh fruit for the plate
Directions
Make the sauce:

In a small bowl, mix pineapple, barbecue sauce and soy sauce. You should have aboiut 3/4 cup. Set aside.

Make the burgers:

In a mixing bowl, stir together ground pork, bread crumbs, shallot, ginger, garlic, sugar, cayenne and 1/4 cup of the prepared Sauce until well blended. Shape into 4 patties. (If needed can be refrigerated overnight, covered.)
When ready to eat, heat grill to medium hot and grill pork patties until done. Place buns on plates, spoon 1/4 of remaining Sauce on each muffin and top with 5 basil leaves and a grilled pork burger patty.
Serves 4.
Notes
Recipe source: Dorothy Reinhold | Shockingly Delicious
https://www.shockinglydelicious.com/island-pork-burgers/
Copyright Dorothy Reinhold | ShockinglyDelicious.com. All rights reserved.
 
If you like this recipe and want to save it, pin the image below to your Pinterest board.

Farmer John California Natural Fresh Pork is available at local grocery stores including Ralphs, Vons, Food 4 Less, Smart & Final, Stater Bros. Markets, Safeway & Albertsons. Visit Farmer John Fresh Pork for a full list of retailers near you, product information and more recipe inspiration.