Print This Post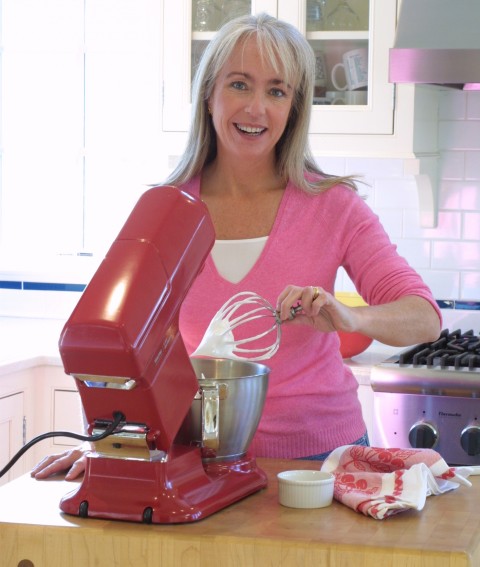 Bakers probably know Abby Dodge, even if they think they don't. A Connecticut-born, Paris-trained pastry chef with a practical, American approach, Abby is the author of seven cookbooks, including "Desserts 4 Today," hot off the presses last month, and the highly lauded "The Weekend Baker." She teaches, writes for Bon Appetit and Fine Cooking magazines, flits around the country guesting on TV and radio shows, and just generally inspires home cooks to get in the kitchen and whip something up!
Her streamlined recipes from "Desserts 4 Today," have four ingredients each. Just four. But in each case, they are the four that matter. Don't have the patience, time or ingredients for a fancy dessert? Abby shows you how a few simple, curated ingredients combine for a sweet ending to any meal.
A Baker's Dozen Questions
for Abby Dodge
Shockinglydelicious: What prompted you to do this book?
Abby Dodge: I always strive to de-mystify baking by making it approachable and friendly in hopes that more people will embrace making fresh desserts for their family and friends. "Desserts 4 Today" – or as I like to call it D4T – came to life because I was looking for a personal creative challenge and wanted to do a limited-ingredient dessert book. When I was researching, I discovered all the cool, lucky things that the #4 gives us (four seasons, four leaf clover, the Beatles – aka The Fab 4) and the title just came to me. Besides, "Desserts 5 Today" doesn't make any sense!
SD: What was your biggest challenge in doing it?
AD: It was really important that the recipes covered a wide variety of distinct flavors and textures. With each recipe only having four ingredients, it was a challenge to keep track of each flavor, fruit and texture so there weren't too many overlaps.
SD: Were there any recipes you really wanted to do or include, but you just couldn't figure out how to reduce them to four ingredients?
AD: Sadly, yes. I would have loved to include more cupcakes and cakes but, because it was important not to use mixes, etc., most of these types of recipes will have to wait for another book.
SD: What are the four strongest/best/most interesting/most loved flavors for desserts?
AD: My top "4" flavors, in no particular order, are Caramel, Ginger, Vanilla (highly under-rated, in my opinion) and Chocolate. If I could chose a 5th, it would be coffee.
SD: What is your favorite dessert ingredient to amp up flavor or to add interest?
AD: Salt! While not a stand-alone ingredient, I am a big believer that every dessert improves in flavor when you add a pinch of salt – especially vanilla recipes. In D4T, I don't list salt in every recipe even though everyone has it on-hand (like water) but I do say that a pinch in every recipe will heighten and intensify the flavor
SD: Desert island question about your desserts: If you had to pick one recipe in the book as your favorite, which would it be?
AD: You are really going to make me choose? Well, OK, if I must. Grown-Up Chocolate Bourbon Balls really hit all the right notes – chocolate-y, butter-rich and, yes a bit boozy. Please don't tell the other 124 recipes that I picked a fave.
SD: From your perspective as a former pastry chef, which of these recipes would absolutely make the cut in a fine restaurant?
AD: I can see many of these recipes adapted to restaurant-style snazziness. Right out of the book, I say that Orange-Scented White Chocolate-Blackberry Mousse would be gorgeous served "parfait" style as I suggest in the "gussy-it up" section. Also, Sliced Mango with Crispy Ginger Sabayon is a taste explosion (in a good way, of course) and would make a very glamorous presentation. And, I can't leave out a chocolate dessert! The No-Bake Chocolate Pots are inspired by one of my fave desserts – Chocolate Pot de Crème. I think my version has all the complexity and textural dreaminess of its classic cousin and would make a killer restaurant dessert. I can see it served traditionally – in a demitasse cup – or, because it's no-bake, in a small crystal flute.
SD: Which recipe gave you the most trouble, in working out the kinks?

AD: A few of the recipes were challenging but not because of the flavors or finished results. For some of them, like the Concord Grape Pot Pies, the challenge was to keep the directions down to the appropriate word count for the small trim size of the book. Thank goodness for gifted editors!
SD: So far, what seems to be the most popular recipe in the book?
AD: Nutella Fudge Brownies seem to be flying around the Internet – and it couldn't happen to a nicer brownie. I think the intrigue is due to the Nutella – such a strong delicious spread. That, plus the fact that with only four ingredients, this recipe seems like it couldn't possibly work, but it does! The great thing about this one recipe is that folks are making up their own take on the recipe. I'm thrilled bakers of all skill levels feel empowered to make this recipe – any recipe – their very own.
SD: Which is your favorite recipe in the book for…
a neighborhood potluck? Strawberry Shortcake Trifle

a bake sale?

  Nutella Fudge Brownies
to share with colleagues at work? Grown-Up Chocolate Bourbon Balls for holiday fun
as a thank-you gift (perhaps for a teacher or coach or school bus driver)? Sparkling Cocoa Drops
to impress dinner guests at home? Individual Peach Tarte Tatins – I'd switch-in ripe pears or apple for fall
SD: Do you eat dessert every day, or with every lunch and/or dinner?
AD: My kids like to say that they grew up in a home with "hot and cold running desserts" so, yes, I eat dessert every day and usually in the afternoon with a cup of hot (or iced) tea served alongside.
SD: If you don't have time to bake cookies but you really need them, what is your favorite bought cookie?
AD: This is kind of cheating, but back in the day, I developed recipes for a local grocery chain – now called Balducci's – that still sells some of the cookies I created for them. So, if I'm in a jam, I pick up a pack of coffee or lemon crisps and serve them with ice cream.
SD: What is your next cookbook or food project?
AD: There are a ton of subjects I'd like to tackle, including a few follow-up "4 Today" concepts like "Appetizers 4 Today" or "Cookies 4 Today" or "Veggies 4 Today." My main goal is to keep focusing on strong and intriguing flavor combinations while promoting solid baking techniques with an easy, friendly approach.
Coming Monday to Shockinglydelicious:
the

Nutella Fudge Brownie

recipe from "Desserts 4 Today."