Recipe: Lemony White Bean, Tuna and Celery Salad
A clean, fresh-tasting lunch or dinner salad that squeaks a little when you eat it! Tuna, cannellini, tomatoes, crunchy celery, cucumber and radishes are joined by fresh herbs, and dressed with the flavorful olive oil from the canned tuna along with a splash of lemon. 
1 (15-ounce) can cannellini beans, rinsed well and drained (can use red kidney, white northern or garbanzos instead)
2 (5- to 7-ounce) cans imported tuna in oil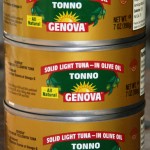 [1]
2-3 celery ribs, thinly sliced, plus some chopped celery leaves
1/3 cup finely chopped red onion (can use white or yellow onion)
4-5 radishes, finely chopped
1/2 smallish cucumber, peeled, seeded and finely chopped
1/2 cup flat-leaf Italian parsley leaves, chopped
3-4 tablespoons Meyer lemon juice (can use regular lemon)
Pinch coarse sea salt
Grind of black pepper
Garnish: grape or cherry tomatoes
In a large bowl, add beans, tuna with oil, celery and leaves, onion, radishes, cucumber and parsley. Mix lightly to combine. Add 3 tablespoons lemon juice, salt and pepper, and mix lightly again. Taste and add the an additional tablespoon lemon juice if you like.
Portion salad in wide, shallow bowls or onto medium plates, with tomatoes as a garnish on the side.
Serves 4.