Print This Post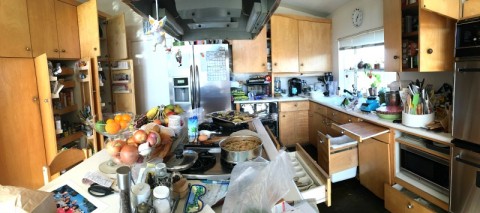 The good thing about kids is they tell the truth.
The bad thing about kids is they tell the truth.
See that photo, above? My college daughter snapped it while home on winter vacation the other day, and here's what she said on Facebook:
"When your mom is a food blogger sometimes you come home and the kitchen looks like this…"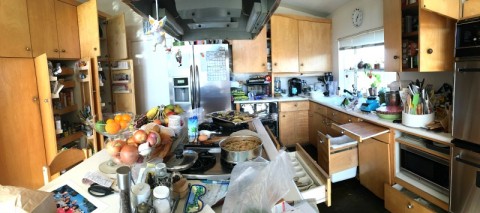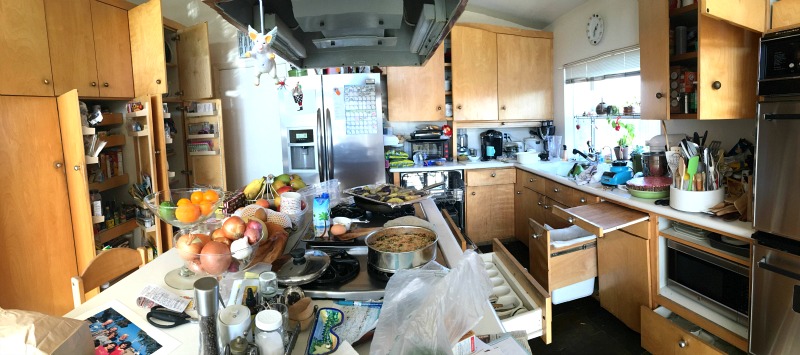 So the good thing about Facebook, other than it being a place for family members to humiliate each other ( 🙂 ), is that people pile on. In my case, thankfully, they piled on to say they are like this also!
Thank you to the many, many people who confessed that they, too, leave every cabinet and drawer open while cooking. (Seriously, take a look above…am I incapable of simply shutting the cabinet after I retrieve something from it?)
Thank you to all of those food bloggers who said their kitchens look just like this, every single day.
Thank you to all of those regular folk who said their kitchens looked like this but they couldn't blame it on being a food blogger.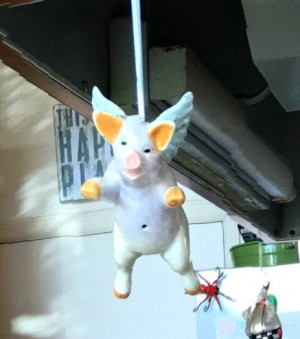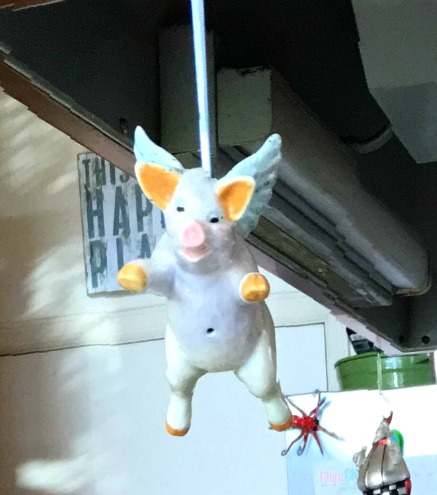 Thank you to all who admired my flying pig (hanging off the copper range hood). I painted it at one of those Color Me Mine pottery painting places, where you paint the thing, they fire it and give it back to you. I thought it was so funny, and to me, it does sort of represent my kitchen, which will be neat and tidy when pigs fly.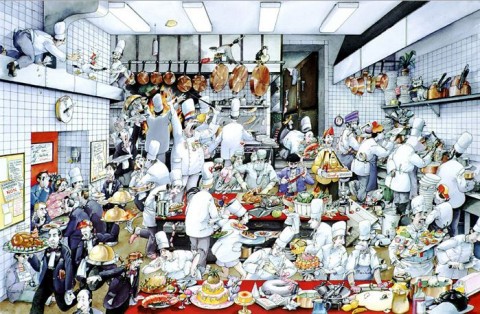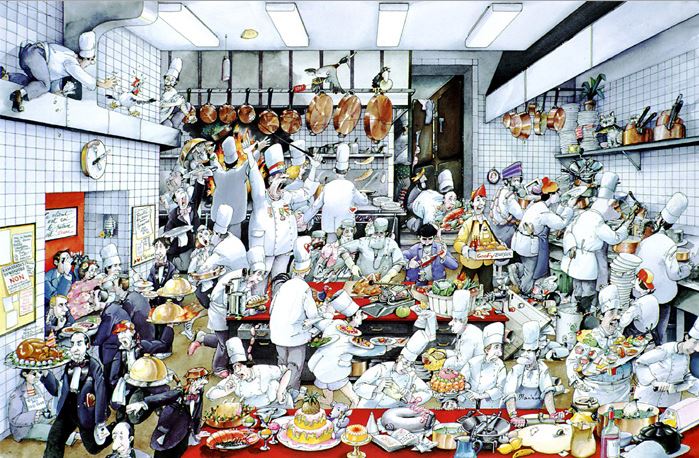 Thank you to my friend Diana for suggesting my kitchen reminded her of this famous Roger Blachon comical poster of a restaurant kitchen. It was originally commissioned as a set piece for a French manufacturer of restaurant equipment (many of its products are strategically placed), and the poster has taken on a life of its own all over the globe.
Thank you to fellow blogger Betsy Cohen, who gave me a belly laugh by asking, "Seriously, do you not have the Mommy Override button on baby girl's phone?"
And most of all, thank you to my daughter, for always keeping it real.
Disclosure: No children were harmed in the making of or aftermath of this photo.
I have company! Others share their messy ways in the kitchen: 

The kitchen of Mary Papoulias-Platis from California Greek Girl, above, is a whirlwind of utensils and gadgets during recipe creation! She said it took her all afternoon to clean up. 🙂
Hey, send me a photo of YOUR messy kitchen. Someone will win a prize! It won't be Powerball-size, but it will be cool. Send to Dorothy@shockinglydelicious.com