Print This Post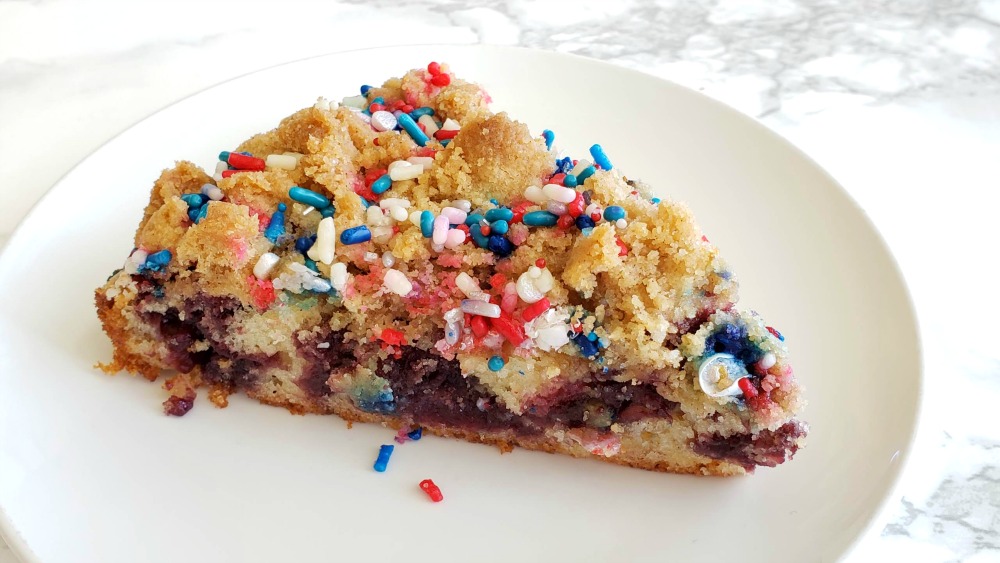 Sweet and satisfying Jam Breakfast Cake with Streusel covers all the bases, including a substantial streusel layer atop plops of jammy goodness.
My motto is "any day with cake is a good day." If that worldview works for you, this is your sweet treat, because it can be served for breakfast (hey, it has jam in it!), a snack with tea, or dessert after a meal. It's versatile like that, and your day will be all the better for it.
It's also versatile because you can instantly change up the flavor by using whatever jam you have on hand, or that needs using up, even that jar of gift jam your relatives gave you from their recent travels. I hear it is even good with Nutella instead of jam (and chopped hazelnuts in the streusel), but I haven't tried that yet. Note to self: Try it!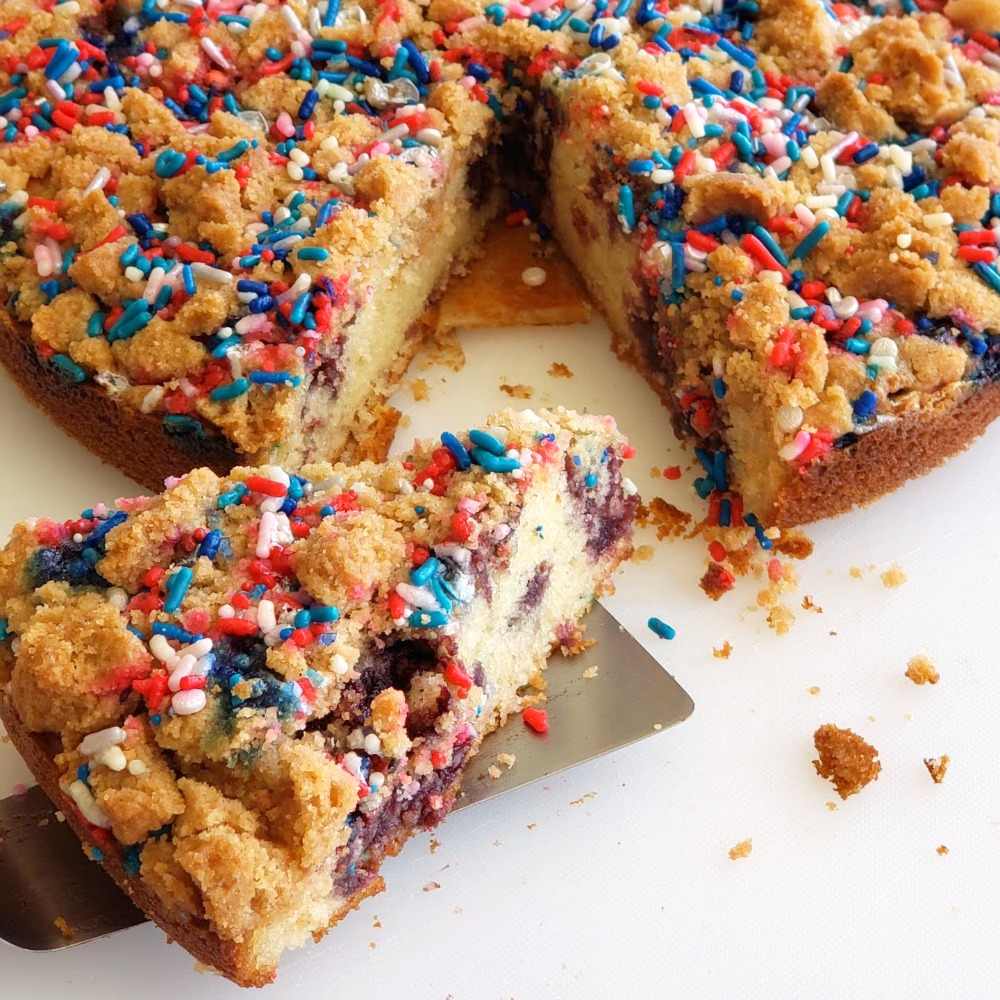 How to make Jam Breakfast Cake with Streusel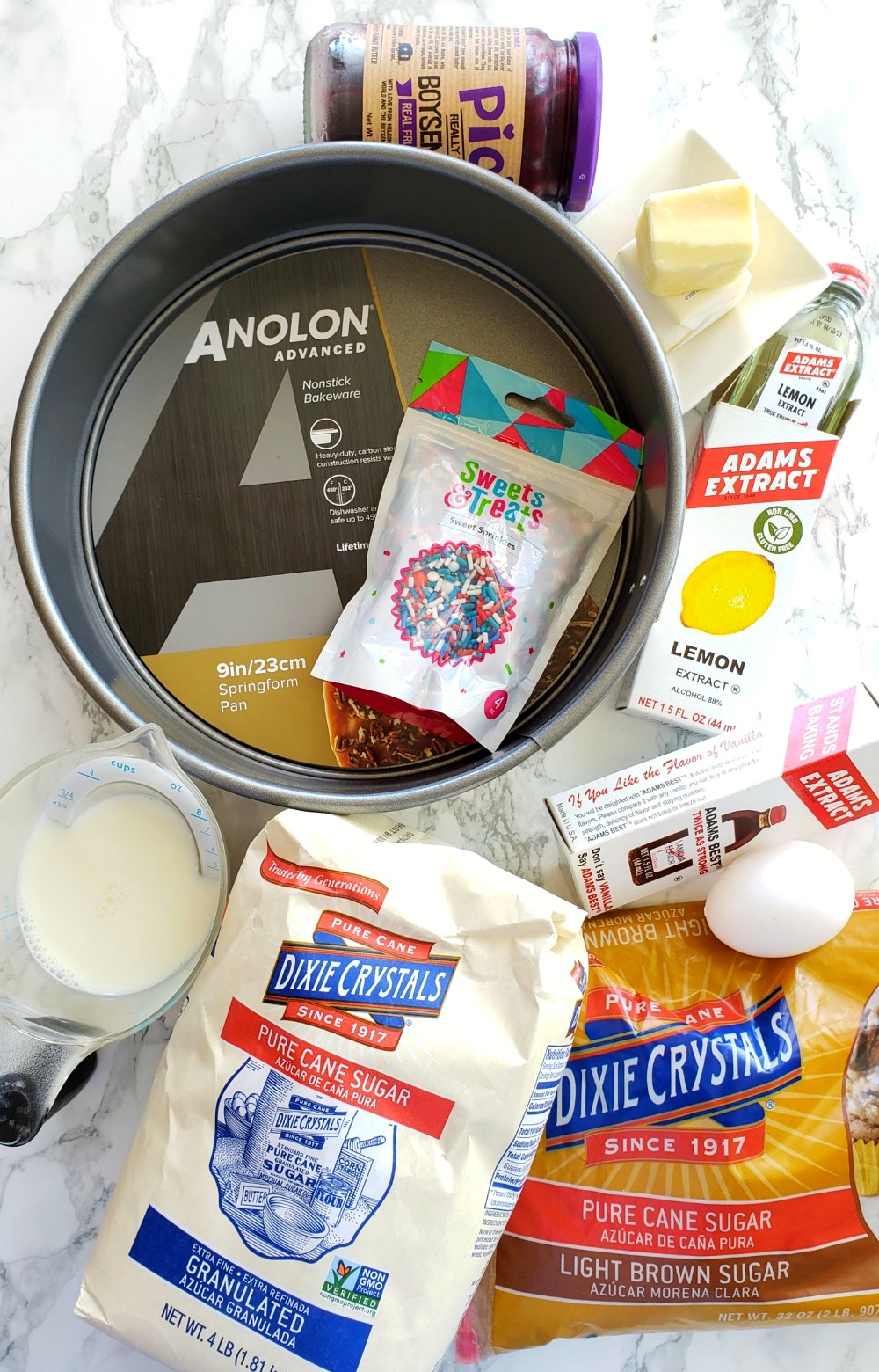 1. Assemble your ingredients and utensils. This is good advice no matter what recipe you are making. For this recipe you will need:
Sugar (brown sugar, granulated white and sugar crystals to decorate the top if you like)
Cinnamon
Flour
Butter
Olive oil
Milk
Egg
Lemon extract and vanilla extract
Baking powder
Salt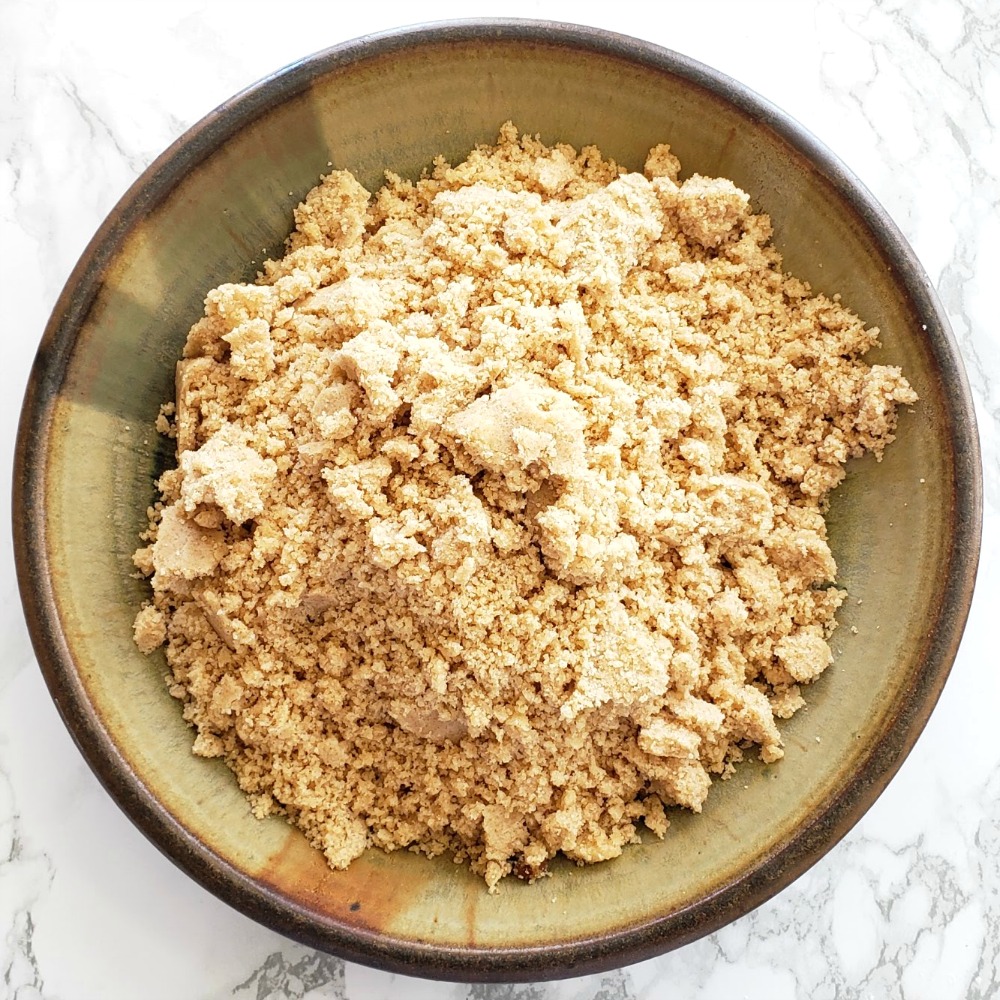 2. Mix the streusel. (Can we just agree that the more streusel, the merrier? This recipe has plenty, thankfully.)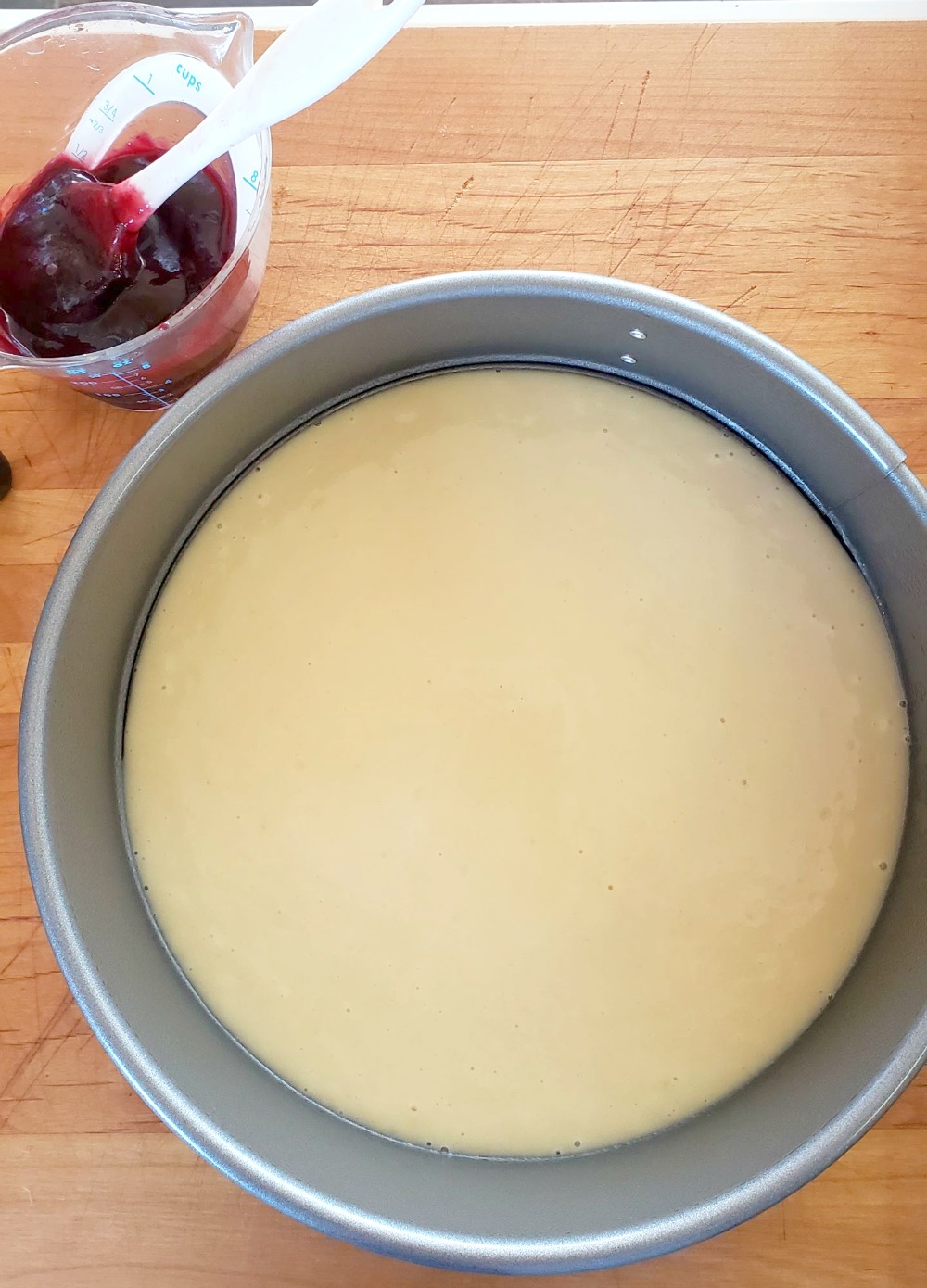 3. Mix the batter and pour into prepared pan.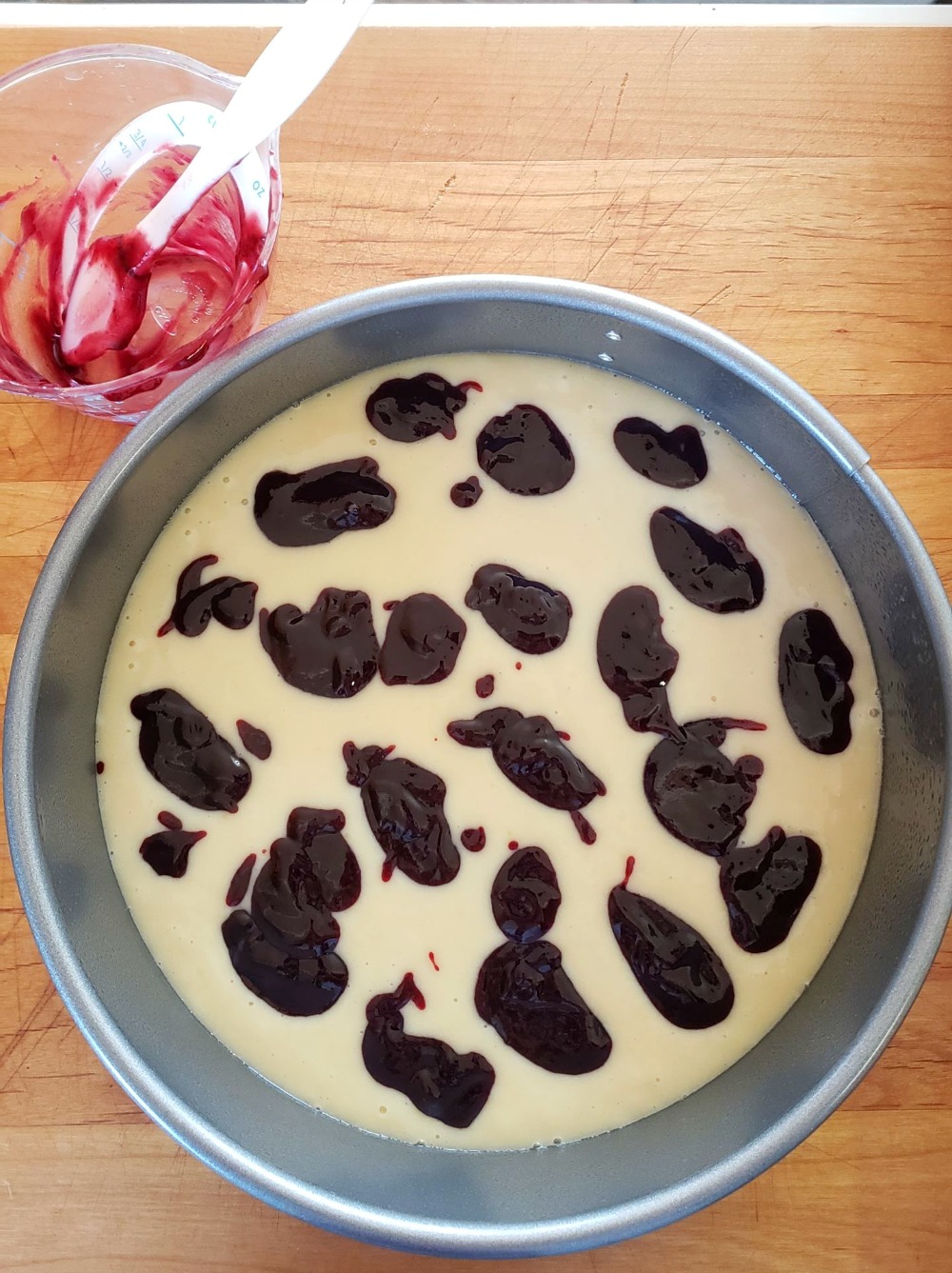 4. Plop jam on. It's easiest to do this with 2 spoons — one to dip a bit of jam from the jar, and the other to scrape it off the first spoon.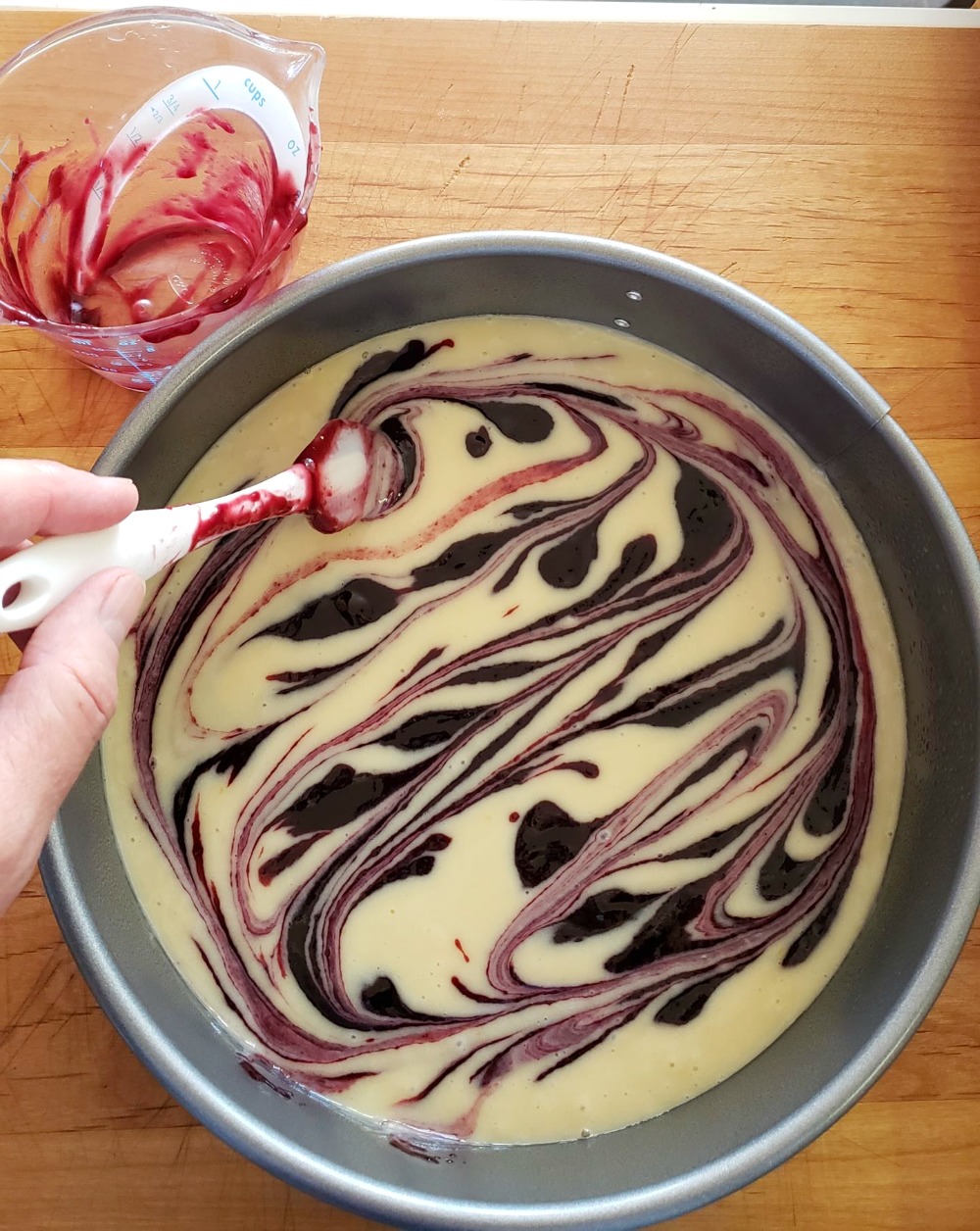 Swirl it just a bit.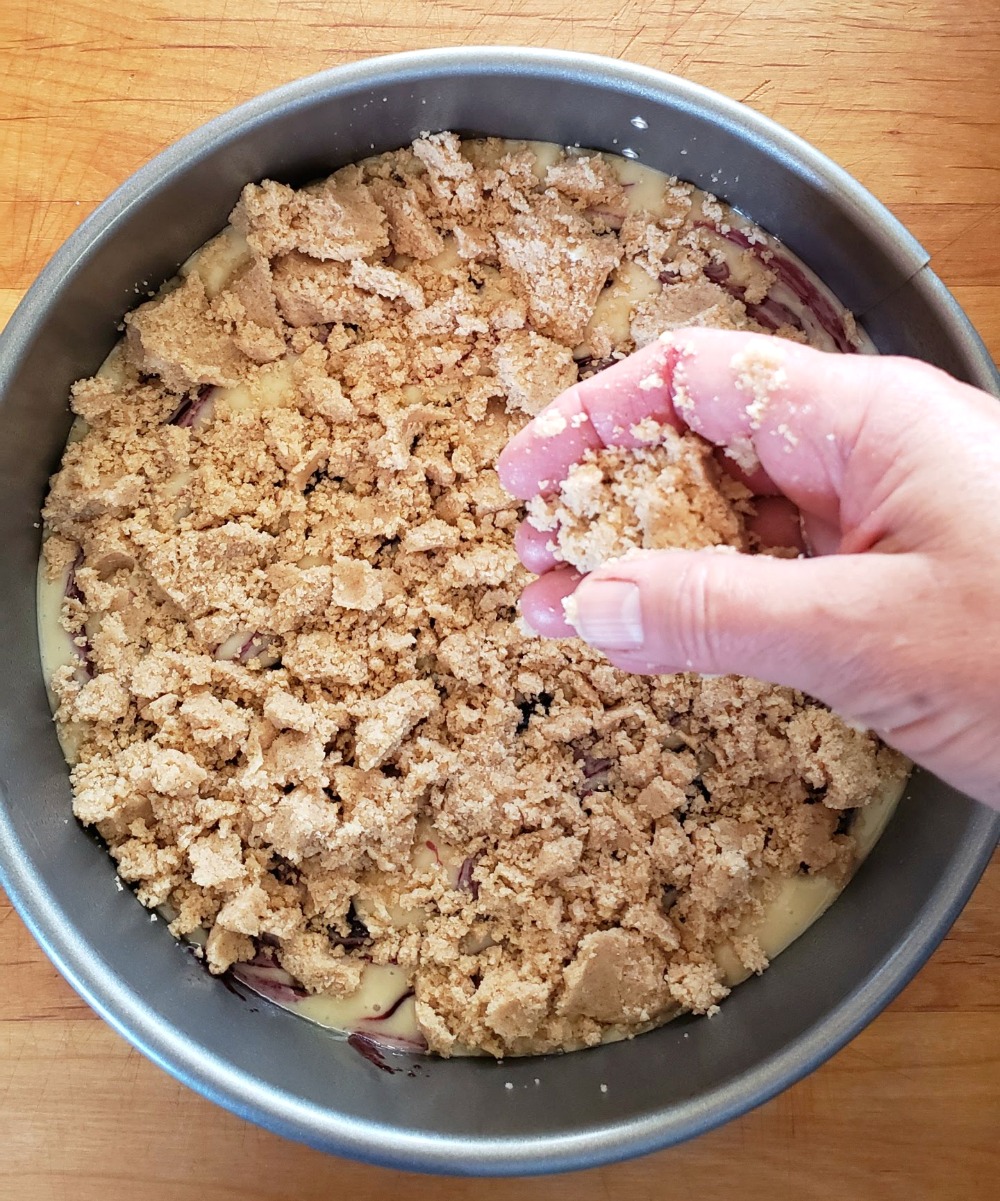 5. Streusel on top.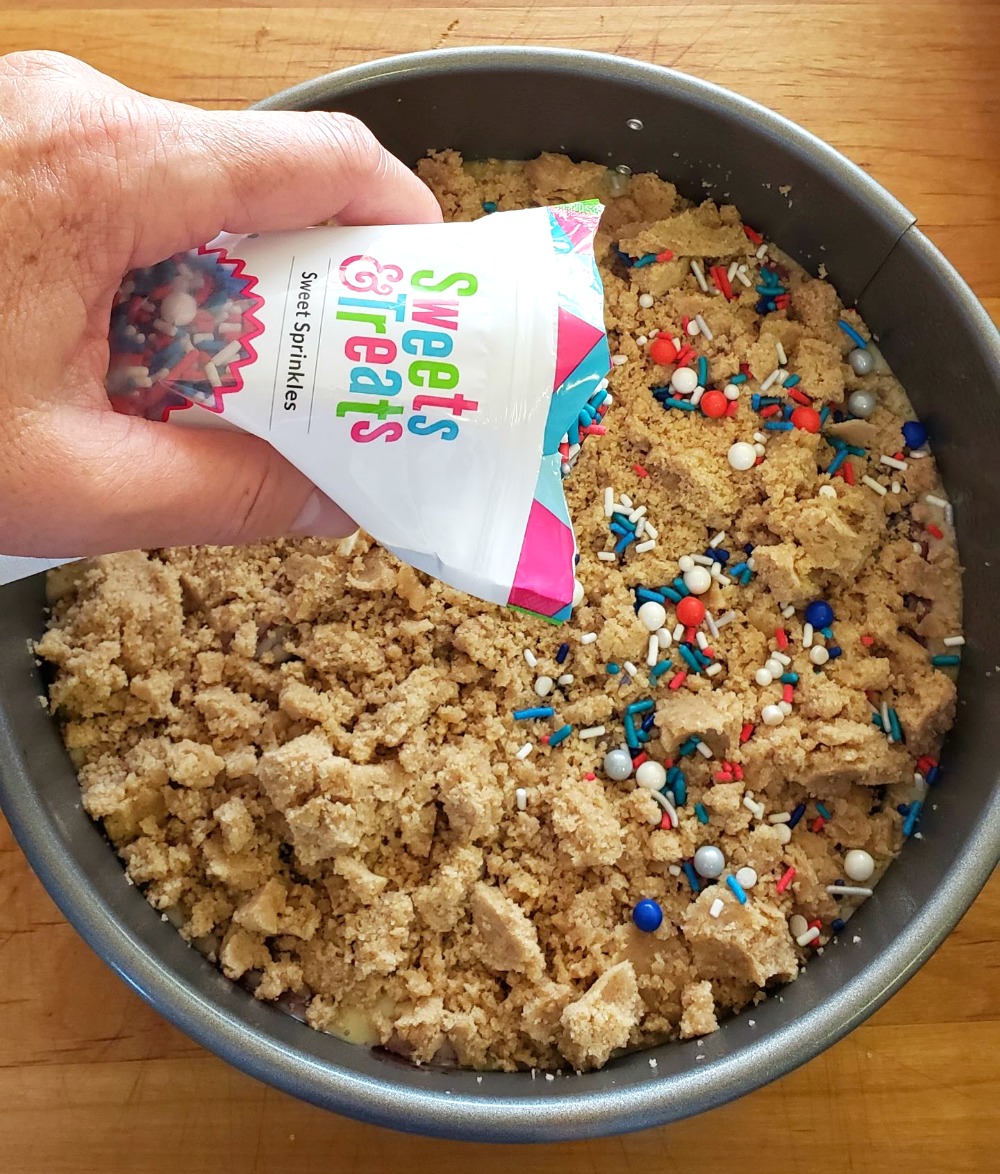 6. Sprinkles make everything better! A word about these sprinkles…it would be best to use coarse sugar crystals or jimmies instead of these. I learned that the large balls in this mix melt in the oven, so this particular mix is meant more for sprinkling on top of frosting, not for putting into the oven. Live and learn! Still cute, though.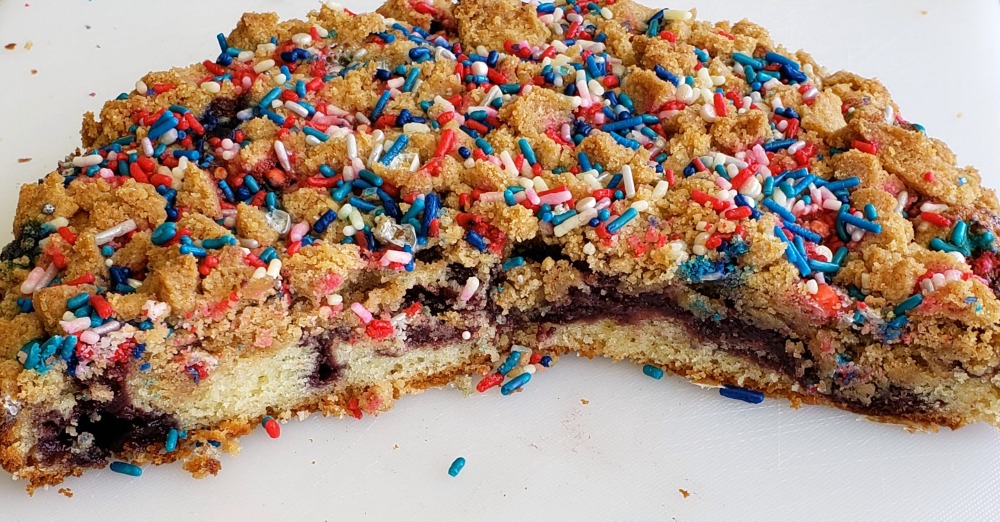 7. Bake and try to keep everyone away from it while it cools.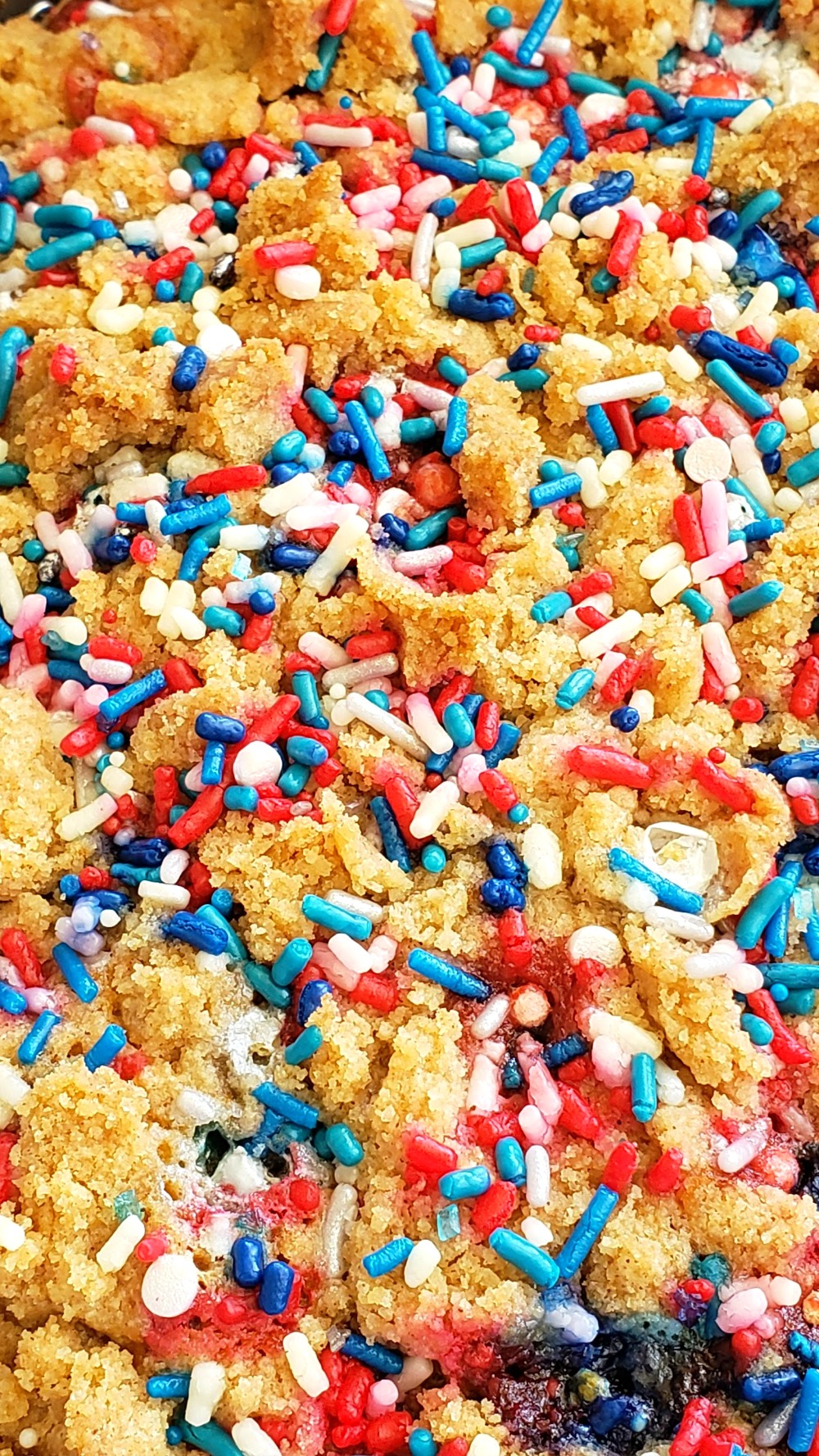 Jam Breakfast Cake with Streusel
Sweet and satisfying Jam Breakfast Cake with Streusel covers all the bases, including a substantial streusel layer atop plops of jammy goodness.
Ingredients
Streusel Topping

1/4 cup (52g) brown sugar (packed into measuring cup)
1/4 cup granulated sugar
1 teaspoon ground cinnamon
1 cup (130g) all-purpose flour
1/4 teaspoon salt
3 ounces (6 tablespoons; 85g) unsalted butter, melted or very soft
.

Cake Batter

1/3 cup (66g) olive oil (I use a very light colored, mild-tasting version for baking)
1/2 cup (120g) milk
1 egg
1/2 teaspoon salt
1/2 teaspoon lemon extract
1 teaspoon vanilla extract
1/3 cup (66g) granulated sugar
2 teaspoons baking powder
1 cup (130g) all-purpose flour
.
1/2 cup jam of your choosing (I have tried boysenberry, blackberry and strawberry in this, but use what you like or have!)

Garnish:

Your choice of colored sprinkles, if you like; I used 1-2 tablespoons "Little Man" from Sweets & Treats
Directions
Heat oven to 350F degrees. Butter the bottom and inside of a 9-inch round Spring form pan (I used an Analon pan), and set aside. (This can also be baked in a square 8x8-inch or 9x9-inch pan. An 8x8 will take 35 minutes and cut nicely into 9 square pieces.)

Make the streusel:

In a mixing bowl, combine brown and white sugars, cinnamon, flour and salt, and mix or stir until combined. Add butter and mix until streusel forms, sort of like damp sand. I use an electric mixer for this, but you can certainly do it by hand. Put the streusel in a separate bowl.

Make the cake batter:

Using the same mixing bowl (no need to wash it), add the olive oil, milk, egg, salt, both extracts and granulated sugar. Mix to combine well. Add the baking powder and whisk in. Add the flour and mix in, just until combined. Do not overmix or your cake might be rubbery.
Pour the batter into the prepared pan. Stir jam to loosen, and dollop jam over the batter, swirling just a little bit to spread it around a bit if you like.

A note about the jam:

The cake is quite sweet, so this is an ideal time to use a lower-sugar fruit spread if you have one on hand. Sprinkle all the streusel over the jam-dolloped cake.

Pro-tip:

I like some bigger chunks of streusel, so as I am sprinkling it over by hand, I squeeze some in my fist to make bigger chunks, which are fun on top. Can you see them in the photos? Toss on some (optional) sprinkles if you are using them, as a final fun flourish.
Bake at 350F for 30-40 minutes (mine was perfect at 35 minutes), or until the center no longer sinks when you gently poke it. When done, remove from oven and let it rest on a heat-proof surface, about 15 minutes.
Run a knife around the inside edge of the pan, just enough to loosen the cake if it is adhering (but not so vigorously that you scratch the pan), and then loosen the outer rim of the pan. Remove outer rim, and allow cake to cool entirely.
Cut into 8 wedge slices (again, take care not to scratch the nonstick bottom of the pan) and serve!
Notes
Recipe source: Adapted just slightly from Clemence Gossett, The Gourmandise School of Sweets & Savories, in Santa Monica, Calif. She has a wonderful newsletter that usually contains an excellent recipe, so get on her mailing list!
https://www.shockinglydelicious.com/jam-breakfast-cake-with-streusel/
Copyright Dorothy Reinhold | ShockinglyDelicious.com. All rights reserved.
Pin the image below for Jam Breakfast Cake to your Pinterest board to save this recipe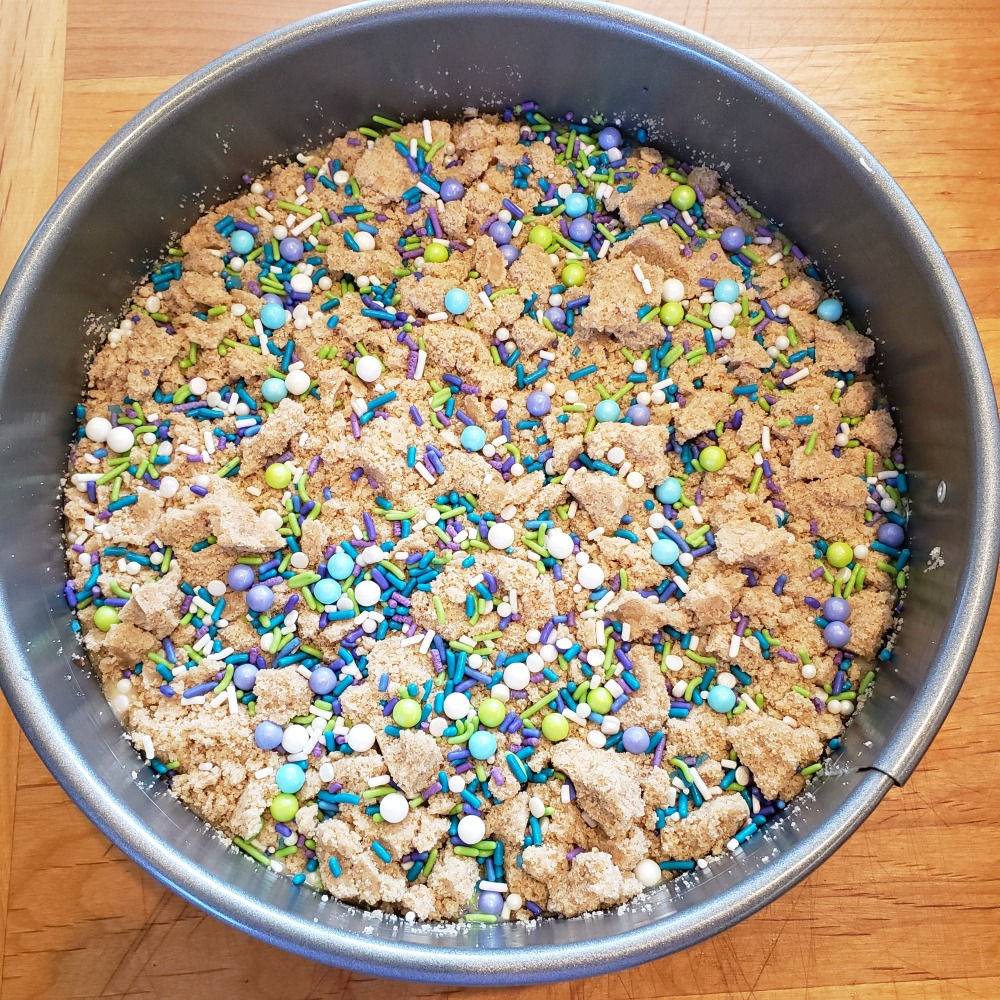 Here's what the cake looks like with Sea Splash sprinkles on top. LOVE this sprinkle mix! (Again, I learned this mix is meant for decorating a frosted cake, not for baking in the oven. Still love it though.)
Other breakfast cakes on Shockingly Delicious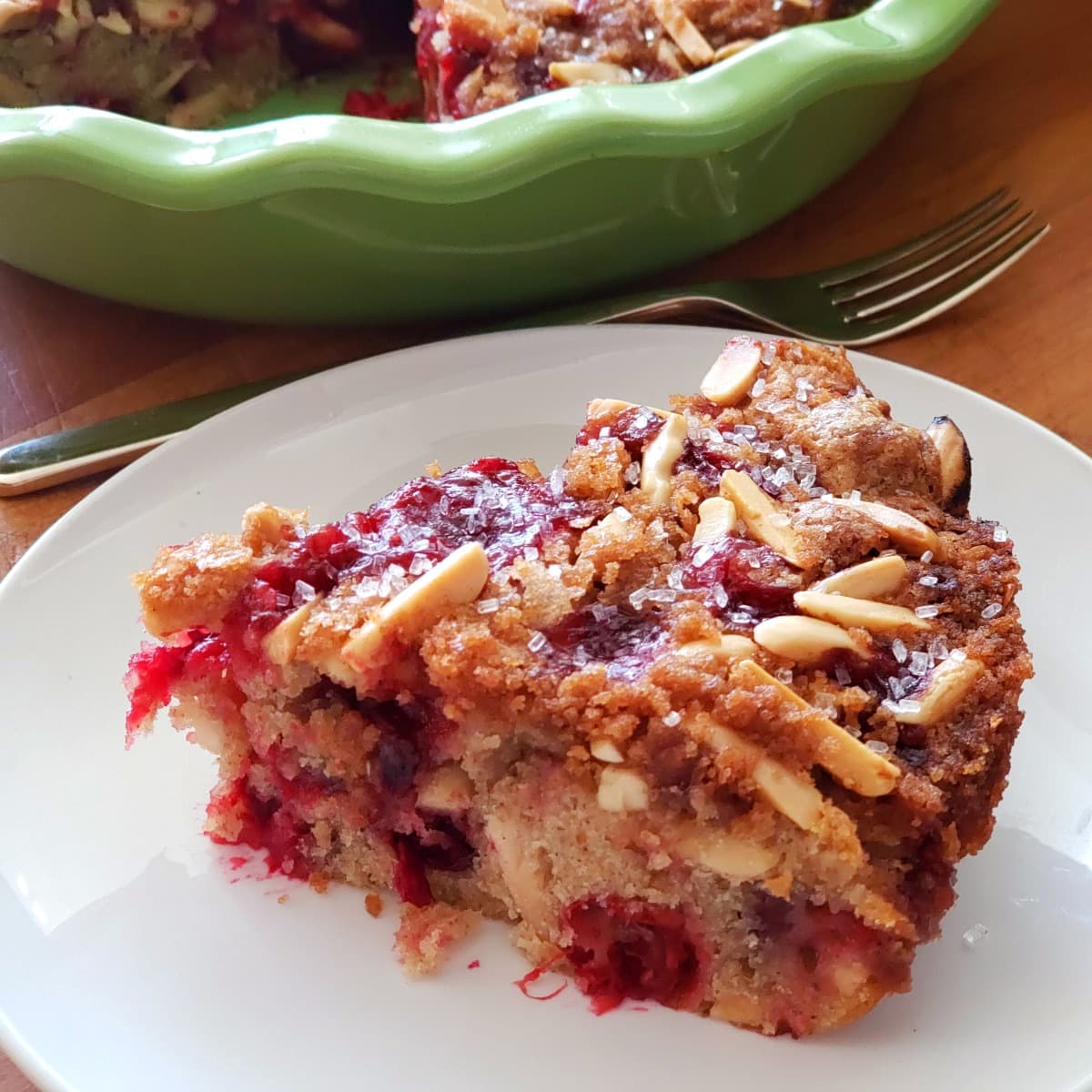 Fresh Cranberry Breakfast Cake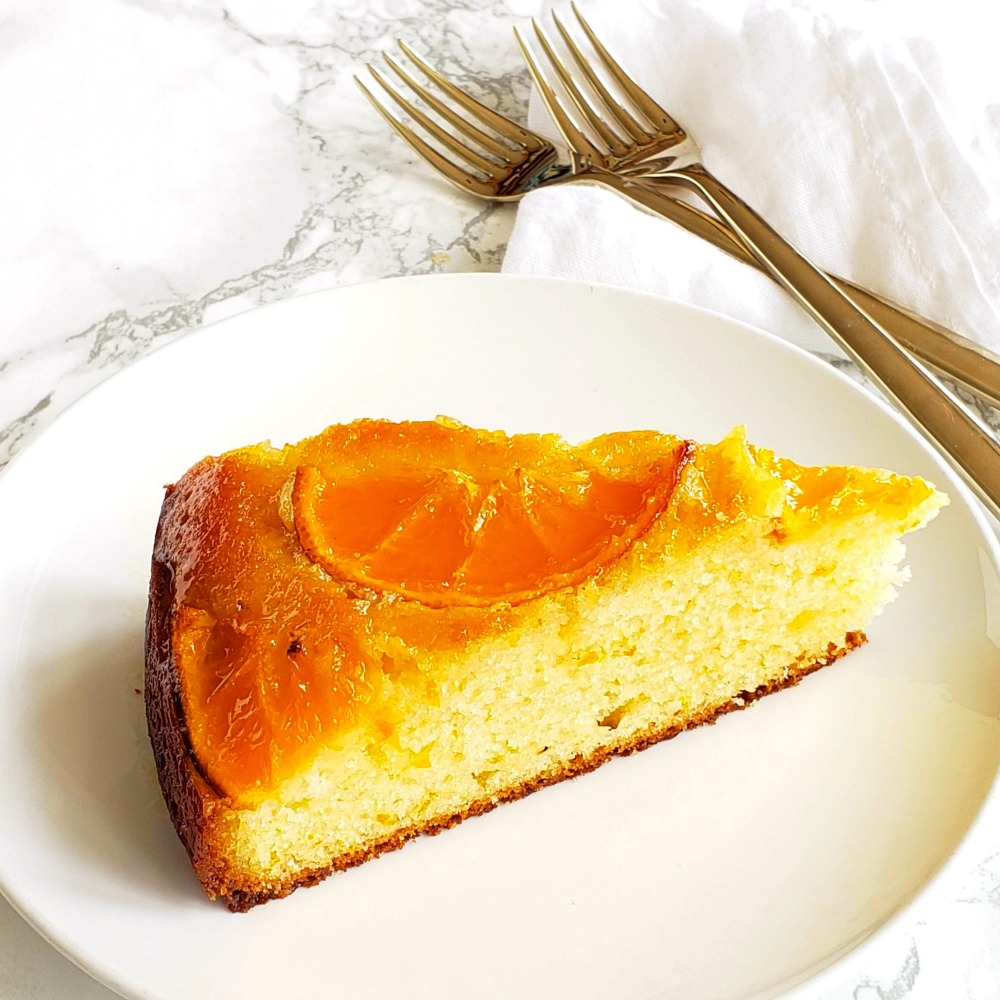 Greek Yogurt Tangerine Cake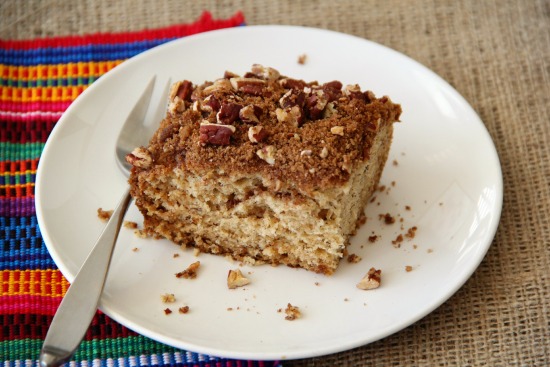 Banana Breakfast Cake with Pecan Streusel Topping
Thanks for visiting…are you hungry for more? Follow Shockingly Delicious on…
FACEBOOK | PINTEREST | INSTAGRAM | TWITTER
…for all the latest recipes, ideas and updates!
This post may contain affiliate/referral links. It is a way for this site to earn advertising fees (at no cost to you) by advertising or linking to certain products and/or services that I approve and prefer. Thank you for using my affiliate link to shop, so I can continue to bring you shockingly delicious recipes!