Print This Post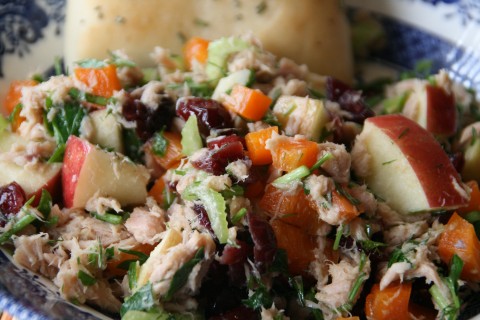 Some days, you don't really need precise measurements, or even a recipe. There is no need to dirty measuring spoons, or make a big deal out of an exacting formula. Eyeball it!
Such was lunch yesterday, when I had four hungry mouths and two cans of tuna. How to make a light, bright lunch from it?
Add Craisins and a chopped apple for sweetness, a handful of fresh herbs for pungency, and a couple of easy sliced veggies (celery, orange bell pepper) for color and crunch. A squirt of this and that for a clean-tasting dressing (plus the oil from the tuna so no need for mayo!), and lunch is ready.
One bowl. No measuring spoons. It turned out to be a rainbow in a bowl!
And everyone raved and asked for it again!
Now you try it. Improvise as you like.
Impromptu Cran-Apple Tuna Salad with Fresh Herbs
2 (5- or 6-ounce) cans solid light tuna in olive oil (Genova brand preferred; you will use the oil)
1 apple, skin left on, cored and chopped
1-2 celery ribs, chopped
Half an orange bell pepper, cored and chopped
Handful Craisins, hydrated in hot water and drained
Handful fresh Italian parsley, stems off, chopped
Handful fresh dill, stems off, chopped
Squirt of Dijon mustard (Grey Poupon brand preferred)
Big squeeze fresh lemon juice (Meyer lemon if you have it; juice from about half a lemon)
Put tuna AND its oil in a mixing bowl (the oil will be the start of the dressing). Add all other ingredients, eyeballing amounts to suit yourself. Stir well to combine, and serve!
I served this with a piece of herby focaccia alongside, but you could also use it as a tuna sandwich filling.
Variations:
You could add some

chopped cucumber

or

zucchini,

some

carrots

(shreds or a small chop), some

sliced scallions

or whatever other

veggies you find in the veggie drawer.

Substitute

canned salmon

instead of the tuna (and since canned salmon doesn't come packed in olive oil, drain it, pick out the bones, and add a few squirts of high-quality extra-virgin olive oil to the bowl).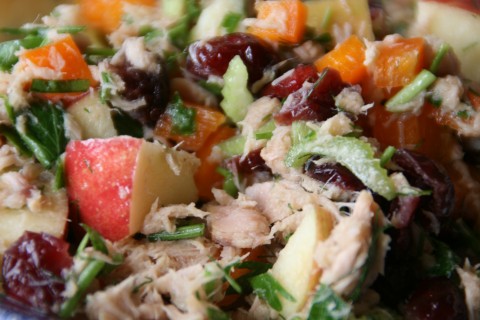 This is entered into "Get Grillin' with Family Fresh Cooking and Cookin' Canuck, sponsored by Ile de France Cheese, Rösle, Emile Henry, Rouxbe and ManPans."