Print This Post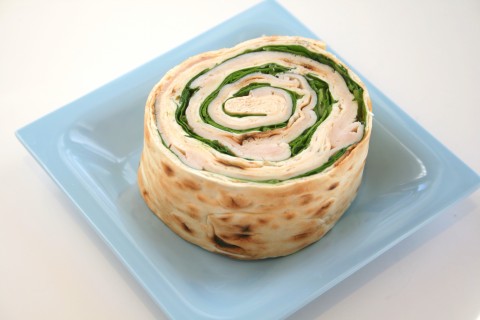 This spiral wrap is perfect — PERFECT! Hear me? — for lunchboxes, picnics and outings.
The name just about says it all about this easy, delicious lunch mainstay. You often see pinwheel sandwiches on a deli lunch or catering platter, but they are so easy to make. You don't have to wait for a catered office lunch to enjoy them.
This simple version uses a tortilla or lavosh—the soft and thin flatbread that is sometimes called cracker bread. Lavosh is flexible like a tortilla when fresh, but dries out quickly and then becomes brittle and hard. The soft lavosh is easier to use when making wrap sandwiches like this pinwheel.
Today's sandwich also uses a divine cheese spread called Boursin, a creamy blend of cheese, garlic and herbs that you can find in the fancy cheese section of the grocery store. If you have never tried it, consider this your introduction, and don't blame me if you get addicted.

Four ingredients (lavosh, turkey, Boursin, spinach) and you are closer to pinwheel goodness than ever before.
Turkey Pinwheel with Spinach and Boursin
An easy Turkey Pinwheel Sandwich is stuffed with Boursin cheese, spinach and thinly sliced turkey for a perfect lunch.
Ingredients
Tortilla or soft lavosh
1 (5.2-ounce) package Boursin Garlic & Fine Herbs cheese
Turkey breast, thinly sliced
Fresh spinach leaves, washed and dried
Directions
Lay out the tortilla or lavosh on a board. Spread thinly with Boursin (a small offset spatula works well for this). The Boursin acts as the glue for the other ingredients.
Top with a single layer of spinach leaves spread out flat, and then turkey slices; don't overload either the turkey or spinach. Leave cheese naked on one edge; this will act as the final "glue" to secure the roll to itself.
Starting at opposite edge, roll very tightly and firmly into a fat cigar, ending with the naked cheesy edge which now will glue the roll together. Immediately roll tightly in plastic wrap and refrigerate for at least 1 hour, or up to a day ahead if you wish. This helps the sandwich stay rolled when you cut and serve it.
To serve, remove from plastic wrap and slice crosswise, or on a slight diagonal, to reveal the pinwheel effect. Pierce with a toothpick to help hold it together if it seems to be falling apart.
Notes
Recipe source: Dorothy Reinhold | Shockingly Delicious
Note: Lavosh has many spellings, including lahvosh, lavash, lavosh, lawaash, lawasha, etc. They all describe the same thin flatbread.
https://www.shockinglydelicious.com/turkey-pinwheel-with-spinach-and-boursin-labor-day/
Copyright Dorothy Reinhold | ShockinglyDelicious.com. All rights reserved.