Print This Post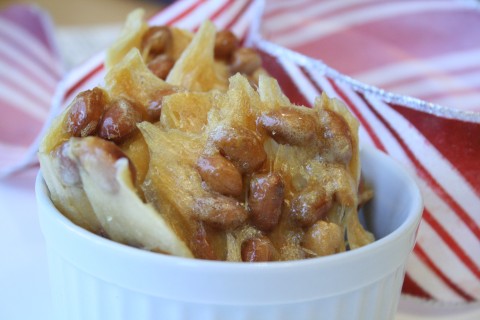 It's safe to say that every teacher in Malibu wants Matthew Miller, 8, in class, because that pretty much assures they will get a coveted package of homemade peanut brittle for a Christmas present.
And oh, what peanut brittle this is! Thin and delicate as parchment, studded with red Spanish peanuts, these shards of brittle just explode in your mouth when you crunch down on them. This is the stuff of peanutty dreams.
It is also the stuff of family, of tradition, and very much of the season.
Peanut brittle maker Charlene Underhill Miller, Matthew's mom, doesn't remember a Christmas without peanut brittle. She's been making it for 45 years, from a recipe given to her by her grandmother, Marcella Arn of Kansas. She learned the tips and tricks of it in her mother's kitchen, and now she is teaching her son to make it, as well. From grandmother to mother to daughter to son – four generations of peanut brittle makers in the Arn, Underhill and now Miller families have insured the legacy of this treat.
"When I was a little girl, my mother would make peanut brittle for neighbor friends. My sister and I would package it, put it in our red wagon, and deliver it with Christmas greetings. More than the fresh pine fragrance of the Christmas tree, the smell of peanut brittle means the Christmas season has arrived!" says Charlene, who is a family therapist in Malibu, Calif.
She loves to celebrate tradition and family, and now, as a mom herself, she is passing it along. "This tradition has been in my family for four generations, initiated by my grandmother and now witnessed and sampled by my son. When I pull my peanut brittle into the fragile and delicate pieces, I have an experience that connects me to both my mother and my grandmother."
She is also connected to her mother, Dee Underhill, by the tools of brittle making. She uses her mother's marble slab, heirloom pot and other utensils for just the right touch. As she talks about her cherished tools, her voice softens and she recalls all the ways this brittle has bound together her family.
When her brother married, her mother gave the new daughter-in-law a marble slab and all the other necessities of brittle making, including a framed copy of the recipe. Just the other day, both of her stepsons texted her and asked, "When r u making pnut brittle?" And Charlene knows  peanut brittle season has arrived come November, when her mother or her sister will call and ask, "Have you made your first batch of brittle yet?"
All across this city, the same question is being asked. "Has Charlene made the brittle yet?"
Grandma's Homemade Peanut Brittle
Do not double this recipe. Make successive batches if you want more than one batch.
2 cups granulated sugar
1 cup white Karo corn syrup
2 cups raw Spanish peanuts
2 tablespoons butter, at room temperature
2 teaspoons baking soda
In a medium heavy pot, mix sugar and syrup and stir well while cooking. When it has melted and comes to a boil, add peanuts; cook until light honey brown colored (300 degrees on a candy thermometer). While this is cooking, in a small ramekin, stir butter and baking soda into a paste; set aside. Butter the marble slab. When peanut mixture achieves correct temperature, remove pot from fire and stir in butter-soda paste. Then pour mixture out on a marble slab that has been greased with butter. Using buttered hands, quickly pull very thin. Brittle is quite hot, so work quickly. When you have a piece at the edge that is as thin as you like, use a kitchen food shears to snip it off and set it aside. Continue working until all brittle is pulled thin and snipped off.
Makes 3 packages of peanut brittle.
Tips
This calls for raw Spanish peanuts, which generally start to show up in grocery stores in November, in time for brittle making. You can also find them in bulk at some health food stores.
For best results, do not make this when it is very humid or rainy. The sugar will get sticky and you won't be able to pull it as thin as you want to.
Charlene gets her cellophane packages off the Internet, but advises that you can buy them at candy or paper goods stores, as well. She recommends cellophane bags with pleated sides, for the best volume.
Be sure to use a pretty bow – wire ribbon is useful for this.
You may also package the brittle on a nice plate and wrap in cellophane.
What are Spanish peanuts?
An answer that is a mashup from several Internet sources: "Spanish" peanuts are considered by many to be the most flavorful peanut, and this variety is one of the four most popular types of peanuts grown for commercial use today (others are Virginia, Runner, and Valencia). Spanish peanuts are high in oil and flavor, have smaller kernels than Virginia or Runner peanuts, have red skins and are used mostly for peanut candy, salted nuts, and peanut butter. They're called Spanish peanuts because those varieties – now grown in South Africa and the U.S., mostly – were developed in Spain, in the late 18th century.