Print This Post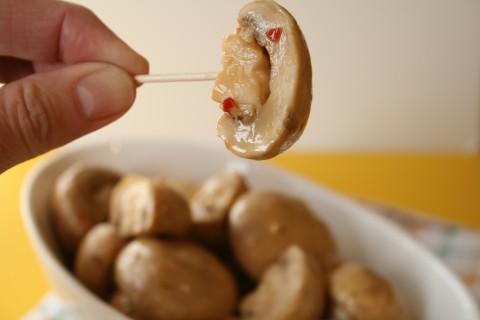 I proclaim 2010 the year of the marinated mushroom, because this super easy, bright tasting appetizer was the surprising hit of both our Thanksgiving and Christmas appie tables this year, with both children and adults exclaiming about the flavor and perky taste.
And at each meal, the hostess insisted on keeping the leftovers. When you don't get any sent back home with you, you can be pretty certain it was a winner.
A quickly made marinade does its work overnight on some supermarket button mushrooms, and voila!, you have an inspired appe-teaser. There are a number of reasons to love this:
It's light on calories
Bright with citrus taste with just a hint of zip from the pepper
Vegetarian
Relatively cheap
Could be used as a mushroom salad for dinner, alongside some roasted chicken and rice
Doesn't repeat any of the usual flavors of a holiday meal, so it doesn't detract from what is to come. I have a pet peeve with appetizers that are renditions of the rest of the dinner – the repetition does no favor to the main course, in my opinion.
These would be perfect for New Year's Eve, or any time you are asked to bring an appetizer to a potluck, and you are stumped for inspiration. Consider doubling the recipe for a party.
Just remember to make them the day before, and you're a genius.
Happy New Year, from Shockinglydelicious!
Asian Citrus-Marinated Mushrooms
1/4 cup rice vinegar
2 tablespoons sugar
2 tablespoons fresh lime juice
1 tablespoon low-sodium soy sauce
Rounded 1/4 teaspoon crushed red pepper
1/4 teaspoon salt
4 garlic cloves, thinly sliced
1 teaspoon grated orange rind
2 teaspoons extra virgin olive oil
1 teaspoon dark sesame oil
1/2 teaspoon grated lime rind
1 pound whole mushrooms, stem cut off and left whole (halve any huge ones) * (see note below)
Garnish: 2 tablespoons chopped fresh Italian parsley
Combine first 7 ingredients in a small saucepan. Bring to a boil; cook 30-60 seconds or until sugar dissolves. Remove from heat; stir in orange rind, oils, and lime rind. Combine vinegar mixture and mushrooms in a large bowl; toss well to combine. Pour mushrooms and liquid into zipper top bag, remove air from bag and seal. Place bag in bowl in refrigerator (in case of leaks), and refrigerate overnight, turning bag whenever you think of it or are mucking around in the refrigerator.
To serve, pour mushrooms and liquid into a wide, flat bowl and sprinkle fresh parsley on top. Place a little container of toothpicks alongside, along with a container for the used picks if you wish.
Serves 6.
Mushroom note
Leave mushrooms whole because they will shrink due to losing some of their water during the marination. If any look impossibly huge, then halve them. To clean mushrooms, brush them off with a soft brush or a towel. Don't wash them with water or soak them, because they get mushy and disgusting.
Source: Slightly adapted from Cooking Light magazine, Jan. 2006