Print This Post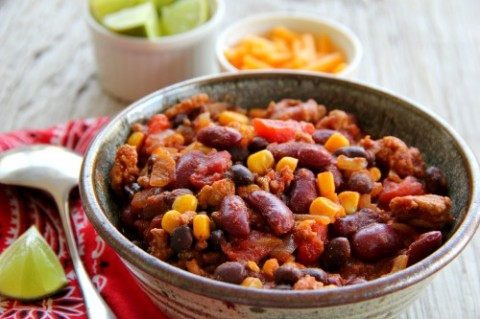 As we settle solidly into fall, the changing season triggers an imperceptible mental switch. It's brought on by the new nip in the air, the breeze that sends a shiver and earlier sundown. Our culinary thoughts leave behind the sprightly salads of summer and anticipate comforting dinners.
We're ready for a steaming bowl of goodness that will warm us up and keep us full.
And so it shall be chili, but not just any old version. S&W Beans asked me to show you how to make their Heart-y Turkey Chili. It's one of the most popular in the S&W recipe collection on their website, for good reason.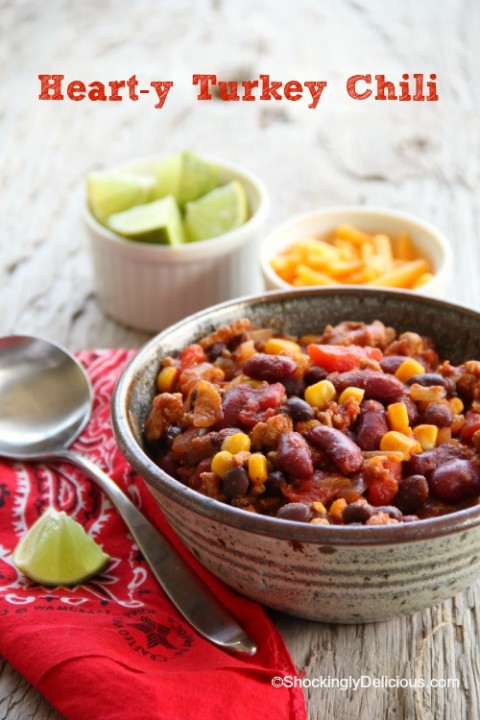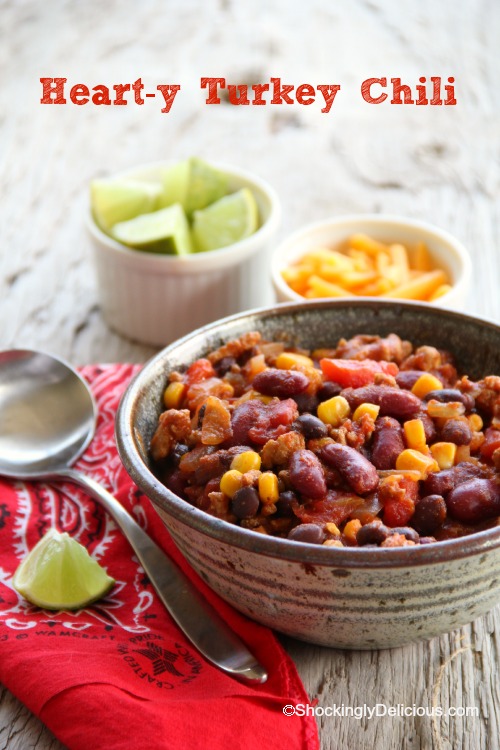 This recipe appealed to me because, as the name implies, it is both hearty and heart-healthy. We're using low-fat ground turkey (no fat added in the pan to cook it), and some of the wonderful S&W lower-salt beans.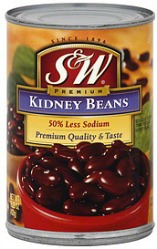 The recipe calls for 2 cans of either S&W® 50% Less Sodium Red Kidney Beans or S&W® 50% Less Sodium Black Beans, but I decided to use 1 can of both to add variety.
I don't often use kidney beans in my chili, but I learned that ½ cup of red kidney beans has 1 ½ times the antioxidants of 1 cup of blueberries and that kidney beans have more protein per cup than 2 ounces of lean ground beef. Hmmm…sold.
Black beans are among my most favorite beans, and I learned they have more dietary fiber in 1 cup than 5 slices of whole grain bread. Sold again.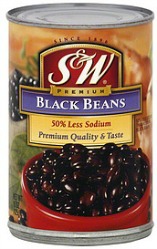 These lower-sodium beans are flavorful and you won't miss the extra salt. In fact, did you know that draining and rinsing the beans gets rid of 1/3 of the sodium? That's a good thing to remember if you can't find the low-sodium version at your market. I recently had my blood pressure checked, and the number was higher than it should be, so I am motivated to reduce sodium in my diet and nip this in the bud.
In keeping with the lower-sodium theme of this recipe, I also chose to use no-salt-added corn, low-salt diced tomatoes and no-salt-added tomato sauce. Citrus is often used as a salt replacement in recipes, and lime juice contributes to this recipe, with each diner adding a squeeze of lime to his own bowl of chili at the table, too.
Let's take advantage of nutritious beans – naturally low in fat (no saturated fat or cholesterol), high in fiber, protein, calcium, iron, folic acid and potassium – and make some chili. There's a nip in the air.  😎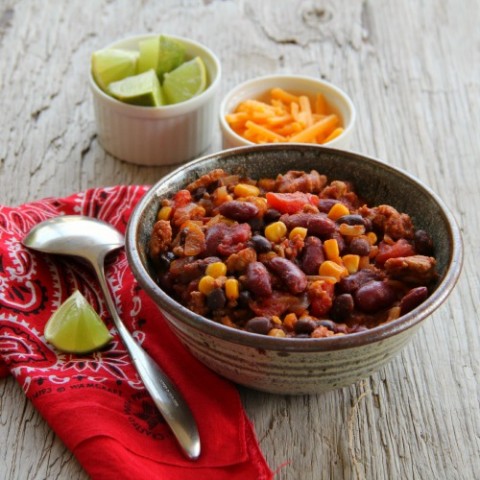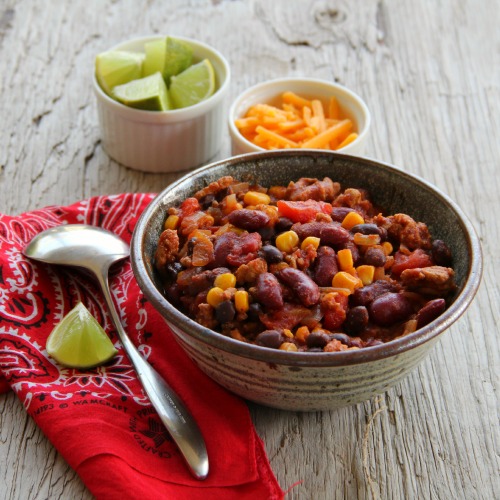 Chili Palooza Sweepstakes!
To encourage more chili fun, S&W Beans is sponsoring a Chili Palooza Sweepstakes Mon., Oct. 7 through Sun., Nov. 3. You can enter the Chili Palooza Sweepstakes here for a chance to win this useful Chili Kit — a slow cooker, a ladle, recipes, a magnetic grocery list, a can strainer and 3 cans of S&W Beans. There will be 25 lucky Chili Kit winners – 10 announced on Oct. 25, and 15 announced on Nov. 5. You have to be at least 18 and a resident of the 50 states to enter; read the rest of the fine print here.
Twitter party!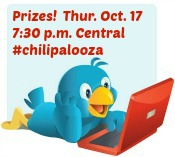 S&W Beans is also having a Twitter party, during which they will give out a grand prize of a Chili Kit and $50 Visa gift card, and 10 runner-up prizes of S&W products so you can make your own bowl o' red. The Twitter party will be Thur., Oct. 17, 7:30-8:30 p.m. Central Time (mark your calendar for your own time zone; it's 5:30 p.m. my Pacific Time, for example), and the hashtag is #chilipalooza so you can easily follow along and join in. I'll be there; that grand prize is motivational, isn't it?
Join the fun!
Recipe: Heart-y Turkey Chili
Summary: Both hearty and heart-healthy, this bowl o' red features low-fat turkey and low-sodium canned beans and tomatoes in a comforting chili that's good AND good for you.
Ingredients
1 (20-ounce) package lean (93%) ground turkey
1 medium onion, chopped (about 3/4 cup)
2 (15.25oz) S&W® 50% Less Sodium Red Kidney Beans or S&W® 50% Less Sodium Black Beans, drained, rinsed

(I used 1 can of each!)

1 (15-ounce) can whole kernel corn, drained

(I used no-salt-added corn)

1 (14.5-ounce) can diced tomatoes (do not drain)

(I used a low-sodium version)

1 (8-ounce) can no-salt-added tomato sauce
1 tablespoon chili powder

(I used mild Hatch Chile Powder)

3 tablespoons lime juice

Garnishes (optional)

: Lime wedges, light sour cream, chopped cilantro, shredded Cheddar cheese
Instructions
In 12-inch skillet, cook turkey and onion over medium-high heat 5-7 minutes or until turkey is thoroughly cooked, stirring to break up turkey.

Add all remaining ingredients except garnishes; bring to a boil. Reduce heat; cover. Simmer 10 minutes.
Remove from heat and ladle into bowls.
Serves 8.
Recipe Source
Nutritional Information Per Seriving
Calories 220 (From Fat 50), Fat 6g (Saturated Fat 1.5g, Trans Fat 0g), Cholesterol 50mg, Sodium 370mg, Total Carbohydrate 22g, Fiber 4g, Sugars 7g, Protein 19g, Vitamin A 15%, Vitamin C 25%, Calcium 6%, Iron 15%
Preparation time: 8 minutes
Cooking time: 20 minutes
Diet tags: Low calorie, High protein, Gluten free
Number of servings (yield): 8
Culinary tradition: USA (Southwestern)
Disclosure

: I was compensated for this post by S&W Beans. The opinions are all mine, the recipe is used with their permission, and the photos are Shockingly Delicious originals.