Print This Post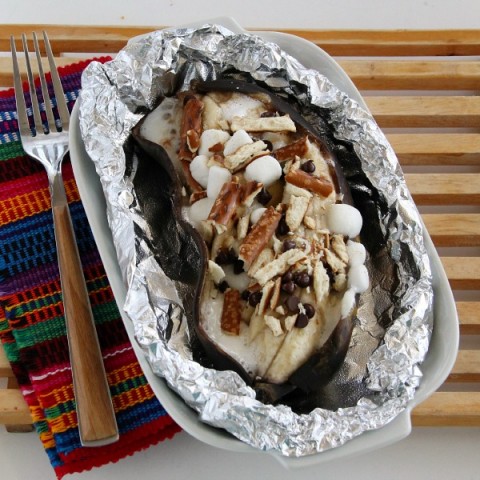 What do you do when you've grilled your dinner, the grill is still hot, and you want something sweet for dessert?
You grab a few bananas, some s'mores makings, and do a fusion of a simple s'mores treat and a campfire banana split.
Except I wasn't grilling, so I used the oven, and I didn't have any graham crackers, so I used crushed pretzel rods, and I didn't have a chocolate bar but I did have mini chocolate chips. My motto is "use what you have."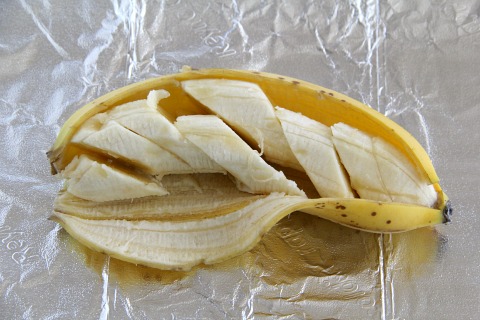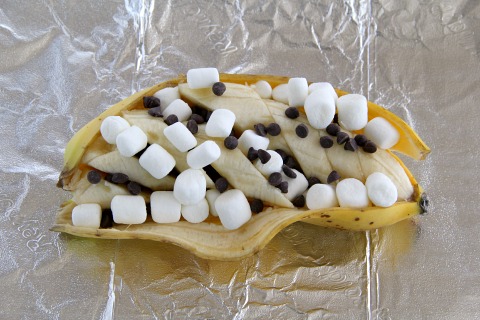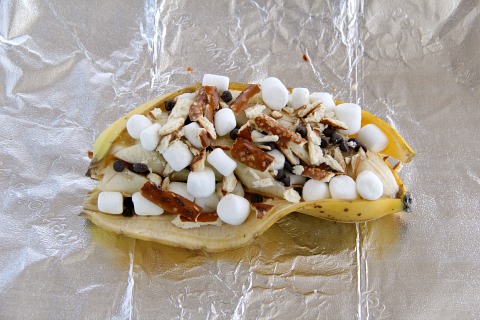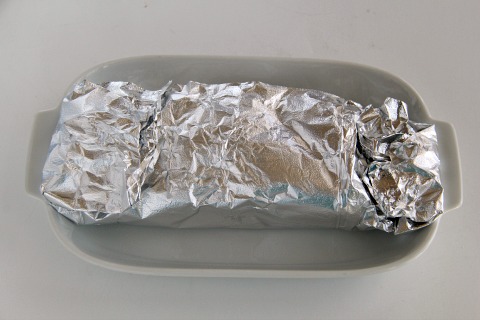 It's all good…er…make that great!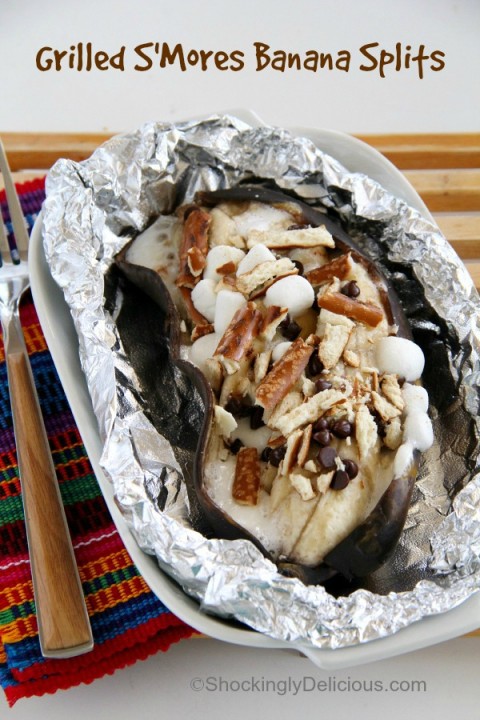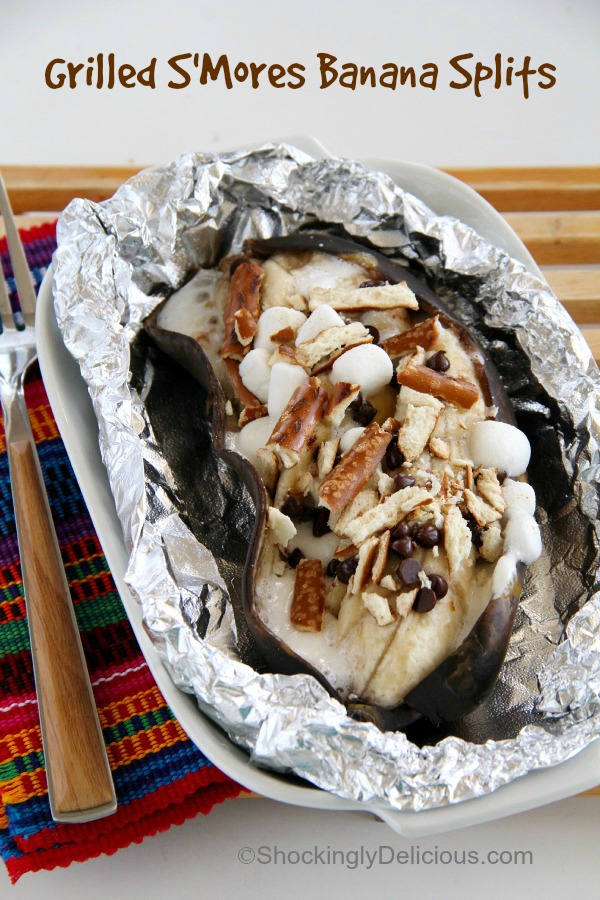 Grilled or Roasted S'Mores Banana Splits
S'mores meets a campfire banana split for this easy, family-friendly roasted or grilled dessert.
Ingredients
2 bananas
¼ cup mini chocolate chips
3-4 dozen mini marshmallows
2 pretzel rods
Directions
Heat oven or grill to 425F degrees. Prepare 2 pieces of aluminum foil (approximately 12-inch squares).
Place each banana on a piece of foil, and make a slit in the top skin. Gently open the banana peel and slice the banana diagonally and lengthwise inside the peel. Spread open the pieces slightly.
Sprinkle with mini chocolate chips and mini marshmallows, making sure to tuck some between the banana slices.
Crush the pretzel rods with a rolling pin or other heavy object (a can?), and sprinkle on top of bananas.
Close foil loosely and bake or grill for 12-14 minutes or until the marshmallows have melted. Remove from oven or grill, carefully unwrap and eat! You will see that the banana skin has turned dark brown. This is normal! You won't be eating the skin anyway; it just holds it all together.
Makes 2.
Notes
https://www.shockinglydelicious.com/grilled-or-roasted-smores-banana-splits/
Copyright Dorothy Reinhold | ShockinglyDelicious.com. All rights reserved.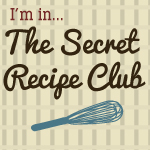 Today's inspiration came from Nicole of the blog I Am a Honey Bee. I was assigned her blog for Secret Recipe Club, an online Secret Santa-type group that has members privately cooking from each other's blogs for a month and revealing the chosen blog and recipe at month's end. Today is reveal day! I have her Apple Pie Squares bookmarked for the fall, and say what? Blackberry Margaritas? I am soooo in, right now. I could feature her California Chicken Salad any day for lunch, and her Mexicasian Tacos are so hilariously named they are calling to me.
Thanks for a delicious month of reading, Nicole!
Meanwhile, browse the photo array below to see what else the Secret Recipe Club cooked up this month!