Print This Post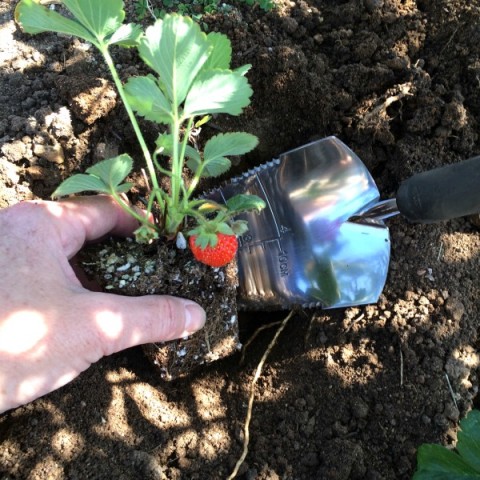 Mother's Day saw me gardening in the bright Southern California sunshine, my expectations raised for a delicious summer of strolling out to the back yard  to pick vegetables for that night's dinner.
That's the goal, but it's also getting ahead of the game. First I had to fill my weed bucket with gnarly overgrown nonsense, get my nails gritty, my knees caked in dirt and my forearms scratched from plants I should have removed last fall but didn't. Ah, the joys of the soil!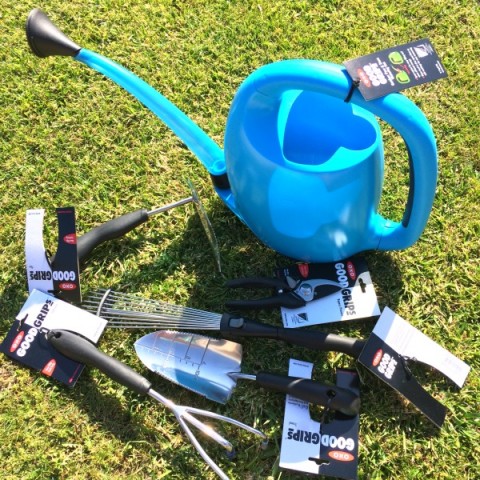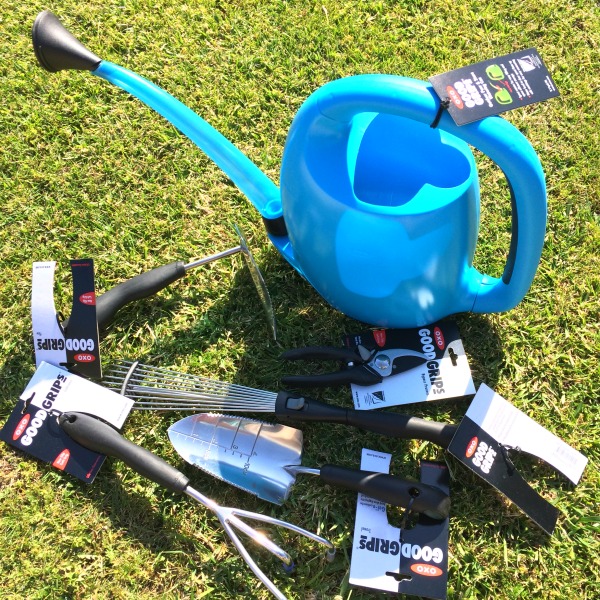 Luckily, my friends at OXO sent a box full of gardening implements to encourage me to get out there and muck around, and to urge you to do so as well.
First things first: My mom had pointed to a vacant pot on her balcony and asked me to fill it with succulents for her. Aye aye, captain!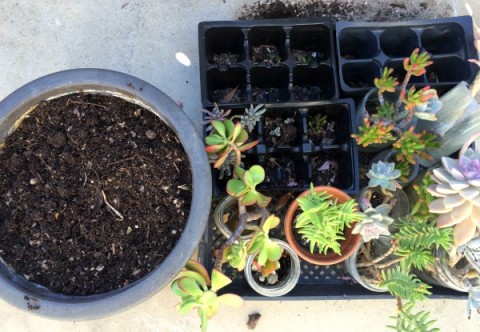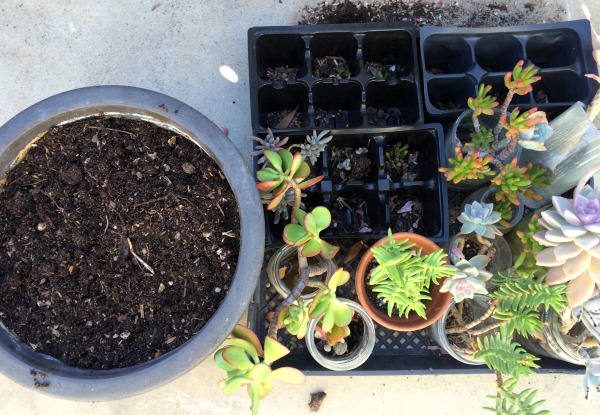 Luckily, I had been keeping a starter area of little succulents. They were ready.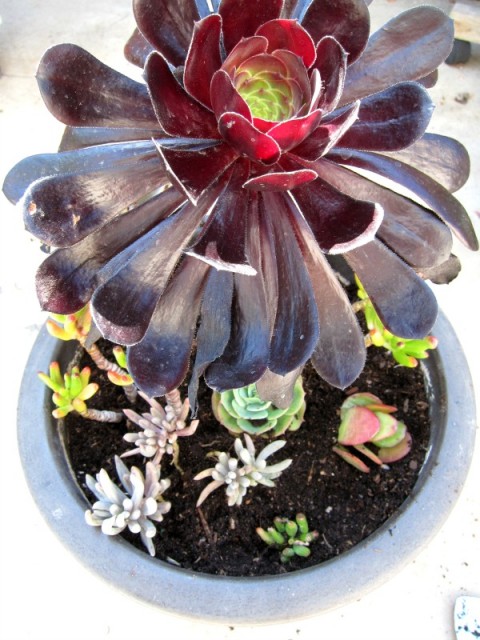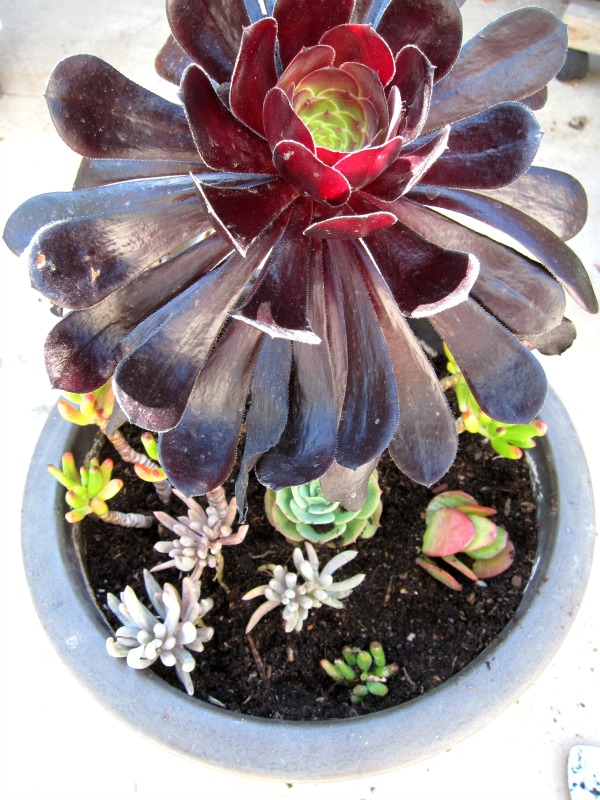 This was easy! This plants should grow in nicely, and won't take much water (a big plus in dry So Cal). I love how the big purple one dominates, and the smaller ones below offer color and texture contrast. Come back and see this pot in 6 months.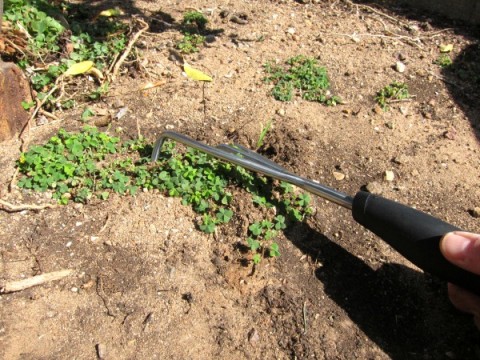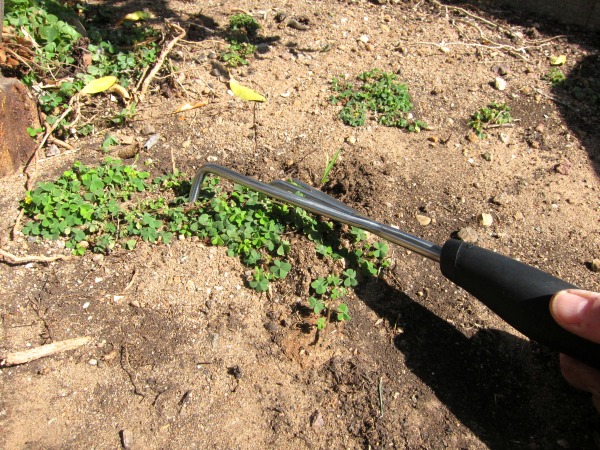 Next up was clearing some weeds from  around my kumquat tree. This area used to be planted with strawberries.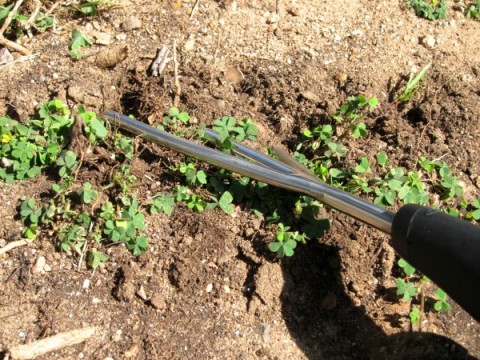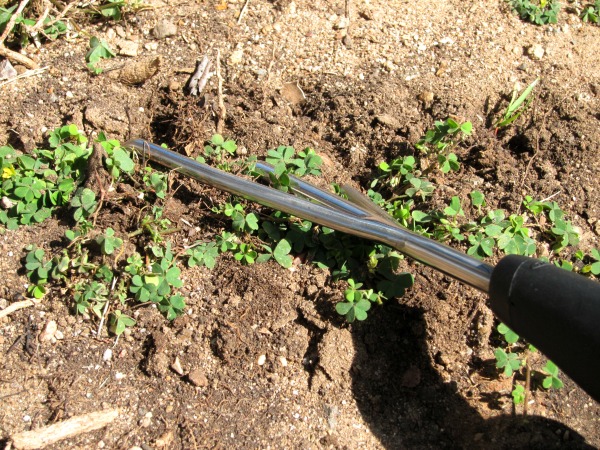 My favorite tool for this is the cultivator, which has three prongs. You dig it in, and it loosens the dirt enough to allow you to hand pull the weed AND its roots. If you simply pull the green part of the weed off, the roots are still in the soil and the plant will regrow, stronger than ever. No bueno, as we say here.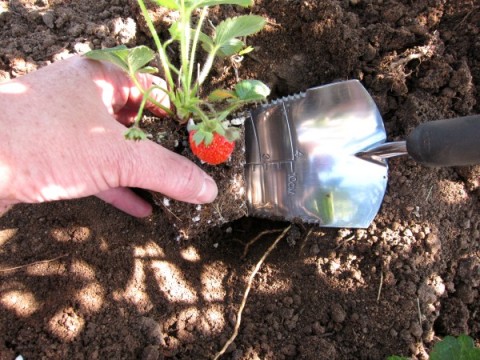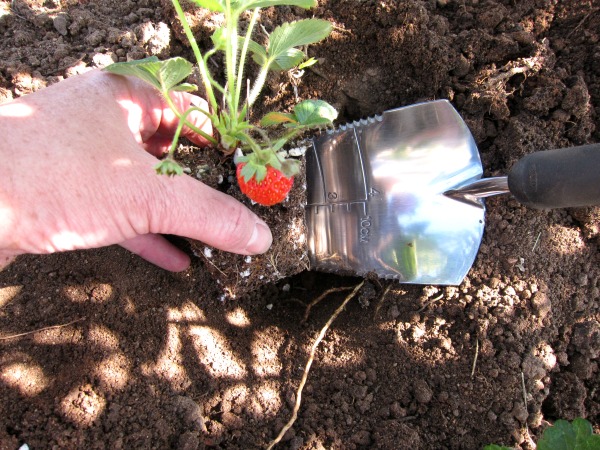 Once the area was clear, the new strawberry plants went in. I used the trowel to dig the perfect sized hole. There is nothing, and I mean nothing, like walking out to the yard and picking a few choice ripe strawberries to pop into your mouth. I have to get them before the squirrels do, though.  😉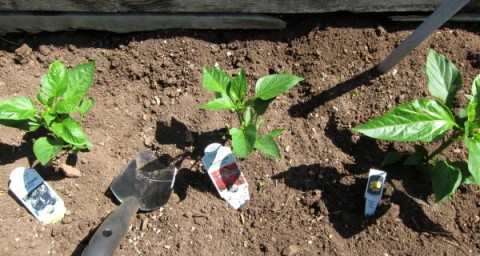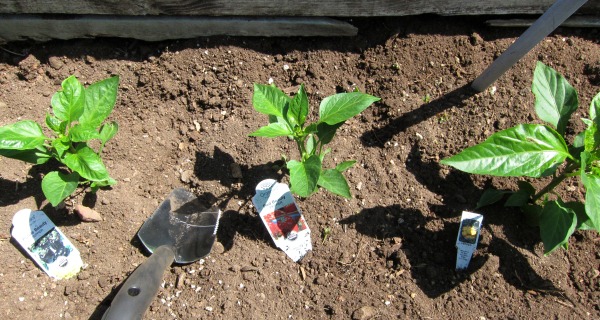 The trowel also made quick work of planting my three new colored bell pepper plants — get ready for purple, red and yellow in some recipes this summer!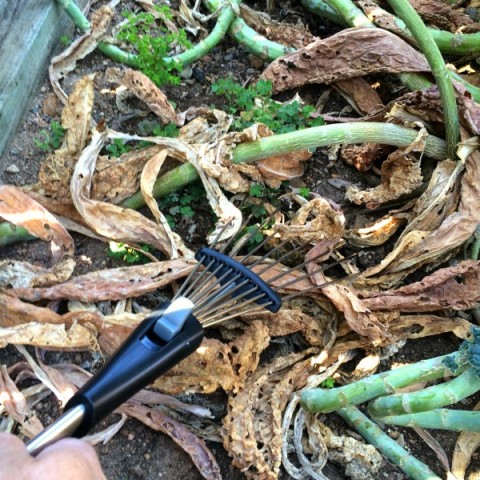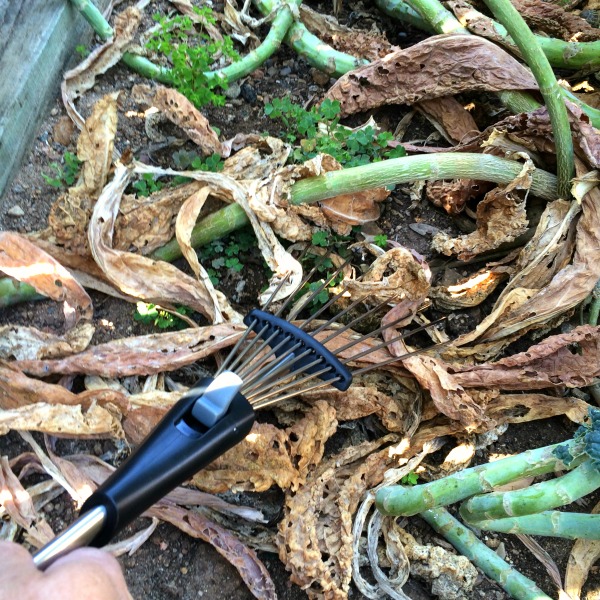 Next up was a little raking, with the cutest and most practical hand rake I ever used. Flip a switch on the handle, which extends the shaft, and the tines spread out. You can adjust it to service the width of the area you are working in. This, above, my friends, is a tangle of kale leaves. I let that kale plant get really out of control this year! Where has this rake been all my life?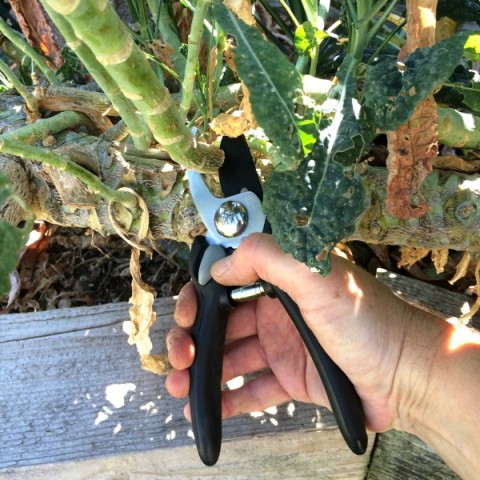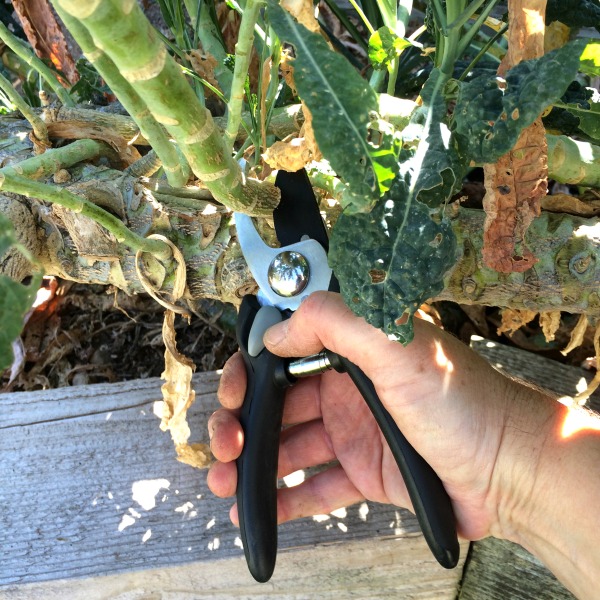 Finally I did a little pruning, using a bypass pruner. Every gardener needs one of these, whether it is for snipping errant branches…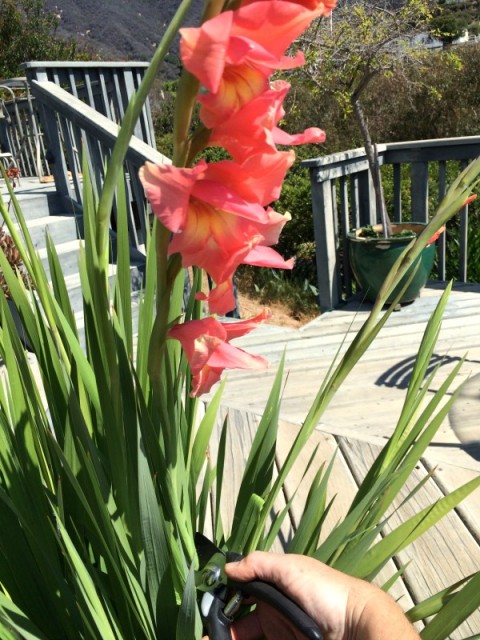 …or cutting a flower stalk to bring inside to a vase. The pruner needs to be sharp, fit your hand well, be comfortable and most of all, when you squeeze it, it needs to have lots of power to cut through a branch. This one does.
If you'd like to spruce up your garden and need some handy, practical, comfortable tools to help you along, I recommend these:
Outdoor Gardening with OXO
Constructed of high-quality stainless steel for durability and strength
Comfortable handle is non-slip, even when hands are wet
Cushioned handle absorbs pressure while digging
Large measurement markings at one-inch and one-centimeter intervals are easy to read
Trowel head is large for efficient digging and serrated edges make it easy to open bags and cut roots


Plow

Constructed of high-quality stainless steel for durability and strength
Comfortable, two-position handle provides extra strength and reach while striking
Serrated edge for cutting roots and opening bags

Sharpened string cutter

 


Hand Rake

Easily adjust and lock tine spread at any position
Retract to 3 inches for tight spaces and compact storage
Expand to 12 inches for clearing larger areas
Two-position handle for comfort and reach
Comfortable handle is non-slip, even when hands are wet


Outdoor Pour and Store Watering Can

Spout rotates back toward the body for easier filling and space-efficient storage
Water levels in the clear spout line up with measurement markings on the body for easy measuring
Continuous soft, non-slip handle for a comfortable, secure grip when carrying and pouring at all heights
Removable rose attachment stores conveniently in the back of the Can
2.11gal/8L capacity

Comes in green, blue and 

fuchsia


Cultivator

Perfect for stirring and loosening soil, and pulling up weeds
Constructed of high-quality stainless steel for durability and strength
Two outer prongs longer than center prong to easily maneuver around plant stems
Comfortable, two-position handle provides extra strength and reach when striking and pulling


Bypass Pruners

Versatile bypass hand shears with 3/4-inch-diameter cutting capacity
Hardened, Teflon-coated, steel cutting blades provide maximum cutting strength
Conveniently located locking switch is accessible by both left- or right-handed users
Convenient for gardening and various yardwork projects
Soft, comfortable non-slip grip
Disclosure: OXO sent the garden tools for review.