Print This Post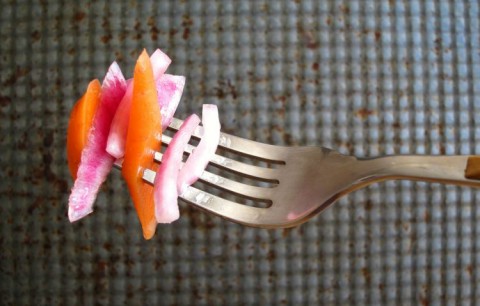 Quick Mexican Pickled Onions and Carrots are traditional garnishes or condiments offered at Mexican restaurants as a flavor brightener. Make your own in 30 minutes.
You know that little bowl of pickled vegetables they bring you at Mexican restaurants?
It usually has sliced onions, diagonally cut carrots and sometimes hot pepper rings, swimming in a salty vinegar bath.
You can make it in 30 minutes, and it's a great little garnish or addition to tacos, burritos, Mexican dinner bowls, nachos, or any Latin-flavored dish that comes out of your kitchen.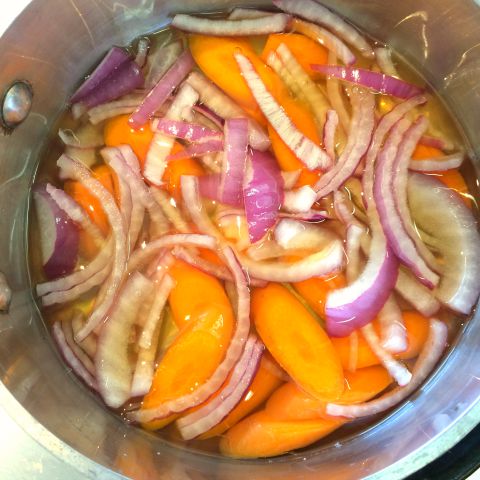 You're just going to toss everything in a bowl and let it marinate for a little bit.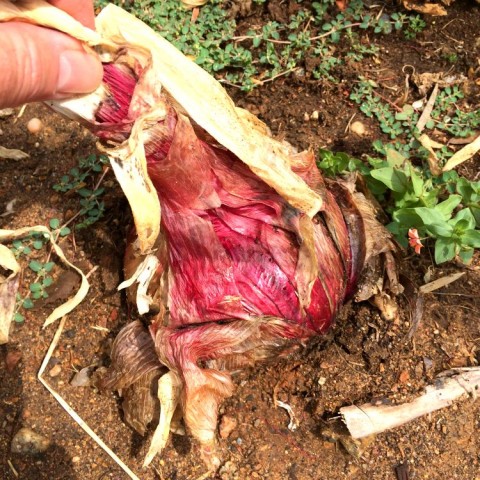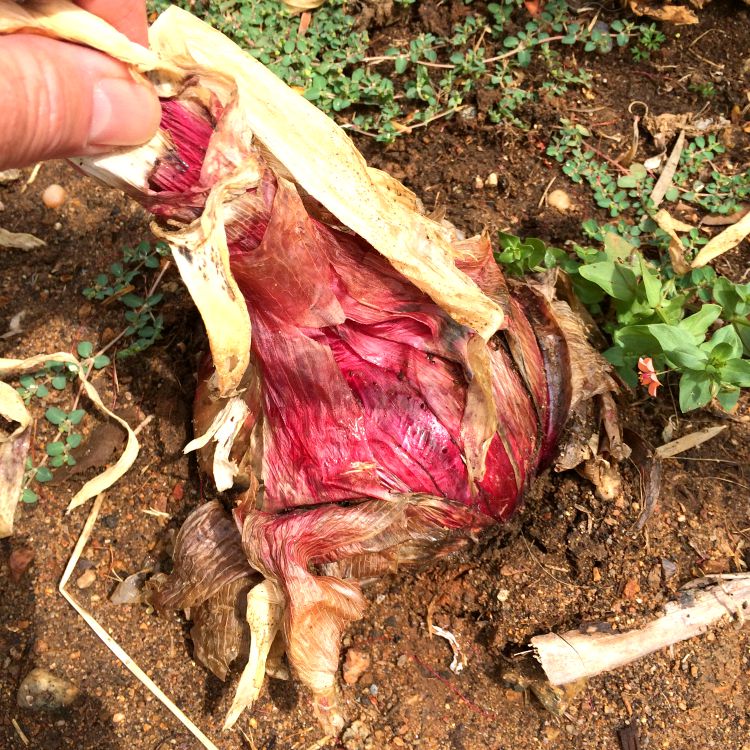 Grab an onion. I was growing them, so I got this one from the garden. It looks a bit gnarly…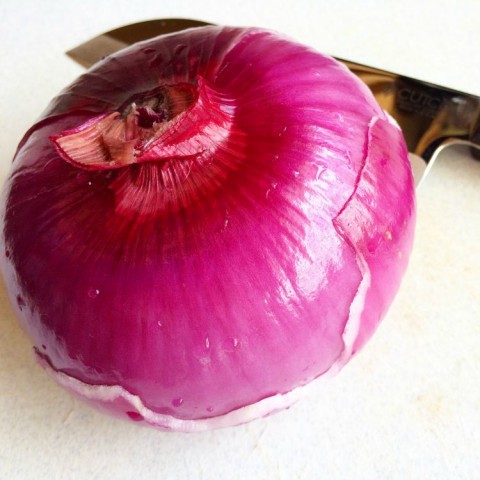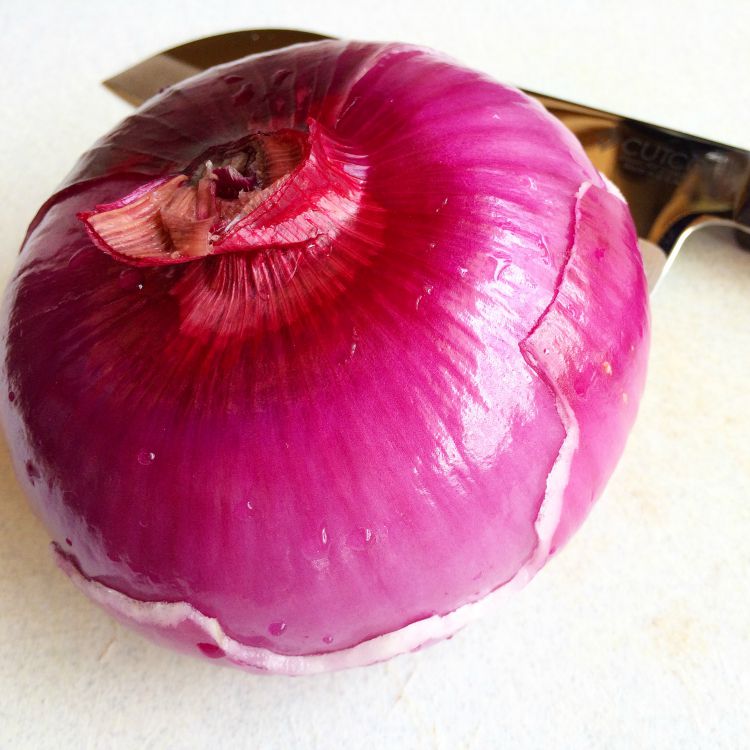 …but once cleaned up and peeled looks very presentable!
Grab a carrot and the bottle of apple cider vinegar from the pantry, and let's get to it.
These pickled vegetables will perk up nearly any main course you can think of!
Quick Mexican Pickled Onions and Carrots
Pickled onion and carrot are traditional garnishes or condiments offered at Mexican restaurants as a flavor brightener. Make your own in 30 minutes.
Ingredients
1/2 cup apple cider vinegar
1/4 cup water
1 tablespoon sugar (I used Vanilla Sugar)
1 teaspoon kosher salt
1/2 of a large red onion, peeled and cut into slices
1 carrot, scrubbed and sliced on the diagonal
Directions
In a small sauce pan, heat the vinegar, water, sugar and salt until boiling. Turn heat off. Add onion and carrot slices to hot liquid, put a lid on the pan, and let it sit for 30 minutes. You are not cooking the vegetables, but the hot liquid will pickle them faster than room temperature liquid.
To serve, drain vegetables into a small serving dish and offer at the table as a garnish.
Serves 4-6.
Notes
Recipe source: Dorothy Reinhold | Shockingly Delicious
Note: You may also add a Jalapeno sliced into thin rings to the mixture, but it will make the whole thing hot. I often do a separate jar of quick pickled Jalapenos, since not everyone likes the heat.
https://www.shockinglydelicious.com/quick-mexican-pickled-onions-and-carrots/
Copyright Dorothy Reinhold | ShockinglyDelicious.com. All rights reserved.
Pin the image below to your Pinterest board to save this recipe for later.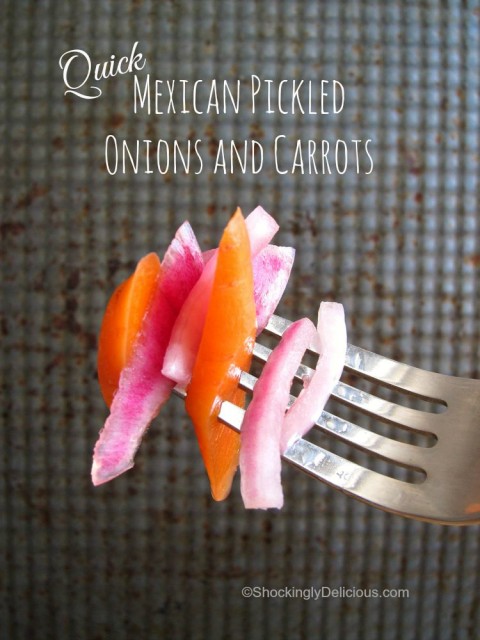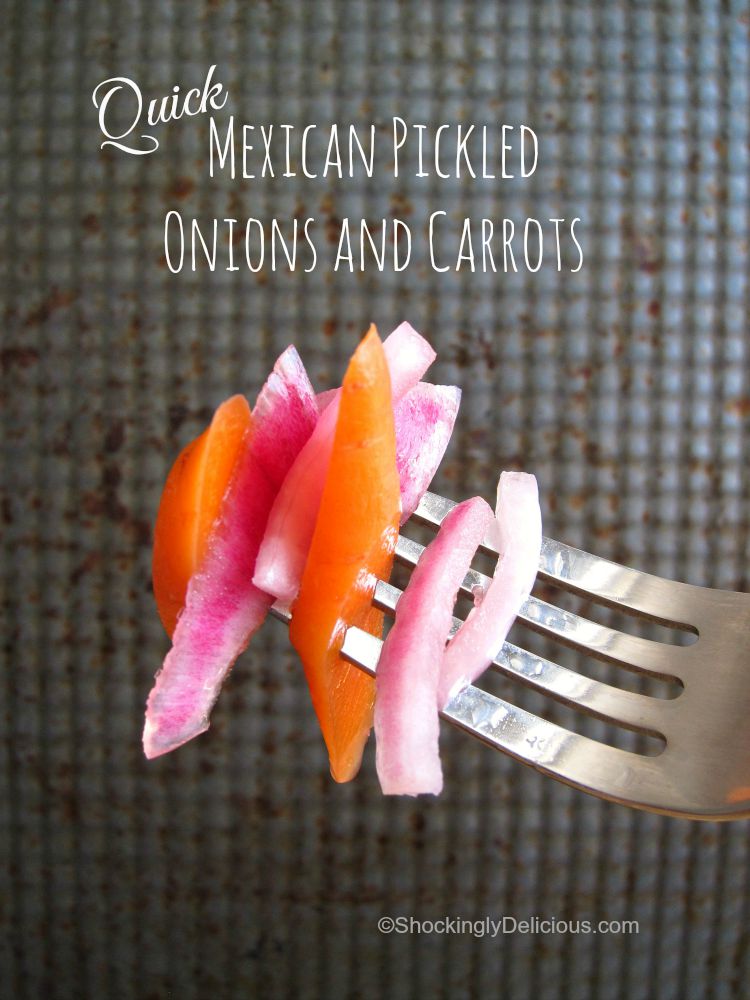 Thanks for visiting…are you hungry for more? Follow Shockingly Delicious on…
FACEBOOK | PINTEREST | INSTAGRAM | TWITTER
…for all the latest recipes, ideas and updates!
This post may contain affiliate/referral links. It is a way for this site to earn advertising fees (at no cost to you) by advertising or linking to certain products and/or services that I approve and prefer.
This was originally published Aug. 22, 2015 and has been updated, refreshed and published today.