Print This Post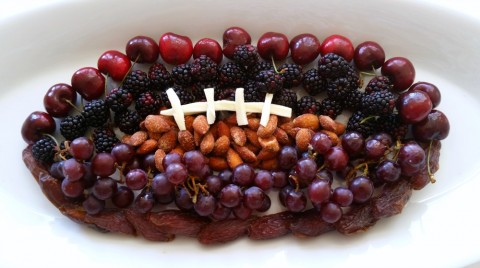 Fruit Footballs are just about the most fun, healthy plate you can bring to a Super Bowl party.
Or should I call them Fruit Foodballs? Never mind me; I just like to play with words. And food.
Let's play with our plate today, by gathering up football-colored fruits and arranging them into the shape of a football on a large platter.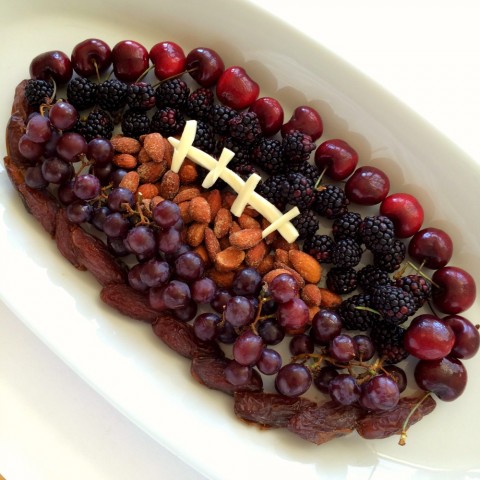 I guarantee if you show up at the door with this beauty…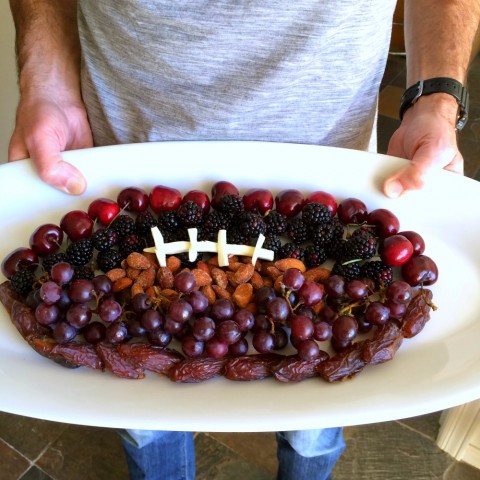 …you will be welcomed heartily! You can be sure everyone else will bring the chips, chili and chicken wings. The pigs in blankets, pizza and pico de gallo are covered. The snack stadium, spinach dip and sliders will be present, never fear.
You just do your delicious duty and show up with the fruit football. Everyone will remember it next year, and you'll be asked to repeat it.
Everyone will cheer, I promise you!
Here's what I used For this plate
Fresh cherries
Fresh blackberries
Fresh red grapes
Medjool dates
Smoked almonds
Mozzarella cheese stick for the laces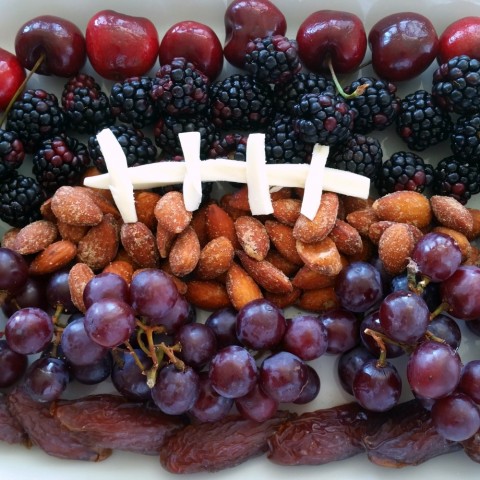 That's it! You can sub out any fruit you don't like, and sub in any you do like, although I have to say the color requirement put a limitation on it for me. There are plenty of winter fruits (apples, Asian pears) that I might have liked to include, but wasn't sure I could pull it off due to their white-inside color.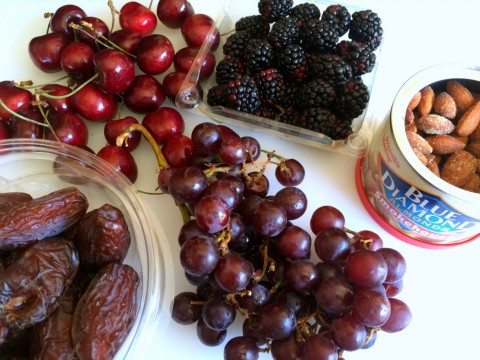 Fruit Football (Football-Shaped Fruit Plate)
A Fruit Football will be the healthy, delicious component of the football fare at the game-day party. Make yours with your favorite fruits.
Ingredients
Fresh cherries
Fresh blackberries
Fresh red grapes
Medjool dates
Smoked almonds
Mozzarella cheese stick
Directions
Get out your largest platter.
Arrange cherries, blackberries, and red grapes into a football shape. Using a kitchen shears, snip date in half lengthwise, discard pit, and arrange dates on the plate to fill in the white space. Finish with smoked almonds. I like to place like fruits in a stripe or in a grouping, so it makes sense to people what it is.
Slice the mozzarella stick vertically to make the long lace, and then cut a few smaller strips for the crosswise laces.
Touchdown!
Serves 6-20, depending on the size of the platter and how high you pile the fruits.
Notes
Recipe source: Dorothy Reinhold | Shockingly Delicious
https://www.shockinglydelicious.com/fruit-football-football-shaped-fruit-plate/
Copyright Dorothy Reinhold | ShockinglyDelicious.com. All rights reserved.
If you like this idea and want to save it, pin the image below to your Pinterest board.

Thanks for visiting…are you hungry for more? Follow Shockingly Delicious on…
FACEBOOK   |   PINTEREST   |   INSTAGRAM   |   TWITTER
…for all the latest recipes, ideas and updates!
Want some more football-shaped food?
This post may contain affiliate/referral links. It is a way for this site to earn advertising fees by advertising or linking to certain products and/or services.