Print This Post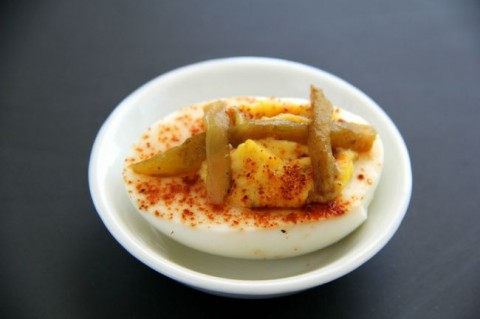 It's Sunday in September, and for sports fans, that means one thing: FOOTBALL!
Well, actually, it means two things: FOOTBALL and FOOD! Because, let's face it, football food is reason enough to take the season seriously. The chili, the barbecue, the wings, the football-shaped bean dip, the jerry-rigged "snack stadiums" built of tinfoil and cardboard — I love it all, that game-day grub and the ingenuity behind it.
While watching the game with 100,000 people at the stadium is an adrenalin-pumper, there's actually nothing better than enjoying the game from the comfort of your own home — tailgating on your own turf, as it were. Shift the La-Z-Boy chair into lounge position, grab a cool beverage and throw on your team's jersey if that's your style.
When Gallo Family Vineyards invited Sunday Supper to show you how to tailgate at home, we knew just what to do. We gathered 20 of our favorite recipes, paired them with our favorite Gallo wines and turned on the game.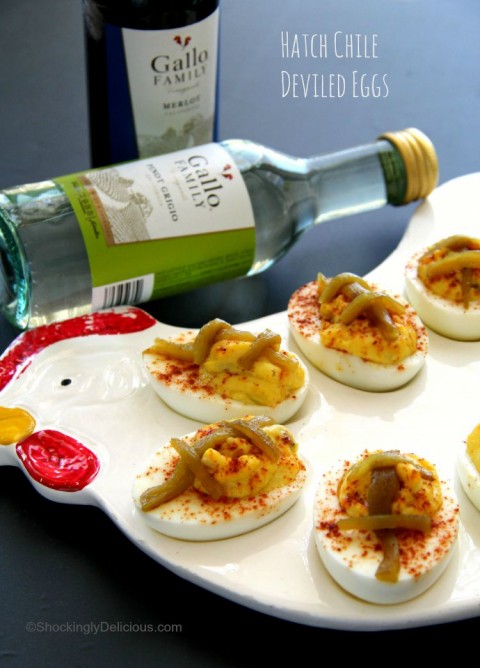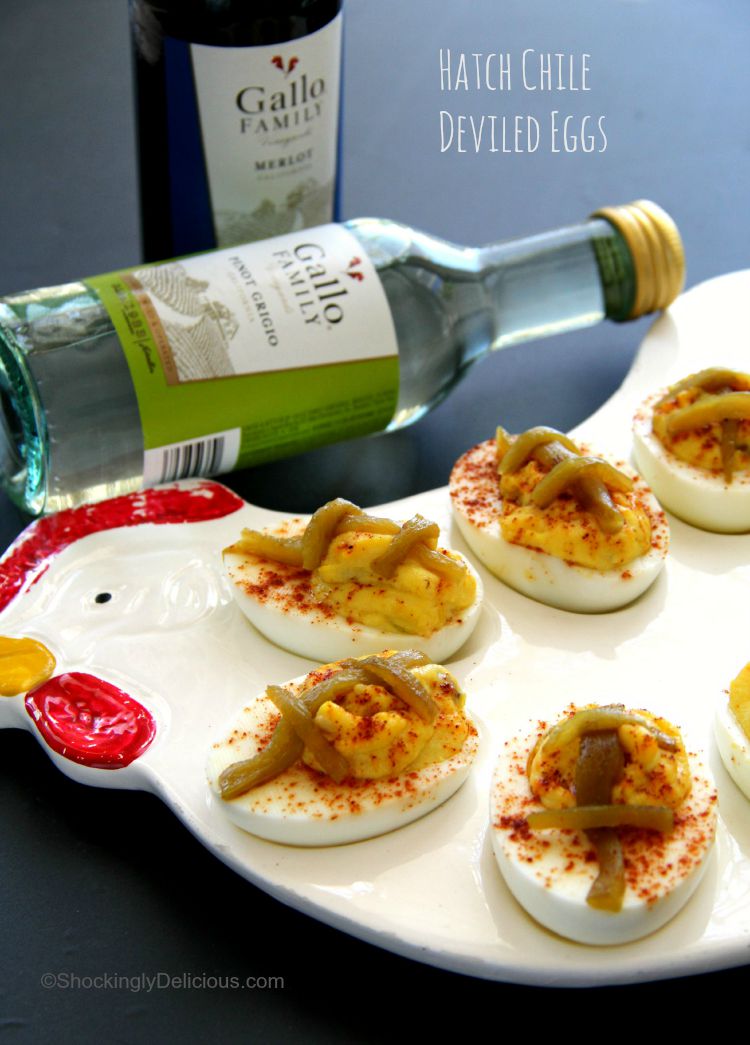 To our celebration today I brought Triple Hatch Chile Deviled Eggs on my retro thrift store hen plate. Because that's the way I roll. They look like little footballs, don't they?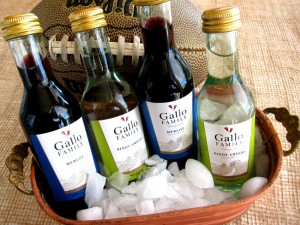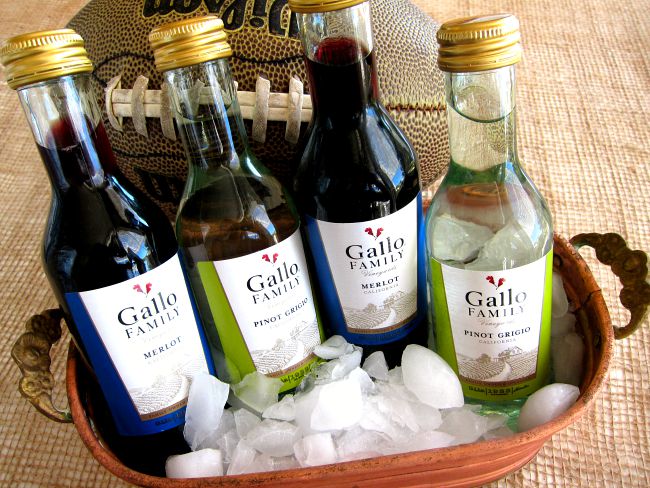 I like the little Gallo mini bottles because it makes it super easy to offer a full variety to your guests, so they can choose what appeals to them without you having to open 11 different bottles of wine. The wines are also perfectly portioned; a bottle = a glass of wine. You can put some crushed ice into a container (even a plastic Tupperware-type thing will do if you don't have something fancier) and nestle the mini bottles in there.
Speaking of football food, I have a great collection of football-shaped food on my Pinterest board. Take a gander during commercials while you're watching the game.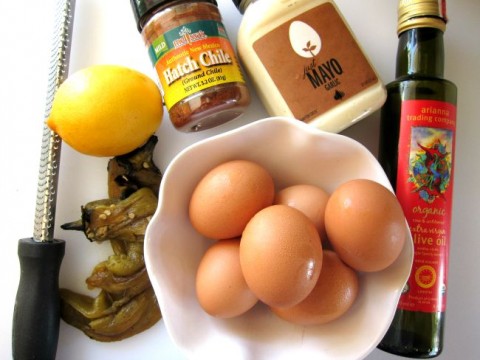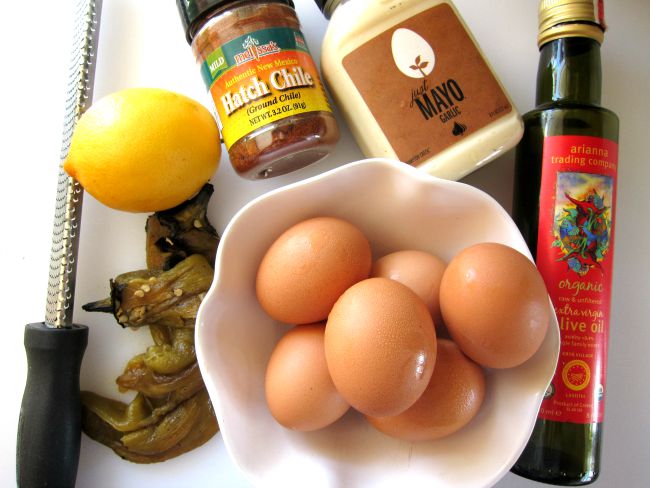 Mine are classic deviled eggs that I "seasonalized." Since it's Hatch chile season, I added them to the filling and also used them to make kitschy little football laces. Lemon zest adds brightness, olive oil adds a creamy feel, and a little Hatch chile powder sprinkle on the outside completes the picture.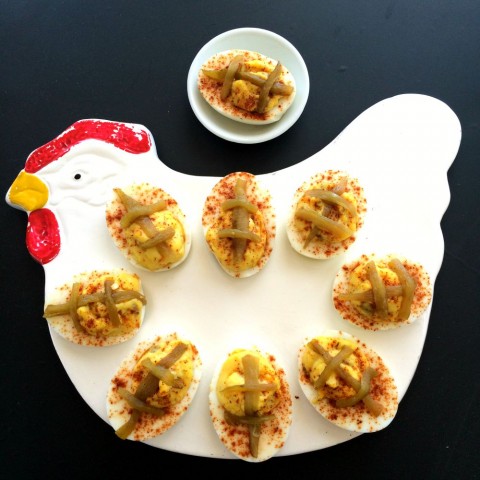 Tell me, how'd I do with my Hatch Chile Deviled Eggs?
Hatch chiles, garlic mayo and lemon zest enliven classic deviled eggs, which are decorated to look like footballs for tailgating food.
Ingredients
6 hard cooked eggs, cooled and peeled (see my tutorial here)
3 tablespoons mayonnaise (I used Hampton Creek Garlic-flavored Just Mayo)
1 tablespoon extra virgin olive oil (I used Arianna Trading Company Organic Raw Unfiltered Extra Virgin Olive Oil)
1/2 teaspoon lemon zest
Pinch kosher salt
2 Hatch chiles, roasted, peeled, stemmed and seeded

Garnish:

Chile powder (I used Melissa's Produce Hatch Chile Powder)
Directions
Cut eggs in half the long way. Gently remove yolks from eggs and place yolks in a medium bowl. Mix yolks, mayo, olive oil, zest, salt and stir together until smooth, whipping with an electric mixer. You want the consistency to be thick (sort of like a thick frosting), so it holds up in the hollow center of the egg.
Dice one Hatch chile and stir it into the yolk mixture.
Transfer yolk mixture to a snack size zipper-top plastic bag, and snip one of the bag corners off – a tiny snip. Zip the bag to seal it and squeeze the yolk mixture out from the snipped corner into the hollowed out egg whites.
For decoration, sprinkle tops lightly with chile powder (to get the color of a football) and then use a knife or kitchen shears to cut very thin strips of the second Hatch chile, and snip them to appropriate size to make the laces on the "football." Apply laces gently.
Cover and refrigerate until chilled. (These will keep for a day in the refrigerator, if you have leftovers. Which you won't.)
Makes 12 half eggs (12 servings).
Notes
Recipe source: Dorothy Reinhold | Shockingly Delicious
https://www.shockinglydelicious.com/hatch-chile-deviled-eggs/
Copyright Dorothy Reinhold | ShockinglyDelicious.com. All rights reserved.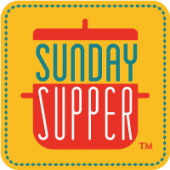 This week our #SundaySupper tastemakers are celebrating Tailgating from Home, sponsored by Gallo Family Vineyards. We're pairing our dishes with Gallo wines this week, for a fun football fest from the comfort of your own living room.
For my Hatch Chile Deviled Eggs, I recommend serving with Gallo's Pinot Grigio (refreshing, crisp flavors of green apple, white peach and citrus that pairs with the acid [lemon] in the egg filling). If you prefer a red, Gallo's Merlot (black cherry, ripe plum and oak with a velvety richness) pairs with a wide range of foods and will stand up to the spicy Hatch. You can find Gallo wines widely available in your grocery store, or use their store locator here.
Meanwhile, check out our collection of 20 recipes we have lined up for you today from the talented Sunday Supper tastemakers. Try my Hatch Chile Deviled Eggs, or choose another recipe from the menu below to offer at your party. I have my eye on the Crispy Maple Hot Wings, the Skillet Nachos, followed by the Apple Crisp in a Jar.
No one's watching how much I eat, right?
Today's Sunday Supper recipes
Pre-Game Appetizers
Game Time Mains
The Victory Celebration
Who says you have to be at the stadium to tailgate? Here are Five Easy Tailgate Food Tips plus Football Party Recipes #SundaySupper with Gallo Family Vineyards. Need more tips on tailgate planning? Check out Gallo Family Vineyards' blog.
Join us around the family table for #SundaySupper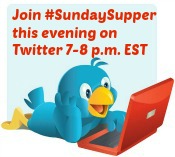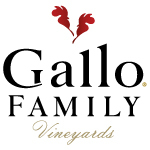 Disclosure: Compensation was provided by Gallo Family Vineyards via Sunday Supper, LLC. The opinions expressed here are those of the author, and are not indicative of the opinions or positions of Gallo Family Vineyards. Gallo would love it if you connected with them on Facebook | Twitter | Instagram | YouTube. I enjoy chatting with them on their social media about wine pairings with my recipes; they're good with an answer if you are waffling on what wine variety goes with what you are serving.