Print This Post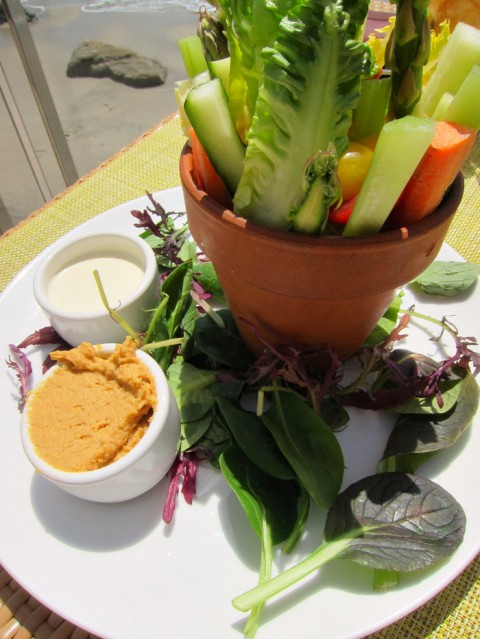 A beachside restaurant near me serves the most charming appetizer, and I want to share it with all of you.
You must see this!
It's simple — rockin' fresh veggies and hummus, but look at the presentation! If we eat with our eyes (and we do!), then this is a fun, downright brilliant way to get your veggies in, whether you're 8 or 88.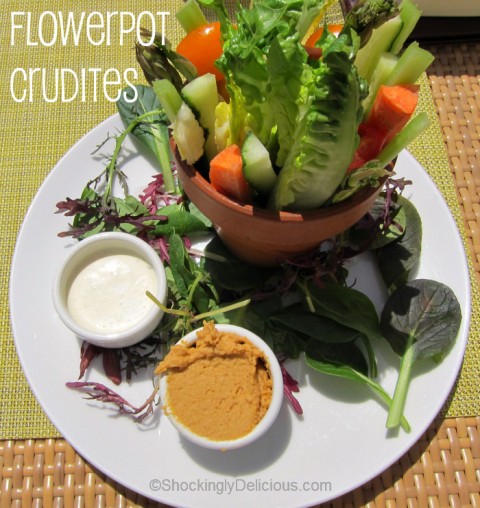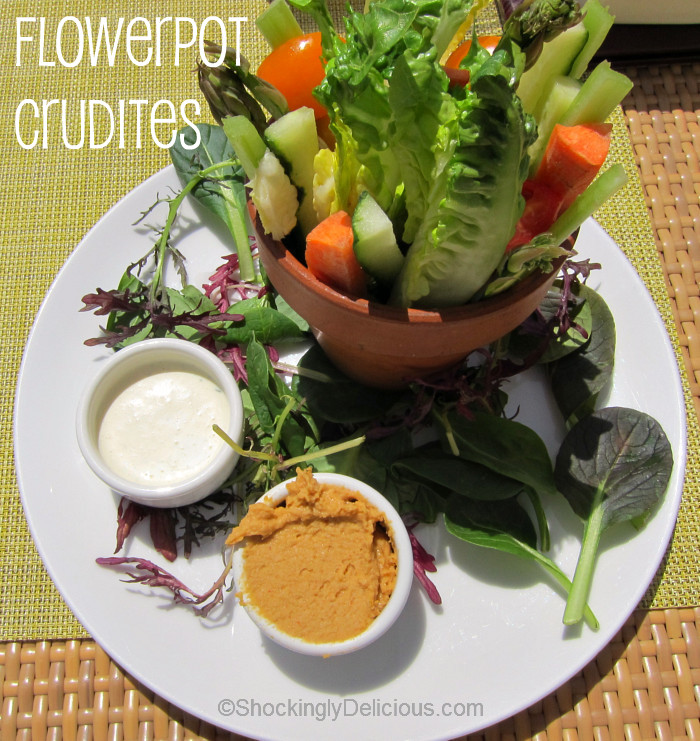 Take a look. You can make this for your next barbecue, brunch, or how about making a few as centerpieces for a children's party? How about making it for a girlfriend wine party? Or a book club meeting? I can think of a million reasons this would be welcome at virtually any table.
Here's what's in it and how to make it:
1. Get a new clay flowerpot and run it through the dishwasher, to make sure it is clean.
2. Fill it halfway with crushed ice.
3. Clean and cut the following to use as crudite (organic if possible):
—carrot sticks
—celery sticks
—asparagus spears, cut in half vertically (looks more elegant)
—heirloom cherry tomatoes
—small lettuce leaves trimmed to fit
—jicama sticks (the restaurant didn't use this but I think it would be really good)
4. Insert crudites into the crushed ice, which helps to hold them up. Tuck in lettuce pieces to fill in the bouquet.
5. Strew a few pretty lettuce leaves or greens on a white plate, and place the clay pot on top.
6. Add small ramekins of hummus and dip of your choice (they used a homemade ranch-type dip) on the plate.
7. As it sits, the ice slowly melts, so the lettuce leaves on the plate help to hide the bit of water that accumulates.
Have fun making this for your own kids, family, friends and parties!
If you'd like to eat it at the restaurant ($12; offered between 3:30-5:30 p.m. on the bar menu but they will make it for you anytime), I highly recommend this place. You'll sit out on the patio, which overlooks the crashing waves, and I guarantee you will see dolphin frolicking.
Life is good when there are veggies on the table.
Malibu Beach Inn
22878 Pacific Coast Highway
Malibu, CA 90265
310 456-6444