Print This Post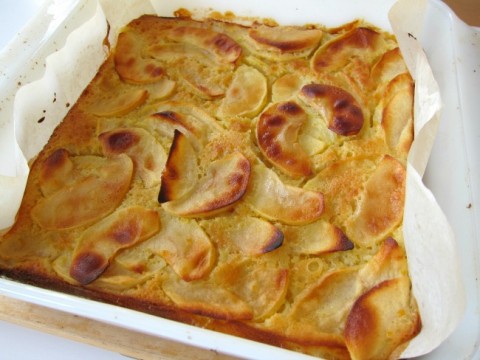 We like a little sweet something for breakfast, but it shouldn't be super sweet. It shouldn't be like an over-the-top dessert, or so sugary that it puts you in a morning coma. And it should have fruit, because starting the day with fruit automatically makes it a better day.
So Dorie Greenspan's Custard Apple Squares nicely meet these conditions, and it might be my new favorite simple yet sophisticated recipe.
If you have apples in the fruit basket, you probably have everything you need for this, so no trip to the store required. HOWEVER, that said, if you ARE going to the store, seek out some organic heirloom apples, which will take this over the top. With so few ingredients, using the best really matters. (See a note below the recipe for the apples I used.)
Dorie calls this her "back-pocket recipe," one she can pull out when she needs something quick and wonderful, something she can make on the spur of the moment. It could be a dessert, breakfast, brunch or a teatime sweet.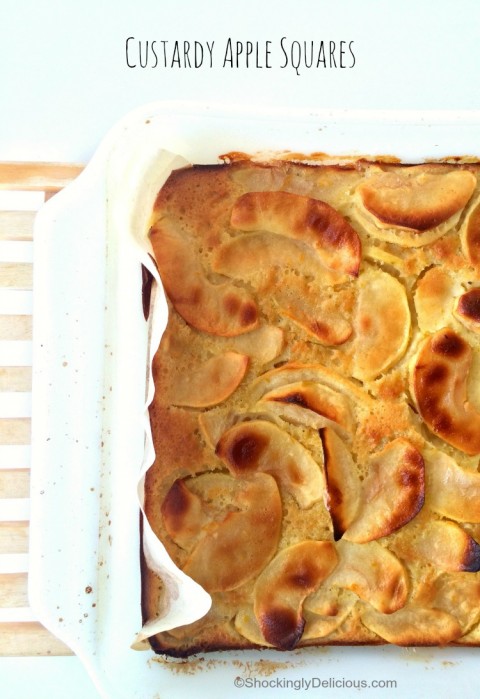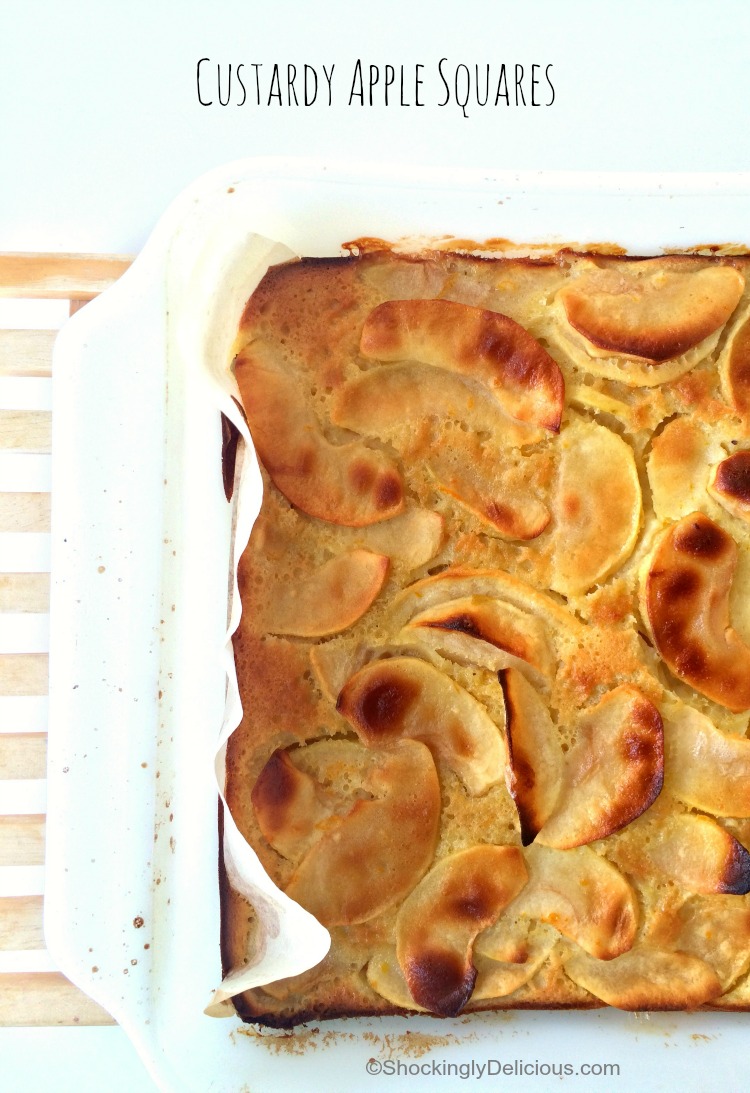 It's now in my back pocket, too, and should be in yours.
A bit like a thick crepe stuffed with apples, the flavorful filling in this sophisticated sweet turns custard-like during baking.
Ingredients
3 medium juicy, sweet apples, peeled (see note below about apples I used)
2 large eggs, at room temperature
1/3 cup (67 grams) sugar (I used Vanilla Sugar)
Pinch of fine sea salt
2 teaspoons pure vanilla extract (I used Heilala Vanilla Extract)
6 tablespoons whole milk, at room temperature
2 tablespoons (1 ounce; 28 grams) unsalted butter, melted and cooled (I used Gurunanda Ghee Clarified Butter, which is liquid at room temperature)
Zest of one orange or 1 lemon (optional)
1/2 cup (68 grams) all-purpose flour
1 teaspoon baking powder
Directions
Center a rack in the oven and heat the oven to 400 degrees F. Lightly mist an 8-inch square baking dish with non-stick spray and set aside. (Dorie also lines the bottom with parchment paper, which I did in the photo, but I find after making this several times, it isn't necessary.)
Slice the apples. You may use a mandoline if you have it -- turn the fruit as you reach the core. Or keep it simple as I did and quarter the apples with a paring knife, remove stem and core, peel, and slice each quarter very thinly (about 8 slices per quarter). The slices should be about 1/16th inch thick-- elegantly thin, but not so thin that they're transparent and fragile. Discard cores. Set apple slices aside.
Working in a large bowl with a whisk, beat the eggs, sugar and salt together for about 2 minutes, until the sugar just about dissolves and, more important, the eggs are pale. This will give your arm a welcome workout. You may skip 2 pushups at the gym later. Whisk in the vanilla, then the milk and melted butter (or ghee if you are using), and zest if you are using.
Add flour and baking powder into the bowl and stir with the whisk until the batter is smooth. Add the apples, switch to a flexible spatula and gently fold the apples into the batter, turning everything around until each thin apple slice is coated in batter. Scrape the batter into the prepared pan and smooth the top as evenly as you can--it will be bumpy; that's its nature.
Bake for 40-50 minutes, or until golden brown, uniformly puffed-- make sure the middle of the cake has risen--and a knife inserted into the center comes out clean. (Mine was done at 40 minutes.) Transfer the pan to a cooling rack and allow to cool for at least 15 minutes.
Using a long knife, cut the cake into 8-9 squares/rectangles in the pan (being careful not to damage the pan), or unmold the cake onto a rack, flip it onto a plate and cut into squares. Dust with confectioners' sugar before serving, if you'd like.
Makes 6-8 servings.
Notes
Serving: The squares are fantastic plain, but could also be embellished with whipped cream, crème fraîche or ice cream.
Storing: The cake is great after cooling for a few minutes out of the oven, or at room temperature the day it is made. For longer storage refrigerate, covered, for up to 2 days and served chilled.
Notes: Add 1/8 teaspoon pure almond extract to the batter. You can also change the fruit to pears, or use a combination of apples and pears.
Recipe source: Just slightly adapted from "Baking Chez Moi,"©2014 by Dorie Greenspan; Houghton Mifflin Harcourt.
https://www.shockinglydelicious.com/custardy-apple-squares-best-fall-breakfast-sweet/
Copyright Dorothy Reinhold | ShockinglyDelicious.com. All rights reserved.
The apples I used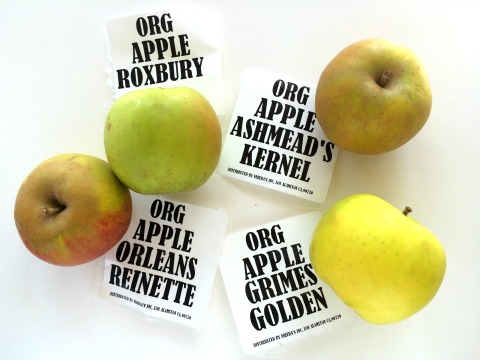 Frieda's Produce sent me several varieties of organic heirloom apples to try out, and let me tell you, these were some of the best tasting apples I have ever eaten! More nuanced, more delicate, more pure apple-y flavor than huge commercial varieties (like Gala or Fuji), heirloom varieties are worth searching out. I used Roxbury Russet (juicy, crisp, tart), Orleans Reinette (juicy, taste of orange and nuts) and Ashmead's Kernel (juicy, crisp, rich flavor) varieties in this dish today. Frieda's offers more than 15 varieties of organic heirloom apples in short bursts throughout the season. Due to the short season for each and limited availability, most retailers and distributors pre-book theirs months in advance. If you find that your produce section doesn't have the varieties I list here, simply use other heirloom varieties and experiment. Other Frieda's varieties to look for include King David, Matsu, Winesap, Northern Spy, Grimes Golden, Ribston Pippin, Orange Pippin, Pink Pearl, White Winter Pearmain, Spitzenburg, Cortland and Arkansas Black.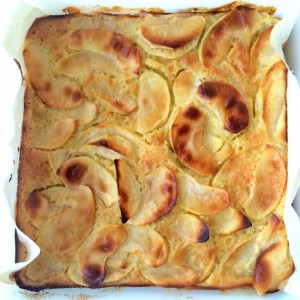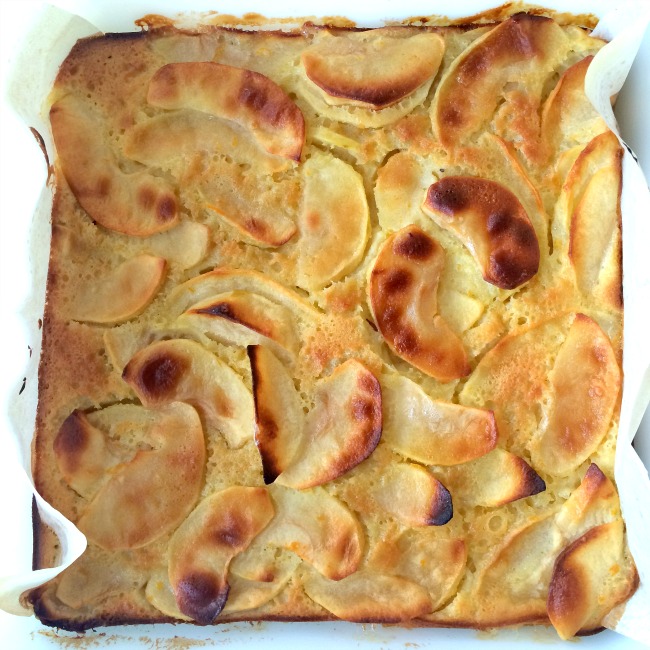 Wouldn't it be fun to have an apple tasting party?
Disclosure: Frieda's Produce sent the apples, Heilala Vanilla sent the extract, and Gurunanda sent the ghee, for recipe development.