Recipe: Cold Pea Salad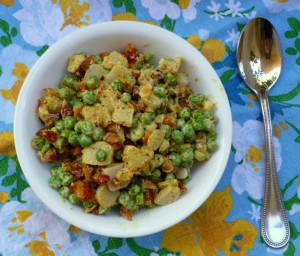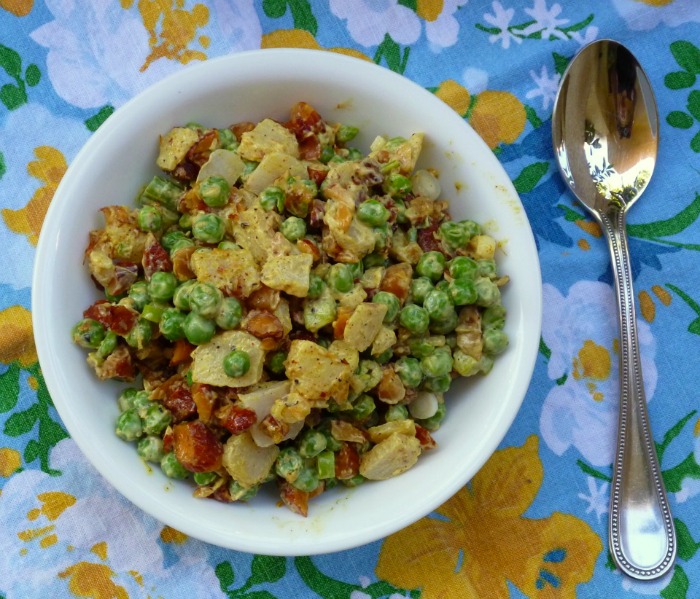 [1]Summary: Sweet from the peas, smoky from the almonds, aromatic from the curry and crunchy from the water chestnuts, this cold salad hits all the right notes.
Ingredients
1 (16-ounce) package frozen petite peas, unthawed (yes, keep them frozen)
1 (6-ounce) can smokehouse almonds, chopped
1/2 cup chopped green onions
1 (8-ounce) can water chestnuts, rinsed and sliced or chopped
1/2 cup mayonnaise
2 teaspoons yellow curry powder
Salt and pepper to taste
Instructions
Combine the peas, green onions almonds and water chestnuts. Mix the mayo and curry powder in a separate bowl.
Gently fold the mayonnaise mixture into the peas. Add the salt and freshly ground pepper to taste.
Serves 6
Jeannette's notes
"The curry powder is probably the most important ingredient in this recipe. Curry powders vary tremendously, as do tastes. Martha Stewart has a pretty good curry recipe [2] that I'm going to be playing with in the future."
Jeannette's variations
Substitute wasabi almonds for smokehouse almonds
Substitute horseradish for the curry powder
Substitute crispy, crumbled, well-drained bacon for the nuts and Dijon mustard for the curry powder
Add diced leftover chicken to make this an entree salad
Perhaps substitute Chobani yogurt for the mayo?
Perhaps use some yogurt, honey and mint?
Perhaps make it Vietnamese style with finely sliced basil, mint, cilantro and cayenne mixed into either the yogurt or mayo?
#SundaySupper
See this page [3] for all the wonderful #SundaySupper dishes I have made since I joined this group, and links to all the other delicious dishes made by my fellow cooks.
Preparation time: 5 minutes
Diet type: Vegetarian
Number of servings (yield): 6
Culinary tradition: USA (General)