Print This Post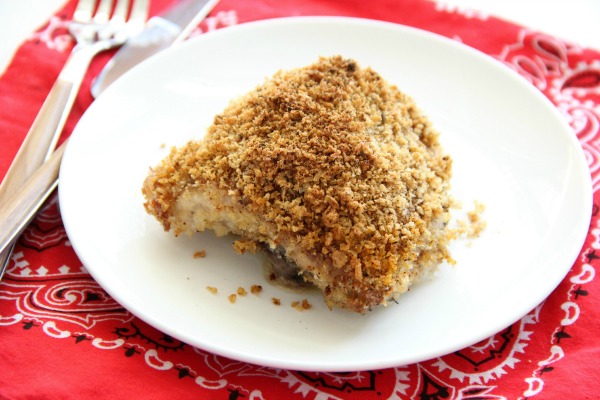 How many times a month do you eat chicken?
A lot, right? So if you're like me, you're always looking for a new way to make it.
Confession: Back in the day (and we're talkin' way, waay, waaay back), I used to use Shake 'N Bake to change up my chicken drumsticks. But these days, who needs all those additives and odd ingredients? We don't need to add anything to keep it "shelf stable" or "non-caking."
We can make it ourselves, simply and with a few spices from the pantry and some panko, a Japanese bread crumb that is super crunchy. These days I prefer bone-in, skin-on thighs – in my not-so-humble opinion, the finest part o' the bird.
Easy peasy chicken squeezy.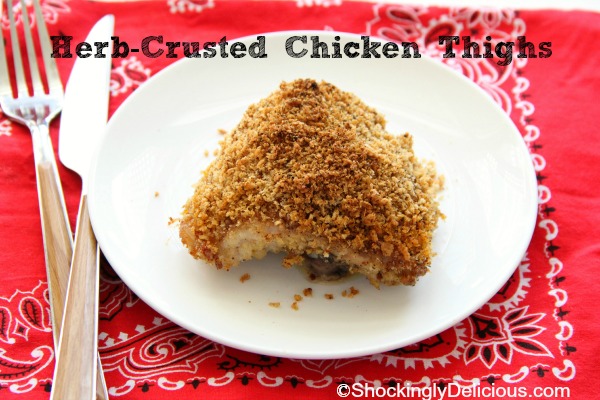 Recipe: Herb-Crusted Chicken Thighs — Better Than Shake 'N Bake
Summary: Herby, perfectly seasoned, with a crispy crust, these chicken thighs are BETTER than the box.
Ingredients
1/2 cup panko breadcrumbs
2 tablespoons grated Parmesan cheese
1 teaspoon poultry seasoning blend
1/2 teaspoon garlic powder
1/2 teaspoon onion powder
1/2 teaspoon chili powder
1/2 teaspoon dry ground mustard
1/2 teaspoon dried oregano
1/2 teaspoon paprika
Black pepper
4 meaty chicken thighs (bone-in, skin-on) (this is about 1 ¾ pounds)
Kosher salt
Instructions
Heat oven to 375°F. Lightly mist an 8-inch square baking dish with nonstick spray.
In a small plastic or glass container, place the panko, Parmesan, poultry seasoning, garlic, onion, chili and mustard powders, oregano, paprika and a few grind of black pepper. Put the lid on and shake to combine. Pour mixture out into a wide, shallow bowl or pie plate.
Using a kitchen shears, trim any excess fat globs off the pieces, and trim any excess top skin if it hangs over the edge of the piece. You do want the skin left on the chicken, though. Sprinkle each piece of chicken with a pinch of kosher salt.
One by one, press a piece of chicken into the coating, starting with the back side, and then flipping it over to the front side. You want a heavy coating. Place each piece, as it is done being coated, in the prepared baking dish. If there is coating left over after all are done, sprinkle it evenly over the pieces, piling it onto the top of each piece.
Bake for 45 minutes. The coating will get brown, but won't burn. Serve immediately.

Serves 4.
Secret Recipe Club
Here is a list of what I have made for the Secret Recipe Club since I joined the group. Check it out!
Preparation time: 15 minutes
Cooking time: 45 minutes
Diet tags: High protein
Number of servings (yield): 4
Culinary tradition: USA (General)
My rating 5 stars:  ★★★★★ 
Today's inspiration came from the delightful food blog Bklyn Locavore, penned by Melissa, a marketing pro from Brooklyn, New York, who is trying to eat as locally as possible. She'll choose local over factory-farmed organic, any day – a strategy I share.
I was assigned her blog this month as part of Secret Recipe Club, and seriously considered her Curried Butternut Squash Risotto for a Meatless Monday, or her White Bean and Kale Casserole  because sheesh that sounds good to me, or her decadent Philly-Style Strawberry Rosemary Ice Cream. I just got my ice cream maker out of the closet, so don't even tempt me!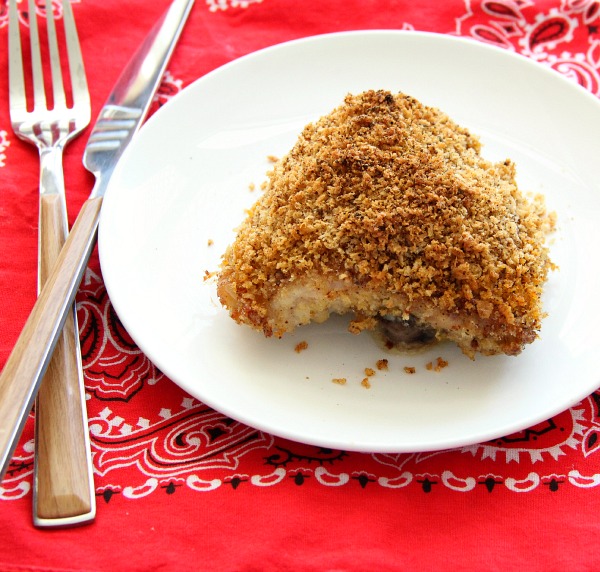 But I needed dinner NOW, and chicken it was, so I nabbed her recipe for Shake 'N Bake, threw open my panty to see what herbs and spices I had, and went to town. Good choice! Everyone loved it, and you can tweak this one as you like to fit your own likes and herb availability.
Thanks for a fun dinner and some good reading this month, Melissa!
Meanwhile, browse the photo array below to see what else the Secret Recipe Club cooked up this month!