Print This Post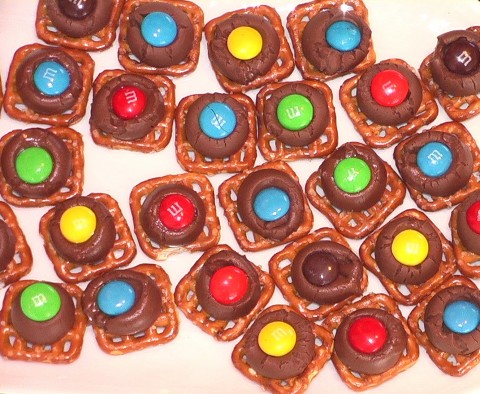 I long for homemade goodies during the holidays, even if I don't really need any (diet-wise, that is).  I could work up a good pout if at least one neighbor or friend doesn't give me some delicious home-baked treats.
Can it really, truly be December if someone doesn't leave a holiday plate laden with their own family favorites of fudge and meringues and wreath cookies and rum balls on my welcome mat, with a little Christmas tag attached?
I also like to give my own plates of goodies away, but more and more am challenged to find the time to assemble a credible offering, so I'm always looking for the delicious and easy solution to the year-end time crunch. These colorful snacks that seem like half cookie-half candy bake in 5 minutes and taste like a million bucks, so they easily push all my buttons. Creamy and crispy, sweet and salty — they have it all.
They also are quick and easy to make for a classroom party, an office potluck, or any holiday gathering where you want to make a colorful and delicious contribution to the dessert table.
Since the most difficult part of these is tearing the foil off the Kiss candies, do like I did and enlist a family member. In this case, my nephew Evan was happy to do the dirty work, since that meant he could snitch as many as he wanted while I was preheating the oven and searching for the potholders.
Make your own munchkin helpers happy by adding these to your weekend fun-things-to-do list.
Happy holiday baking!
Christmas Lights Bites Recipe
1 (15- or 16-ounce) bag square waffle pretzels
2 (13-ounce) bags Hershey's Kisses (or Rolo chocolate caramel candies)
1 (14-ounce) bag M&M's milk chocolate candies (use all colors except brown)
Heat oven to 200 degrees.  Unwrap the Kiss candies, and place the M&M candies in a bowl.
Place pretzels on an ungreased cookie sheet. Top each pretzel with a naked Kiss candy. Bake for 5 minutes; Kiss will look slightly glossy, but won't lose its shape. (If you bake longer, you risk that the chocolate will get too hot and will seize.)
Remove cookie sheet from the oven, and, working quickly, firmly push one M&M down on top of each Kiss (M side down, unless you would like your cookies to advertise for free). The Kiss will squish into the pretzel, and all three pieces will adhere. Remove cookies from the sheet onto a plate, and continue making more cookies.
Let cookies sit on counter for several hours, during which time the chocolate will re-harden. (You may re-harden them quickly in the refrigerator, but you risk the M&Ms losing their glossy appearance and the chocolate getting a white bloom on it.) Store them in an airtight container at room temperature.
Makes 160 cookies.
Variations
Substitute Hershey's Hugs for regular Kisses (check them after 3-4 minutes because they soften faster).
Substitute M&M peanut flavored candies for regular M&Ms.
Substitute a Rolo candy (chocolate covered caramel) for the Kiss, and bake for 3-4 minutes.
For Valentine's Day
Substitute vanilla wafers for the pretzels, and use candy hearts instead of the M&M's, to push into the Kisses.