Print This Post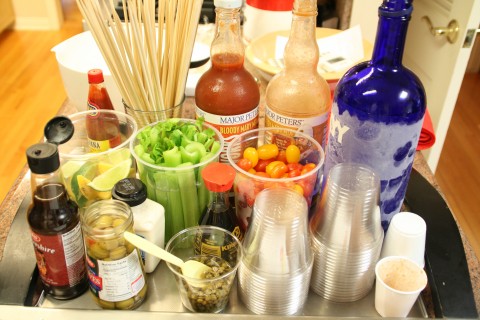 I met a fellow blogger who had the best potluck invention ever! This man raised the bar (in more ways than one!)
His idea would be perfect for a summer (or any season, really) party, breakfast or brunch, patio or pool gathering, a meeting party (where the subject of the party is a meeting of some group), or anytime you need some imported fun.
It has a number of fine attributes for a potluck: it is relatively easy on the creator, it only requires one trip to the store, it transports easily, it cleans up easily, the ingredients don't spoil during the party and can be taken home afterwards, and it will be welcomed by most if not all hosts. Is that perfect, or what?
Michael Jenkins-Brown of South Bay Foodies arrived at the 10 a.m. party and set up a Bloody Mary Bar, complete with every single thing you would need. It was a DIY, self-serve affair, so he even printed instructions. It was not only impressive, but it immediately drew partygoers who were game to try their hand at constructing their own custom Bloody Mary. Want extra Worcestershire? Fine, you're in charge of splashing it in, so you put in as much as you want. Want a virgin Mary? You're in charge of the alcohol, too, so avoid it if you like. Extra capers? Fine! Three olives? Yes!
Genius.
This is what he brought for the Bloody Mary Bar:
1.75 Liters of Vodka, stored in the freezer the night before the event
2 bottles of Major Peters Bloody Mary Mix, one regular and one spicy
Celery
Worcestershire sauce
Hot sauce
Soy Sauce
Horseradish
Olives
Capers
Cherry tomatoes
Lemons and limes
Bamboo skewers (for the olives, tomatoes, and citrus and for stirring)
Cups
A small bag of ice
A serving tray to display the bar
Everything fit into a rolling cooler for easy transportation. He set up the bar in about 3 minutes, since all he had to do was set out the bottles, cups and instructions.
Here's a visual tutorial: