Print This Post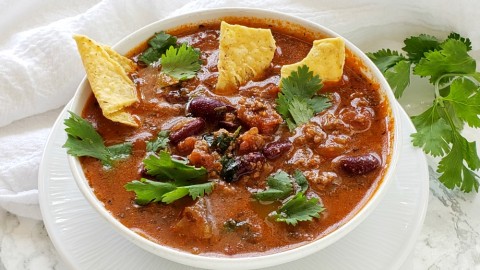 Bison Tortilla Soup in the Instant Pot: Hearty, flavor-filled, meaty, beany soup gets made easily in the Instant Pot. Fling lots of chopped cilantro, cheese and tortilla chips on top for fun!
Did you take your Instant Pot out of its box yet? Are you still afraid of it? Don't worry, it's easy. This recipe will take you through its paces. A friend wasn't using her IP and gave it to me (sans box or booklet), and when I got it home, I just looked at it and said, "You are not that hard! I can conquer you!" Don't we all talk to our appliances?
Let's make some Tortilla Soup for dinner tonight, and instead of my usual ground turkey or beef, let's use ground bison (buffalo meat), so it's Bison Soup.
We'll saute the onion and bison in the pot first, then add the beans, tomatoes, herbs and spices, and set it to pressure cook while we go and check email. We'll come back to a steaming pot of delicious, hearty bison soup.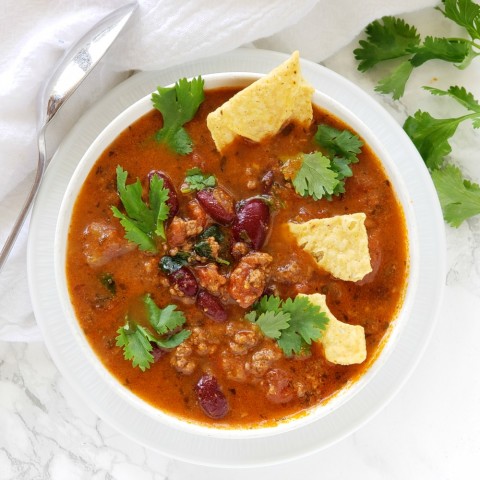 And for the final flourish, we'll fling fresh cilantro, shredded cheese and some tortilla chips on top, because it's the law. Right? Or at least it's the law in Southern California.

Questions and answers about Bison Soup
What if I don't have an Instant Pot?
Make this in your soup pot on top of the stove, as usual. (If you want to get an Instant Pot, the 6-quart DUO is what I have and it seems fine!)
What if I can't get bison?
You may absolutely substitute ground beef, ground chicken or ground turkey for the bison, if you can't find bison.
Why should I use bison?
Bison, aka buffalo meat, is lower in fat, calories and cholesterol than beef. It has a slightly lighter flavor, and is more likely to be grass-fed than beef. It's a great source of lean protein.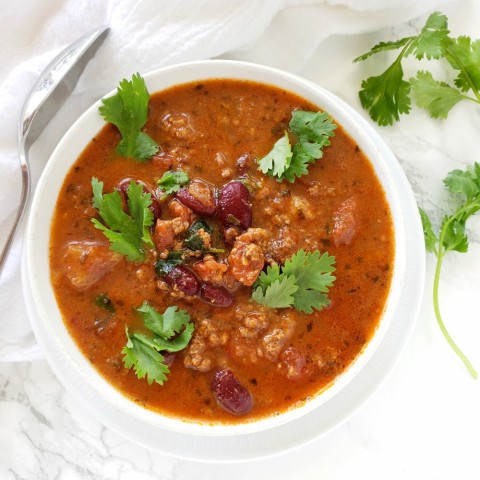 All right…let's make Bison Tortilla Soup for dinner!
Bison Tortilla Soup in the Instant Pot or Pressure Cooker
Bison Tortilla Soup in the Instant Pot: Hearty, flavor-filled, meaty, beany soup gets made easily in the Instant Pot. Fling lots of chopped cilantro, cheese and tortilla chips on top for fun!
Ingredients
1 tablespoon olive oil
1 onion, chopped
1 pound ground bison (or use lean ground beef or ground turkey)
4 garlic cloves, pressed or finely minced
1 (15-ounce) can red kidney beans, rinsed and drained
1 (15-ounce) can diced tomatoes, no- or low-salt version preferred
2 tablespoon chili powder
1 tablespoon ground cumin
1 teaspoon dried oregano
3 cups broth (chicken, beef or vegetable, low- or no-salt version preferred)
Garnishes: Fresh chopped cilantro, tortilla chips, shredded cheese
Directions
Plus the Instant Pot in and push the "saute" button, add the oil, and when it is hot, add the chopped onion. Saute the onion for 5-10 minutes, stirring often, until it is starting to brown a bit. Add the bison and saute, stirring frequently, until it is browned. Add the garlic and saute and stir for another minute or 2.
Add drained beans, tomatoes in their juice, chili powder, cumin, oregano, broth and a pinch of salt (omit salt if you have used salted ingredients).
Lock lid on and set to 15 minutes on high. When cooking time has elapsed, allow the pot to slow release naturally, which will take another 10-15 minutes.
Serve into bowls, and garnish the top with chopped cilantro, some shredded cheese if you like, and stand a few tortilla chips in each bowl.
Serves 4.
Notes
Recipe source: Dorothy Reinhold | Shockingly Delicious
https://www.shockinglydelicious.com/bison-tortilla-soup-in-the-instant-pot/
Copyright Dorothy Reinhold | ShockinglyDelicious.com. All rights reserved.
Pin the image below to your Pinterest board!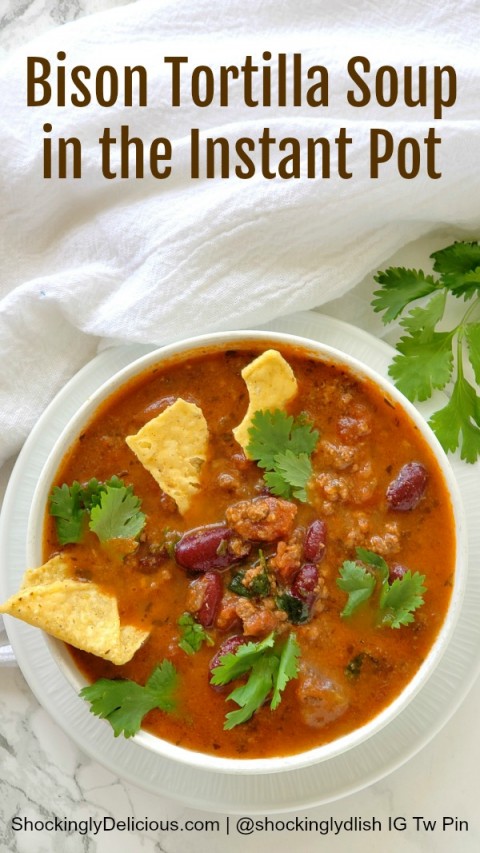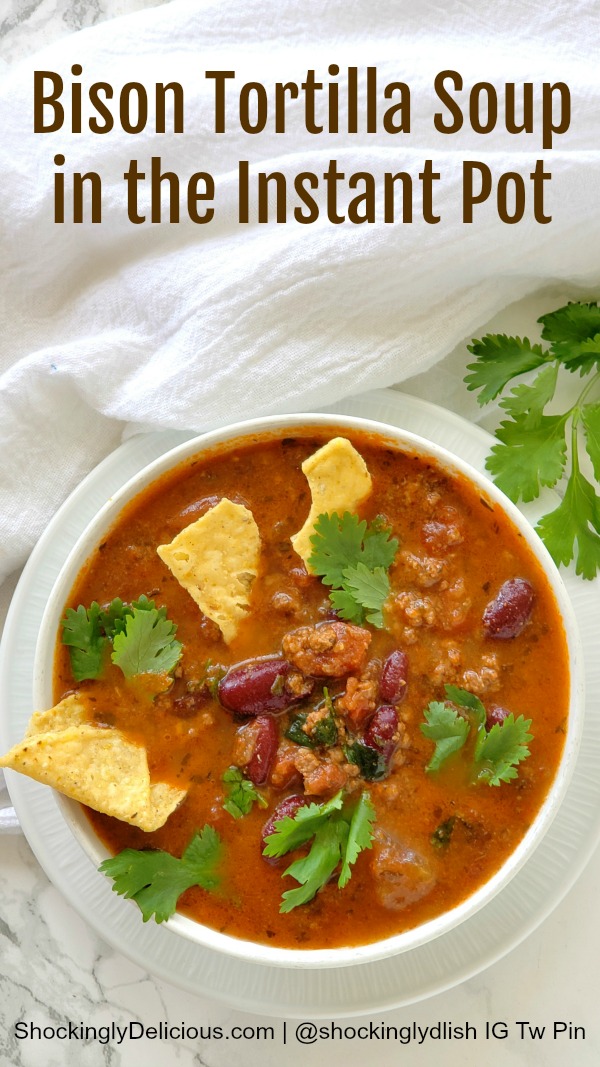 Want to try another super easy soup?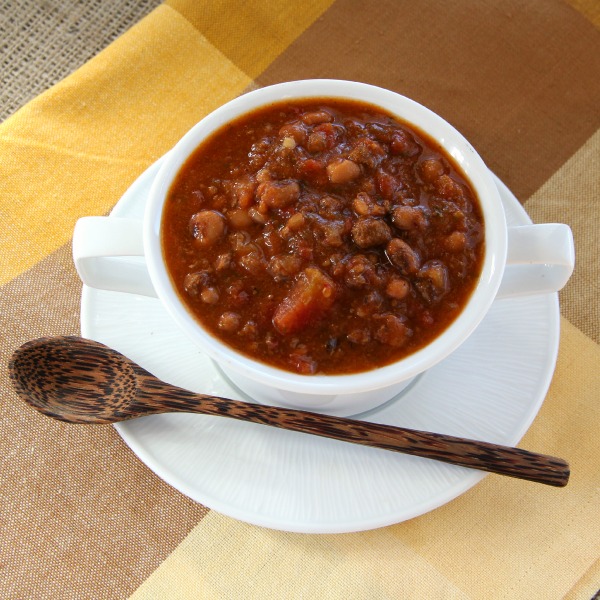 Slow Cooker Black-Eyed Pea Taco Soup
This post was originally published Sept. 20, 2018 and has been refreshed and republished today. This post may contain affiliate/referral links. It is a way for this site to earn advertising fees (at no cost to you) by advertising or linking to certain products and/or services that I approve and prefer.
Thanks for visiting…are you hungry for more? Follow Shockingly Delicious on…
FACEBOOK | PINTEREST | INSTAGRAM | TWITTER
…for all the latest recipes, ideas and updates!