Print This Post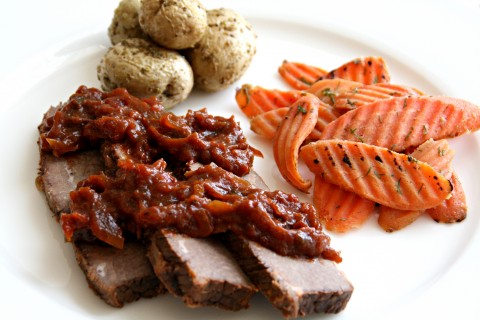 Single-topic cookbooks can be daunting. You might think, "Really, how many different ways ARE there to cook [fill in the blank]?"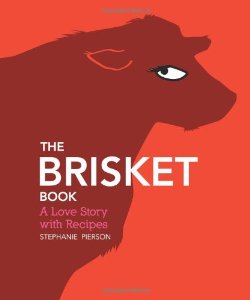 For brisket, there are as many ways to cook it as there are cooks, and it seems that everyone swears their way is the best.
Every family has its favorite heirloom brisket recipe – the tender, beefy, deeply comforting dish that must be at every holiday and get-together, or don't bother coming.
Braised, barbecued, roasted, done in a Dutch oven, a slow cooker, a foil pan or Grandma's chipped enamel roaster, brisket is essentially a love story laid out on a dinner plate.
Author Stephanie Pierson plunged in to tell that story with her new book, "The Brisket Book: A Love Story with Recipes," (Andrews McMeel; $29.99). It's the only book entirely devoted to brisket.
She's the right one for the job, as evidenced by her comment: "Some foods will improve your meal, your mood, your day, your buttered noodles. Brisket will improve your life."
Yes! I defy you to prove that wrong!
Authoritative, comprehensive, amusing, enlightening and chock full of delicious recipes and interesting tidbits, "The Brisket Book" is not only good reading, it guarantees good eating.
There's brisket with tangy peaches, in sweet-and-sour sauce, with green chile, in tahini sauce, parsley sauce, sweet chili jam, Korean chile…let's just admit there are things in this book you would never invent, not in your wildest dreams. Yet, improbably, someone has, and has made them deliciously.
Recipes from boldfaced chefs (Daniel Boulud, Anita Lo, John Besh), cookbook authors (Joan Nathan, Colman Andrews), cooking bibles (Cook's Illustrated, Gourmet), smart guys (Kenji Lopez-Alt) regionally renowned pitmasters (Fatty 'Cue) and just plain good home cooks sit side by side with poems to brisket, jokes about brisket, love letters to Weber grills, funny lists, brisket adventures, etc.
Pierson chose the best brisket recipes ever, each a distinct type. I looked at every single recipe in the book, smacked the book down on the counter with the page cracked upon to the recipe that spoke to me immediately — Slow Cooker Brisket – and got to work.
In minutes it was in the pot and cooking. It sang to me from the page, the aroma enticed me as it was cooking, and the next day, it charmed on the dinner plate.
It was a total success, as is this book. I highly recommend both.
Recipe: Slow Cooker Brisket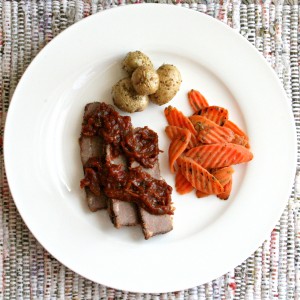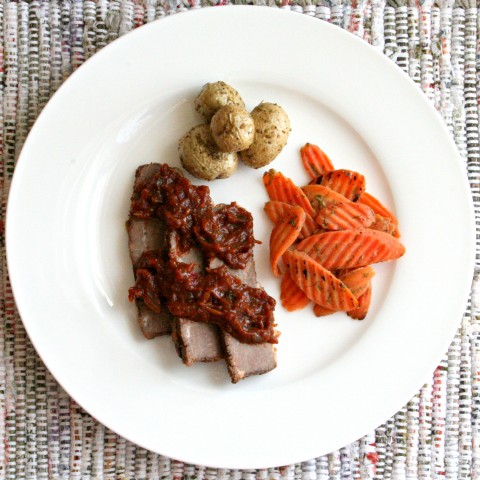 Summary: Let the ingredients do all the work in this warm, welcoming, easy-to-make slow cooker brisket. The beer tenderizes the meat, the onion soup gives it a sweetness and depth, the chili sauce goes "zing!" This recipe is from Tammie Barker.
Ingredients
1 onion, chopped

(this is my addition. I never make brisket without a chopped onion!)

6 ounces beer
1 envelope onion soup mix
12 ounces chili sauce, such as Heinz
1 (4-pound) beef brisket, trimmed
Instructions
In a slow cooker with a minimum 3 ½-quart capacity, combine chopped onion, beer, soup mix and chili sauce. Add the brisket and coat with the sauce. (In smaller model cookers, the meat may not lie flat.) Cover the cooker and cook on low until the brisket is fork-tender, 8-10 hours.
Transfer the brisket to a cutting board and slice against the grain. If the sauce needs to be thickened and intensified, reduce it in a pan on the stsove before serving with the brisket.
Serves 8.
Quick notes
The recipe author notes you may use up to 7 pounds of brisket in this recipe if your cooker can handle it.
Dorothy's notes:
Sauce: I removed the meat from the crock and poured the sauce into a large skillet and reduced it over medium heat, then cooled it and stored it in a container in the refrigerator separate from the meat.
Make ahead: I made the brisket the day before. When done, I removed meat from the crock and cooled it, placed it in a container and refrigerated it overnight. The next morning, I sliced it (it slices easily and neatly when cold) and returned the slices to the container and the refrigerator until dinner time. When it was time to eat, I reheated the meat in the microwave quickly, reheated the sauce on the stove, and serving was easy.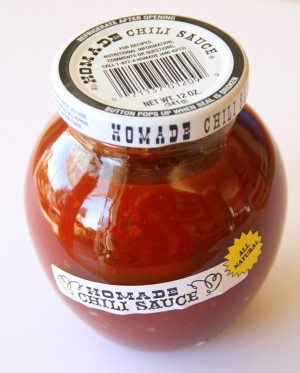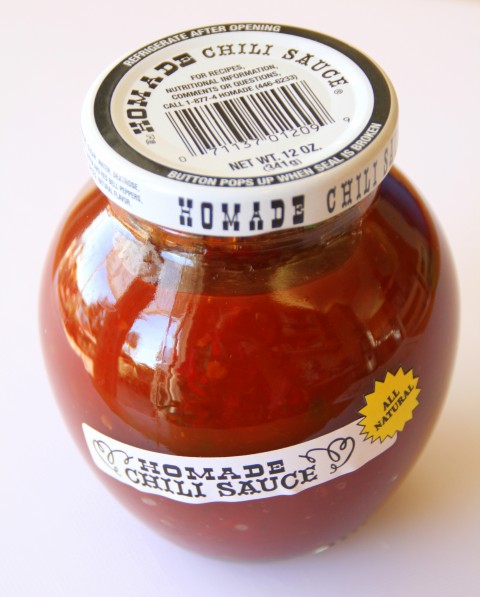 Chili sauce: There are a couple of different brands in the stores (Heinz is probably the most well known). After comparing ingredients, I liked this one better. Suit yourself!
Preparation time: 10 minutes
Cooking time: 8-10 hours
Number of servings (yield): 8
Culinary tradition: USA (General)
My rating 5 stars:  ★★★★★