Print This Post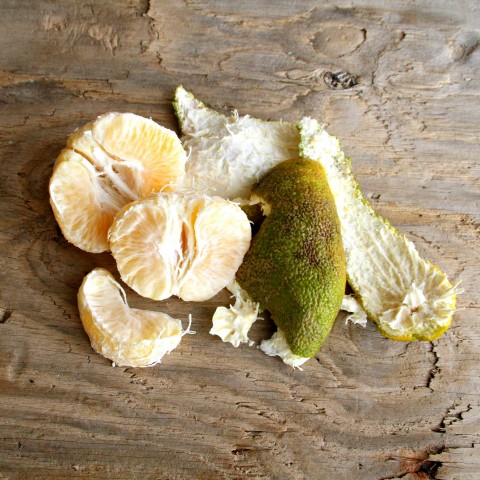 Aptly named twice — Ugli Fruit or Uniq Fruit — this citrus fruit is both ugly and unique, however you want to spell it.
It looks like one of those yellow playground dodge balls that sprang a slow leak and is sort of squishy and sadly misshapen. Luckily, it tastes way more fabulous than it looks.
Originating from Jamaica, it is a variety of tangelo (actually, a cross between a grapefruit-seville orange-mandarin). The skin can range from yellow to orange-ish to green-ish, all on the same fruit!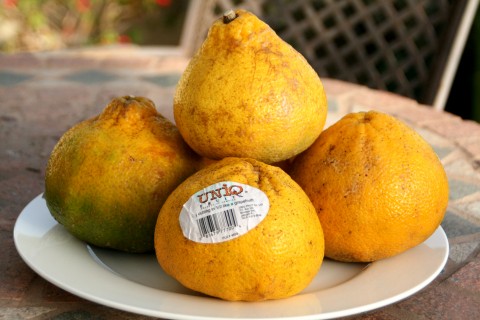 It's a big, bad-ass, butt-ugly bunch of deliciousness.
The rough, bumpy, pebbly skin is super loose, and it peels quite easily, so you can eat it as segments, like you might an orange, or cut it in half and eat it like a grapefruit. It's sweet, with low acid, so it doesn't have the same bite as many grapefruit.
Try it if you see it in the market!
Because beauty is more than skin deep.
If you want something else to do with it, besides eat out of hand, how about a cocktail?
Recipe: Ugli Basil Martini
Summary: Sleek, stylish and uber-tasty, this simple martini is made with Ugli Fruit, vodka and fresh basil, for a hint of citrus topped off with an herbal whiff. Try it!
Ingredients
Instructions
Squeeze Ugli fruit. You'll want about 4 ounces of juice (3-4 ounces).
In a cocktail shaker with crushed ice, shake Ugli juice, vodka and a crushed basil leaf vigorously for a couple of seconds.
Slightly crush the second basil leaf with your fingers and place it in a martini glass. Pour strained cocktail in.
Bottom's up!
Quick notes
I first tasted a cocktail like this at Fig Restaurant in Santa Monica. They made it with pink grapefruit juice, and it was so stylish and refreshing, I knew I had to recreate something like it at home.
Variations
If you can't find an Ugli Fruit, substitute pink grapefruit juice.
Preparation time: 4 minutes
Diet type: Vegetarian
Number of servings (yield): 1
Culinary tradition: USA (Nouveau)
My rating 5 stars:  ★★★★★ 
Thanks to Frieda's Specialty Produce for sending me a sample of this beautiful-to-me fruit.