Print This Post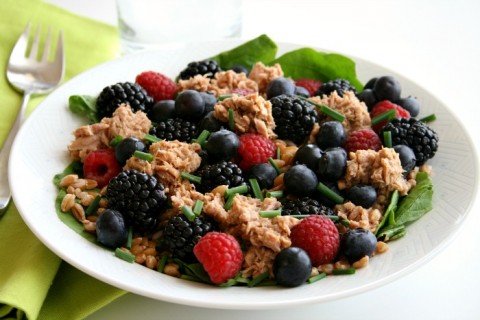 Fresh berries are like the jewelry on a salad. They add needed bling, welcome sweetness and a finishing touch of beauty to a plate of greens. During spring/summer berry season, they're practically required!
For today's main dish salad, I started with a bed of fresh spinach (arugula would also be nice), topped with my new favorite whole grain – farro – which adds fiber and a pleasant chew, and added protein with a handy lemon and pepper seasoned canned tuna. Mixed berries on top were the crowning touch.
Today's salad joins others in a new feature called #TheSaladBowl, and below my recipe you can see all the other inventive creations using fresh berries in salads by participating food bloggers.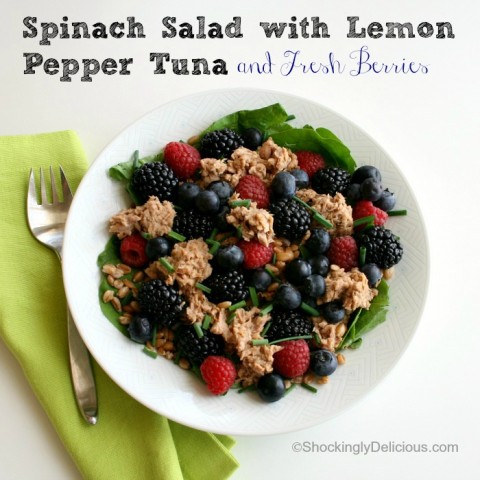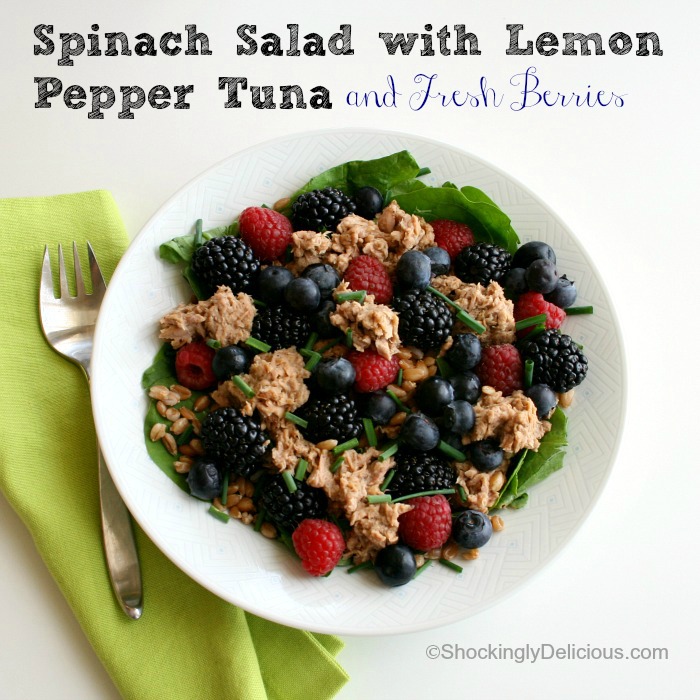 Get your greens, and your bling, in one place!
Recipe: Spinach Salad with Lemon Pepper Tuna and Fresh Berries
Summary: Greens, grain and tangy tuna are topped by the season's freshest berries for a main-dish salad with bling.
Instructions
In a wide, flat salad bowl, place spinach, sprinkle with farro and drizzle with dressing. Add tuna, keeping it in chunks for visual appeal.
Sprinkle top with berries, and snip some fresh chives over top.
Serves 1.
The Bee Squad
I am a member of the Bee Squad for Bumble Bee tuna. Canned tuna makes an excellent protein for main dish salads because it is already cooked and ready to deploy.
Bumble Bee sent the tuna for recipe testing; Driscoll's provided the blackberries and raspberries for the recipe. 
Preparation time: 5 minutes
Diet type: Pescatarian
Number of servings (yield): 1
Culinary tradition: USA (Nouveau)
My rating 5 stars:  ★★★★★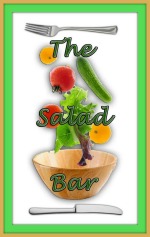 Here are the other salads created by my fellow cooks for #TheSaladBar, a new monthly cooperative feature. Choose my berried-up tuna salad today, or one of theirs, to try for your own table! You can't go wrong with any of these beauties.