Print This Post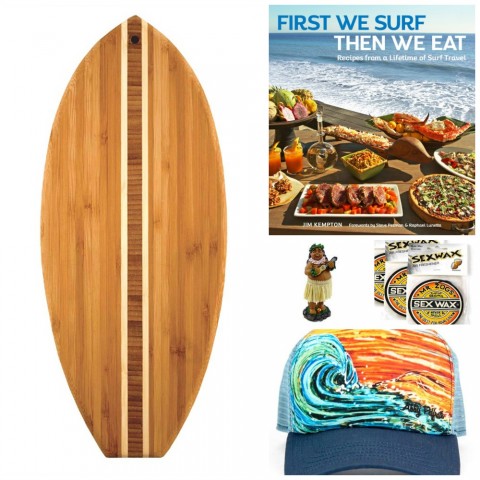 Here at the beach, we're stoked about the holiday season because it's a chance to add items to our surfing collection. I'm not talking about wetsuits and boards, brah, but rather items that add to the surfing vibe we live…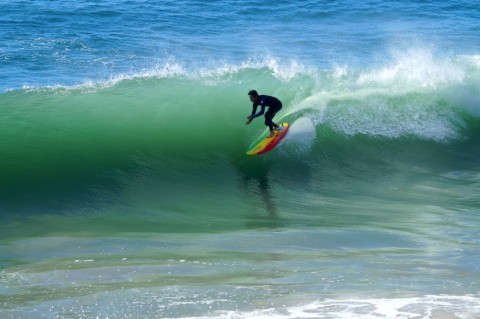 …and breathe.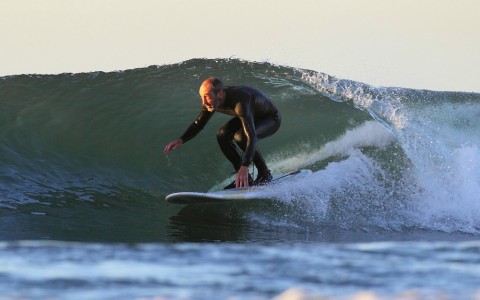 If you have a surfer, or surfer wannabe, in your circle, take a look at these charming gifts. And I have a gift for you, too — a Poke Bowl recipe at the bottom of the list. Don't paddle out before you print that gem.
Surfing Cookbook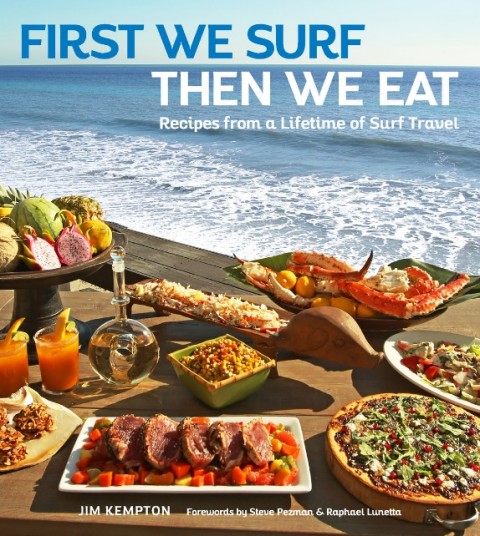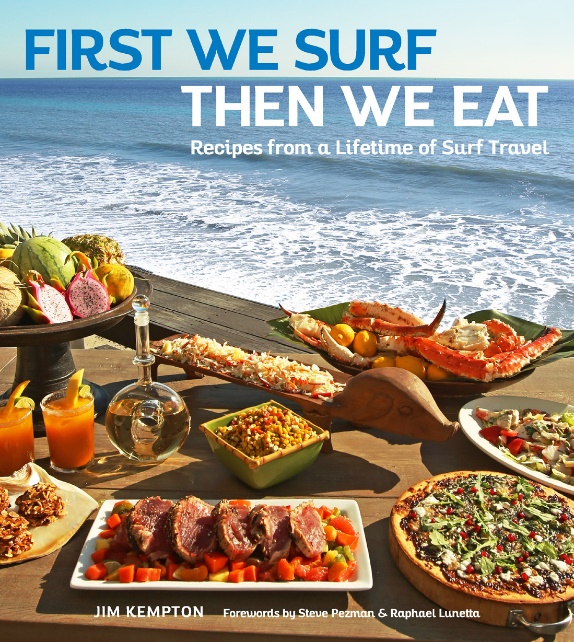 "First We Surf, Then We Eat: Recipes from a Lifetime of Surf Travel," by Jim Kempton, is the book surfers and those who aspire to the lifestyle have been waiting for. Kempton, a former editor/publisher of Surfer Magazine who has spent his life surfing and traveling, is our guide to surf lore and surfer recipes from Tahiti to Hawaii, the Basque Country to Indonesia, California to Mexico, Peru to Morocco, and more. He's lived in 30 countries, been director of media at Billabong, director of Quiksilver's Crossing Project (a boat that searched the world for the best surf breaks), and has run a regional Mexican restaurant in San Clemente, Calif. (Billabong and Quiksilver are huge surf brands, in case you didn't know.) I'm exhausted just reading his resume, but he's put his life and adventures all together in this can't-put-it-down cookbook full of delectable stories and surf breaks and the living legends who ply them, and recipes that make you want to jump up and get in your kitchen. If you think surf food is all fish tacos and burritos the size of a tree trunk, Jim's book will set you straight. He gives us the seafood soup that's a national dish of El Salvador, Balinese beef satay, Peruvian quinoa-honey shrimp, Costa Rican Coffee-Rubbed Pork with Marmalade Glaze, Palauan papaya upside down cake…recipes for as many palates as there are people.  My own surfers agree with Jim's sensibility that there's nothing better than a day of surfing followed by a feast. This book is inspirational, aspirational, and so much fun, peppered with stories about his exploits with surfing legends like Kelly Slater, Laird Hamilton, John John Florence, Bethany Hamilton… [Be sure to check out the Poke Bowl recipe from it below.]  About $20 at Amazon, with free Prime shipping.

Cool hat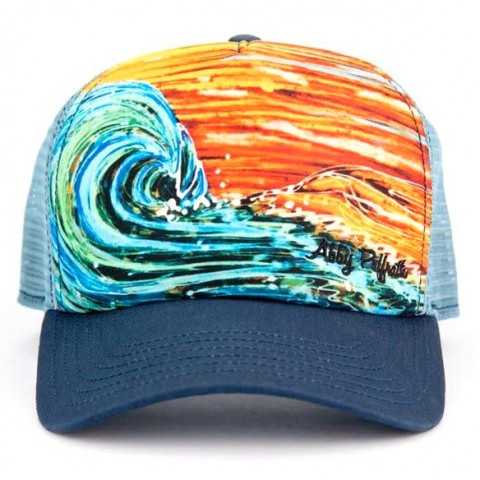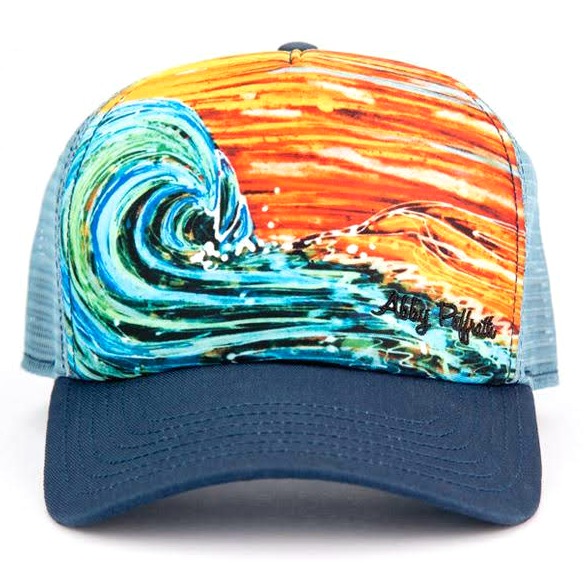 A cool surfer hat is a must, to keep the sun at bay and your salt-crusted hair contained. I'm in love with this gorgeous batik-inspired creation by artist Abby Paffrath. She uses the wax resist dye technique to create the most striking images from nature. There are fish, mountains, winding rivers, wildlife…but of course, I gravitate to the sea, so the Sunset Surf hat is for us. About $30, at the Art for All website, with some styles available on Amazon.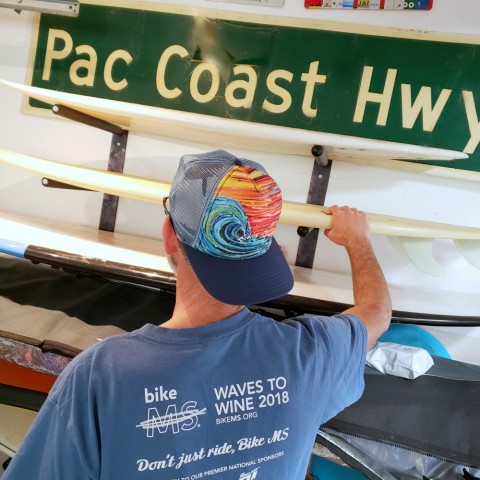 Surfboard Cutting Board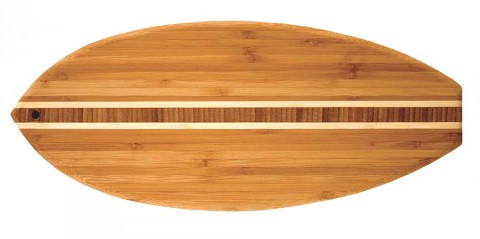 We're deep into the surf culture here in beach land, so this bamboo surfboard serving/cutting board is beyond perfect, brah.  It's made from beautiful bamboo wood with two-tone inlays, and makes a unique server for appetizers or party foods, cheese, or whatever you can imagine! The other night my grom used it to serve sushi, and we congratulated ourselves on the irony.  Bamboo is one of the fastest growing, sustainable natural materials on the planet; it's durable, lightweight, and pretty, which makes it a good alternative to endangered exotic hardwoods. The surfboard is about 14.5" x 6" x 5/8," made by Totally Bamboo. We're amped on it.  About $10 on Amazon, with free shipping.
Ukulele Hula Dude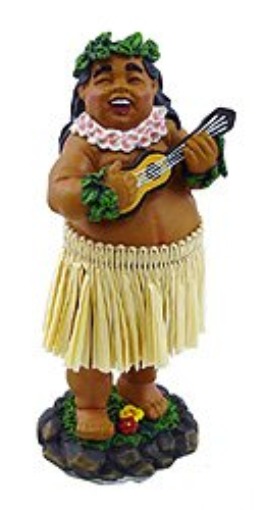 OK, this Hawaiian Braddah with Ukulele Mini Dashboard Doll will just make you smile, as it does for my teenage surfer, whose very first act as a new driver was to put it on the dashboard of his truck. It jiggles slightly when the car vibrates from driving – the more wiggle in the road, the more he wiggles, and immediately puts you in a good mood. It's made of polyresin, has some adhesive stickum so it will stay on the dashboard, and is about 4 inches tall so won't get in the way of your visibility.  If you'd prefer a girl they have those, or even a shark. Can you understand the utter joy that a bobble-head hula boy/girl/shark brings to your life? Get on this one.  About $10.50 from Amazon with free Prime shipping.

Sex Wax Air Fresheners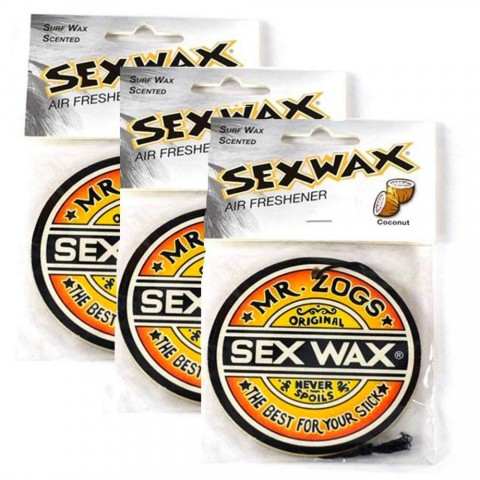 Not gonna lie. I thought, in theory, these were weird when I first got them for my teenage son. Coconut-scented air fresheners that smell like the famous surfboard wax? Wha…??? But let me assure you they have grown on me quite nicely in 11 months since we first bought them. There is one hanging in his truck, one attached to the portable air conditioner in his room where they air flows, and I put one in the bag of my vacuum cleaner. Yeah, I went there. This pack of 3 has you well covered, and they will last up to a year (in my experience). That's a lotta tropical ambiance for a little lettuce. About $9 from Amazon, with free Prime shipping.

Make lunch or dinner of Poke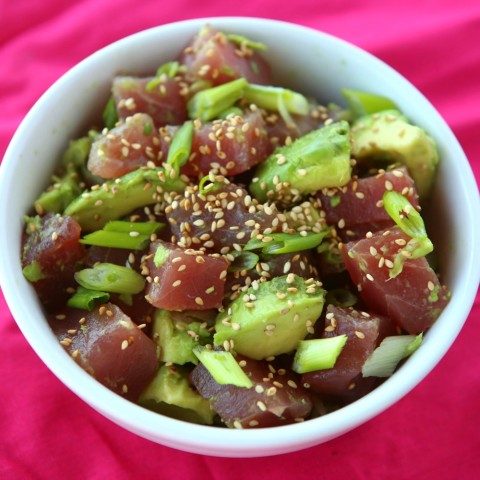 Want the best homemade gift? Invite a guest over to eat a bowl of poke at your house! Use Jim Kempton's recipe from his new cookbook "First We Surf, Then We Eat: Recipes from a Lifetime of Surf Travel," for a simple, fresh lunch or dinner. Serve it over cooked rice to make a more substantial meal of it.
Poke (pronounced "poh-kay") is a Hawaiian treat that has become one of the mainland's trendiest items. Its new popularity has imbued Hawaiian chefs with a little proprietary jealousy, a sure sign of a long-term food trend. A combo of super-fresh high-grade raw fish, dressing and spices served in a bowl, it's the perfect starter for a meal or a great high-protein, low-calorie filler. It's fresh, healthy and fast. Already a staple in California and New York, it's starting to show up on menus around the globe.
Ingredients
1 pound sashimi-grade tuna, cut into jumbo-olive-size cubes
3 tablespoons finely chopped fresh cilantro
2 teaspoons grated fresh ginger
1 small jalapeno, minced (optional)
1 green onion, minced
1/4 cup soy sauce
2 tablespoons sesame oil
1 ripe but slightly firm avocado
2 teaspoons sesame seeds or Trader Joe's golden roasted flax seeds (Jim Kempton's favorite
Directions
Combine tuna, cilantro, ginger, jalapeno (if using), green onion, soy sauce and sesame oil in a bowl; toss gently. Cover and refrigerate for at least 1 hour and up to 3 hours.
Just before serving, peel and pit avocado and cut into small cubes. Combine with tuna mixture, making sure avocado is well integrated with tuna. Scoop poke into 6 bowls, sprinkle with sesame or flax seeds, and serve.
Serves 6.
Notes
https://www.shockinglydelicious.com/gifts-for-surfers-poke-bowl-recipe/
Copyright Dorothy Reinhold | ShockinglyDelicious.com. All rights reserved.
Mark your calendar!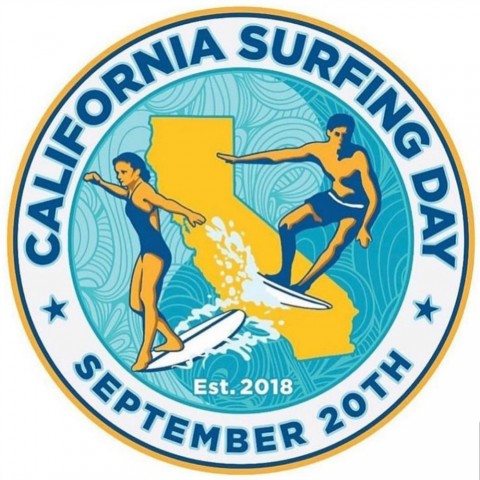 If you like this article and want to save it, pin the image below to your Pinterest board.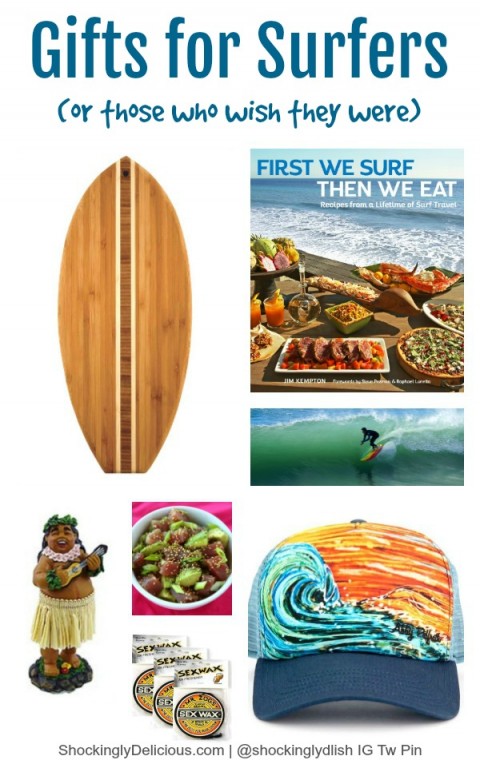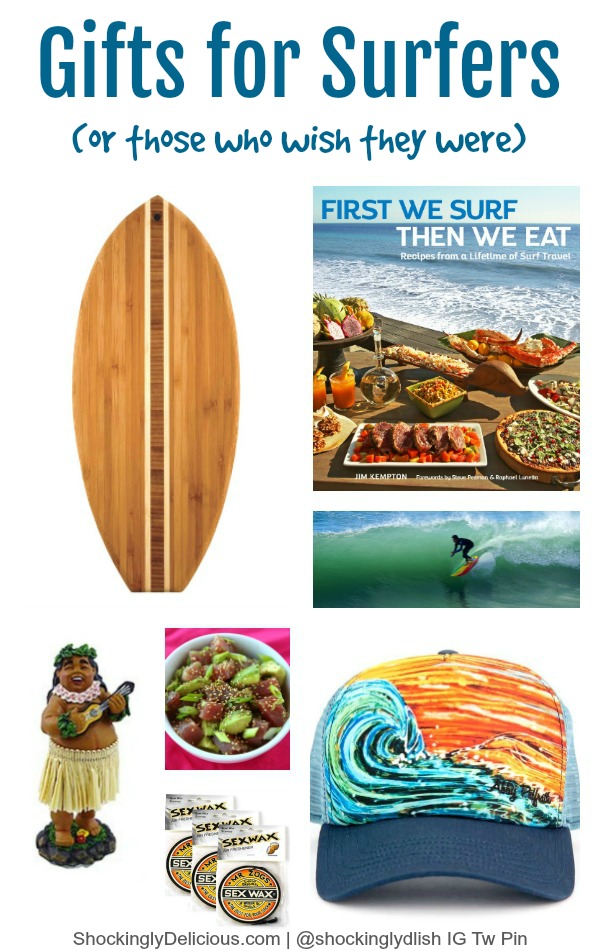 Thanks for visiting…are you hungry for more? Follow Shockingly Delicious on…
FACEBOOK | PINTEREST | INSTAGRAM | TWITTER
…for all the latest recipes, ideas and updates!
This post may contain affiliate/referral links. It is a way for this site to earn advertising fees (at no cost to you) by advertising or linking to certain products and/or services that I approve and prefer.
Disclosure: Prospect Park Books, Art 4 All and Totally Bamboo sent samples for consideration for this article. All opinions are my own.