Print This Post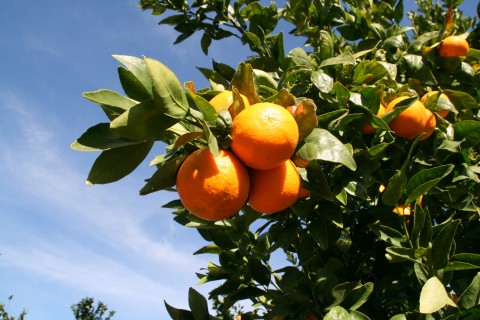 In the food world, it's like opening day at the track. Or like the first pitch of baseball season (April 5 this year, in case you're wondering).
This day, this week, this time couldn't come soon enough for tangerine lovers.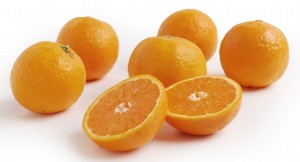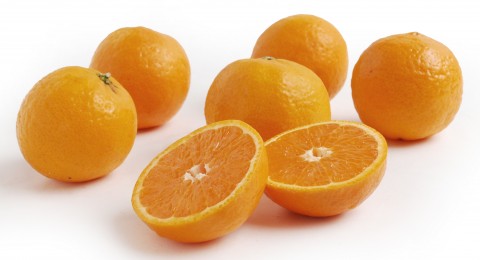 It is when Pixie tangerines come to markets all over the country. The Pixie dust has arrived!
Pixie tangerines are grown in the gorgeous Ojai Valley of Southern California — a magical place of fertile farmland, temperate weather, and a tiny town the likes of Mayberry R.F.D. (If you are not old enough to know that reference, I'll wait while you Google it.)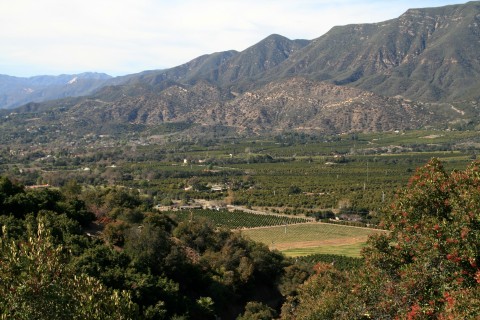 Ojai is the perfect location to grow citrus – a harmonic convergence of place and purpose. And the prime Pixie is a perfect example of all that is good about tangerines – sweet as candy, brilliant deep orange, naturally seedless and cute as a button.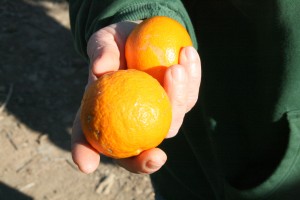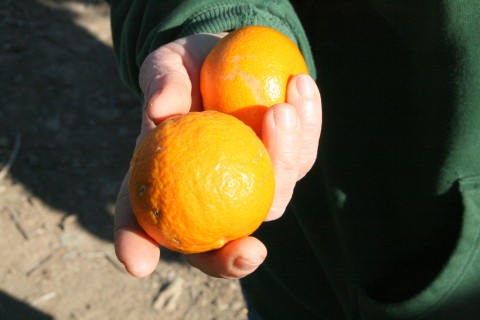 Some people consider them the finest fruit in the world. They'll get no argument from me.
Come along as a small group of food bloggers and I tour Ojai's Pixie farmland. The sights, the smells…they are unmatched!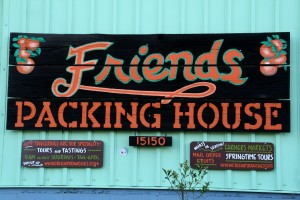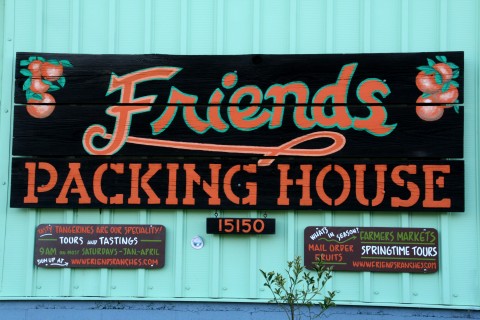 We began at Friend's Ranches, where patriarch Tony Thacher and his daughter Emily Ayala opened our eyes and delighted our taste buds with our first taste of a Pixie. Bloggers' eyes bugged out as we slurped at the juicy fruits and marveled at their sweetness.
Tony and Emily were instrumental in forming the Ojai Pixie Tangerine Growers, some 40 Pixie family farmers who band together so they can more effectively introduce and sell Pixies across the country. The collective has more than 25,000 tangerine trees in the Ojai Valley, and Tony and Emily monitor the farms for fruit ripeness, consistency and quality. This means when you buy a Pixie, it has been picked at its peak readiness, and not a minute before, and is an outstanding example of the fruit.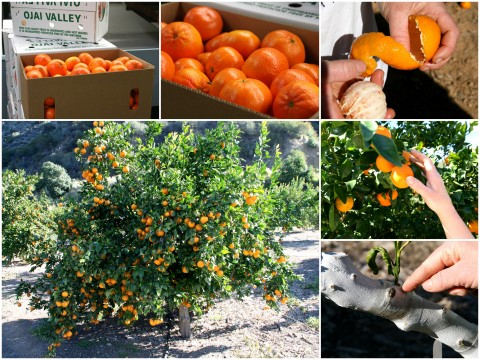 This year's dry winter, with cool nights and warm, sunny days has been perfect for developing Pixie flavor. They expect to be picking and packing Pixies into the month of May. It's a labor-intensive business, with fruit clipped individually from each tree, and hand placed in picking bags.
Emily regaled us with interesting facts about Pixies, including the fact that temperature affects the color of the fruit (it turns orange once the weather warms up), and since Pixies are seedless, a Pixie shoot must be grafted onto an existing tree branch. That graft will eventually grow and produce fruit-laden branches of its own. And Emily, it turns out, is a whiz at peeling a Pixie into a spiral, so that the peel remains in one piece. She recalled with some amusement that as a child, she used to reassemble the empty spiral peel so carefully it looked like a normal fruit; once she caught a fly and trapped it in there, making an extra surprise for her unwitting brother who reached for what he thought was a simple tangerine!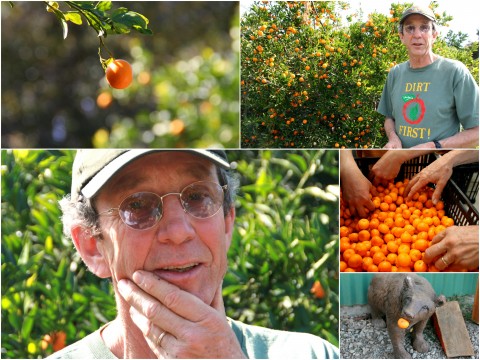 We also toured Churchill-Brenneis Orchard, where Jim Churchill and Lisa Brenneis grow 12 acres of CCOF-certified organic tangerines, including Pixie tangerine, Page tangor, seedless Kishu mandarin, Owari Satsuma mandarin, and five acres of avocados – Hass, Fuerte, Mexicola Grande and Bacon varieties. Jim is a funny, thoughtful guy, and in recounting his farm's history, had a catch in his throat when recalling the early, uncertain days of his farm career. I came away from the trip convinced now, more than ever, that farmers are a passionate group. Let's work harder to appreciate them!
FWIW (and I think it is worth a lot!), much of Jim's crop of Page tangors (tangor = a cross between a tangerine and an orange) ends up in Berkeley put to good use at the culinary temple Chez Panisse. Yeah, he dropped that name to the food bloggers, and yeah, we were seriously impressed!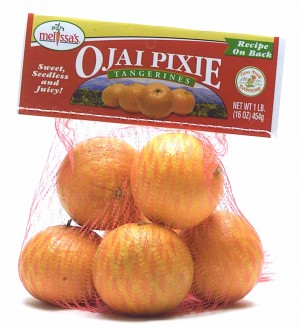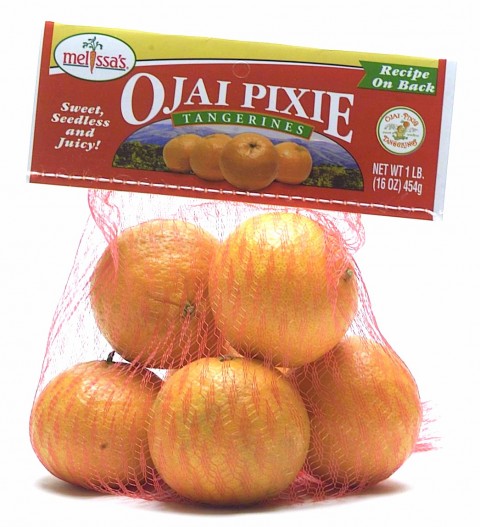 As with many varieties of specialty citrus, Pixies have a short season, so get them now when you see them. After May they'll be done. And if you don't see them at your market, ask your produce manager to get some! He can contact Ojai Pixies, or you can let the Pixie people them know what store you shop at by e-mailing ojaipixies@yahoo.com and they will contact your store. Assure the produce manager these babies will sell out, because it's true.
Thank you to the experts at Melissa's Produce for arranging and leading this tour, to the hard working farmers at Friend's Ranches and Churchill Orchard, and to my fellow food bloggers for their conviviality!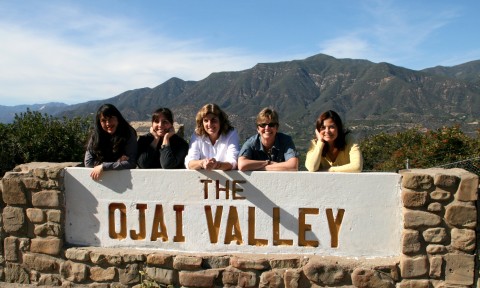 From left, Nicole from Presley's Pantry, Ericka from Nibbles & Feasts, me, Nancy from A Communal Table and Priscilla from She's Cookin'.
Let's do it again!
Would you like to tour the Friend's orchard? They have tours each Saturday at 9 a.m. from Jan. 14-April 28. Go here for more details. I highly recommend you do this if you are in or near Ojai, and wear sturdy walking shoes because it's an honest-to-goodness farm!