Print This Post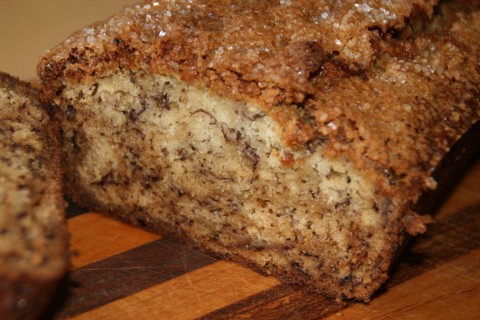 If judged by the number of times I have made this (hundreds!), and the number of requests for a printed recipe (hundreds!), this would be my best recipe. Why is it so popular? It makes a great, clean-tasting banana bread. It is full of banana goodness, without being trendy or gimmicky. You could make it once a week and not tire of it. It's not overly sweet, has no butter (uses a bit of oil instead), and also gets moisture and a great crumb from sour cream. I always toss in a bit of ground flax for extra nutrition; no one ever knows.
I've made fancier banana breads, certainly some with more ingredients, more spices, more of everything. But I keep coming back to this simple version that lets the beauty of a ripe banana shine straight through. You are going to look at this recipe and say, "Where's the cinnamon? Where are the chocolate chips? Where are the walnuts?" Never mind all that. Just try it this way and see if you don't agree.
My family loves this bread for breakfast (spread with cream cheese), for after school snack, and even for the team soccer snack when it is my turn to provide.
My 8-year-old neighbor Cameron shows up to play with my son, but really, truly, sometimes he comes by just to see what's in the oven. If it is this banana bread, his toothy grin breaks out from ear to ear. Most often, on his way out the door, he scores a piece or four for his family (which I happen to know he eats by himself on the way home). Cameron, I'm calling you out and giving you the stink-eye — you have no secrets from me!
Recipe: Old-School Sour Cream Banana Bread
Summary: The best classic, simple banana bread with no butter (sour cream instead!). Let the bananas get black skinned for supreme, deep banana flavor.
Ingredients
3/4 cup sugar
1/2 cup vegetable oil (can use mildest flavored olive oil, of half canola and half olive oil)
2 eggs
1 cup mashed ripe bananas (about 3 medium)

*see banana hint below

1/3 cup sour cream (regular or light version are fine, or can even use Greek yogurt)
2 teaspoons vanilla extract
1/4 teaspoon salt
2 tablespoons ground flax (optional)
Zest of 1 lemon (optional but great!)
1 teaspoon baking soda
1 1/2 cups all-purpose flour
Garnish: Coarse grained sugar sprinkles for the top before baking
Instructions
Heat oven to 350F degrees. Mist bottom of a 9- by 5-inch loaf pan (or 3 mini loaf pans) with nonstick spray. Set aside.
In large bowl, beat together sugar and oil. Add eggs, banana, sour cream, vanilla and salt, flax (if using), lemon zest (if using) and baking soda, and blend well. Lightly spoon flour into measuring cup and level off. Add flour and stir gently, just until dry ingredients are moistened. Do not overstir or bread will be tough. Pour into prepared pan(s). Sprinkle tops with coarse sugar if you like.
Bake 60 minutes (38 minutes for mini loaves), or until toothpick inserted in center comes out clean. Remove from oven and cool 10-15 minutes. Remove from pan and finish cooling bread on a rack if you can; this keeps it from getting soggy from condensation. If using foil mini loaf pans, you may cool the bread in the pans.
When completely cool, store at room temperature in a covered container or zipper-top plastic bag. If storing for longer than, oh, 2 or 3 days, freeze the loaves.
Makes 1 large loaf (12 slices), or 3 mini loaves.
*Banana hint
Speaking of ripe bananas, you will have your best banana bread if you use dead black bananas. They should be entirely black, and maybe with a couple of little fruit flies lazily circling them. (I am not kidding about the flies.) I have a little tutorial on perfect bananas here. When bananas are super duper ripe, you can slit the top and just squirt them out of their skin like toothpaste, into a 1-cup measuring cup. (How's THAT for an image?) If they are slightly less ripe, peel bananas and put them in a wide, flat bowl. Mash with a potato masher, and scrape the banana mash into the measuring cup to make sure it measures 1 cup. Bananas differ greatly in size, so it is worth measuring the mash to make sure you get the amount about right.
About the sugar on top
If you are going to eat this within a day, you may garnish the top before baking with coarse grained sugar crystals. If it is going to sit around for more time than that, the sugar will attract moisture and the top will get gummy, so forget the sugar on top if the bread will linger
Preparation time: 10 minutes
Cooking time: 38-60 minutes (depending on 1 or 3 loaves)
Diet type: Vegetarian
Number of servings (yield): 12
Culinary tradition: USA (Traditional)
My rating 5 stars: ★★★★★