Print This Post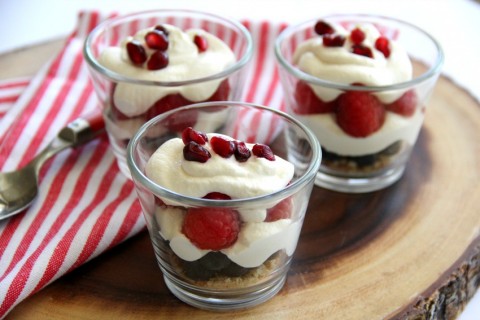 If you're looking for a last-minute dessert for your patriotic party, look no farther than these No-Bake Red, White and Blue Parfaits.
Grab a glass if you're feeling fancy, or a plastic cup if you're celebrating poolside or outdoors, and go to town layering cookie crumbs, sweetened whipped cream, and fresh red and blue berries.
That's your red, white and blue, right there.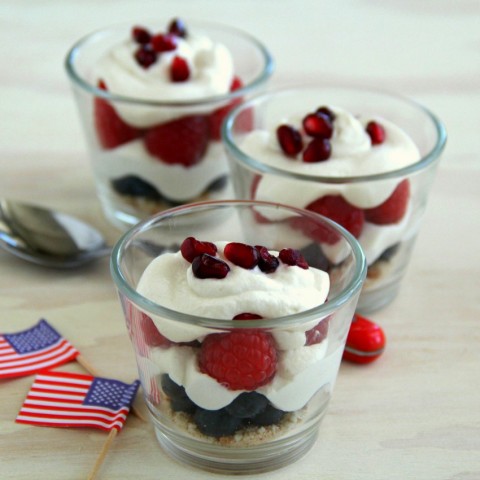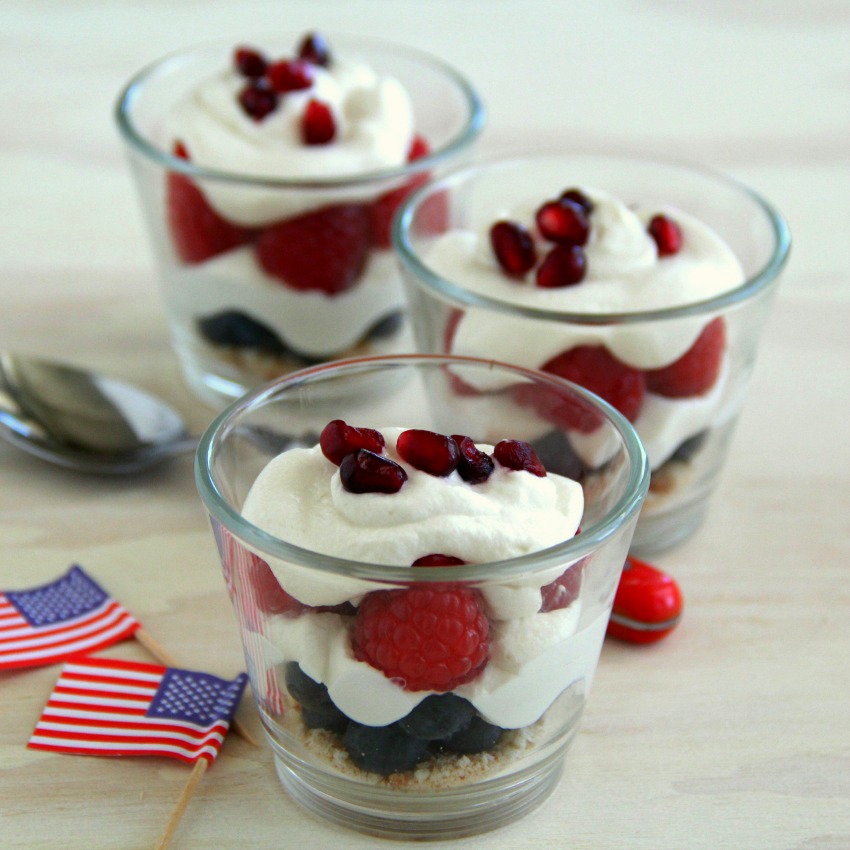 Happy birthday to all of US!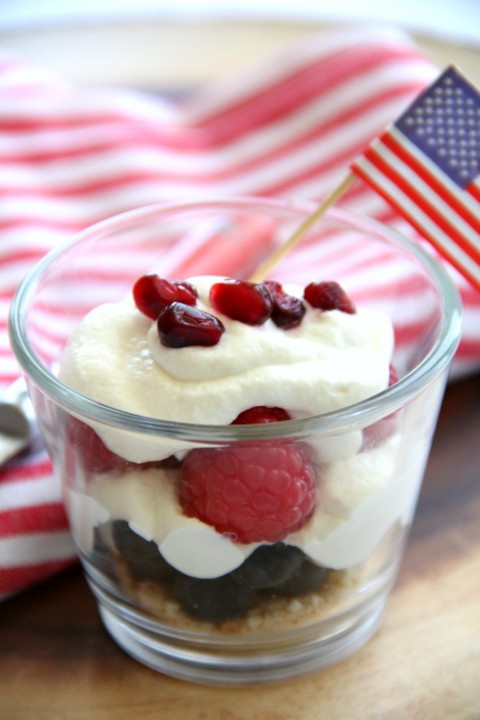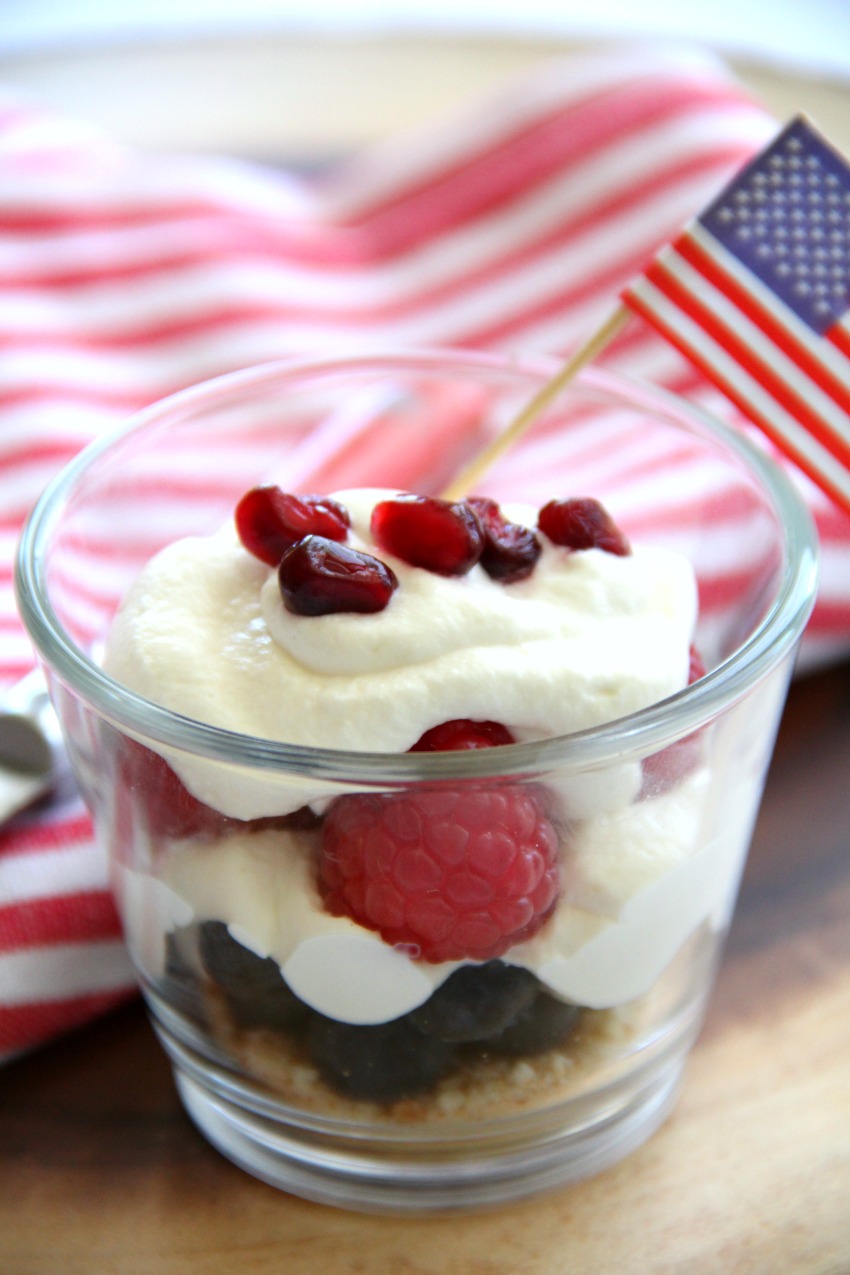 No-Bake Red, White and Blue Parfaits
A patriotic parfait is easy with red berries, blue berries, white whipped cream and some cookie crumbs. Layer in glass if you're serving inside, or in clear plastic cups if outside.
Ingredients
Plain cookies (I used lemon sugar cookies)
Fresh strawberries or raspberries
Fresh blueberries or blackberries
.

Whipped cream layer

1 cup whipping cream
1 1/2 tablespoons powdered sugar
A few grains table salt
1/2 teaspoon vanilla extract
1/4 teaspoon almond extract (optional)
Directions
Place a couple of cookies in a zipper-top bag and crush using a rolling pin (or whirl in a blender until they break up into crumbs).

Make the whipped cream:

Add 1 cup whipping cream, sugar, salt and extracts to a cold glass mixing bowl. Whip using an electric beater, and as it begins to thicken, stop the mixer and give it a taste. If it is not sweet enough for you, add a snitch more powdered sugar. I don't like to oversweeten my whipped cream; remember, the berries and cookie crumbs will be sweet. Continue beating for a few more seconds until you have soft peaks.
Layer your parfaits in glass, so you can see the pretty colors. Start with the cookie layer, and then a layer of berries, then whipped cream, then another color berries, then whipped cream, and then a couple of cookie crumbs or berries for a pretty finish!
If you have a tiny little paper American flag, it wouldn't be wrong to stick one of those in there.
Makes 6-8, depending on what size glass you use.
Notes
https://www.shockinglydelicious.com/no-bake-red-white-and-blue-parfaits/
Copyright Dorothy Reinhold | ShockinglyDelicious.com. All rights reserved.
If you like this idea, pin this recipe to your Pinterest board using the photo below (or another photo from this post).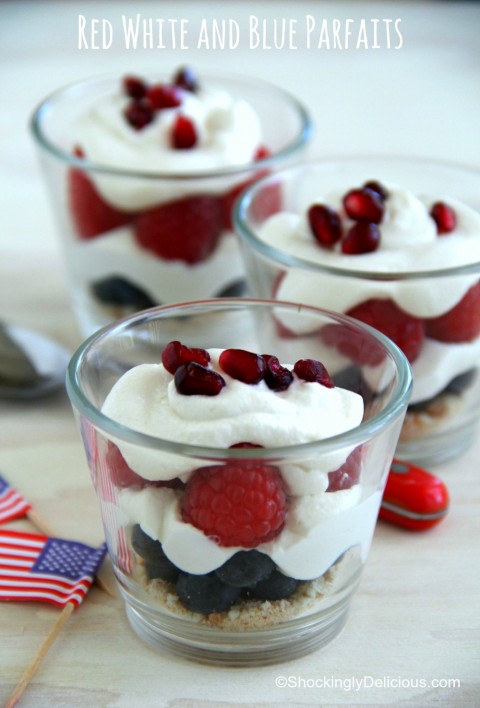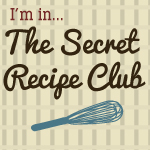 Inspiration for this easy, patriotic dessert today came from Andrea Kruse at Adventures in All Things Food. It is Secret Recipe Club day today, and hers is the blog I was assigned to investigate and cook from this month. Today is our "reveal day," and I'm happy to have had the chance to cook from Andrea's blog this past month.
I was spelunking around in her blog for the past weeks, enjoying her recipes and her chat about life on her Oregon farm, and stumbled across her Skillet Baked Pesto Potato dish. I know my family would enjoy that, as well as her hearty Zucchini Bread Pancakes, which sound like just about the most delicious way to use up the summer zuke glut. And I really cannot take my eyes off her lovely Apple Crostata, which is simply a rustic tart with the crust edges folded over the fruit piled high in the middle. She brilliantly drizzled caramel sauce over hers.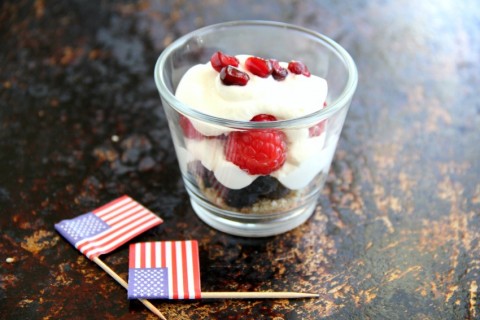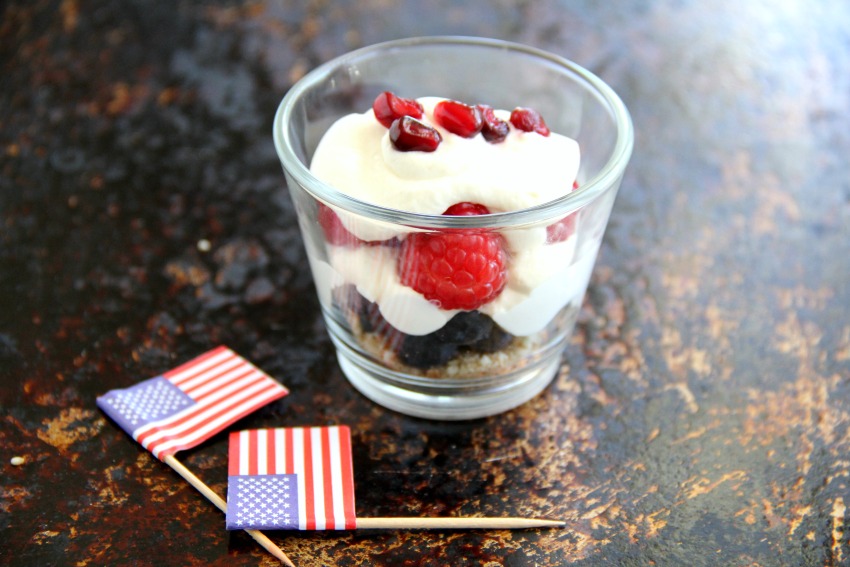 But since it is the Fourth of July, I went with her parfaits, and decided to take them in a red, white and blue direction. She calls hers Cherry and Biscoff Parfaits, because she used cherry pie filling and Biscoff cookies for the crust. I couldn't find Biscoff, so I went with Lemon Wafer Cookies (like vanilla wafers only lemon wafers) because I think lemon suits berries. Please your own taste buds when you are making this.
Thanks, Andrea, for a delicious month!
If you'd like to see what else the Secret Recipe Club cooked up this month, browse the photo array below and click on any link to go to that recipe.
Save
Save
Save