Print This Post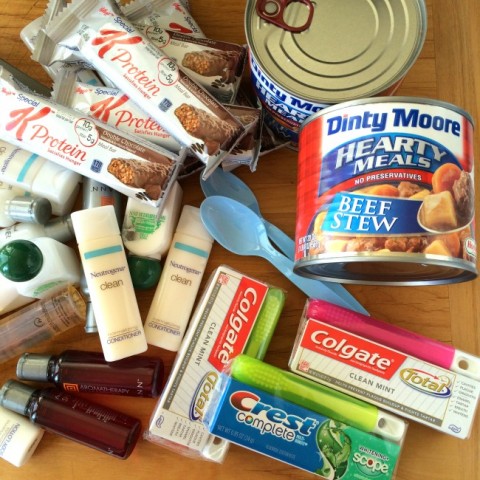 My family and I were privileged to have had a merry Christmas and a happy, fulfilling holiday season, and for that I am profoundly grateful.
Not everyone is so lucky, and evidence of it is unfortunately all around us, as there are many homeless people in our greater Los Angeles communities. We see them panhandling at traffic lights, camped out in public spaces, sitting at our outdoor mall areas, ironically asking for just a little in an environment surrounded by so much.
I wish I could help them all, but it isn't possible or practical. I can't solve the issue, but perhaps our Care Bags can provide a measure of comfort and dignity.
A year ago my son suggested we keep a box of protein granola bars in my car, so that when stopped at a traffic light we could give them out to whoever was panhandling, so they could have a bite to eat. We deliberately chose a food that could be in the car without needing refrigeration, so it would be always at the ready.
But more recently I had the notion that more than sweet food was needed. What about hygiene items and more substantial food?
I gathered the unused collection of little amenities we have collected from various hotel stays, bought some travel size toothbrush/toothpaste combos, and some cans of hearty beef stew and spoons to eat it with.
Here's what I put in my bags:
Shampoo, conditioner
Body wash, little soaps
Mouthwash, toothbrush, toothpaste
Skin lotion
Dinty Moore Hearty Beef Stew (pop top lid) and some plastic spoons
Protein granola bar
An apple, banana and orange (if I have just been to the grocery store and am on the way home)
When I build the next bags, I will consider adding: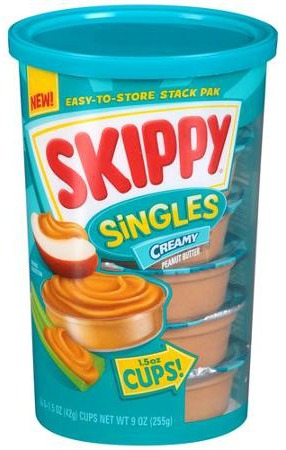 Toiletries
A small terrycloth washcloth (could be used wet, or as a small towel to dry off)
Moist towelettes
Deodorant
Chapstick
Clothing
Socks
Plastic poncho
Gloves
Beanie hat
Food
Little cans of tuna (pop top lid)
Beef jerky
Vienna Sausages (can with pop top lid)
Applesauce cups
Trail mix
Cracker packets
Instant coffee in individual packets
Hot chocolate in individual packets (get the kind that is made with hot water)
Misc
Handful of plastic zip-top bags
Small pad of paper and pencil/pen
Gift card to local grocery store
$5 bill
We've handed these care packages out to the man who makes his home at the bus stop, to the couple who loiter outside the gas station 24/7, and to a young woman who initially asked for gas money, but when I asked her if she was hungry, she demurred, saying, "No, I'm fine." "Really?" I asked? "Yes, I'm pretty hungry," she finally admitted.
We're certainly not the only ones who have been thinking this way. Do a quick Google search and you'll find lots of examples. Some have dubbed them "Blessing Bags," or "On the Go Bags." There are even Pinterest boards filled with examples and lists of what to put in them.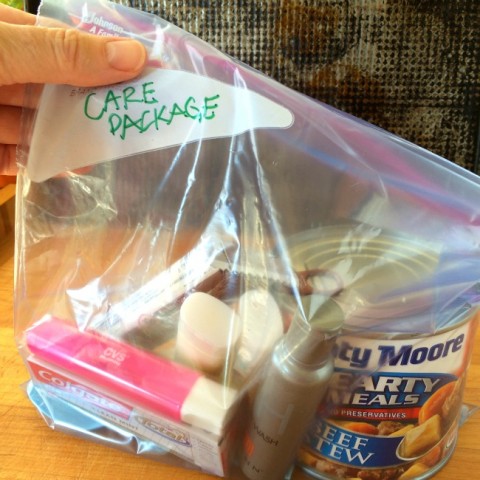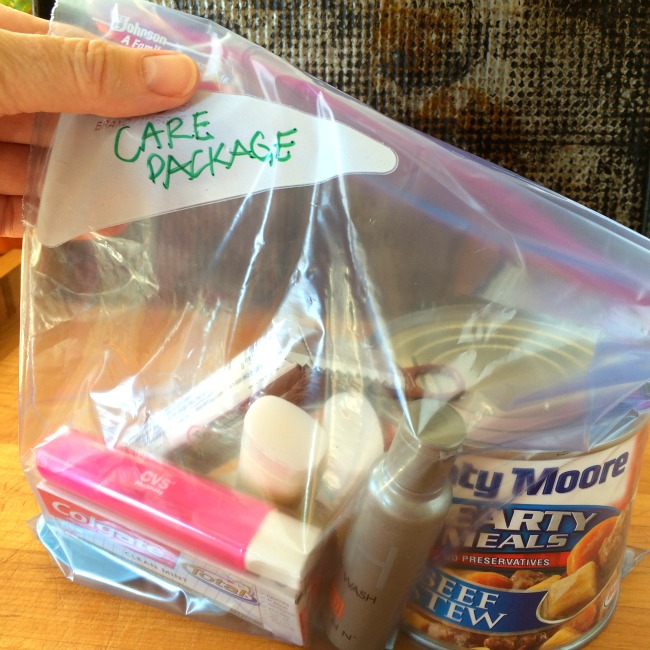 Some, like me, put them in a zipper-top plastic bag; others put them in little fabric shopping bags, or even tube socks (calling them "Socks of Love."). Backpacks are another handy container, as are old lunch boxes or lunch sacks. Some people even use an empty, clean 2-liter plastic bottle.
My friend Ray Richmond did me one better. He actually went out on Thanksgiving and asked people living on the street what they really wanted/needed. He then assembled 40 holiday bags and personally gave them to the local homeless during Christmas week. He said he chose to interact with them rather than writing a check or making a donation of food or time (which, he noted, are also great options).
They gave him a list of needs:
Body wipes (because showers can be scarce)
Chap Stick
Socks socks socks
Soap, exfoliant soap, shampoo, moisturizing lotion
Mini sewing kit
Q-tips
Ibuprofen
Breath mints, floss
Nail clippers
Something to warm them
Maybe a little treat
"This is stuff we all take for granted," he said. "I don't post this to play up my bonafides as a good person or anything, because in truth the jury remains out. I do so instead to inspire others who are able to do the same. These people are not losers or lazy or necessarily mentally ill (though often that's a part of it). They are much of the time simply folks who have had a bad break and lack the family, friends and resources to keep them in the food-and-shelter basics. I'm privileged to be able to help a little bit. But it never feels like enough." As usual, Ray is right.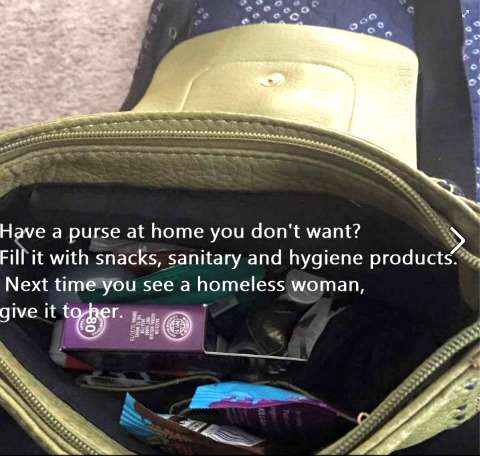 My friend Nena Lauerman reached out to her Facebook friends with inspiration for a package designed especially for a homeless woman. "This is a great way to spread the love this season. Purses are great or an old backpack. We all have much to be grateful for," she noted.
Indeed we do.
January 2016 addendum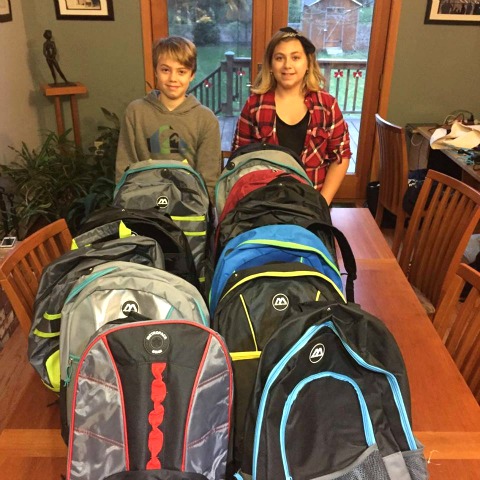 Inspired by this post and bothered by the number of homeless people they saw in Center City (Philadelphia) during the holidays, big-hearted cousins Luke, 11, and Lily, 10, went to the dollar store and bought a bunch of backpacks and filled them with essentials.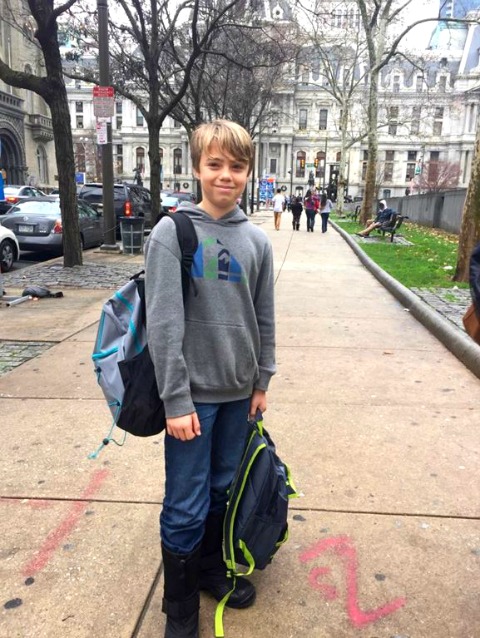 Luke returned to the city the next day and gave them out…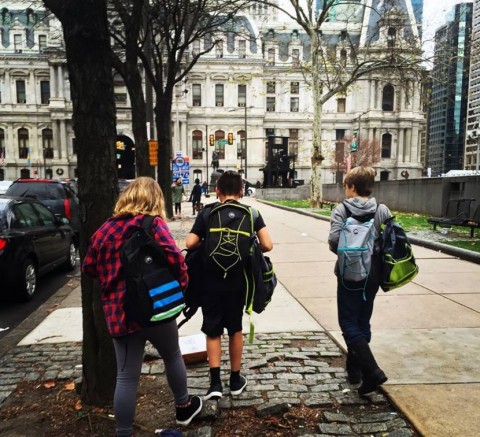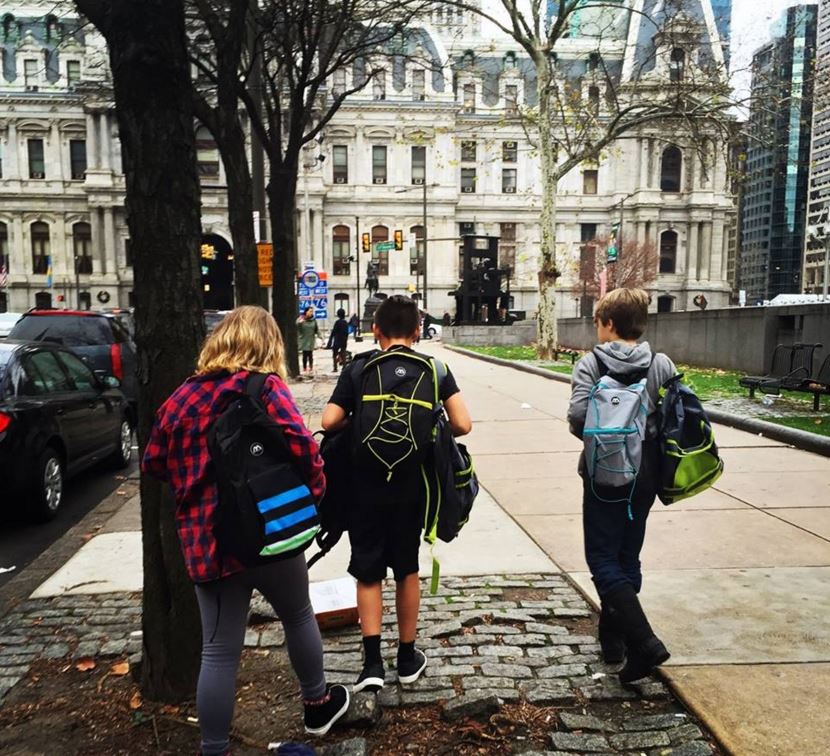 …along with his cousins Sam and Lily. These are some young folks who are making a difference in the world. I salute them and am grateful for their compassion.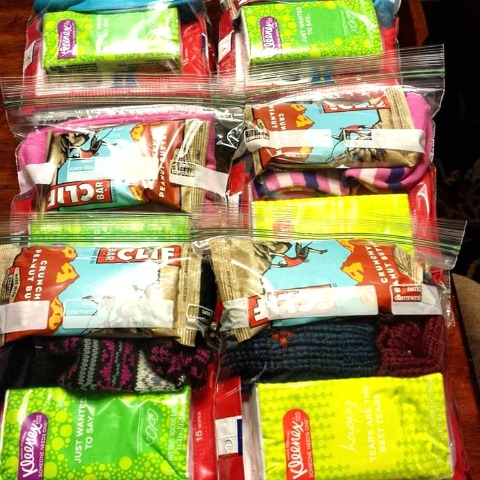 Jenni Field, who blogs and teaches at Pastry Chef Online, created her bags out of Clif Bars, tissues, socks, breath mints, Chap Stick and Wet Ones.
If you have more ideas of what else is needed in a care package like this, or another efficient way to package it, I welcome your suggestions in the comments below.
Disclosure: Hormel contributed the stew.