Print This Post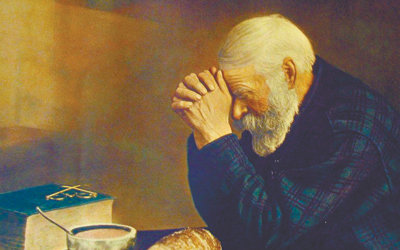 When I was a child, we used to say the following traditional Catholic prayer before meals:
Bless us, O Lord, and these Thy gifts which we are about to receive
From Thy bounty, through Christ our Lord.
Amen.
Although as an adult I don't follow any organized religion, I often miss the ritual of giving thanks before a meal. It feels right. We are not the creators of the food we are eating. That meal didn't get to the table by itself.
Sometimes, a simple expression is all that is needed, as in this child's prayer of thanks:
Thank you, heavenly Father,
for my bread,
my dad and mother and my bed. Amen.
Saying grace speaks to something deep inside us all, says Rev. Shannon Jung, author of "Sharing Food: The Spirituality and Ethics of Eating." "It's a primal recognition. Whenever we eat, we are receiving the gift of another's life and, in certain cases, another's immediate death. So how do we make ourselves worthy of the life of another?" he asks.
In that light, perhaps this Grace of the Bodhisattva Buddhists applies:
This food comes from the Earth and the Sky,
It is the gift of the entire universe
and the fruit of much hard work;
I vow to live a life which is worthy to receive it.
And another, by George Herbert (1593-1633), this reminder of the bounty of our lives and our universal need to express gratitude:
To all else thou hast given us, O Lord,
we ask for but one thing more:
Give us
grateful hearts.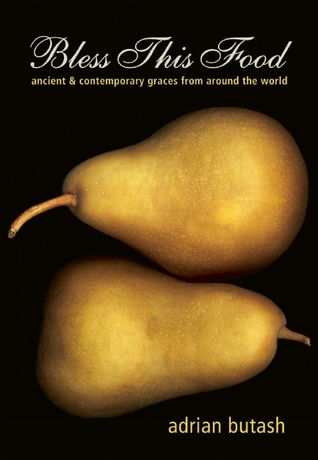 I found these in the new book, "Bless This Food: Ancient & Contemporary Graces from Around the World," by Adrian Butash (2013, New World Library, $14.95). It is a gem full of 160 mealtime blessings representing all of the world's major religions, ancient traditions, and offerings from poets, thinkers and activists, including Shakespeare, Milton, Gandhi and Mother Teresa. We who are grateful for our food are in good company.
It also includes prayers in American Sign Language, and tells you how to say "bless this food" in 19 languages.
My favorite Thanksgiving poem of all time is this one I wrote about in 2010, called "Let Us Give Thanks." It makes my eyes water.
There's always this funny poem, my 2011 offering.
And, of course, this wisdom I printed in 2012, from Meister Eckhart:
If the only prayer you said in your whole life was, 'thank you,' that would suffice. 
This year, though, perhaps, I'll settle on this prayer I found in the book. It is by Nancy Byrd Turner (1880-1971), perfect for the Thanksgiving bounty:
Thank God for home,
and crisp, fair weather,
and loving hearts
That meet together —
And red, ripe fruit
And golden grain —
And dear Thanksgiving
          Come again!
Happy Thanksgiving, everyone.


Have a 

Shockingly Delicious 

day!