Print This Post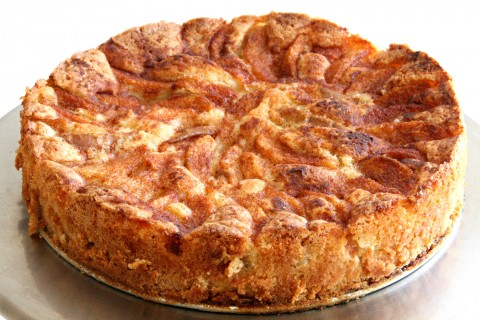 You know how, when you are reading a magazine or newspaper and you come across a recipe that just shrieks at you, you want to drop everything, run into the kitchen and make it?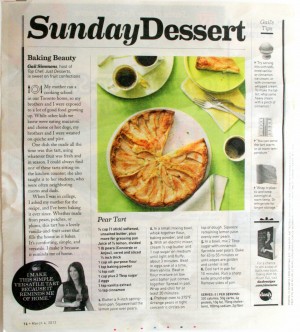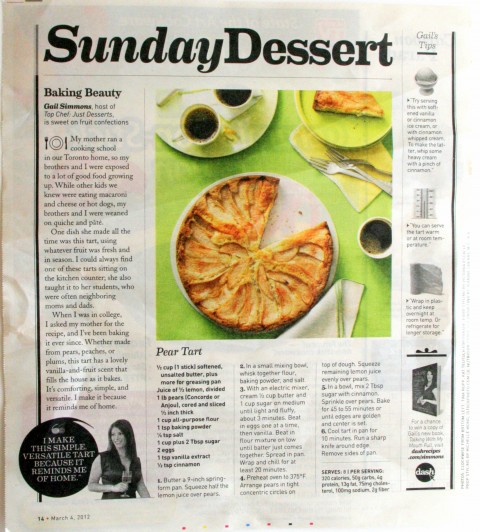 That happened with this simple, elegant dessert that was published in Parade Magazine on March 4.
But drat, I didn't have pears, so I wrote "pears" on the shopping list, tore out the article and set it atop my large mountain of recipes to try.
And there it sat, waiting for my trip to the store, then waiting for the pears to ripen, shrieking at me every little while, "Make me! Make me!"
I did. And it was worth the wait!
This is one of those classic recipes – you probably already have something similar in your own archives, and Marion Burros made a plum version of it famous 50 years ago – but it holds up well to rediscovery. It's versatile (dessert or breakfast cake), simple (no rolling out crusts), and can be tweaked to suit virtually any ripe fruit you have hanging around on the counter (peaches? plums? apples? what about grapes or berries?). It also makes your house smell fabulous while it is baking, with all that vanilla-y goodness. Actually, it puffs up and I would call it a cake more than a tart.
This one comes from Gail Simmons, the host of TV's "Top Chef: Just Desserts," who got it from her mother, who ran a cooking school in Toronto. I like that lineage!
Recipe: Gail Simmons' Pear Tart (Cake)
Summary: A simple but elegant pear cake that can be dessert or a comforting breakfast treat. Substitute peaches, plums or apples if you like!
Ingredients
1/2 cup (1 stick) softened, unsalted butter, plus more for greasing pan
1 cup plus 2 tablespoons sugar
2 eggs
1 teaspoon baking powder
1/8 teaspoon salt
1 teaspoon vanilla extract
½ teaspoon freshly ground nutmeg

(this is my addition)

1 cup all-purpose flour
1 pound pears (Concorde or Anjou),

(I used 1 ½ pounds pears)

Juice of ½ lemon, divided

(I used a Meyer lemon)

½ teaspoon cinnamon
Instructions
Butter a 9-inch springform pan.

(Dorothy's tip: use the wrapper from the stick of butter. Clever, no?)

With an electric mixer, cream ½ cup butter and 1 cup sugar on medium until light and fluffy, about 3 minutes. Beat in eggs one at a time, then baking powder, salt, vanilla, and nutmeg (if using).
Beat in flour on low until batter just comes together. Spread in pan

(DR's note: a small offset spatula works well for this).

Place in refrigerator and chill for at least 20 minutes.
Heat oven to 375°F.
While crust is chilling, core and slice pears into 1/2-inch slices.

(DR's note: I peeled them, too, but suit yourself.)

 Toss them with half the lemon juice, so they don't turn brown. Set aside to wait for crust to finish chilling.
Remove crust from refrigerator, and arrange pears in tight concentric circles on top of dough. Squeeze remaining lemon juice evenly over pears.
In a bowl, mix 2 tablespoons sugar

(DR's note: I used 3 tablespoons large sugar crystals – washed raw sugar crystals)

with cinnamon. Sprinkle over pears. Bake for 45-55 minutes

(mine took 55 minutes)

or until edges are golden and center is set. It will puff up quite a bit in the oven, but settle back down as it cools.
Cool tart in pan for 10 minutes. Run a sharp knife around edge. Remove sides of pan.
Serves 8.
Quick notes
Dorothy's tips:
–I have taken the liberty of rewording some of the directions to make them even easier, and to dirty fewer bowls. If you like, you can see the original recipe here.
–You can use this as a coffee cake for breakfast, if you like! Not that I would ever do that. Oh no.
–I would not hesitate to sprinkle some chopped pecans overtop, for a change
–If I were to use any stone fruit with this (peaches, plums), I would not hesitate to add ½ teaspoon almond extract to the crust.
–Next time I might try using a 10-inch springform pan, which would make the fruit-to-crust ratio higher, which I like. We shall see.
Gail's tips:
–Try serving this with softened vanilla or cinnamon ice cream, or with cinnamon whipped cream. To make the latter, whip some heavy cream with a pinch of cinnamon.
–You can serve the tart warm or at room temperature.
–Wrap in plastic and keep overnight at room temp. Or refrigerate for longer storage.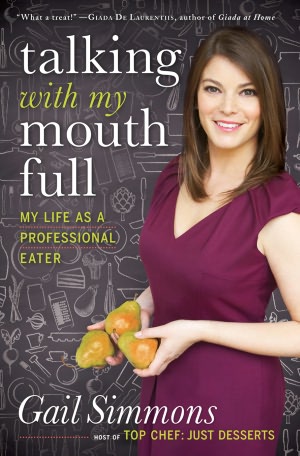 Source: From the book "Talking With My Mouth Full: My Life as a Professional Eater," by Gail Simmons; Hyperion; $26.99
Nutrition
Serves: 8. Per Serving: 320 calories, 50g carbs, 4g protein, 13g fat, 75mg cholesterol, 100mg sodium, 2g fiber
Preparation time: 20 minutes
Cooking time: 55 minutes
Diet type: Vegetarian
Number of servings (yield): 8
Culinary tradition: USA (Traditional)