Print This Post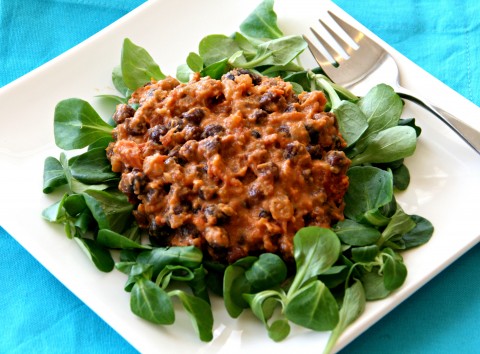 I stumbled upon this wonderful curry when looking for something for Meatless Monday and a way to use garbanzo beans (chickpeas). Chickpeas are a powerhouse food high in fiber, folate, Vitamin B6 and protein and low in fat and cholesterol. They are a great sub for meats, and a staple in a vegetarian diet.
I've made it several times in the last month, each time subbing one or more ingredients, tweaking here and there, and every single time it has been wonderful. This is a pantry dream dinner, because you can mess around with it and you won't mess it up. I promise.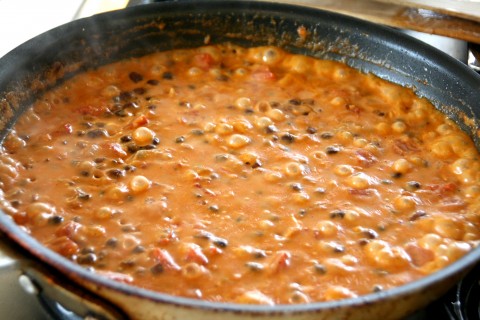 Brilliant blogger Adam Roberts of Amateur Gourmet, where I found it, has it written as a prose recipe, which I find more difficult to follow as I'm cooking, so I took the liberty of quantifying a few of the ingredients and writing it as a more conventional recipe. I want all of you who are trying it to have utter confidence, because this is a great "keeper" recipe!
And go give Amateur Gourmet a look…it's a really charming food blog!
Recipe: Chickpea Curry
Summary: An easy Meatless Monday garbanzo bean curry that relies on pantry staples, this is packed with Indian flavors and wonderful textures. Dress it up or down, depending on what bed you put it on.
Ingredients
1 tablespoon coconut oil (or sub another oil)
1 onion, chopped
Kosher or sea salt
Grind of fresh pepper
4 garlic cloves, finely minced
1 teaspoon ground coriander
1 teaspoon ground cumin
1 teaspoon fennel or anise seeds
1 tablespoon finely minced fresh ginger (or 1 teaspoon dried ground ginger)
1 (15- to 19-ounce can) chickpeas, drained and rinsed
1 (14- to 15-ounce can lite coconut milk (Thai Kitchen makes a good version)
1 (14- to 15-ounce) can diced tomatoes in own juice (or sub 1-1 1/4 cups salsa)
Pinch crushed red pepper flakes or hot sauce
Lemon or lime
Garnish: chopped cilantro (optional)
Instructions
Heat coconut oil in a large skillet, and sauté onion until it browns, about 10 minutes. Add a pinch of salt, pepper, the garlic, coriander, cumin and anise and sauté another minute. The spices will smell fragrant!
Add ginger, chickpeas, coconut milk, tomatoes with juice and a pinch of pepper flakes, stir, bring to a boil and then turn heat down until it is just simmering. Simmer, uncovered, for about 30 minutes. The curry will thicken, but during that time if it looks like it is drying out too much, add a bit of water, cover and continue cooking for the full 30 minutes.
Squeeze a wedge of lemon over the curry, stir, taste and adjust salt and spicy heat to your liking.
Serves 4-5.
Quick notes
I have used as much as 3 cups of cooked chickpeas here, and it has worked out well.
In the version I photographed here, I used Kala Chana – black chickpeas – that I soaked overnight, boiled for 1 hour, drained, and then used in this recipe. They are wonderful! But use what you have or can get your hands on. Chickpeas are also known as garbanzo beans, or ceci.
Variations
Serve over: Steamed rice or other favorite cooked grain, steamed sliced potatoes, wilted greens, or even polenta!
Preparation time: 5 minutes
Cooking time: 40 minutes
Diet type: Vegetarian
Number of servings (yield): 4-5
Culinary tradition: Indian …ish
My rating 5 stars:  ★★★★★