Print This Post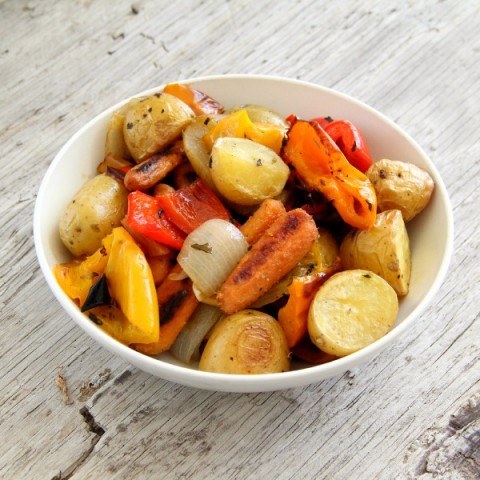 To many people, "fall foods" means pumpkins and all manner of squash.
To me, fall means sweet bell peppers, bursting out of the produce bins, resplendent in color and flavor, abundant and inexpensive because of their excess — summer's last hurrah before we settle in for a more sedate season.
So when the folks at Cutco Cutlery asked me to join their #CutcoFallHarvest to showcase one of their excellent knives in a recipe, I thought immediately of bell peppers.
I've talked about Cutco before – American made, superior knifes and cutlery that will last for generations. I intend to pass mine along to my daughter, who doesn't know it yet, but one day will be a very fine cook. I've showed you their 5-inch Petite Santoku, which made fine work of my Thai-Style Cabbage Salad; that and their 7-inch Santoku are my kitchen workhorses. To say I pull them out 3-4 times a day each is not exaggerating.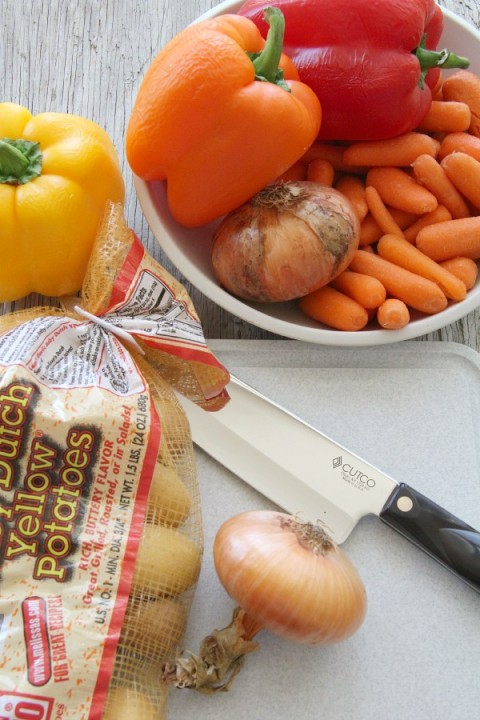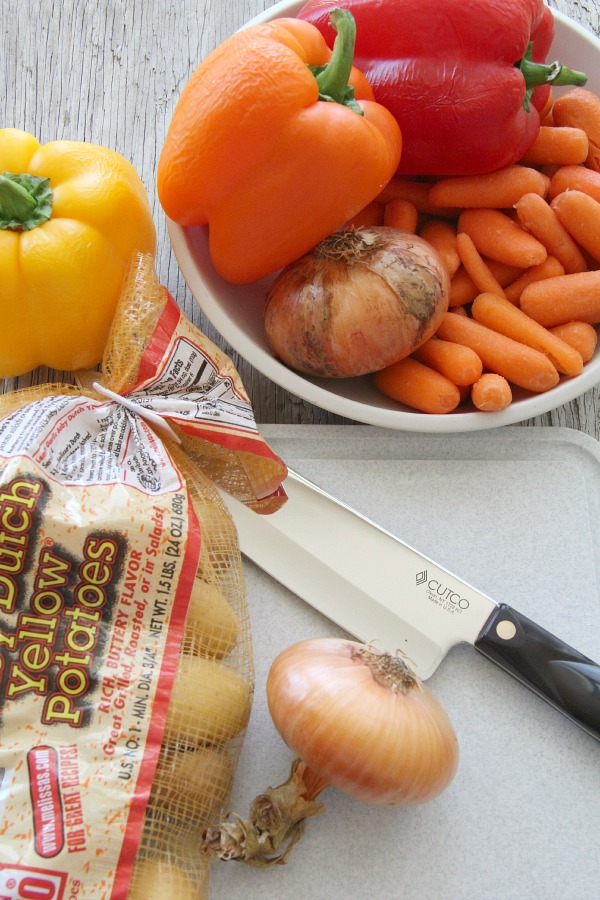 But the 7 5/8-inch Petite Chef knife, pictured, here, is going to give those other two a run for their money. Easy to hold, well balanced, constructed to last, with an edge that slices through vegetables like buttah, this tool made quick work of my produce. (And see those onions, above? Pretty proud to say I grew them!)
I chopped and roasted mid-day, and simply allowed the vegetables to sit out until dinner. On a sweltering Southern California fall day that never cooled down, I served them for dinner at room temperature over a simply dressed bowl of baby arugula, for a healthy vegetable bowl that turned out unwittingly to be vegan, gluten-free, and gorgeous!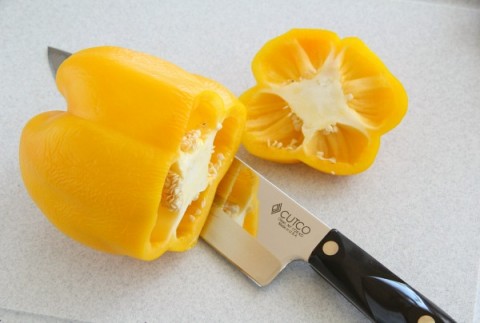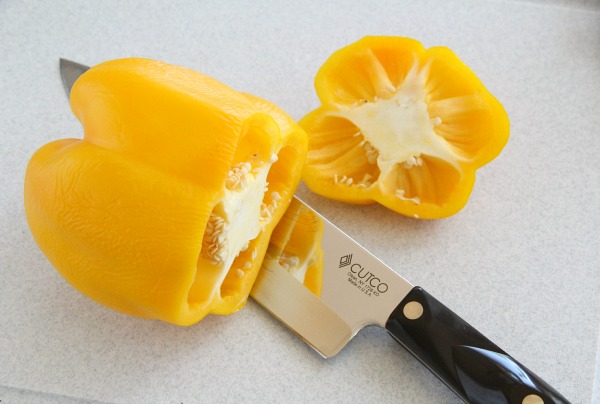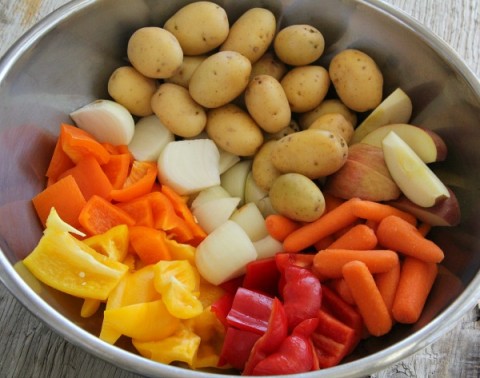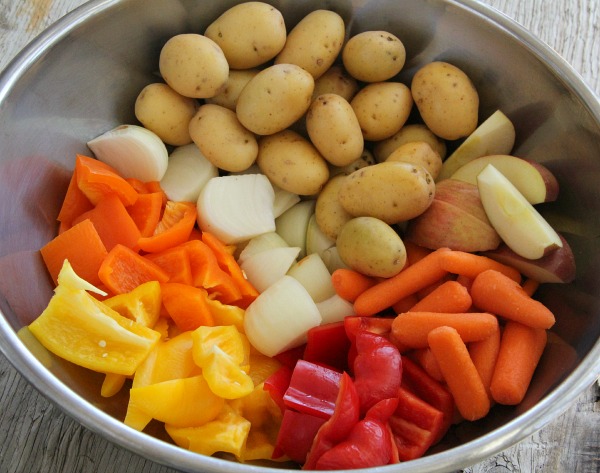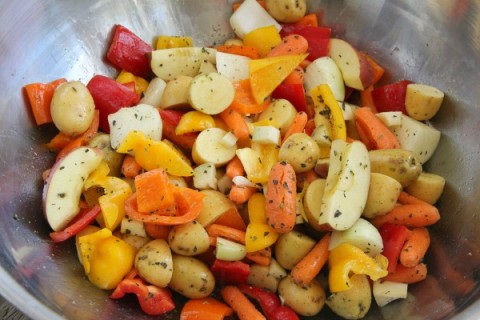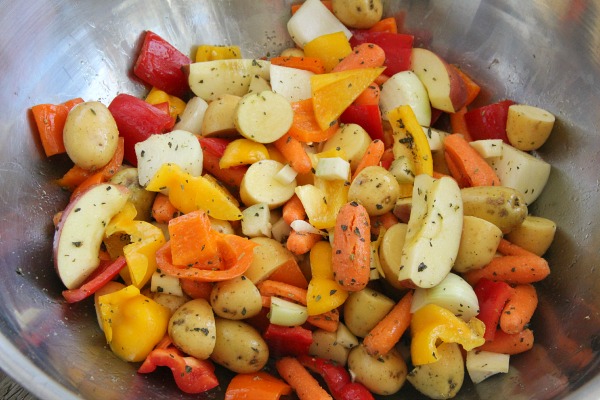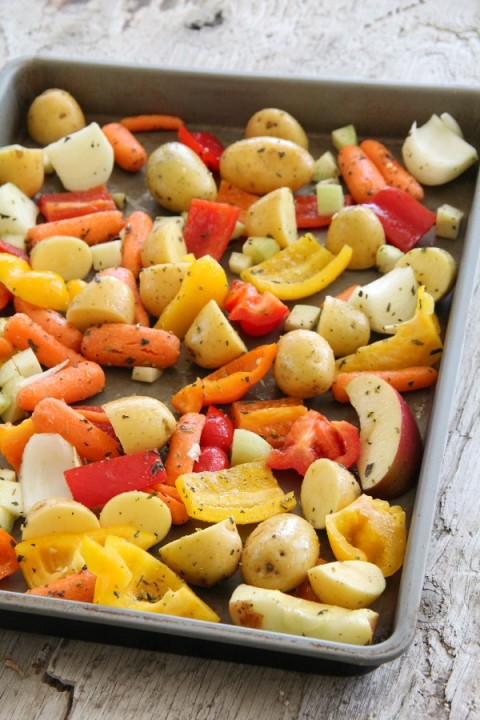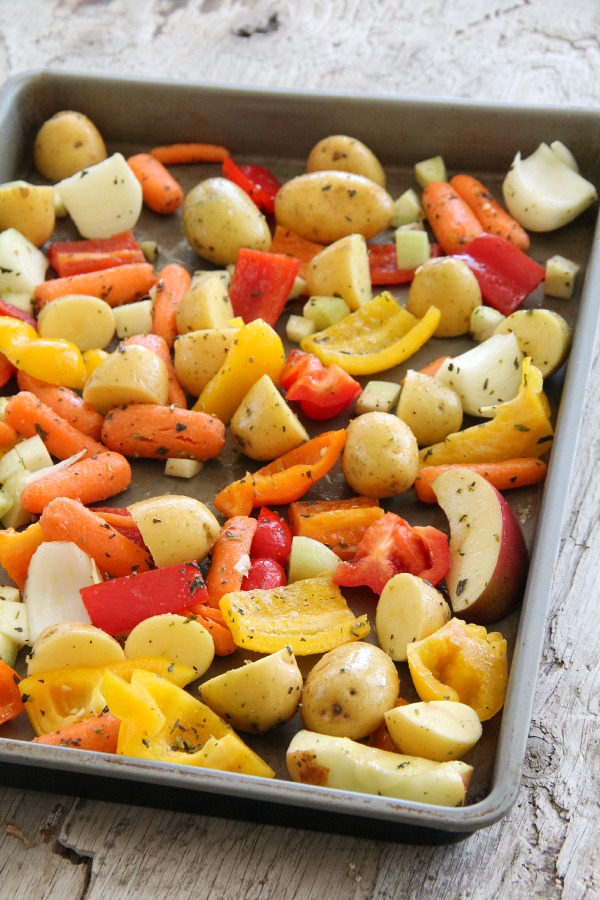 Fall Harvest Roasted Vegetable Bowl
Naturally sweet roasted vegetables atop a simple arugula salad makes a healthy dinner bowl. Vegan, gluten-free and gorgeous!
Ingredients
3 large bell peppers (1 red, 1 orange, 1 yellow if possible)
1 ½ pound bag Melissa's Produce Baby Dutch Yellow Potatoes
2-3 onions
2 apples
2 lobes Elephant Garlic
½ pound baby carrots
3 tablespoon olive oil (I used Arianna Trading Company Organic Raw Extra-Virgin Olive Oil)
2 teaspoons dried herbs (I used Penzeys Frozen Pizza Seasoning)
Pinch sea salt or kosher salt
Directions
Heat oven to 350F degrees.

Prepare the following vegetables and add them to a large mixing bowl:

--Stem and seed the bell peppers and chop in large bite-size chunks. --Wash potatoes and halve any that seem larger than 1 bite. --Peel onions and slice into 4-6 wedges each. --Core apples (leave peel on) and slice into 6-8 wedges each. --Peel garlic and chop into large chunks. --Add baby carrots.
Drizzle on olive oil and sprinkle with herbs and a pinch of salt. (Do not over salt in case you decide to garnish with cheese or other salty ingredients later).
Mix all ingredients so everything is coated in oil and herbs, and then turn out of bowl onto 2 low-sided 10- by 15-inch baking sheets. (Don't be tempted to pile everything onto 1 sheet or a deep baking dish because then you will steam the vegetables instead of roasting them.)
Roast for 30-40 minutes, until vegetables are soft and browning around the edges.
Remove from oven and serve, either warm or at room temperature.

Serving suggestion:

Dress some baby arugula with a simple vinaigrette, portion into wide, flat bowls, and top with roasted vegetables. Sprinkle with grated Parmesan cheese if you like.
Serves 4-5.
Notes
Recipe source: Dorothy Reinhold | Shockingly Delicious
https://www.shockinglydelicious.com/fall-harvest-roasted-vegetable-bowl/
Copyright Dorothy Reinhold | ShockinglyDelicious.com. All rights reserved.
Disclosure

: Cutco Cutlery sent a knife for me to showcase in a recipe.