Print This Post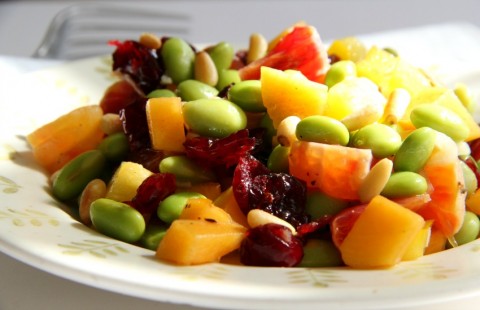 Who says salads are just for summer? This Edamame Salad with Persimmon, Peppers and Pine Nuts takes advantage of two of nature's treats during the fall and winter months — blood oranges and persimmons. If neither is available, you can sub an average orange for the blood orange, and an Asian pear or apple for the Fuyu persimmon.
"This is the most freakin' awesome salad you've ever made."
–my husband, who has been the guinea pig for hundreds, if not thousands, of my salads.
Let's rummage around in the fridge, the vegetable drawer and the fruit basket for a healthy lunch, shall we? Throwing together a salad bowl from what is on hand often yields my very best results.
One of my favorite things about fall and winter is gorgeous Fuyu persimmons, so I try to always have one or two in the fruit bowl on the counter. From there, I can start almost any sort of salad. Fuyus are the firm variety of persimmon, and can be eaten out of hand or sliced like an apple. They make a wonderful salad addition with their sweet crunch.
To my persimmon, I added some ready-to-eat edamame for protein, a blood orange and yellow bell pepper for color, some dried cranberries for a sweet pop and deep red, and some toasted pine nuts for crunch.
The simplest vinaigrette with a pinch of smoked sea salt married everything, giving me a nutritious lunch salad that was packed with flavor and texture and the colors of the rainbow.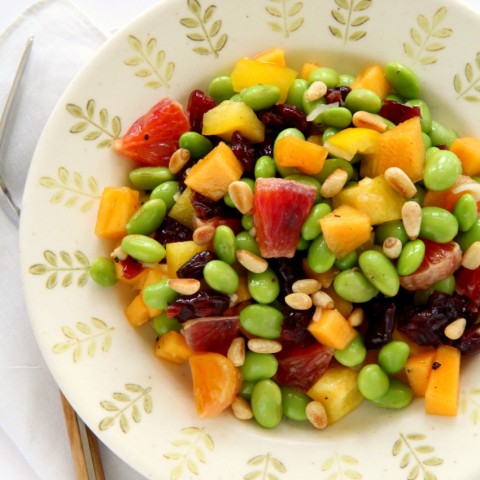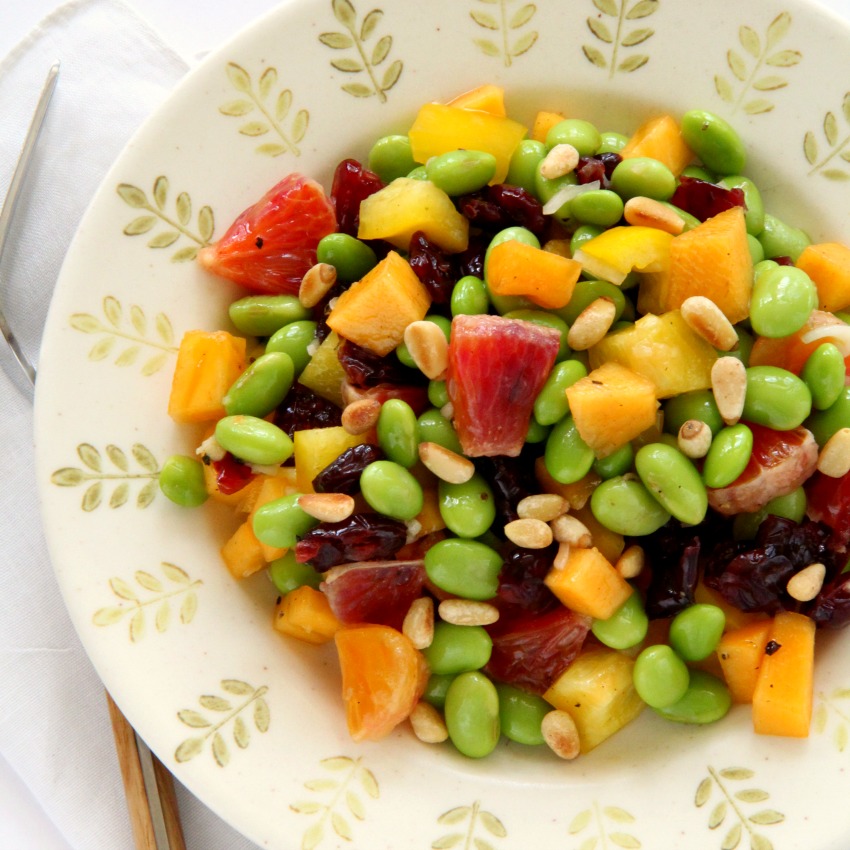 Leftovers are great for the school or work lunch bag the next day.
Let's make it, shall we?
Edamame Salad with Persimmon, Peppers and Pine Nuts
A fruity, winter Edamame Salad with Persimmon, Peppers and Pine Nuts is a light lunch or side salad full of flavor, crunch and nutrition. Bonus: it is eye candy, too!
Ingredients
1 (10-ounce) package cooked, ready-to-eat shelled edamame (I used Melissa's Produce brand)
1 Fuyu persimmon, peeled and diced (the firm variety of persimmon that eats like an apple)
1 yellow bell pepper, diced
1 blood orange, peeled and diced
1 (3-ounce) bag sweetened dried cranberries (I used Melissa's Produce brand)
1 shallot, peeled and finely minced
1 green onion, sliced (both white and green parts)
Grinding of fresh black pepper
1 (3-ounce) bag pine nuts, toasted (I used Melissa's Produce brand)
.
Dressing
2 tablespoons extra virgin olive oil
1 tablespoon rice vinegar
1 garlic clove, pressed
Pinch smoked salt (I used Apple Smoked Sea Salt from San Francisco Salt Co.*see below)
Directions
Add all salad ingredients except nuts to a large salad bowl, and toss to combine. Add dressing ingredients and toss to make sure salad is coated and well mixed.
Sprinkle with toasted pine nuts just before serving. I like to serve the pine nuts separately, because not everyone likes them and those who do can simply add them to their own portion.
Serves 4-6.
Notes
Recipe source: Dorothy Reinhold | Shockingly Delicious
https://www.shockinglydelicious.com/edamame-salad-with-persimmon-peppers-and-pine-nuts/
Copyright Dorothy Reinhold | ShockinglyDelicious.com. All rights reserved.
Thanks for visiting…are you hungry for more? Follow Shockingly Delicious on…
FACEBOOK | PINTEREST | INSTAGRAM | TWITTER
…for all the latest recipes, ideas and updates!
*The salt I used
In this recipe I wanted a bit of a smoky undertone, to contrast all the sweet fruits and vegetables, so I reached for Apple Smoked Sea Salt from the San Francisco Salt Co. It's pure sea salt that has been slowly smoked above an applewood fire. It's Kosher, with no artificial flavors or additives, and its medium brown coloring comes from the smoking process. I've used it for meat, chicken, soup and salad – wherever I wanted just a touch of smoke without it being overpowering or harsh. I find that with a high quality specialty salt like this, you will use far less than you would of regular table salt. It's about $7 for a 4-ounce container, which will last you 100 years.  😉 This would make a great gift for the foodie in your life, and they have a number of additional varieties, including cherrywood, alderwood, hickorywood, whiskey, sriracha, lemon rosemary, etc.
If you like this recipe and want to save it, pin the image below to your Pinterest board.

Or pin this one, below…

This post may contain affiliate/referral links. It is a way for this site to earn advertising fees (at no cost to you) by advertising or linking to certain products and/or services.
Disclosure: Melissa's Produce sent the edamame, cranberries, pine nuts, blood orange, persimmon and shallots for recipe development. San Francisco Salt Co. sent the salt for review.  
This post was originally published Oct. 26, 2016. It has been republished here.