Print This Post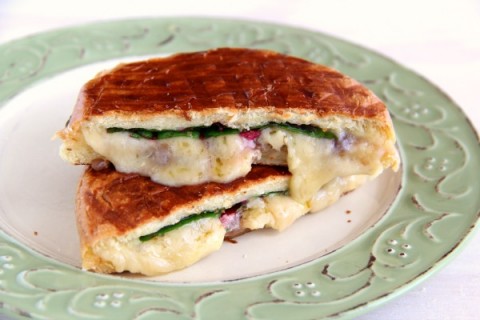 Halfway through grilled cheese month, as we are right now, I want to share with you what I think it takes to put together an epic grilled cheese sandwich truly worthy of your attention.
It's really easy, and endlessly adaptable to your tastes and what you have on hand.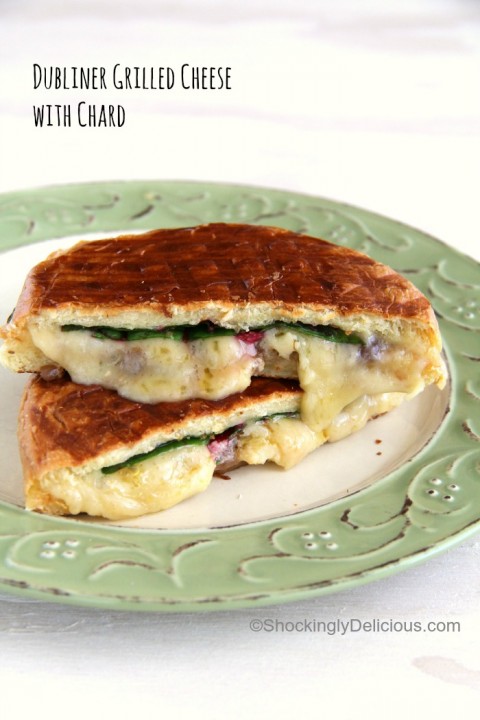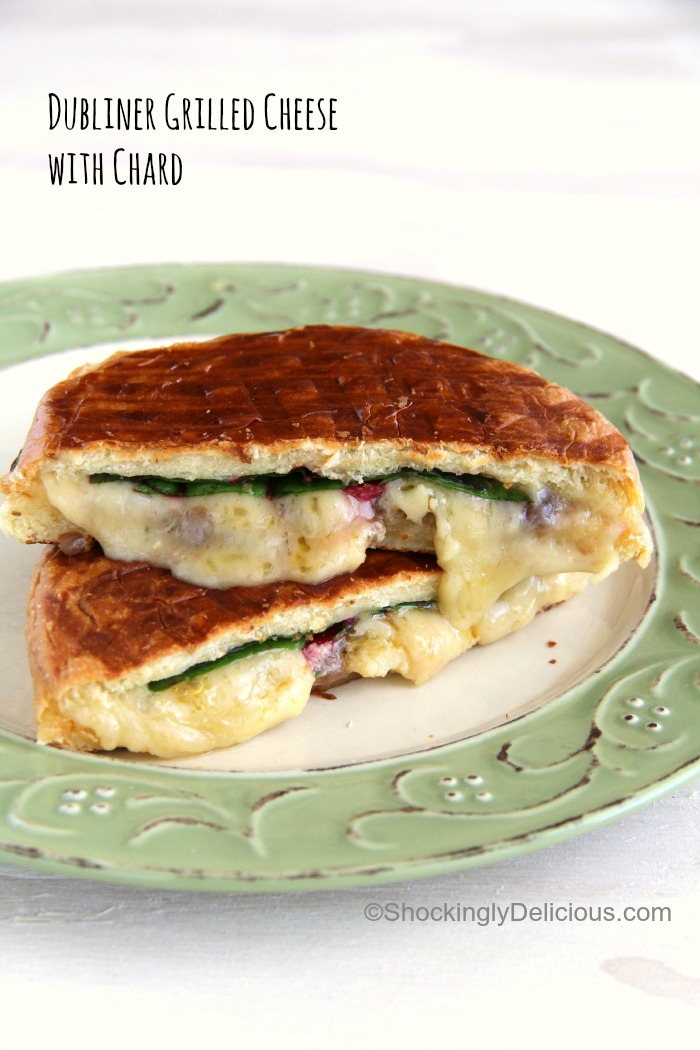 You need:
Good bread or roll (in this sandwich I used a brioche roll I got on markdown at the grocery. Score!)
Good cheese (today I am using Kerrygold Dubliner Cheese with Irish Stout, a sweet, nutty, rich, malty treasure from Ireland.)
A spread (today I'm using a new preserve from Just Jan's called Balsamic Onion Savory Spread, which is awesome on sandwiches, hotdogs, burgers, roasted chicken or pork, etc.)
Something green (today I'm using fresh Swiss chard picked from my plants out front in the parkway. Kale would work, or any other leafy green you like.)
A heating source (today I'm making it in the Breville panini maker. You could also use a skillet.)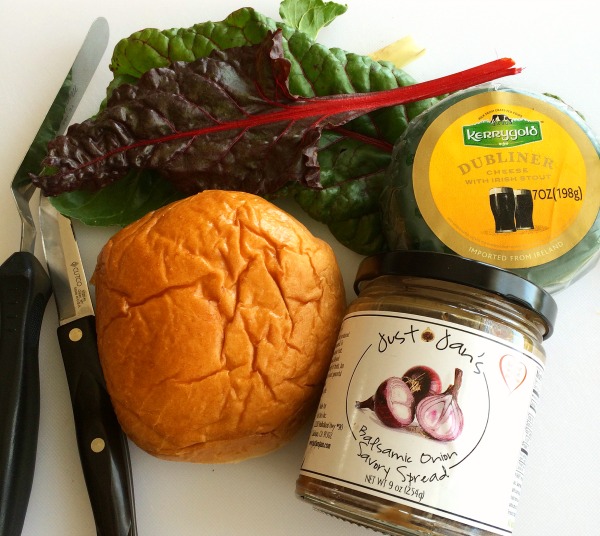 In the photo above, on the far left I'm also showing you my little offset spatula that I use to spread things on sandwiches. I use this every day, from morning toast to lunch peanut butter to various food tasks at dinnertime. I think it is officially meant to spread icing on cake, but who cares? It works like a charm to spread anything you like on bread or rolls.
Two notes: I don't think grilled cheese sandwiches need butter on the outside of the bread. I think there's plenty of fat from the cheese inside, and the bread crisps up just fine without butter. Others swear on the butter trick. Your mileage may vary, so suit yourself. Also, the chard is a sturdy leaf, and will only wilt slightly, so if you don't cut it before inserting it in the sandwich, you will bite into the sandwich and pull out the entire leaf in one bite.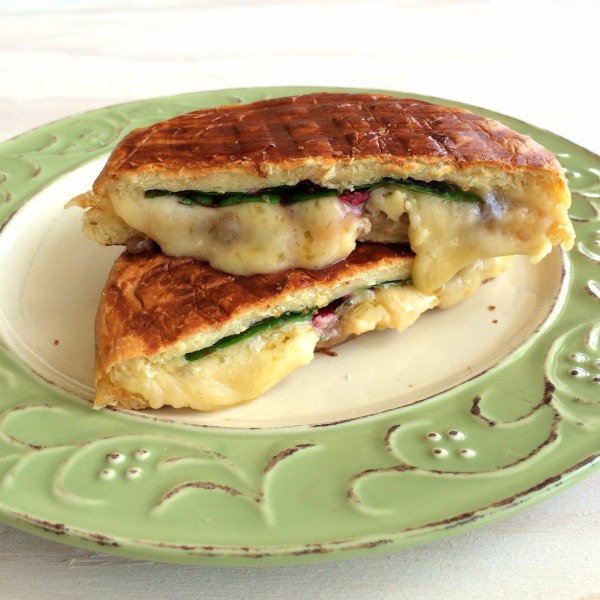 With those simple guidelines, check what YOU have in the fridge and hanging around in the breadbasket, and make your own version. You have 13 days left to get in on grilled cheese month!
Dubliner Grilled Cheese with Chard
Nutty Dubliner cheese matches with a savory-sweet preserve and fresh chard for a classically good grilled cheese sandwich.
Ingredients
1 roll
1 tablespoon Just Jan's Balsamic Onion Savory Spread
Slices of Kerrygold Dubliner Cheese with Irish Stout
Several fresh chard leaves, stems removed and leaves sliced into pieces
Directions
Heat panini maker (or skillet if you are using a skillet).
Cut open roll, spread with preserve, top with cheese slices and chard pieces, put bread top on and cook in panini maker or in skillet until bread is toasted on each side and cheese is melted. The chard will wilt slightly.
Remove from heat, slice and serve, accompanied by a piece of fruit.
Serves 1.
Notes
Recipe: Dorothy Reinhold | Shockingly Delicious
https://www.shockinglydelicious.com/dubliner-grilled-cheese-with-chard/
Copyright Dorothy Reinhold | ShockinglyDelicious.com. All rights reserved.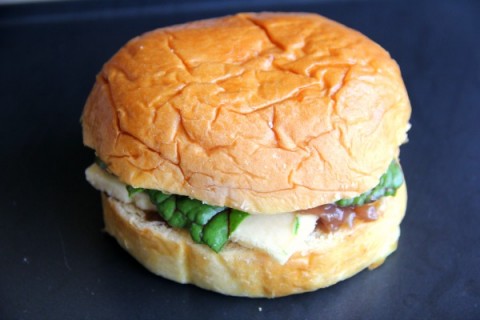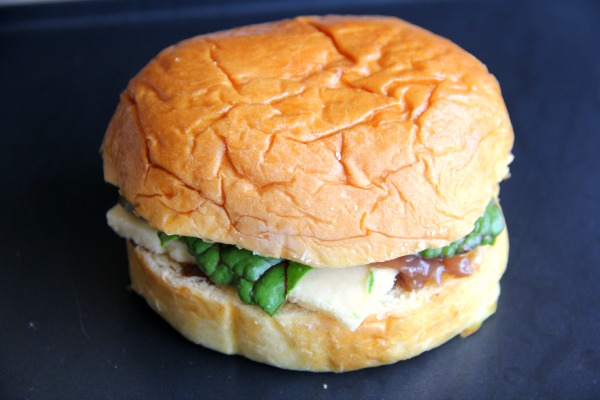 Disclosure: Kerrygold #KGGrassfed sent the cheese for recipe development, and Just Jan's sent the preserve.