Print This Post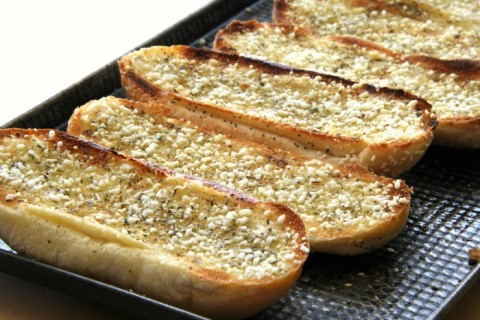 Calling all garlic lovers! Welcome to National Garlic Day 2015.
April 19 is a day for garlic lovers to commune and celebrate the wonder of the stinking rose. There are so many reasons to sing the praises of garlic — its supposed ability to ward off vampires (and bugs), its many health benefits, and mostly the way it lends complex and distinct flavor to any dish it touches.
I'll teach you how to make an epic garlic bread, and it couldn't be easier. The trick, my friends, is only a couple of things: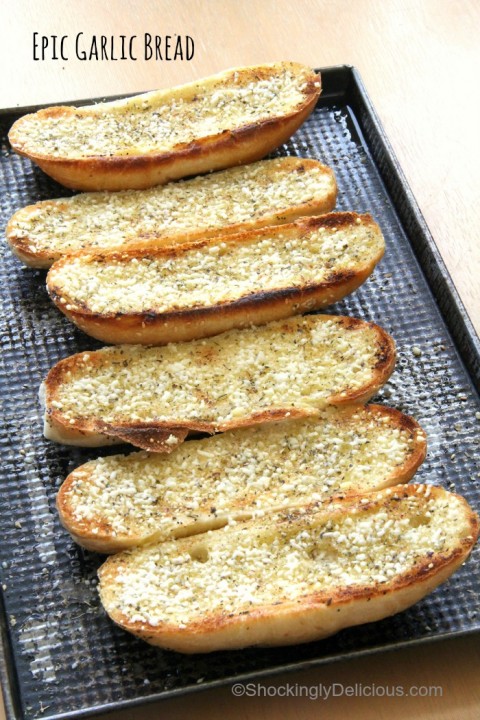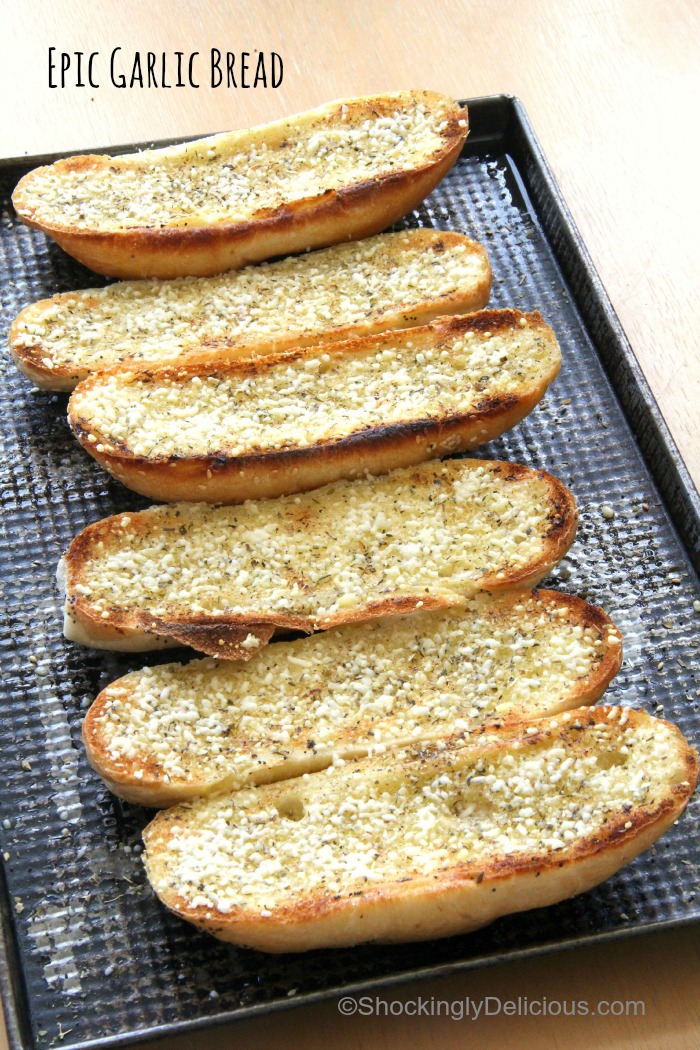 Good bread
Good olive oil
Garlic (either garlic paste or fresh cloves of garlic or hey, even garlic powder!)
Dried oregano
A tiny bit of Parmesan at the end.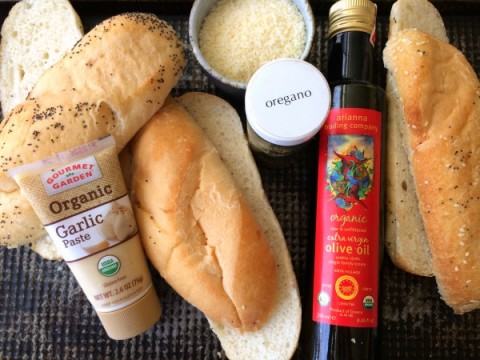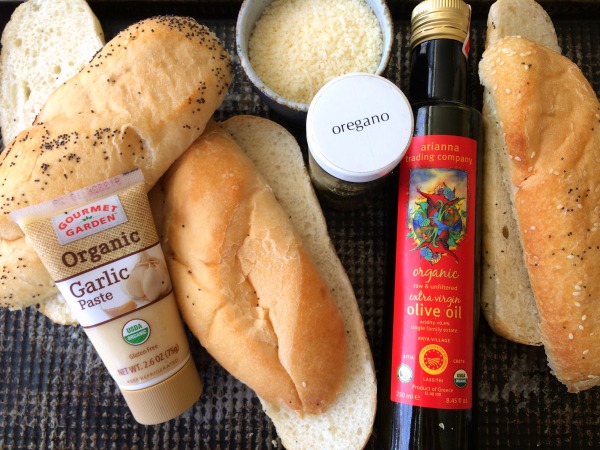 Go turn your broiler on!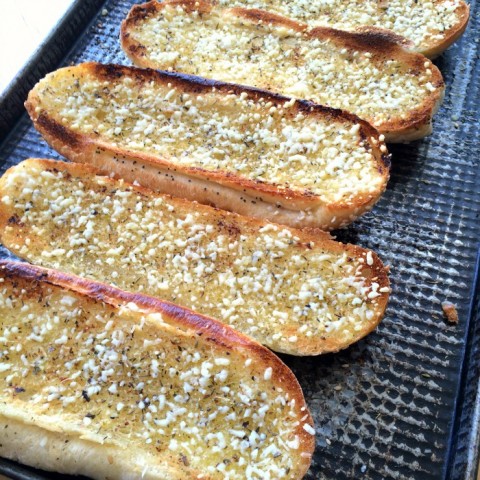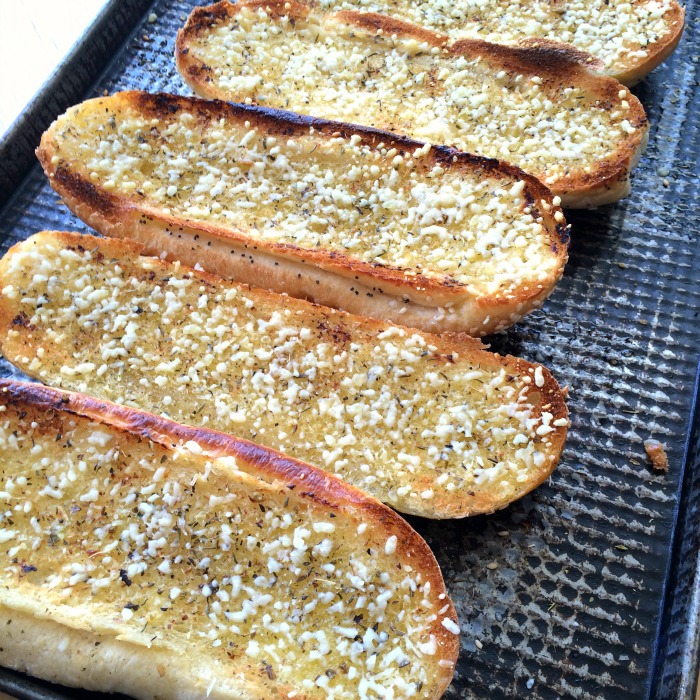 French bread, good olive oil, garlic paste, dried oregano and Parmesan cheese make an epic garlic bread that will have people swooning.
Ingredients
French bread loaf or rolls
Premium extra-virgin olive oil (I like Arianna Trading Company Organic Raw & Unfiltered)
Garlic paste (I like Gourmet Garden Organic Garlic Paste) or fresh garlic cloves
Dried oregano
Grated Parmesan cheese
Directions
Heat the broiler. Adjust the oven racks so one is in the top slot close to the broiler.
Slice the bread loaf or rolls in half lengthwise. Lay them cut side up on a baking sheet.
Drizzle with olive oil and spread with a pastry brush so it is evenly spread. It will soak in.
Using a butter knife or small offset spatula, spread a very light coating of garlic paste over the olive oil sides of the bread. Don't make it thick; use a light hand. If you are using fresh garlic cloves, you can either finely mince or press the garlic and spread it around, or cut the clove and rub the cut side on the bread to impart the flavor. Sprinkle with dried oregano; again, use a light hand.
Place under broiler and watch (don't walk away), until tops broil and edges of bread start to brown. Remove from oven and sprinkle lightly with cheese (we are adding flavor, not making cheese bread). Broil again, staying to watch, until cheese begins to make a popping sound, broils, and edges further brown. You might see a tiny whiff of smoke if an edge begins to burn.
Remove from the oven, cool 1 minute and serve.
Allow 1 roll for each person, or several slices of bread if using a loaf. It won't serve as many people as you think it will!
Notes
Recipe source: Dorothy Reinhold | Shockingly Delicious
https://www.shockinglydelicious.com/epic-garlic-bread/
Copyright Dorothy Reinhold | ShockinglyDelicious.com. All rights reserved.
National Garlic Day recipes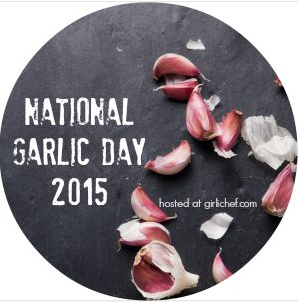 To help you get in the stinky mood, check out these garlicky good recipes from this the 2015 National Garlic Day bloggers:
Disclosure: Arianna Trading Company sent the olive oil, and Gourmet Garden sent the garlic paste, for recipe development.