Print This Post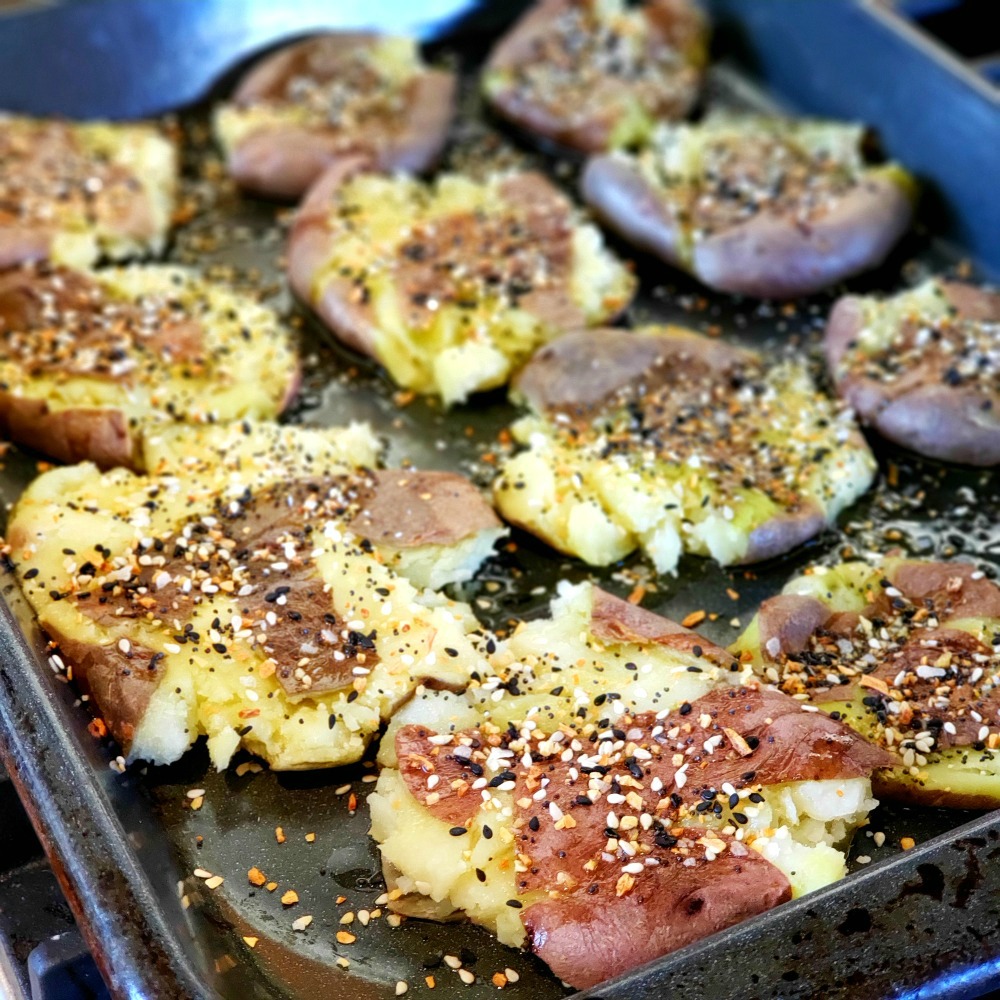 Crispy Smashers is a simple potato dish that's a cross between a French fry, a latke and maybe a potato skin. It's better than all of those, easier than any of them, and the best potato recipe on the planet. Your family will scamper to the table when they hear what's on the menu.
This is the best potato dish on the planet. Yeah, I went there…I said BEST in conjunction with potato.
Every woman I have given this recipe to has called me later and said something like this: "My husband wants ONLY this kind of potatoes now. And he wants me to make it every single night. I want to go on record that I officially hate you."
How's THAT for flattery!
They're simple, but in the best way that simple recipes strip down to the essentials. As with all simple dishes, it helps to use high quality ingredients – fresh potatoes, extra virgin olive oil, freshly ground pepper, and crunchy coarse sea salt.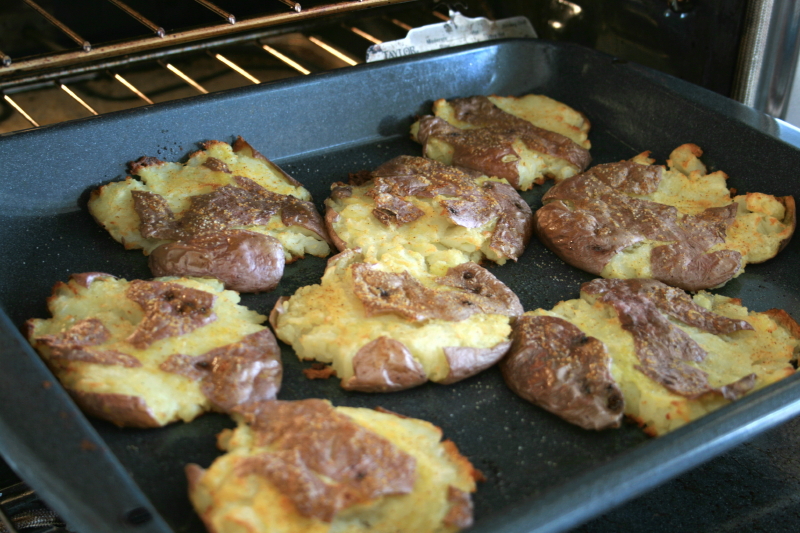 They are unbelievably good, easier than any other potato you can think of, and they go with everything — roast beast of any kind, grilled meats or chicken, side dish to a big green salad, even with the Thanksgiving turkey!
In deciding what to name them, I thought being literal was good — they are crispy, and they are smashed, so, uh, Crispy Smashers. But one of the readers of my newspaper column said his family had renamed them "Irish Road Kill." As cringy as you might think that is, I love it! So when you make them for St. Patrick's Day, you have permission to call them Irish Road Kill.
Writing out the directions to this recipe might make it seem overly fussy or complicated, but the opposite is true. This is so simple that after you make it once, you won't have to refer to the recipe ever again. Not ever! It will be etched into your memory. I added explanatory detail because after 75-100 times making them, I think I have it down to a science – how to dirty the least amount of cookware, pare it down to its essential ingredients, and make it foolproof.
Sure, if you like washing pots, you may certainly boil the potatoes to get them cooked and ready to smash. Me? One less pot is considered genius.
My husband and kids are members of the club who would like to eat these every single night. How about your family?
How to make Crispy Smashers Smashed Potatoes: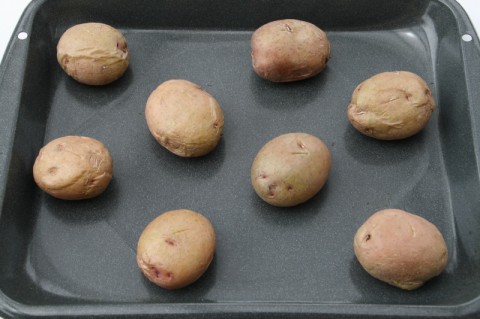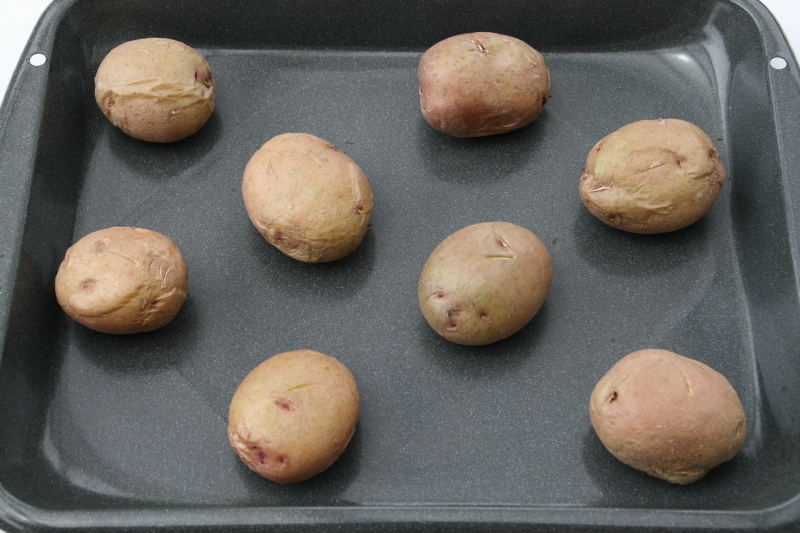 Place microwave-cooked potatoes on baking sheet. This is the bottom of a broiler pan.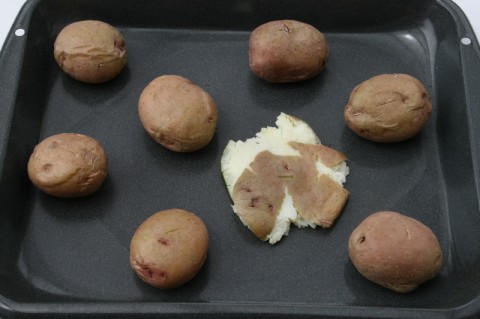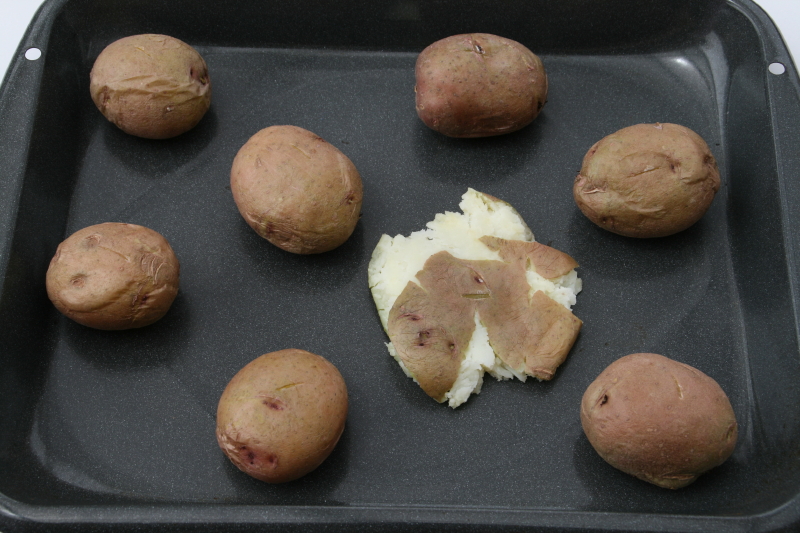 Leave enough space between potatoes. Don't crowd the pan…let each potato have it's space to stretch out, and then start smashing, one by one.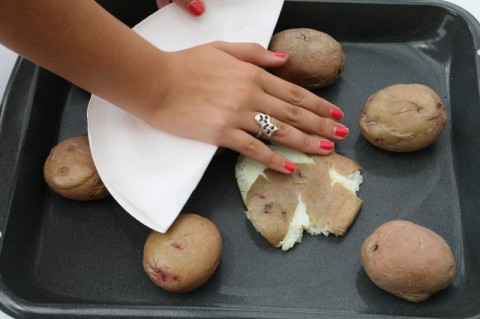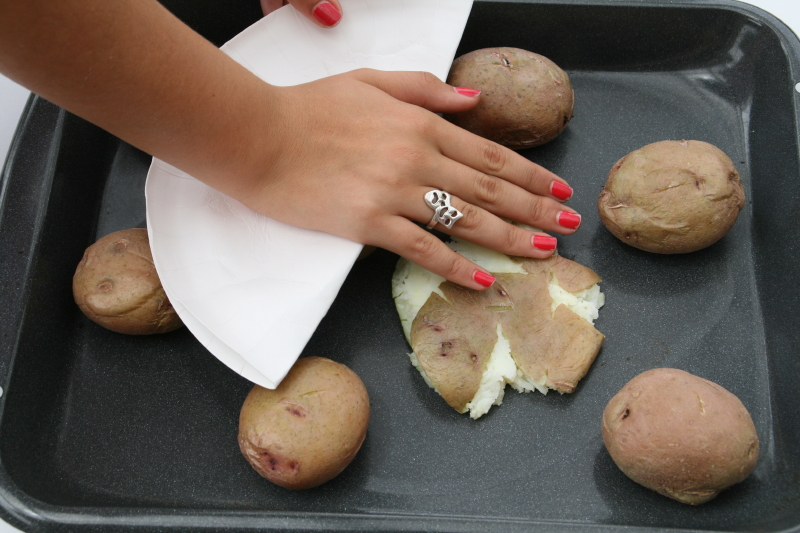 I use a paper plate so the potato doesn't stick to my hand. Press down using the heel of your hand, and then move on to the next potato.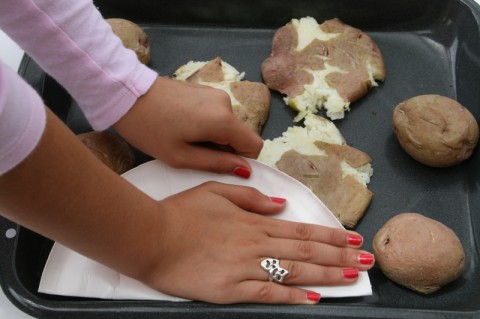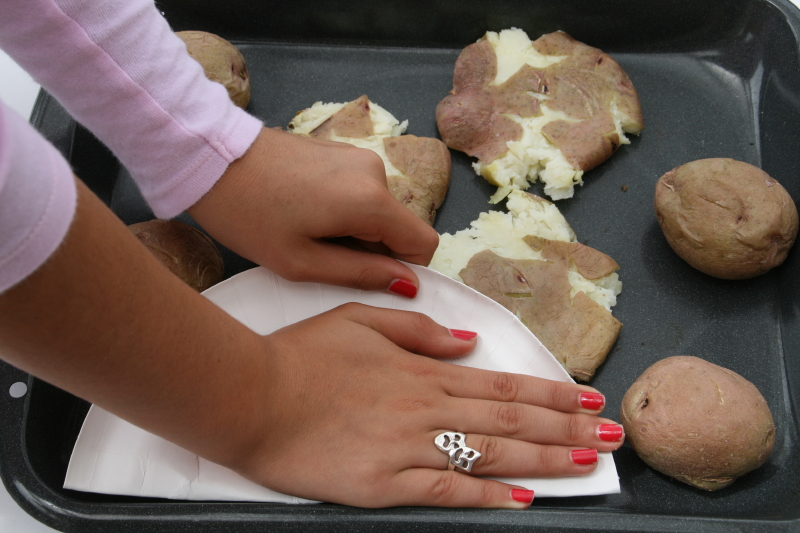 Continue smashing, one by one. It goes very quickly.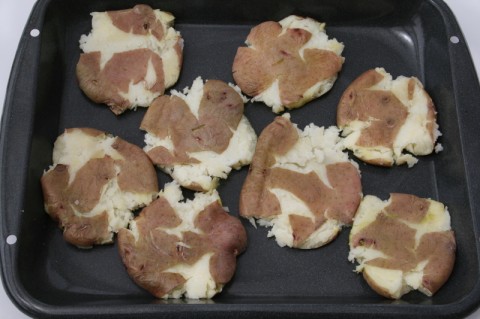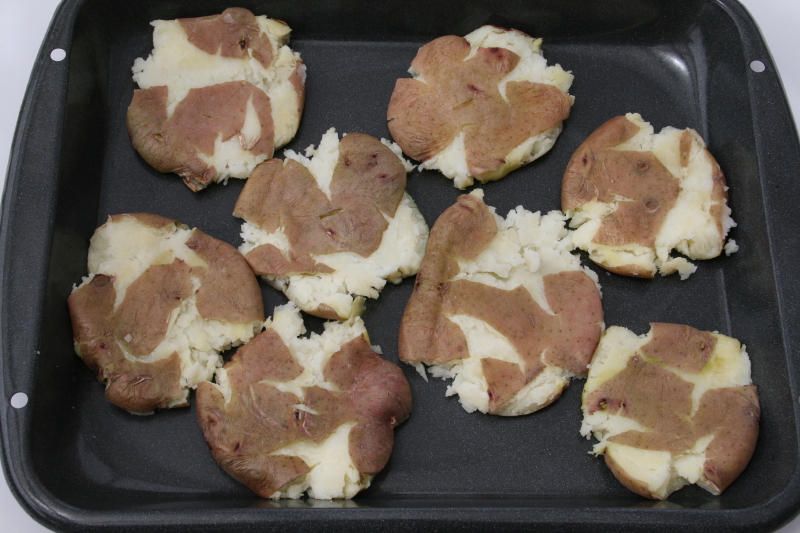 They're all smashed and ready for their second bake.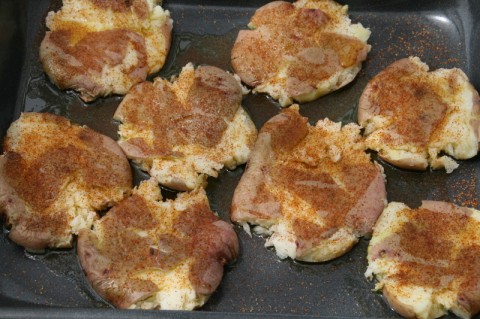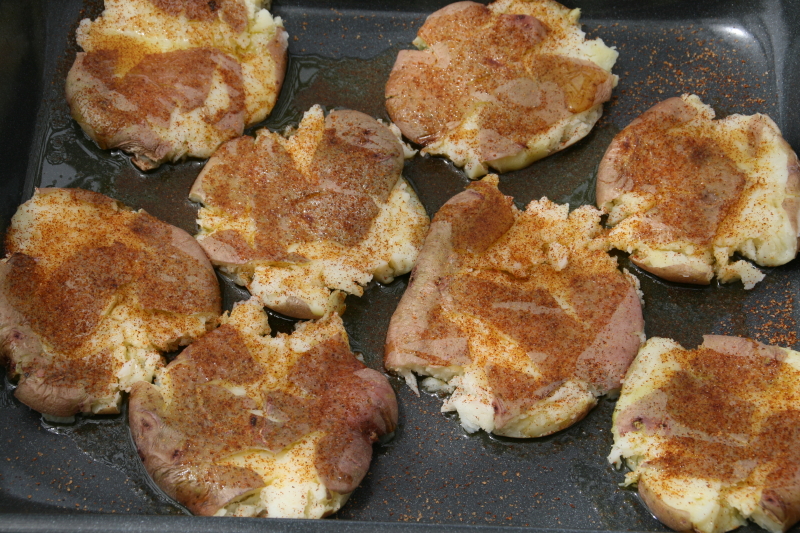 Drizzle with olive oil, sprinkle with salt (or seasoned salt as in the photo above), and pop into the oven.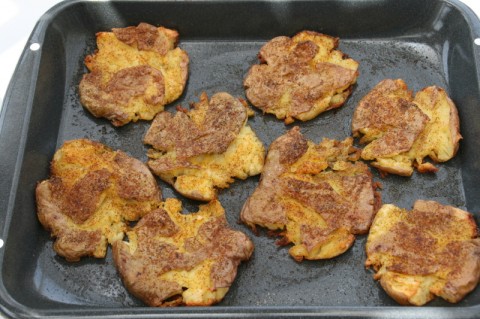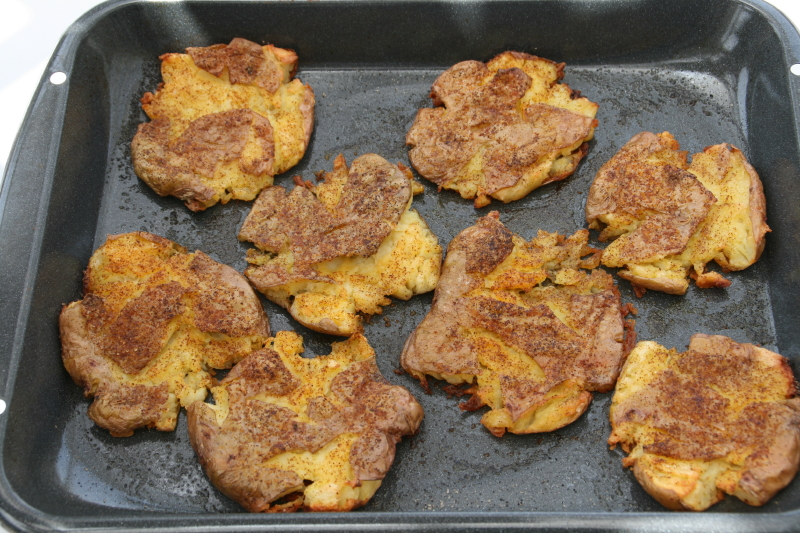 30 minutes in the oven, and they're done and ready for the dinner plate.
Variation ideas
Salty toppings:
–Seasoned salt
–Everything But The Bagel seasoning (this has salt in it, along with garlic, onions, sesame seeds, poppy seeds)
–Kosher salt and freshly ground pepper
–Montreal Steak Seasoning
–Salt and Italian Seasoning blend
–Smoked salt
–Smoked paprika and salt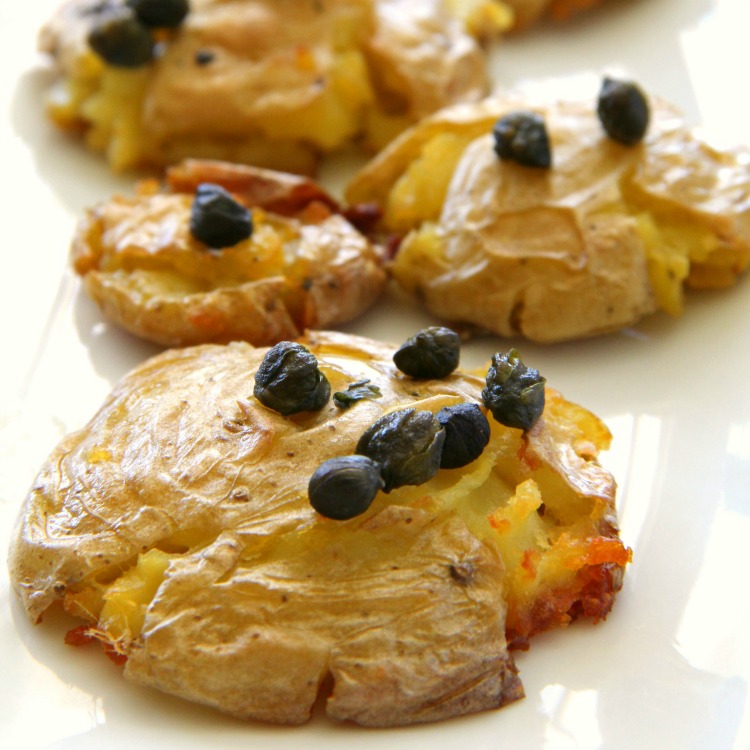 —Smashed Potatoes with Capers: Douse in good olive oil, as usual, and instead of using salt, sprinkle with salty capers and a bit of their brine before roasting. The brine and capers deliver the salt you need.
–No salt on top for baking, but offer salt at the table (this might be best for people on a low-sodium diet, or a dinner table with mixed dietary needs)
–A blog fan in Malibu, Calif. (hello Anne!) reports making these into "smashed potato skinish things" by adding cooked, chopped bacon and green onions and cheese. Sounds like dinner to me!
Crispy Smashers Recipe (aka Irish Road Kill)
Ingredients
1 to 2 medium-size red skinned potatoes for each person you are serving
Olive oil
Sea salt (or kosher salt, or seasoned salt)
Freshly ground pepper
Directions
Turn oven on to 425 degrees; position a rack in the middle of the oven.
Wash and dry potatoes, and with a knife, make a small slit in the top of each (so they won't explode with cooking). Place them on a paper plate and cover loosely with a tea towel (in case of explosion), and microwave on high, about 7 minutes per pound. They will be soft and pliable to the touch.
Meanwhile, lightly brush a low-sided baking sheet or baking pan with a film of oil. (Recommendation: use the bottom of the utilitarian metal broiler pan that came with your oven, as long as it is big enough to fit all your potatoes.)
Remove potatoes from microwave oven and arrange them in the baking pan, with a couple of inches to spare between each potato (enough space for potato to spread out when you smash it). One by one, squish each potato flat, to about 1/2 inch thick. I do this by placing the same paper plate on each potato, one at a time, and pushing firmly with the heel of my hand; then discard the plate when all are squished flat. Or use a potato masher and push down hard once on each potato. The skin will break and the soft potato will spread out yet will remain one piece. Don't push so hard the potatoes fly apart into many pieces.
Drizzle olive oil on each potato (2-3 teaspoons per potato, depending on how heavy your hand is) and sprinkle each with a pinch of salt and a grinding of fresh pepper.
Bake about 30 minutes, until they are browned and crispy.
Remove from oven and serve. We like 2 red potatoes per person, but your appetites may differ.

Make ahead note:

Although it is unlikely you will have leftovers (no one can seem to leave any remaining in the pan), you can make these a day ahead of time. Simply reheat in the microwave or the oven. They won't be as crispy the second day, but they will be just as delicious.
Notes
Recipe source: Dorothy Reinhold | Shockingly Delicious.
https://www.shockinglydelicious.com/crispy-smashers-recipe-aka-irish-road-kill/
Copyright Dorothy Reinhold | ShockinglyDelicious.com. All rights reserved.
Pin the image below to your Pinterest board to save this recipe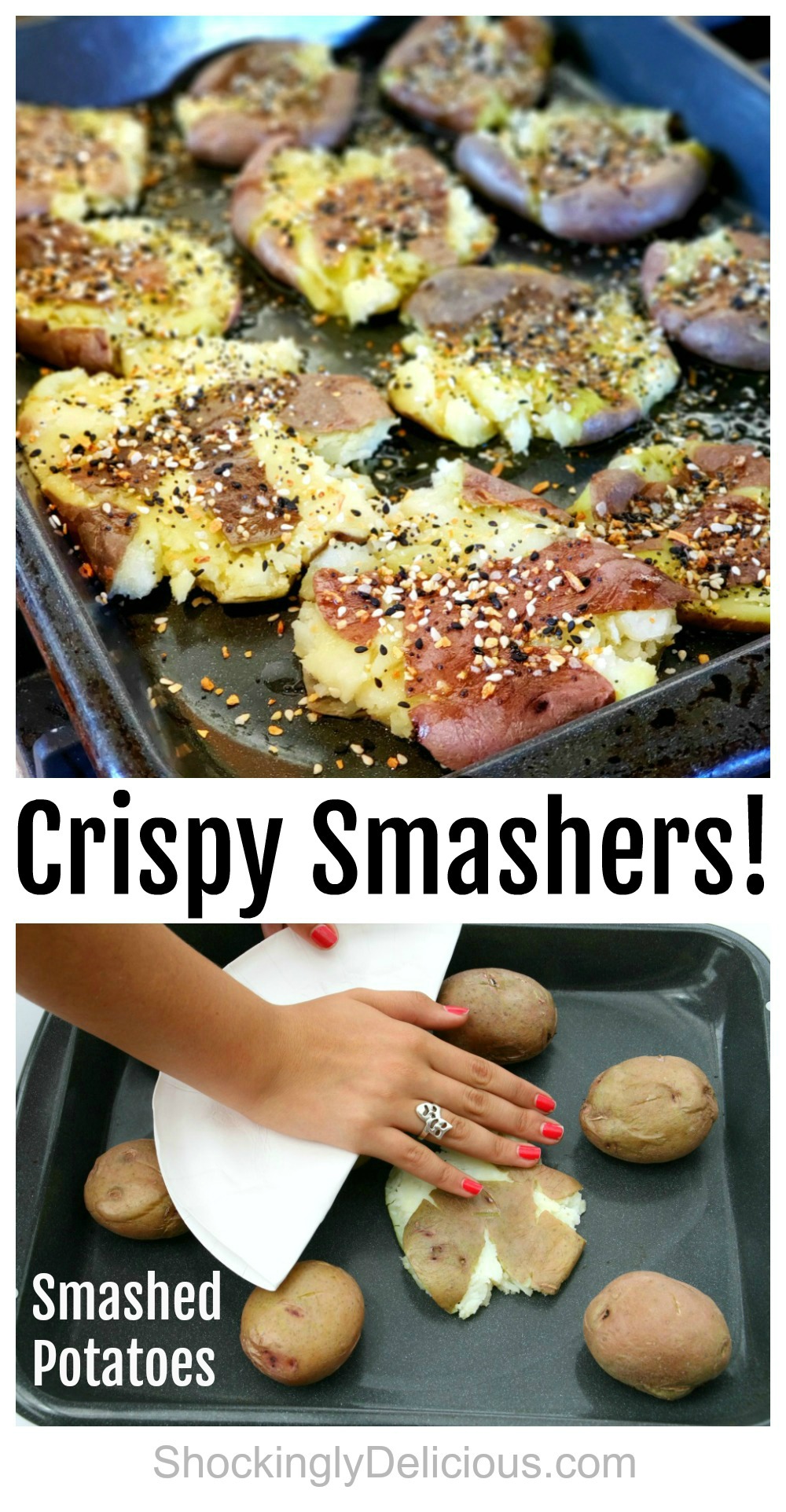 How about making a Red, White and Blue Smashed Potato Flag?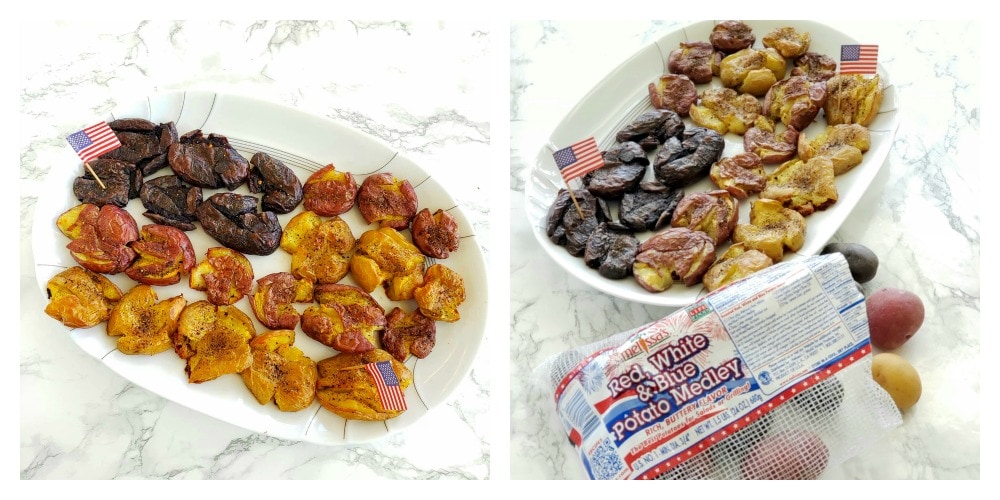 Use this recipe above, buy fingerlings or very small purple, red-skinned and white potatoes.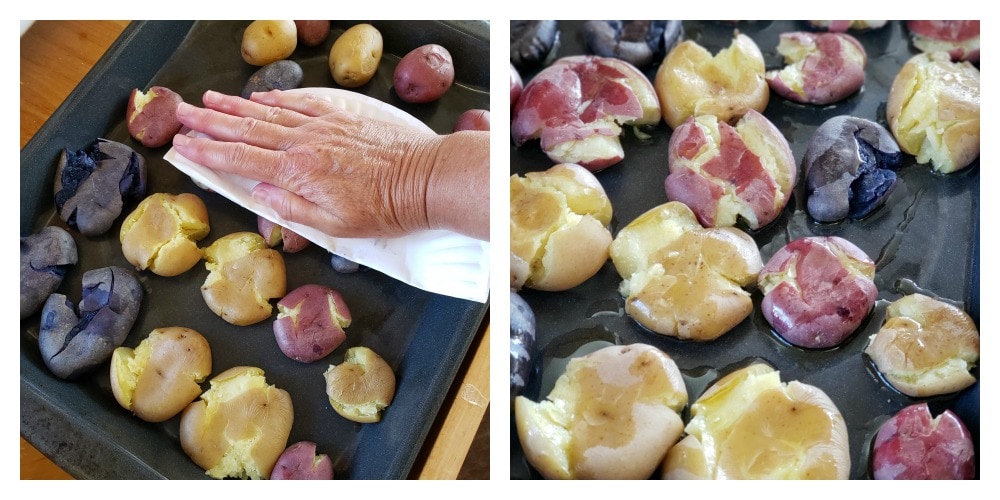 Microcook them as described in the recipe above, smash and roast as described, and when done, arrange in a flag pattern on your serving platter. Salute your flag before you eat it!
This recipe was originally published June 22, 2010 and has been refreshed and republished today.
Thanks for visiting…are you hungry for more? Follow Shockingly Delicious on…
FACEBOOK | PINTEREST | INSTAGRAM | TWITTER
…for all the latest recipes, ideas and updates!
This post may contain affiliate/referral links. It is a way for this site to earn advertising fees (at no cost to you) by advertising or linking to certain products and/or services that I approve and prefer.